Archer Grand Prix - 1.5
Great Britain, April 9, 2000
Hammond triumphs in Archer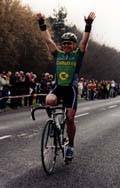 Roger Hammond wins
Photo: © Howard Waller
The Archer Grand Prix departed from Penn Village on the B474 after a neutralised ride from the HQ in Hazlemere. The hilly 11 miles (17.6km) circuit took in a number of pictureseque villages in the English county of Buckinghamshire. These included Winchmore Hill and Penn Street. The finish was on the A355.
What a weekend! On Saturday I had the pleasure of doing a short ride with the Collstrop/de Federale team after they had arrived from Belgium and was given a a detailed description of the week's big talking point, the Gent Wevelgem by the current UK hero, Roger Hammond. We also spoke about the Archer Grand Prix to follow the next day and pre-race, Roger was saying he was quite happy for any of his Collstrop team mates to win.
But come the race and after an awesome display again by last weekend's Tour of Flanders hero, Eric De Clerq (Collstrop), Roger showed how much he wanted the race with an ever aggressive style that riders in the UK could do well to emulate.
There simply could not have been a more popular winner when Roger Hammond Collstrop/De Federale) crossed the line well clear of his Irish breakaway companion to win one of the few British UCI races this year. After finishing the race, Roger was swamped not only by the cycling media, his mum and dad but also by well wishers wanting to shake the man's hand and get his autograph.
Hammond however was quick to praise his teammate Eric De Clerq because without him, Roger felt he may not have won the race and that he felt a little embarrassed to take the podium instead of Eric. Hammond went on to say "I seem to be going well. One of the things in my favour is that my winter preparation was different. Cyclocross for instance, and the team are treating me with respect so I can ride harder. All these little things coming together have helped. I mean, I'm not riding that much faster than last year, perhaps only 1 per cent, but that can be the difference between top 10 and winning."
When asked about being closely marked, Roger said "I was closely marked but we (Collstrop) were in the driving seat because we had a guy in the front and so they could mark me as much as they like, but they were not going to win the bike race. They had to race and all I had to do was be patient."
After Roger's 10th place in Gent-Wevelgem, one of the best placings by a UK rider in a semi-classic for many years, the win in the Archer was not a surprise although it was by no means easy for him. Gordon McCauley (Oleum.co.uk), last year's UK number 1 and Premier calendar winner, described the race afterwards as one of the hardest he could remember. "I've never ridden a whole race on the rivet like that. The heart rate was 180/190 all day. I always seemed to be going across gaps."
If any proof was needed about how hard the race was, all anyone had to do at the finish was look around and see the number of top riders, a winner of a premier event this year among them, who were pulled out of the race after being shelled out.
The man of the race for the crowd, other than local rider Roger of course, was Tour of Flanders lone breakway hero Eric DeClerq (Collstrop/De Federale) who in partnership with Irishman Brian Kenneally, led the race for a number of laps. It was only when De Clerq was about to be reeled in that Hammond went onto the attack again and took another Irishman, David McCann, with him. Behind, the chase was lead by two UK based riders: Huw Pritchard (Linda McCartney) and Kevin Dawson (Peter Read Racing) who managed to get a gap on the main chase group. That group contained two of Hammond's team mates, De Clerq and a first year pro, Bert Scheirlinckx.
All this came after a race that was on before the flag had even dropped. Held in windy but dry conditions after rain in the morning, even the neutralised section saw riders struggling to keep up. That said, the race did not start to split big time until the riders had covered around three laps of the 11 mile circuit.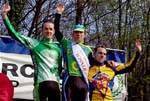 Podium: McCann, Hammond and Pritchard
Photo: Larry Hickmott

This was around the time when the chase after an early breakaway saw one group after another make it across to the leaders. One of the last to do so was Hammond who when riding up one of the short steep climbs where we were perched for much of the race, looked very comfortable. This was noticed not just by me but by many of the enthusiasts looking on.

What was even more noticeable however was that each time a group went across to the front, a Collstrop rider was in it. Quite simply, they along with the Irish riders, were the strongest teams and made sure they placed riders in all the decisive moves. Hammond's experience racing in Europe also showed when he constantly attacked the riders towards the end into the crosswinds past the start finish area and onto the long climb of the race, Gore Hill. This in reality was no more than a long drag but with the wind it soon started to take its toll.

One of the notable absentees for the race was Premier Calendar leader, Chris Newton who had car trouble and was unable to make it to the event. This left the door open to the other riders and the only one to take real advantage was Andy Lyons, one of the many top riders in the UK who are unsponsored. Andy finished 5th in the Archer which was enough to take him to the top of the Premier calendar table by only 3 points from Chris Newton who is now second. These are strictly provisional.

Report and picture courtesy of Larry Hickmott, www.echelon-velo.co.uk
Results - 171 km
1 Roger Hammond (GBr) Collstrop-De Federale 	     4.01.37 (42.21 km/h)
2 David McCann (Ire) Ireland 				0.06
3 Hugh Pritchard (GBr) Linda McCartney 			0.36 
4 Kevin Dawson (GBr) Peter Read Racing 			0.37 
5 Andy Lyons (GBr) Private Member 			0.59 
6 John Tanner (GBr) Pro Vision-Planet X
7 Stuart Dangerfield (GBr) Private Member
8 Bert Scheirlinckx (Bel) Collstrop-De Federale
9 Eric DeClerq (Bel) Collstrop-De Federale
10 Julian Winn (GBr) Private Member
11 Mark Lovatt (GBr) Pro Vision-Planet X 
12 Danny Axford (GBr) www.real cost car imports
13 Brian Kenneally (GBr) Ireland
14 Gordon McCauley (GBr) Oleum.co.uk
15 Sylvain Beauchamp (Can) Shaklee
16 Eugene Moriarty (GBr) Ireland 			3.21
17 Tony Bracke (Bel) Collstrop-De Federale 		5.02
18 Duncan Urquart (GBr) Scotland
19 Rob Hurd (GBr) RCS Bio Agrico 			5.26
20 Robin Sharman (GBr) Alysys-Bradgate-CRT 
21 Antony Malarczyk (GBr) WWW.Real Cost Car Impo	5.45
22 Hamish Haynes (GBr) Prickett Atom Elite		6.45
23 Roddy Riddle (GBr) Scotland (SCU)
24 Tommy Evans (Irl) Ireland
25 Chris Anelay (GBr) Prickett Atom Elite     
26 Chris Young (GBr) Team Marie Curie 
27 Julian Ramsbottom (GBr) Pete Reade Racing
28 Philip Cassidy (Irl) Cidona/Carrick/Ireland
29 Bill Moore (Irl) Cidona/Carrick/Ireland   
30 Lee Davis (GBr) Amore & Vita             
31 Jonathan Muir (GBr) Scotland (SCU)           
32 Grant Bayton (GBr) Team Total Fitness        
33 Stephen Stoneman (GBr) WWW.Real Cost Car Impo   
34 Peter Murdock (GBr) Scotland (SCU)            
35 Simon Richardson (GBr) Norwood Paragon          
36 Robert English (GBr) Cambridge University Club    
37 Ian Gilkes (GBr) GS Strada/Afford     

96 starters
37 finishers     

Results courtesy of Tony Asplin, results service

Premier Calendar Overall:

1. Andy Lyons (GBr) Terry Wright Cycles 		83 pts
2. Chris Newton (GBr) Middridge RT 			80 
3. John Tanner (GBr) Pro Vision-Planet X 		70 
4. Wayne Randle (GBr) Pro Vision-Planet X 		65 
5. Gordon McCauley (GBr) Oleum.-co.uk 			58 
6. Kevin Dawson (GBr) Pete Read Racing 			55 
7. Huw Pritchard (GBr) Linda McCartney-WCU 		54 
8. Jon Clay (GBr) PM 					50 
9. Mark Lovatt (GBr) Pro Vision-PLanet X 		49 
10. Steve Stonham (GBr) Real Cost Car Imports 		42
 
Premier Calendar Races in Series :

* 1. 12th March Oleum-Starlight Grand Prix 
* 2. 19th March Grand Prix of Essex Road Race 
* 3. 26th March Romford-Harlow Road Race 
* 4. 1st - 2nd April Europa 2 Day Stage Race 
* 5. 9th April Archer International Grand Prix RR 
6. 16th April Lancaster Mercedes Grand Prix RR 
7. 22nd - 24th April Girvan Stage Race 
8. 7th May Lincoln International Grand Prix RR 
9. 14th May Chairman's Silver Spoon Road Race 
10. 20th-21st May East Riding of Yorkshire Classic
11. 27th - 28th May Tour of the Kingdom Stage Race 
12. 10th - 11th June Robert Hobbs Memorial Stage Race 
13. 23rd June Manx International Road Race 
14. 9th July Five Valleys Road Race 
15. 30th July International Tour of the Cotswolds RR 
16. 6th August Havant International Grand Prix 
17. 13th August Glasgow - Dunoon Hayward Tyler Classic 
18. 10th September International Tour of the Peak RR 
19. 17th September Gun Hill Premier Race 

* RACES COMPLETED