News for April 9, 2000
98th Paris-Roubaix
A little more history
98 editions, and now into its 105th year, the Paris-Roubaix is one of the oldest events on the calendar and rightly deserves its "Queen of the Classics" dubbing. Although it often goes by that other name, "The Hell of the North", the P-R is eagerly contested by a select group of the peloton. No other race really compares, but the results show that the strongest are at home in this race and they are often amongst the world's great cyclists. Sometimes the occasional outsider gets away, but more often than not you will see a guy with a lot of experience and more than a modicum of horsepower lead the race into, and around the fabled Roubaix velodrome. Large bunch sprints are uncommon.
The First and Second World Wars prevented it from being run in the years from 1914-18 and 1940-42, but other than that it has been run every year since 1896, when Josef Fischer from Germany averaged just over 30 km/h to win the 280 km event. The race has always been one of the longer classics, second only to Milan-San Remo. The shortest edition was in 1949 at a mere 244 kilometres, ending in a dead heat between André Mahé (Fra) and Serse Coppi (Ita)
In the past couple of years, it has been over 270 kilometres, 49 of which are of the infamous pavé that define the race. These sharp, lumpy roads are ancient and are preserved now as national monuments. They are uncomfortable enough in a large white team van, let alone on a bike with a small amount of rubber separating you from the road. Sometimes less if you are the unfortunate victim of a crash or a puncture - more common in this race than anywhere else.
Momentum and position are everything on the narrow roads. Lose either, and it can take a long time to get back to the front. Hence the reason for the frenzy leading up to each cobbled section. The 27 sections (and the race proper) start at kilometre 98 at Troisvilles and the riders often take comfort in the thought that, of the next 170 kilometres, over two thirds will be flat out and the rest will be hell. The defining cobbled section at Wallers-Arenberg (2400m, km 176) will once again this year be raced uphill, hoping to avoid the chaos that caused Johan Museeuw's terrible crash in 1998. A wide corner before the entry and the false-flat of the forest should produce a decrease in speed and make the section safer to get into. It worked last year, and will hopefully remove an unwanted variable from the race.
During the past week, the stones of the forest have been swept clean and the edges widened by pacifist volunteers - conscientious objectors who did not want to join the French National Service. The forest is normally quiet until a particular Sunday in April, where folks will probably ignore the signs that say "Do not disturb the nesting or migrating birds. You must respect their peace."
Tune in for live race coverage, from 10:30 am CET here on cyclingnews.com
More favourites
Andrea Tafi (Mapei) and Franco Ballerini (Lampre) will be going head to head today, but they will certainly not be the only ones to watch out for in the race. They have three wins and several podium finishes between them though, and that counts for much in this race. In accordance with tradition, Tafi and team mate, Max van Heeswijk trained for 100 kilometres yesterday, taking in 8 cobbled sections of the parcours including the Arenberg. They are ready.
Johan Museeuw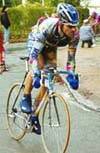 Johan Museeuw
Photo: Bert Geerts
Co-leader for Mapei, 34 years old. Winner of Het Volk and the Brabantse Pijl this year, Museeuw is one of the top men to beat. He finished at the back of the leading group in the Ronde van Vlaanderen last week, but showed his strength in attacking on the Muur with Steffen Wesemann. If he gets to the end in the lead group, he will be hard to overcome in the sprint.
He has the benefit of a powerful team, with Andrea Tafi, Wilfired Peeters, Tom Steels, Max Van Heeswijk, Bart Leysen, Daniele Nardello, and Stafano Zanini: all very capable pavé riders.
Paris-Roubaix results: 12th (1990), 16th (1991), 7th (1992), 4th (1993), 13th (1994), 3rd (1995), 1st (1996), 3rd (1997), and 9th (1999)
Andrei Tchmil

Andrei Tchmil
Photo: Bert Geerts
Lotto's undisputed leader, 37 years old. Winner of the Ronde van Vlaanderen last week in daring, but typical solo style. Always watched, and sometimes isolated by a less powerful team.
His main supporters: Koen Beeckman, Jacky Durand, and Paul van Hyfte. Rest assured, he will not give up the race easily and we could well see a new World Cup leader even if he doesn't win the race. Not many riders back up to win the Ronde and the Roubaix though.
Paris-Roubaix results: 49th (1991), 15th (1992), 3rd (1993), 1st (1994), 2nd (1995), 6th (1996), 4th (1997), 13th (1998), and 8th (1999)
Peter Van Petegem

Peter van Petegem
Photo: Bert Geerts
Leader of Farm Frites, 30 years old. 8th in the Ronde last week and second in Gent-Wevelgem after allowing his teammate to win. He has form and a reasonably strong team, despite the loss of Glenn Magnusson yesterday.
His supporters: Geert van Bondt, Remco van der Ven, Andreas Klier, Servais Knaven and Wim Vansevenant. Martin van Steen and Steven Kleynen are last minute substitutions. He was the best of the rest after Tafi last year, and will have to come to the finish in a small group in order to win.
Paris-Roubaix results: 47th (1993), 5th (1995), 3rd (1996), 28th (1997), 17th (1998), 25th (1999)
Zabel reluctant
World Cup leader, Erik Zabel (Telekom) admits that the Hell of the North is not one of his favourite classics. Nevertheless he will be aiming to fend off Andrei Tchmil's likely challenge for the vertical rainbow jersey. Telekom's PR man, Olaf Ludwig says that "it is a lottery," and he finished on the podium twice (2nd in 1992, 3rd in 1993). The greatest fear for either of them is that Zabel injures himself in a pileup, which can be quite serious if Johan Museeuw's Wallers-Arenberg experience in 1998 is anything to go by.
Zabel has not had much success on the cobbles between Paris and Roubaix. Last year he finished five minutes down on Tafi in 29th place; the year before he abandoned after several mechanicals. He hopes to improve somewhat in the 98th edition and be amongst the top 10 for a goodly number of World Cup points.
Team boss, Walter Godefroot thinks that his strong performance in the Ronde will help him, as it will Steffen Wesemann. Hopefully, the weather will remain good and there will be no horses to slow him down this time.
Other riders to look out for: Rolf Sörensen (Rabobank), though he may still be suffering from his fall in the Driedaagse van De Panne. 14th last weekend wasn't bad though. Fabio Baldato: 2nd in Milan San Remo, and has finished 2nd in this race as well. He came 12th last weekend in the Ronde. Jo Planckaert (Cofidis) - off form at the moment: 52nd last weekend, definitely an outsider. In the absence of Nico Mattan, Cofidis' best hope will probably be with Chris Peers.
Zbigniew Spruch (Lampre): Might get the nod if Ballerini is watched too closely. A handy sprinter and dangerous at the finish. The length and the cobbles may be too much though. Tristan Hoffman (Memorycard J&J): Has shown good form in all the Belgian races so far and is a good pick for a top 10, if not top five.
George Hincapie and Vjatceslav Ekimov (US Postal). Regular top 10 or better finishers in this event. Could 2000 be the year that George wins it? Both had top 20's in the Ronde van Vlaanderen last weekend.
Let us not forget either the big Swede, Magnus Backstedt riding for Credit Agricole. This is his ideal race, and he could well come into the top ten if he and his team are as motivated as they were a couple of years ago.
Australia is well represented in the race, with Stuart O'Grady (Credit Agricole) counted amongst the favourites, and Matthew's White (Vini Caldirola) and Hayman (Rabobank) getting starts. No Brad McGee in La Francaise des Jeux though, as he is still suffering knee problems. Let's not forget Belgian born, Tasmanian raised powerhouse, Matthew Gilmore (MC J&J) either.
Hayman was Rabobank's replacement for Marcel Duijn, after he has shown some good form in the lead up events (E3 and Gent-Wevelgem). In the latter, he finished 40th, "one place behind Tafi and one in front of Zabel. I guess that if I can duplicate this result and finish one place behind Tafi then I will be laughing," he writes.
Zberg finished?
The season, if not the career, seems to be over for 29 year old Swiss rider Beat Zberg after his serious fall in final stage of the Vuelta Pais Vasco. He has suffered fractures and internal bleeding of his kidney, the pelvic arch and three vertebra attachments, and is now in hospital in San Sebastian. He will not be transported to Switzerland until the state of the inured kidney has stabilized. According to reports, he will be out for anywhere between 8-12 months, although this has yet to be determined.
Zberg went off the road, over a low fence and into a rock on a descent on the second last stage of the Pais Vasco.
Beat Zberg has been one of the foremost Swiss cyclists since his pro debut in 1992 and he is currently ranked 48th on the UCI list.
1992 - 46th
1993 - 43rd
1994 - 74th
1995 - 35th
1996 - 42nd
1997 - 13th
1998 - 39th
1999 - 34th
2000 - 48th
Tour of Willamette preview
By John Alsedek, cyclingnews.com correspondent
Now in its twenty-first year, the six-day Tour of Willamette is an anomaly: on a domestic schedule largely dominated by big-money criteriums and circuit races held on often nondescript city streets, Willamette offers some of the most challenging, European-style road courses and spectacular scenery to be found in the United States. Nestled away in relative obscurity in the Pacific Northwest, it was for years highly popular regionally, but largely ignored both by the country's top men's and women's teams. Also by the national media, because of its lack of a major title sponsor and the accompanying big budget.
In fact, the Tour of Willamette nearly came to an end in 1998, as race organizers were having to take money out of their own pockets just to keep things going. However, Mercury automobiles through its local dealerships came to the rescue and, combined with a newly-acquired National Racing Calendar slot, helped bring about a renaissance of sorts for the event. For 2000, while the prize money is still relatively small by national standards- $3,500 total for both the men's and women's elite events - the Tour of Willamette still remains one of the most difficult multi-day events in North America.
The Tour of Willamette begins on April 11th with a one-kilometer prologue time trial from the banks of the Willamette River up to the heights overlooking downtown Eugene, then continues through a pair of grueling road races with a combined 14,000 feet of climbing for the men, 8,500 for the women. The 15th is a double-stage day, with a nine-mile time trial in the morning and a late-day criterium in nearby Cottage Grove. The race concludes on April 16th with the Brownsville Road Race, which includes the 11-13% climb to West Brush Creek and a 'sprinters' finish in downtown Eugene.
The stages
Prologue- April 11: Skinner's Butte Prologue, 0.6 mile
Stage 1 - April 12: Greenhill Road Race, 82 miles men/68 miles women
Stage 2 - April 13: Smith River-Vincent Creek Road Race, 89 miles men/62
miles women
Stage 3 - April 14: Kill Hill Road Race, 105 miles men/68 miles women
Stage 4 - April 15: Coburg Time Trial, 9 miles
Stage 5 - April 15: Cottage Grove Criterium, 1 hour men/45 minutes women
Stage 6 - April 16: Brownsville Road Race, 106 miles men/76 miles women
Baal condemns the Perpignan affair
Daniel Baal, president of the French cycling federation (FFC) considered the recent doping affair in southern France as "utterly condemnable".
"These are delinquent, if not criminal, actions. They deserve to be condemned in the strongest possible formal way," he said to France Inter. Nine cases of investigations have been started on riders and ex-riders by the legal authorities of Perpignan and it is possible that there is a nationwide involvement in this drug trafficking. "It is quite clear that the FFC will take actions against the involved persons," said Baal said. In the meantime Belgian ex soigneur Willy Voet, who starred in the Festina drama, accused the former Festina rider Thierry Laurent to be a drug trafficker in an interview in the news paper "France Soir".
No Aragon for Ullrich
Jan Ullrich will not start in the Vuelta a Aragon starting April 16.. The 26 year old Telekom captain has not raced since March 15 and has been suffering from a cold since then.
"He was examined at the University clinic of Freiburg on Sunday. He has recovered fully but there is still three months to the Tour de France. He must be fit then, and I have no doubt that he will. I have told him that he shouldn't race until he has reached his necessary form by training instead of being dropped in races," team manager Walter Godefroot said on Saturday. His assistant Rudy Pevenage, who has a special responsibility for Ullrich, led the training in Schwarzwald the last four days:
"Today he could for the first time go really hard in a four and a half hour training ride. Next week he will train with the Junior team under his personal trainer Peter Becker. We have no fixed date for his next race, we are flexible," said Pevenage on Saturday.