Tour du Faso - 2.2
Burkina Faso, October 26-November 4, 2007
Main Page Results Overall standings Previous Stage Next Stage
Stage 4 - October 29: Kokologo - Boromo, 136 km
Edet wins stage
Nicolas Edet (Centre)
Photo ©: Amaury Sport Organisation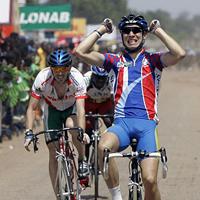 Yellow jersey wearer Mouhssine Lahsaini of team Morocco was among those driving the pace in Stage 4. The tough pace caused about fifteen riders to drop off the pace. Among the riders who managed to stick with the main bunch was Nicolas Edet (Centre). Edet and three other attackers went for it at the end of the race. Edet was helped by his team-mate Vincent Graczyk to a stage victory. Graczyk finished fourth with Guillaume Gualandi (Auvergne) and Sadrack Teguimaha (Cameroon) in second and third.
How it unfolded
The attacked started immediately after the official start. Bassirou Konte (Ivory Coast) led a group of nine off the front although they never got a big gap. Five other riders attempted to join after another kliometer. Edet almost fell victim to the early attacks as he was caught near the back as riders started to drop off, but he pushed hard along with pink jersey holder Vincent Graczyk to regain his spot in the pack.
The four man break
Photo ©: Amaury Sport Organisation

About 60 riders would finish in the main bunch with only the teams from Alsace, Centre, and Essone ending with three riders stick with the bunch. Along the route, the battled continued for intermediate sprints. Joseph Lemoine (Centre) and Vincent Viet (Essonne) tied the day with the same number of points, but Viet came out on top since he was further up in the overall standings.
With 30km to go, Julien Rabaud (Auvergne) took off. Eventually five riders joined him, but they were caught. Later a break of four riders went with just five kilomters to go, including Graczyk, Edet, Gualandi and Teguimaha. the two Centre riders worked together well with the goal of getting Edet the win. Graczyk led him out for the win. Edet is now within one minute and 10 seconds of the overall. The closest challenger for Lahsaini is Dutch rider Roel Egelmeers.
Photography
For a thumbnail gallery of these images, click here
Images by Amaury Sport Organisation
Results

1 Nicolas Edet (Fra) Centre                             3.09.30 (40.528 km/h)
2 Guillaume Gualandi (Fra) Auvergne                            
3 Sadrack Teguimaha (Cmr) Cameroon                             
4 Vincent Graczyk (Fra) Centre                             0.04
5 Mickaël Schnell (Fra) Alsace                             0.15
6 Jérémy Galland (Fra) Essonne                                 
7 Julien Tomasi (Fra) Alsace                                   
8 Benjamin Gault (Fra) Centre                                  
9 Seydou Sanfo (Bur) Port Autonome De Lome                     
10 Alexandre Brandt (Fra) Alsace                               
11 Saidou Rouamba (Bur) Port Autonome De Lome                  
12 Roel Egelmeers (Ned) Netherlands                            
13 Vincent Viet (Fra) Essonne                                  
14 Dirk Oude Ophuis (Ned) Netherlands                          
15 Mouhssine Lahsaini (Mar) Morocco                            
16 Sylvain T. Ilboudo (Bur) Sofitex                            
17 Abdelati Saadoune (Mar) Morocco                             
18 Mohammed Er Ragragui (Mar) Morocco                          
19 Damien Tekou (Cmr) Cameroon                                 
20 Bassirou Konte (CIv) Ivory Coast                            
21 Laurent Zongo (Bur) Port Autonome De Lome                   
22 Eugène K. Lokossue (CIv) Ivory Coast                        
23 Narcisse Tamno Tokam (Cmr) Cameroon                         
24 Ahmed Ouedraogo (CIv) Ivory Coast                           
25 Guy Smet (Bel) Belgium                                      
26 Lionel Syne (Bel) Belgium                                   
27 Mattias Nys (Bel) Belgium                                   
28 Stéphane Gay (Fra) Auvergne                                 
29 Wahab A. Sawadogo (Bur) Port Autonome De Lome               
30 Jérémie R. Ouedraogo (Bur) Port Autonome De Lome            
31 Sébastien Le Baron (Fra) Auvergne                           
32 Mahamadi Balima (Bur) Burkina Faso                          
33 Olivier Nari (Fra) Essonne                                  
34 Martinien Tega (Cmr) Cameroon                               
35 Gerben Nijmeijer (Ned) Netherlands                          
36 Ferdi Van Katwijk (Ned) Netherlands                         
37 Loïc Cavalier (Fra) Alsace                                  
38 Adil Jelloul (Mar) Morocco                                  
39 Sébastien Foucher (Fra) Centre                              
40 Tidiani Sanogo (Mli) Mali                                   
41 Saidou Tall (Bur) Burkina Faso                              
42 Olivier Derquenne (Fra) Essonne                             
43 Krihstoff Verbraeken (Bel) Belgium                          
44 Joseph Sanda (Cmr) Cameroon                                 
45 Boukaré Kagambega (Bur) Burkina Faso                        
46 Jérôme Amann (Fra) Alsace                                   
47 Abdellatif Karraz (Mar) Morocco                             
48 Amaury Grelot (Fra) Essonne                                 
49 Abdoulaye Ouedraogo (Bur) Sofitex                           
50 Mouhcine Rhaili (Mar) Morocco                               
51 Yann Frette (Fra) Essonne                                   
52 Michel Kaufmann (Fra) Alsace                                
53 Romain Appert (Fra) Centre                                  
54 Julien Rabaud (Fra) Auvergne                                
55 Idrissa Ouedraogo (Bur) Burkina Faso                        
56 Issiaka Fofana (CIv) Ivory Coast                            
57 Houdo Sawadogo (Bur) Sofitex                                
58 Désiré Kabore (Bur) Burkina Faso                            
59 Joseph Lemoine (Fra) Centre                                 
60 Thijs Poelstra (Ned) Netherlands                            
61 Mickaël Bergerard (Fra) Auvergne                            
62 Christof Marien (Bel) Belgium                           3.45
63 Siaka Mariko (Mli) Mali                                20.55
64 Ousmane Compaore (Bur) Sofitex                         21.05
65 Hamidou Diarra (Mli) Mali                              21.34
66 David Lacoste (Fra) Auvergne                                
67 Aboubakar Daouda (Cmr) Cameroon                             
68 Mongonlon Toure (CIv) Ivory Coast                           
69 Komla Edem Daku (Tog) Togo                                  
70 Kokou Samana (Tog) Togo                                     
71 Bolodigui Ouattara (CIv) Ivory Coast                        
72 Pierre S. Kiba (Bur) Sofitex                                
73 Salia Togola (Mli) Mali                                     
74 Adama Bagayoko (Mli) Mali                                   
75 Roel De Vries (Ned) Netherlands                        21.42
76 Kowouvi Dossouvi (Tog) Togo                                 
77 Mahamadi Sawadogo (Bur) Port Autonome De Lome          21.47
78 Mahamadi Nikiema (Bur) Sofitex                              
79 Tidiani Ouedraogo (Bur) Burkina Faso                   21.52
80 Jeremy Burton (Bel) Belgium                                
 
Points

1 Nicolas Edet (Fra) Centre                            30 pts
2 Guillaume Gualandi (Fra) Auvergne                    27
3 Sadrack Teguimaha (Cmr) Cameroon                     25
4 Vincent Graczyk (Fra) Centre                         23
5 Mickaël Schnell (Fra) Alsace                         21
6 Jérémy Galland (Fra) Essonne                         19
7 Julien Tomasi (Fra) Alsace                           17
8 Benjamin Gault (Fra) Centre                          15
9 Seydou Sanfo (Bur) Port Autonome De Lome             13
10 Alexandre Brandt (Fra) Alsace                       11
11 Saidou Rouamba (Bur) Port Autonome De Lome          10
12 Roel Egelmeers (Ned) Netherlands                     9
13 Vincent Viet (Fra) Essonne                           8
14 Dirk Oude Ophuis (Ned) Netherlands                   7
15 Mouhssine Lahsaini (Mar) Morocco                     6
16 Sylvain T. Ilboudo (Bur) Sofitex                     5
17 Abdelati Saadoune (Mar) Morocco                      4
18 Mohammed Er Ragragui (Mar) Morocco                   3
19 Damien Tekou (Cmr) Cameroon                          2
20 Bassirou Konte (CIv) Ivory Coast                     1

Sprints

Sabou - km 43

1 Jérémy Galland (Fra) Essonne                          3 pts
2 Vincent Viet (Fra) Essonne                            2
3 Wahab A. Sawadogo (Bur) Port Autonome De Lome         1

Tita - km 80.5

1 Joseph Lemoine (Fra) Centre                           3 pts
2 Stéphane Gay (Fra) Auvergne                           2
3 Vincent Viet (Fra) Essonne                            1

Laba - km 102.5

1 Vincent Viet (Fra) Essonne                            3 pts
2 Joseph Lemoine (Fra) Centre                           2
3 Sadrack Teguimaha (Cmr) Cameroon                      1 

Team

1 Centre                                                9.28.49
2 Cameroon                                                 0.11
3 Auvergne                                                     
4 Alsace                                                   0.26
5 Port Autonome De Lome                                        
6 Maroc                                                        
7 Essonne                                                      
8 Netherlands                                                  
9 Ivory Coast                                                  
10 Belgium                                                     
11 Burkina Faso                                                
12 Sofitex                                                     
13 Mali                                                   42.25
14 Togo                                                 1.04.31
 
General classification after stage 4

1 Mouhssine Lahsaini (Mar) Morocco                     12.50.53
2 Roel Egelmeers (Ned) Netherlands                         0.05
3 Krihstoff Verbraeken (Bel) Belgium                       0.51
4 Nicolas Edet (Fra) Centre                                1.10
5 Jérémy Galland (Fra) Essonne                             1.17
6 Adil Jelloul (Mar) Morocco                               1.19
7 Vincent Graczyk (Fra) Centre                             1.21
8 Mickaël Schnell (Fra) Alsace                             1.29
9 Lionel Syne (Bel) Belgium                                    
10 Martinien Tega (Cmr) Cameroon                           1.31
11 Mohammed Er Ragragui (Mar) Morocco                      1.34
12 Guy Smet (Bel) Belgium                                      
13 Sadrack Teguimaha (Cmr) Cameroon                        1.37
14 Mattias Nys (Bel) Belgium                               1.47
15 Loïc Cavalier (Fra) Alsace                              1.50
16 Romain Appert (Fra) Centre                              1.51
17 Julien Tomasi (Fra) Alsace                              1.52
18 Joseph Sanda (Cmr) Cameroon                             1.53
19 Vincent Viet (Fra) Essonne                              2.01
20 Stéphane Gay (Fra) Auvergne                             2.08
21 Jérémie R. Ouedraogo (Bur) Port Autonome De Lome            
22 Bassirou Konte (CIv) Ivory Coast                        2.09
23 Wahab A. Sawadogo (Bur) Port Autonome De Lome               
24 Saidou Rouamba (Bur) Port Autonome De Lome              2.10
25 Abdelati Saadoune (Mar) Morocco                             
26 Dirk Oude Ophuis (Ned) Netherlands                          
27 Olivier Derquenne (Fra) Essonne                             
28 Ahmed Ouedraogo (CIv) Ivory Coast                           
29 Eugène K. Lokossue (CIv) Ivory Coast                        
30 Abdellatif Karraz (Mar) Morocco                             
31 Benjamin Gault (Fra) Centre                             2.18
32 Ferdi Van Katwijk (Ned) Netherlands                         
33 Jérôme Amann (Fra) Alsace                                   
34 Gerben Nijmeijer (Ned) Netherlands                          
35 Michel Kaufmann (Fra) Alsace                                
36 Abdoulaye Ouedraogo (Bur) Sofitex                       2.39
37 Sébastien Foucher (Fra) Centre                              
38 Saidou Tall (Bur) Burkina Faso                          2.42
39 Guillaume Gualandi (Fra) Auvergne                       2.45
40 Olivier Nari (Fra) Essonne                              2.47
41 Mouhcine Rhaili (Mar) Morocco                           2.56
42 Désiré Kabore (Bur) Burkina Faso                        3.03
43 Yann Frette (Fra) Essonne                               3.04
44 Damien Tekou (Cmr) Cameroon                             3.06
45 Idrissa Ouedraogo (Bur) Burkina Faso                    3.25
46 Julien Rabaud (Fra) Auvergne                            3.27
47 Boukaré Kagambega (Bur) Burkina Faso                        
48 Sébastien Le Baron (Fra) Auvergne                       3.52
49 Amaury Grelot (Fra) Essonne                             3.56
50 Mickaël Bergerard (Fra) Auvergne                        4.00
51 Tidiani Sanogo (Mli) Mali                               4.58
52 Houdo Sawadogo (Bur) Sofitex                            5.02
53 Alexandre Brandt (Fra) Alsace                           5.13
54 Thijs Poelstra (Ned) Netherlands                        5.22
55 Christof Marien (Bel) Belgium                           5.40
56 Sylvain T. Ilboudo (Bur) Sofitex                        7.38
57 Mahamadi Balima (Bur) Burkina Faso                     14.42
58 Laurent Zongo (Bur) Port Autonome De Lome              15.38
59 Issiaka Fofana (CIv) Ivory Coast                       17.54
60 Joseph Lemoine (Fra) Centre                            19.25
61 Seydou Sanfo (Bur) Port Autonome De Lome               20.20
62 Narcisse Tamno Tokam (Cmr) Cameroon                    22.07
63 Jeremy Burton (Bel) Belgium                            23.27
64 Tidiani Ouedraogo (Bur) Burkina Faso                   24.19
65 Mahamadi Sawadogo (Bur) Port Autonome De Lome          24.22
66 Roel De Vries (Ned) Netherlands                        24.31
67 Hamidou Diarra (Mli) Mali                              25.17
68 Bolodigui Ouattara (CIv) Ivory Coast                   25.18
69 Salia Togola (Mli) Mali                                26.44
70 Ousmane Compaore (Bur) Sofitex                         28.12
71 Siaka Mariko (Mli) Mali                                29.18
72 Pierre S. Kiba (Bur) Sofitex                           35.08
73 Mahamadi Nikiema (Bur) Sofitex                         38.02
74 David Lacoste (Fra) Auvergne                           38.20
75 Adama Bagayoko (Mli) Mali                              46.30
76 Mongonlon Toure (CIv) Ivory Coast                      55.29
77 Kokou Samana (Tog) Togo                                56.12
78 Kowouvi Dossouvi (Tog) Togo                          1.01.11
79 Komla Edem Daku (Tog) Togo                           1.20.42
80 Aboubakar Daouda (Cmr) Cameroon                      1.59.23

Points classification

1 Mickaël Schnell (Fra) Alsace                         70 pts
2 Jérémy Galland (Fra) Essonne                         67
3 Nicolas Edet (Fra) Centre                            66
4 Mouhssine Lahsaini (Mar) Morocco                     57
5 Julien Tomasi (Fra) Alsace                           54
6 Roel Egelmeers (Ned) Netherlands                     53
7 Vincent Graczyk (Fra) Centre                         45
8 Mohammed Er Ragragui (Mar) Morocco                   43
9 Adil Jelloul (Mar) Morocco                           42
10 Jeremy Burton (Bel) Belgium                         41
11 Guy Smet (Bel) Belgium                              40
12 Vincent Viet (Fra) Essonne                          39
13 Sadrack Teguimaha (Cmr) Cameroon                    36
14 Guillaume Gualandi (Fra) Auvergne                   35
15 Dirk Oude Ophuis (Ned) Netherlands                  33
16 Romain Appert (Fra) Centre                          31
17 Seydou Sanfo (Bur) Port Autonome De Lome            28
18 Lionel Syne (Bel) Belgium                           27
19 Saidou Rouamba (Bur) Port Autonome De Lome          27
20 Krihstoff Verbraeken (Bel) Belgium                  25
21 Martinien Tega (Cmr) Cameroon                       23
22 Loïc Cavalier (Fra) Alsace                          21
23 Benjamin Gault (Fra) Centre                         18
24 Joseph Sanda (Cmr) Cameroon                         17
25 Christof Marien (Bel) Belgium                       15
26 Mattias Nys (Bel) Belgium                           14
27 Olivier Nari (Fra) Essonne                          11
28 Alexandre Brandt (Fra) Alsace                       11
29 Olivier Derquenne (Fra) Essonne                      9
30 Stéphane Gay (Fra) Auvergne                          5
31 Sylvain T. Ilboudo (Bur) Sofitex                     5
32 Abdelati Saadoune (Mar) Morocco                      4
33 Mouhcine Rhaili (Mar) Morocco                        4
34 Roel De Vries (Ned) Netherlands                      4
35 Damien Tekou (Cmr) Cameroon                          3
36 Bassirou Konte (CIv) Ivory Coast                     1
 
Sprint classification

1 Vincent Viet (Fra) Essonne                            9 pts
2 Joseph Lemoine (Fra) Centre                           9
3 Vincent Graczyk (Fra) Centre                          7
4 Jérémy Galland (Fra) Essonne                          5
5 Nicolas Edet (Fra) Centre                             4
6 Lionel Syne (Bel) Belgium                             4
7 Sadrack Teguimaha (Cmr) Cameroon                      4
8 Julien Tomasi (Fra) Alsace                            3
9 Bolodigui Ouattara (CIv) Ivory Coast                  3
10 Mattias Nys (Bel) Belgium                            3
11 Mouhssine Lahsaini (Mar) Morocco                     3
12 Laurent Zongo (Bur) Port Autonome De Lome            3
13 Stéphane Gay (Fra) Auvergne                          2
14 Jérémie R. Ouedraogo (Bur) Port Autonome De Lome     2
15 Boukaré Kagambega (Bur) Burkina Faso                 2
16 Sylvain T. Ilboudo (Bur) Sofitex                     2
17 Roel Egelmeers (Ned) Netherlands                     2
18 Mohammed Er Ragragui (Mar) Morocco                   2
19 Wahab A. Sawadogo (Bur) Port Autonome De Lome        1
20 Bassirou Konte (CIv) Ivory Coast                     1
21 Krihstoff Verbraeken (Bel) Belgium                   1

Best African classification

1 Mouhssine Lahsaini (Mar) Morocco                     12.50.53
2 Adil Jelloul (Mar) Morocco                               1.19
3 Martinien Tega (Cmr) Cameroon                            1.31
4 Mohammed Er Ragragui (Mar) Morocco                       1.34
5 Sadrack Teguimaha (Cmr) Cameroon                         1.37
6 Joseph Sanda (Cmr) Cameroon                              1.53
7 Jérémie R. Ouedraogo (Bur) Port Autonome De Lome         2.08
8 Bassirou Konte (CIv) Ivory Coast                         2.09
9 Wahab A. Sawadogo (Bur) Port Autonome De Lome                
10 Saidou Rouamba (Bur) Port Autonome De Lome              2.10
11 Abdelati Saadoune (Mar) Morocco                             
12 Ahmed Ouedraogo (CIv) Ivory Coast                           
13 Eugène K. Lokossue (CIv) Ivory Coast                        
14 Abdellatif Karraz (Mar) Morocco                             
15 Abdoulaye Ouedraogo (Bur) Sofitex                       2.39
16 Saidou Tall (Bur) Burkina Faso                          2.42
17 Mouhcine Rhaili (Mar) Morocco                           2.56
18 Désiré Kabore (Bur) Burkina Faso                        3.03
19 Damien Tekou (Cmr) Cameroon                             3.06
20 Idrissa Ouedraogo (Bur) Burkina Faso                    3.25
21 Boukaré Kagambega (Bur) Burkina Faso                    3.27
22 Tidiani Sanogo (Mli) Mali                               4.58
23 Houdo Sawadogo (Bur) Sofitex                            5.02
24 Sylvain T. Ilboudo (Bur) Sofitex                        7.38
25 Mahamadi Balima (Bur) Burkina Faso                     14.42
26 Laurent Zongo (Bur) Port Autonome De Lome              15.38
27 Issiaka Fofana (CIv) Ivory Coast                       17.54
28 Seydou Sanfo (Bur) Port Autonome De Lome               20.20
29 Narcisse Tamno Tokam (Cmr) Cameroon                    22.07
30 Tidiani Ouedraogo (Bur) Burkina Faso                   24.19
31 Mahamadi Sawadogo (Bur) Port Autonome De Lome          24.22
32 Hamidou Diarra (Mli) Mali                              25.17
33 Bolodigui Ouattara (CIv) Ivory Coast                   25.18
34 Salia Togola (Mli) Mali                                26.44
35 Ousmane Compaore (Bur) Sofitex                         28.12
36 Siaka Mariko (Mli) Mali                                29.18
37 Pierre S. Kiba (Bur) Sofitex                           35.08
38 Mahamadi Nikiema (Bur) Sofitex                         38.02
39 Adama Bagayoko (Mli) Mali                              46.30
40 Mongonlon Toure (CIv) Ivory Coast                      55.29
41 Kokou Samana (Tog) Togo                                56.12
42 Kowouvi Dossouvi (Tog) Togo                          1.01.11
43 Komla Edem Daku (Tog) Togo                           1.20.42
44 Aboubakar Daouda (Cmr) Cameroon                      1.59.23

UEMOA Classification

1 Jérémie R. Ouedraogo (Bur) Port Autonome De Lome     12.53.01
2 Bassirou Konte (CIv) Ivory Coast                         0.01
3 Wahab A. Sawadogo (Bur) Port Autonome De Lome                
4 Saidou Rouamba (Bur) Port Autonome De Lome               0.02
5 Ahmed Ouedraogo (CIv) Ivory Coast                            
6 Eugène K. Lokossue (CIv) Ivory Coast                         
7 Abdoulaye Ouedraogo (Bur) Sofitex                        0.31
8 Saidou Tall (Bur) Burkina Faso                           0.34
9 Désiré Kabore (Bur) Burkina Faso                         0.55
10 Idrissa Ouedraogo (Bur) Burkina Faso                    1.17
11 Boukaré Kagambega (Bur) Burkina Faso                    1.19
12 Tidiani Sanogo (Mli) Mali                               2.50
13 Houdo Sawadogo (Bur) Sofitex                            2.54
14 Sylvain T. Ilboudo (Bur) Sofitex                        5.30
15 Mahamadi Balima (Bur) Burkina Faso                     12.34
16 Laurent Zongo (Bur) Port Autonome De Lome              13.30
17 Issiaka Fofana (CIv) Ivory Coast                       15.46
18 Seydou Sanfo (Bur) Port Autonome De Lome               18.12
19 Tidiani Ouedraogo (Bur) Burkina Faso                   22.11
20 Mahamadi Sawadogo (Bur) Port Autonome De Lome          22.14
21 Hamidou Diarra (Mli) Mali                              23.09
22 Bolodigui Ouattara (CIv) Ivory Coast                   23.10
23 Salia Togola (Mli) Mali                                24.36
24 Ousmane Compaore (Bur) Sofitex                         26.04
25 Siaka Mariko (Mli) Mali                                27.10
26 Pierre S. Kiba (Bur) Sofitex                           33.00
27 Mahamadi Nikiema (Bur) Sofitex                         35.54
28 Adama Bagayoko (Mli) Mali                              44.22
29 Mongonlon Toure (CIv) Ivory Coast                      53.21
30 Kokou Samana (Tog) Togo                                54.04
31 Kowouvi Dossouvi (Tog) Togo                            59.03
32 Komla Edem Daku (Tog) Togo                           1.18.34
 
Best young rider classification

1 Mouhssine Lahsaini (Mar) Morocco                     12.50.53
2 Nicolas Edet (Fra) Centre                                1.10
3 Jérémy Galland (Fra) Essonne                             1.17
4 Vincent Graczyk (Fra) Centre                             1.21
5 Julien Tomasi (Fra) Alsace                               1.52
6 Joseph Sanda (Cmr) Cameroon                              1.53
7 Vincent Viet (Fra) Essonne                               2.01
8 Bassirou Konte (CIv) Ivory Coast                         2.09
9 Dirk Oude Ophuis (Ned) Netherlands                       2.10
10 Eugène K. Lokossue (CIv) Ivory Coast                        
11 Abdellatif Karraz (Mar) Morocco                             
12 Benjamin Gault (Fra) Centre                             2.18
13 Jérôme Amann (Fra) Alsace                                   
14 Damien Tekou (Cmr) Cameroon                             3.06
15 Idrissa Ouedraogo (Bur) Burkina Faso                    3.25
16 Julien Rabaud (Fra) Auvergne                            3.27
17 Amaury Grelot (Fra) Essonne                             3.56
18 Mickaël Bergerard (Fra) Auvergne                        4.00
19 Jeremy Burton (Bel) Belgium                            23.27
20 Roel De Vries (Ned) Netherlands                        24.31
21 Ousmane Compaore (Bur) Sofitex                         28.12
22 Siaka Mariko (Mli) Mali                                29.18
23 Mahamadi Nikiema (Bur) Sofitex                         38.02
24 Adama Bagayoko (Mli) Mali                              46.30
25 Mongonlon Toure (CIv) Ivory Coast                      55.29
26 Komla Edem Daku (Tog) Togo                           1.20.42
27 Aboubakar Daouda (Cmr) Cameroon                      1.59.23
 
Team classification

1 Maroc                                                38.35.51
2 Belgium                                                  0.09
3 Netherlands                                              1.29
4 Centre                                                   1.37
5 Cameroon                                                 1.57
6 Essonne                                                  2.03
7 Alsace                                                   2.22
8 Port Autonome De Lome                                    3.18
9 Ivory Coast                                              3.26
10 Auvergne                                                3.59
11 Burkina Faso                                            4.22
12 Sofitex                                                 5.38
13 Mali                                                   51.30
14 Togo                                                 3.02.42