Click here for the directory of all Lance Armstrong features published on Cyclingnews
Click here for a behind the scenes sneak-peak at the making of the program
Lance Armstrong features listing
Lance Armstrong: Larger than life
Photo ©: Andrew Rogers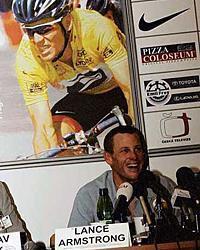 An interview with Lance Armstrong: Six and counting for Armstrong - October 26, 2004
At 33 years old, Lance Armstrong is still very much on top of his game, crushing the opposition yet again during the 2004 Tour de France to win an incredible six Tours in succession. Although his racing committments have dropped right off in the latter part of the season, Lance has not been inactive, recently taking part in the second Tour of Hope in order to raise awareness for cancer research. While at home in Austin, Texas, Lance Armstrong took the time to talk to Cyclingnews' European Editor Tim Maloney about the ToH, Livestrong, his sixth Tour win, Discovery's line up for 2005, the Simeoni incident and much more in this two part interview. Part one, Part two
Truly, madly, deeply - Tales from the peloton, August 5, 2004
In one of only two post-Tour criterium appearances, six-time Tour winner Lance Armstrong chose to race in the Czech Republic, the event coinciding with a visit to the cancer wards at the Motol hospital in Prague. Andrew Rogers relives a memorable day.
Maillot jaune: Lance Armstrong on top of his game, having fun - July 24, 2004
With only the formality of the final stage to Paris standing between him and a record-breaking sixth consecutive victory in the Tour de France, Lance Armstrong has emerged from this year's Tour almost as a man reborn. The end result was the same, as was the basic process of training and preparation, but somehow the American feels different. This year Armstrong has had fun. For a man dedicated to racing his bicycle, and dedicated to winning the toughest, most prestigious race in the world, Armstrong is also a man who wants to enjoy himself along the way, writes Chris Henry.
An American in Paris?
Photo ©: Tour of Hope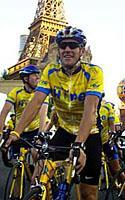 Armstrong sweats the details: Three weeks to go before the Tour de France - June 11, 2004
Lance Armstrong is a worried man, but not because the Tour is around the corner and Iban Mayo just took almost two minutes out of him in the Dauphine's Mont Ventoux time trial. As he tells Cyclingnews European Editor Tim Maloney, he's always worried about the Tour, even in January.
Ready for the Classics: It's not all about Lance - Team Profile, March 5, 2004
With Berry Floor's involvement in sponsoring the U.S. Postal Service cycling team getting bigger, there is now more emphasis in the team on the northern European classics, particularly those in Belgium and France in spring. The 'classics team' is a subset of the U.S. Postal-Berry Floor outfit, and Cyclingnews travelled to Kortrijk in the west of Belgium to find out what this arm is about.
Lance Armstrong more motivated than ever in 2004 for TdF win #6 - March 5, 2004
Lance Armstrong is in the first stages of a five-month campaign to make the top step of the Tour podium in Paris for an unprecedented sixth time. But July is a till a long way away, and in the meantime there's plenty of racing in both Europe and the US; an on-going and very public dialogue with the World Anti Doping Agency and a new role as a lead-out man, as he tells Cyclingnews' European Editor Tim Maloney.
Lance Armstrong - goals and changes - January 27, 2004
At a press conference Friday in Solvang, California, Lance Armstrong and other members of the United States Postal Service Pro Cycling Team presented by Berry Floor talked about the team's schedule for this year, the arrival of new team members and the departure of others. Kristy Scrymgeour reports on a team that's full of confidence for a new season.
Lance Armstrong surprisingly ebullient
Photo ©: Tim Maloney
Lance Armstrong press conference: Still a lot to ride fast for, December 12, 2003
As European leaders bickered in Brussels over the EU constitutional, a serene, happy Lance Armstrong was also in Brussels for a year-end press conference for his sponsor Berry Floor. With Cyclingnews' European Editor Tim Maloney and other European sports media there, the American five-time Tour de France winner was surprisingly ebullient, telling the assembled media in no uncertain terms that he was in his best mood ever.
Ride for the Roses undampened by grey weather - Tales from the fund-raising peloton
In the off-season, five-time Tour de France winner Lance Armstrong shifts gears from top bike racer to energetic fund-raiser for cancer charity the Lance Armstrong Foundation. Ted Arnold was in Austin, Texas for the Foundation's annual fund-raising bike ride, the Ride for the Roses.
US Postal Service presentation: Lance and co. ready for number five
From January 21st through the 30th in California, one of the top cycling teams in the world gathered for its first training camp of the year. During that period, new bikes were given out and adjusted, new team kits arrived, and off season signings got to meet their new teammates.
A chance meeting - Tales from the (off-road) Peloton
One of the advantages of living in Austin, Texas is that you never know who you might bump into out on the road, or the trails. And you never know how silly you'll make yourself look, as Andy Bury discovered.
Armstrong at the pinnacle
Cyclingnews' European Editor Tim Maloney interviewed three-time Tour de France winner Lance Armstrong the day before this year's Milan - San Remo, the rider's first major hit-out for the year. In this special two-part interview, Armstrong discusses the year ahead, his TdF training template and reveals even more about dealings with French authorities, who have found another reason to make life difficult for the American champion. Part one, Part two
Armstrong's Spring campaign over; American sets his sights on quest for 4th consecutive Tour De France title
As Europe prepared for their Labor Day on the eve of May 1, Cyclingnews' European Editor Tim Maloney spoke to Lance Armstrong at his home in Girona, Spain. As son Luke happily played with George Hincapie's scooter helmet before bedtime, the three time Tour De France champion took time to update us on his spring classics campaign, Tour De France preparation and other stuff.
Countdown To Le Tour: Lance Armstrong speaks to Cyclingnews about 2002 Preparation
Only three riders have ever won both the difficult and prestigious French stage races Grand Prix Midi-Libré and Criterium Dauphiné Libéré in the same year. 31 years ago, it was Eddy "Cannibal" Merckx who devoured both, while Big Mig Indurain also did the double in 1995, on his way to his 4th consecutive Tour De France victory.
Tech
Outer space technology helps Armstrong fly - Trek Madone SL
It's not about the bike - but when you have a Tour de France to win, it doesn't hurt to have a development team working to come up with the best possible machines. At the Mont Ventoux stage of the Dauphine, Lance Armstrong used a new version of the Trek Madone, as Tim Maloney reports.
Lance Armstrong's US Postal Service-Berry Floor Trek Madone SL - Reviewed March 15, 2004
A athlete who loves his equipment, Lance Armstrong used the Trek Madone 5.9 to propel himself to a fifth consecutive Tour de France victory in 2003. This July, the leader of the US Postal Service-Berry Floor team wll be using something decidedly different; Trek's Madone SL is a work-in-progress of the machine Armstrong will use as he attempts to create a league of his own.
Lance Armstrong's US Postal Trek 5900 Milan-San Remo machine
To get the low-down on Lance Armstrong's rig, we caught up with his mechanic Jean-Marc Vandenberghe as the team were preparing the day before Milan-San Remo. Jean-Marc is from Moorslede, in the heart of the bike-mad Flanders region of Belgiium.