2005 Team rosters
Team Velo Canberra
The team
Photo: © Mark Gunter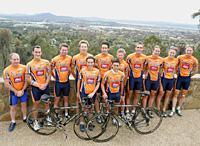 Team Velo Canberra was officially launched by Team Patron and former Tour de France campaigner Stephen Hodge on April 16. The launch took place at the start of first round of the National road series, The Canberra Tour. The team is comprised of locally sourced riders who will be competing on the National circuit in the increasingly teams based environment against teams such at MG X Power.
Team Velo Canberra includes former Commonwealth Games medallist Alison Wright, who is taking a break from international competition and is looking to pass some of her experience onto the newer members of the team in her home town.
The team was developed to provide an additional level of structure and support for local riders coming through the ranks, and is backed by local Canberra businesses Catalyst Interactive, Elders Belconnen and Beess and Co. Café. Canberra has recently produced riders such as current world time trial champion Michael Rogers and World Cup winner Oenone Wood, and the team hopes to help other local riders reach their potential.
This foundation year is set to be a big one for the team, with a busy race schedule throughout the ACT, Victoria, New South Wales and Queensland. The team is heading to Cootamundra this weekend for its annual Autumn handicap races.
The team website is: www.velocanberra.com which contains rider profiles, team news, riders diary's and much more.
2005 Team Line Up
Men's Squad
Allan Sieper
Ben Darlington
Stephen Blair
Stephen Blackburn
Michael Tolhurst
Fabio Calabria
Marcus Hayman
Women's Squad
Judith May
Bridget Ayling
Alison Wright
Liz Hayman
Massage Therapist: Adam Forsdyke
Team Patron: Stephen Hodge