First Edition Cycling News, June 3, 2009
Edited by Les Clarke
Astana's leadership clear ahead of Tour
Astana team manager Johan Bruyneel and Lance Armstrong
Photo ©: Roberto Bettini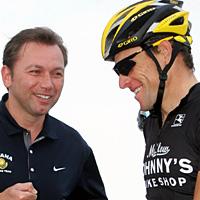 As attention swings to next month's Tour de France following the conclusion of the Giro d'Italia, the apparent questions over who will be Astana's captain seem to be answered.
There's been constant speculation since the return of Lance Armstrong surrounding who will be the team's number one in France during July. While it hasn't caused tension within the team, Astana manager Johan Bruyneel has had to address regular questioning about the matter. It appears that the outcome of the Giro d'Italia has helped shape his latest response.
Bruyneel told French sports daily L'Equipe that Contador is the best Grand Tour rider, "which leaves no doubt about his leadership during the next Tour de France. The goal is to win. There is talk of a duel between [Lance] Armstrong and Contador, but what there is is a duel between ourselves and others," said Bruyneel, who also confirmed, "Armstrong is not the team's second rider. With what we saw in the Giro, that [role] is for Levi [Leipheimer]."
The Astana director added that Contador's main rivals for the Tour de France - including teammates Leipheimer, Armstrong and Andreas Klöden, plus Denis Menchov, Carlos Sastre, Andy Schleck and Cadel Evans - were "a step below" the level of the Spaniard.
Bruyneel also spoke of the possibility that Contador had been approached by Caisse d'Epargne about a move to the Spanish squad next season. "I spoke with Alberto during the Giro and [he] told me there was nothing about the rumour that he met with the Caisse d'Epargne [team]. Trust us," said Bruyneel.
He did add that the current situation surrounding sponsorship of the the Astana squad, which is tenuous, meant that, "anything is possible". Although he said that Armstrong's presence on the team was a guarantee of sorts when it came to attracting sponsors because the American attracts so many fans.
Bank guarantees needed to continue
Meanwhile, Bruyneel is confident in continuing with the current structure of the outfit, although the UCI will require more Kazakh government bank guarantees to cover the payments to Astana team employees.
For several months the Kazakh government hasn't fulfilled its obligations to pay brokers and assistants of the squad, which led the UCI to examine the grounds for possible suspension of Astana's ProTour licence.
As a sign of its discontent, Astana's riders decided to wear a jersey minus advertising logos - namely the Astana label and major corporate sponsors of the team. The team's manager remains optimistic and hopes that the matter can be resolved soon.
Battle lines drawn after Giro
Carlos Sastre
Photo ©: Roberto Bettini

After Denis Menchov and Carlos Sastre each won two stages and finished within the top five on general classification at the Giro d'Italia they'll go into next month's Tour de France as one of the race's rivalries to watch.
Sastre spoke of this rivalry at a press conference in Ávila yesterday following his successful Giro campaign. As he turns his attention to defending his Tour de France title, Sastre said that it will "have nothing to do with the rest" and that his greatest rival in La Grande Boucle will be Menchov.
"Denis Menchov will be my eternal rival. Wherever we ride we will always battle," Sastre explained to reporters. He considers the Russian a "very complete" rider who should "be taken seriously."
Sastre also commented on Lance Armstrong's form, admitting that the American has found it "difficult to return to the rider that was, although he's at a very high level." Cervélo's captain said he "wouldn't lose sleep" over the threat Armstrong's poses at the Tour, although he'll be up against his teammate, Alberto Contador, who is sure to begin the race as favourite.
As for Sastre's preparations over the coming month, he hopes to rest as much as possible before a possible ride in the Spanish national championships and reconnaissance of the Alpine stages of the Tour.
Menchov tops World rankings
Denis Menchov (Rabobank)
Photo ©: AFP

Following his victory in the Giro d'Italia Denis Menchov has moved to the top of the UCI's World Calendar rankings, relegating former leader Heinrich Haussler to third, while Allan Davis moves up to second. Menchov had been previously unclassified in the rankings.
Danilo Di Luca is another big mover on the standings thanks to his second place overall in the Giro. He moves 120 places, from 127th to seventh, while Stefano Garzelli moved up 18 places to enter the top 10.
With four stage victories in the Giro, Cervélo TestTeam now leads the teams standings, followed by Caisse d'Epargne and Quick Step. Following its national tour, Italy is currently the most dominant nation, with Spain and Australia sitting second and third respectively.
Rankings as of June 1, 2009

Individual
 
1 Denis Menchov (Rus) Rabobank                                                       218 pts
2 Allan Davis (Aus) Quick Step                                                       205
3 Heinrich Haussler (Ger) Cervélo Test Team                                          197
4 Davide Rebellin (Ita) Serramenti PVC Diquigiovanni-Androni Giocattoli              194
5 Alejandro Valverde Belmonte (Spa) Caisse D'Epargne                                 188
6 Alberto Contador Velasco (Spa) Astana                                              188
7 Danilo Di Luca (Ita) Lpr Brakes Farnese Vini                                       188
8 Philippe Gilbert (Bel) Silence-Lotto                                               187
9 Stefano Garzelli (Ita) Acqua & Sapone - Caffè Mokambo                              170
10 Luis Leon Sanchez Gil (Spa) Caisse D'Epargne                                      169
 
Teams
 
1 Cervélo Test Team                                                                  608 pts
2 Caisse D'Epargne                                                                   571
3 Quick Step                                                                         558
4 Team Columbia - High Road                                                          531
5 Team Katusha                                                                       500
 
Nations
 
1 Italy                                                                              847 pts
2 Spain                                                                              823
3 Australia                                                                          612
4 Belgium                                                                            503
5 Russian Federation                                                                 479

Click here for the complete ProTour rankings
Baldwin leaves Rock for OUCH
By Kirsten Robbins
Christopher Baldwin whilst life was Rockin'
Photo ©: AFP

Chris Baldwin has joined team OUCH p/b Maxxis mid-season after a turbulent first six months of 2009 with Rock Racing. Baldwin will compete under his new guise at the Mt. Hood Cycling Classic beginning later today in Oregon.
Rock Racing demoted Baldwin from the men's professional team to its amateur counterpart at the beginning of the season. He was hit with more bad news in April when the team fired him, citing 'budget cutbacks' as the main reason. He was briefly re-hired but instead decided to accept a counter-offer from OUCH p/b Maxxis' directeur sportif Mike Tamayo for the remainder of the 2009 season.
"I had been talking to Mike Tamayo over the winter after Toyota-United folded and things really just came together nicely now," Baldwin said. "I'm thrilled to have the opportunity to support and work for them. It's an exciting opportunity and a race program that suits me."
Baldwin is placed alongside Rory Sutherland, Pat McCarty and Floyd Landis to reinforce the squad's all-round talent in select stage races. "I think we will complement each other in climbing, time trials to be a multiple threat type of team," he said. "I came to the team to fill a place as an altitude climber and as another threat in the stage races."
Baldwin will not be participating in the upcoming TD Bank International Cycling Championships due to the conflicting Mt. Hood Cycling Classic. His season will also include Cascade Cycling Classic, Tour of Utah and possibly the Tour of Missouri. "The team was already set in place for Philadelphia before I joined," he said. "But, I'm excited to join the team at Mt. Hood. It's a chance to get on the new Kuota bike and ride with the guys."
Baldwin has not competed in Philadelphia's race since 2005 because of event conflicts with races that better match his ability as a stage racer. "It would be special to be there to support that race, especially since they almost had to cancel it this year," said Baldwin who offered his predictions nonetheless.
"I think the pattern of that race has changed a lot since the last time I raced it," he continued. "It's more controlled and predictable now. More guys know how to float that Manyunk climb and figure out tactics by the finish. But if it is a bunch kick than I have to go with my boy Karl Menzies and then Sebastian Haedo."
Leipheimer leads USAC Pro Tour rankings
After two of eight events on the USA Cycling Pro Tour completed, Levi Leipheimer and his Astana squad hold on to the early lead in the overall rankings. He holds a massive 126-point advantage over Garmin-Slipstream's Dave Zabriskie. See www.usacycling.org for the complete rankings.

Individual standings
 
1 Levi Leipheimer (USA) Astana                     218 pts
2 Dave Zabriskie (USA) Garmin - Slipstream          92
3 Michael Rogers (Aus) Team Columbia - High Road    62
4 Mark Cavendish (GBr) Team Columbia - High Road    46
5 Vincenzo Nibali (Ita) Liquigas                    42
6 Shawn Milne (USA) Team Type 1                     40
7 Thor Hushovd (Nor) Cervélo Test Team              39
8 Jens Voigt (Ger) Team Saxo Bank                  38
9 Tom Boonen (Bel) Quick Step                       32
10 Fabian Cancellara (Swi) Team Saxo Bank           30
 
Team standings
 
1 Astana                                           264 pts
2 Team Columbia - High Road                        168
3 Garmin - Slipstream                              138
4 Team Saxo Bank                                   112
5 Rock Racing                                       69
6 Quick Step                                        66
7 Cervélo Test Team                                 58
8 Liquigas                                          49
9 Rabobank                                          48
10 Team Type 1                                      40

Sutherland and Powers head NRC standings
Rory Sutherland and Alison Powers top the National Racing Calendar individual standings after 11 events. Bissell maintains its lead in the men's team standings while Team Type I remained in the top spot on the women's rankings. See www.usacycling.org for more details.

Men's individual standings
 
1 Rory Sutherland (Aus) OUCH-Maxxis                               415 pts
2 Sebastian Haedo (Arg) Colavita-Sutter Home p/b Cooking Light    400
3 Tom Zirbel (USA) Bissell                                        357
4 Ben Jacques-Maynes (USA) Bissell                                323
5 Louder (USA) BMC                                                286
 
Men's team standings
 
1 Bissell Pro Cycling                                            1052 pts
2 Colavita-Sutter presented by Cooking Light Pro Cycling Team    1028
3 Ouch presented by Maxxis                                        732
4 Kelly Benefit Strategies                                        625
5 Team Type I                                                     599
 
Women's individual standings
 
1 Alison Powers (USA) Team Type I                                 691 pts
2 Katheryn Mattis (USA) Webcor                                    429
3 Kristin Armstrong (USA) Cervélo-Lifeforce                       425
4 Laura Van Gilder (USA) Mellow Mushroom Racing                   339
5 Ina-Yoko Teutenberg (Ger) Columbia-High Road                    314
 
Women's team standings
 
1 Team Type 1                                                    1022 pts
2 Webcor Builders Women's Professional Cycling Team               937
3 Team Tibco                                                      771
4 Valuact Capitol Cycling Team                                    720
5 Colavita-Sutter presented by Cooking Light Pro Cycling Team     681

What's hot on the forum
The great racing seen during the recently-concluded Giro d'Italia has spawned plenty of comment from Cyclingnews readers. A hot topic always readily discussed is the need for radios - the attacks of the Giro have provided a new impetus for those in favour of banning them.
Radios in races - are you in favour?
I would like to see them limited. I just posted in one of the Giro threads an example from the Vesuvius stage. Here's pretty much a cut and paste: When Sastre took off up the road for Vesuvius, he could not be seen by the leaders due to the topography. They had no idea how far up the road he was. Except they did, because of race radio.
Had there been no radio to give Menchov time splits on Sastre, Di Luca could have sat on Menchov's wheel and said "you guess how far he is up the mountain buddy" and Menchov would have had to at some point consider pulling, out of concern that he would lose to overall GC to Sastre. But he didn't have to do that and Di Luca knew it.
He only had to worry about one rider: Di Luca. The team car kept checks on Sastre for him. To me, this is what needs to be eliminated.
The advantage of race radio is informing the riders of hazards immediately. But I'd like to think there are ways of having this still workable through radio limitations. - Alpe d'Huez
In keeping with Alpe's Di Luca theme, The Killer doesn't race with radio. I saw one in the TT (for splits, I guess - it certainly wasn't to have his DS shouting Vai, Vai, Vai in his ear, I think), but other than that, I haven't noticed one.
That's also how Di Luca won all his Classics. It's also how he won the Giro. Maybe the reason he's such an animated (read: aggressive) cyclist is because he has to be, because he doesn't know what's happening outside his field of vision. Radios are lame. - mr tibbs
Absolutely in favour, but not for tactical decisions... rather, they're awesome for service/food requests ("Hey, Director! I'm coming back to the car for two bottles of water, two bottles of mix, a can of Coke, two boxes of Extran, five gels and a ham sandwich - have 'em ready for me!") and for updates on road conditions ("Hey Riders! It's your director. In one kilometre there is a road works ahead and the danger of flat tyre due to gravel. MOVE UP!").
Tactically, I found them helpful but not something that turned me into an automaton (the Dopingsubstanzen did, though) - but I grew up racing and learned tactics like how to sit on a wheel and then sprint in the era before radios were standard issue, even to juniors. - joe_papp
(All rights reserved/Copyright Future Publishing (Overseas) Limited 2009)