First Edition Cycling News, June 2, 2009
Edited by Les Clarke
Cavendish covets more French success
Mark Cavendish (Team Columbia - Highroad) waves
Photo ©: Roberto Bettini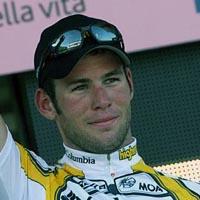 Mark Cavendish claims that his main goal in this year's Tour de France is "reaching Paris, winning sprints along the way" - and not the green jersey which some pundits had imagined was at the top of the Manxman's July wish list.
The season's second Grand Tour was just one of the topics discussed by Cavendish yesterday at a press conference organised to coincide with the launch of his new book, Boy Racer, due to hit bookstores on Thursday. The venue for the event was a deliberate nod to the Isle of Man sprinter's recent exploits at the Giro d'Italia - the Little Italy restaurant on Frith Street, in the heart of London's Soho.
Cavendish appeared tanned and relaxed after a week of "active rest" at his training base in Quarrata near Florence in Italy. How active? "Oh, I still did 700 kilometres on the bike... I just didn't have the pressure of racing the Giro." The Columbia-Highroad star described the reaction to his three Giro stages wins in Quarrata's cafes and trattorias as "nuts... in a good way".
Cavendish said that he'd so far received less feedback on early copies of Boy Racer but was prepared for opinions as forthright as his own in the coming days. Former coaches like ex-Team GB track czar Simon Jones, current GB supremo David Brailsford, British peers such as Geraint Thomas and Bradley Wiggins - plus many team-mates and rivals on the continental road scene - are all singled out for Cavendish's typically outspoken views.
"I've only heard positive things so far," Cavendish told a gathering of around two dozen reporters. "Obviously, there's a bit of controversy in there and there'll be a backlash, but that won't come straight away. It'll come in the next few days. Everything I said, I wanted to be frank and honest, and everything in the book is relevant to my story. There's nothing just put in there to make someone laugh or to cause trouble. It's my side of everything. Sometimes it's hard when I only have two minutes on the TV. Sometimes I come across as a bit of a tool... but if I can sit down and write something then I can express myself in a more controlled manner."
Controlled was what Cavendish remained when discussing his objectives for this year's Tour de France. The winner of four stages last year, the 24 year old said that he is determined to finish the Grande Boucle at the third time of asking. On his Tour debut in 2007, he pulled out on stage eight in the Alps. Last year he got nearly twice as far, quitting on stage 14.
"I want to reach Paris this year. Simple as that. I've said before that a big regret of my career was leaving last year," he said. "With hindsight, I should have finished. This year I want to reach Paris and win as much as I can along the way. If I do that, I'll be happy. The green jersey might come as a bonus. I don't know... but reaching Paris with as many stages as possible is going to be my goal, whether that's one stage win or eight stage wins..."
Cracking the big one - San Remo
Photo ©: Sirotti
Cavendish believes that the improved endurance and climbing ability that he displayed in winning Milan-San Remo in March ought to see him all the way to the Champs Elysées.
"I feel consistently better this year. I'm no longer struggling on the longer climbs. OK, it's hard, and I'm never going to win mountain stages, but I'm not struggling now. That comes from a winter of total dedication on the road. In the past I've been racing on the track," he explained.
"I'd love to win the green jersey but, like I always say, I'm realistic. I don't set dreams and hope they happen. I set targets and work towards them," continued Cavendish. "Realistically, if you aim for the green jersey you take a different view of a race. You go for intermediate sprints, which takes a bit of energy and you have to pace yourself. But I've always been a rider who's all or nothing. It's win or nothing," he said.
"The green jersey takes a different mentality: maybe it's better to get second twice in a row than a win. You have to change mentality and it's too early in my career to do that," he added, making one thing clear: "I haven't reached Paris yet, so if I change my view on the competition and I don't reach Paris then it's a failure. This year, if I win as many stages as possible, maybe the green jersey will look after itself. If I don't do it, I don't do it. In future, for sure, I'll base my Tour around it."
Returning to his hat-trick of Giro wins, Cavendish revealed some of the secrets which may see him dominate bunch sprints again at the Tour this year. He believes that the most celebrated of those, his natural speed, gives him "a certain percentage over the other guys in terms of speed which means I don't have to work on it at the moment, not until I'm older and I start to lose speed."
"At the Tour de France last year, I was winning by three bike lengths. There was no need to do that," he smiled.
He then spoke in his usual, glowing terms about his Columbia Highroad team-mates.
"The funny thing is, there's no planning. People say, 'what are you feeding the guys?' This sounds stupid, but it's love and community," he grinned. "We're not just teammates doing a job. If you want to do something then you're going to do it much better, and we as a team want to be in the best position in a sprint, or put our best climbers in the best possible position on a climb. It's very special, what we have."
Look out for an exclusive extract from Boy Racer in the coming days.
Lövkvist's continuing improvement ahead of Tour
By Richard Tyler
Thomas Lövkvist (Team Columbia - Highroad)
Photo ©: Roberto Bettini

A satisfied and relieved Thomas Lövkvist was already looking ahead to the his next Grand Tour challenge at the finish of the Giro d'Italia in Rome on Sunday.
"I'm happy to be at the finish now, it's been a long three weeks but the team had great success so we're all happy," an exhausted Lövkvist told Cyclingnews after securing 25th on general classification at the conclusion of the individual time trial.
Despite losing a huge slice of time on stage 16 it was a successful Grand Tour for Lövkvist. The young Swede claimed the maglia rosa after an impressive third place behind Danilo Di Luca on the uphill stage four finish to San Martino di Castrozza.
"I thought I'd be there; I wasn't sure if Michael [Rogers] lost any time but I thought I'd get it," said Lövkvist of his fourth stage coup.
"I've done a great Giro. I had the jersey and was third on the hard mountaintop finish there and then I had one bad day in Monte Petrano. But I got a bit of experience riding up there on GC."
"When you have the jersey it's a different thing. It would have been nice to win a stage but to ride one day in the jersey is just as good," said Lövkvist, reflecting upon his first experience wearing the leader's jersey in a Grand Tour.
The 2009 Giro demonstrated Lövkvist's continuing development as a stage racer since his debut as the youngest rider at the 2005 Tour de France. Despite a steady improvement in his Grand Tour participations the 25-year-old is taking a wait-and-see approach to his potential as a stage race winner.
"It's coming year-by-year, I'm getting better all the time, it comes slowly. I'm still far away from being up there one day it would be nice but we'll see how I develop."
Last year Lövkvist claimed a 41st place finish in the Tour de France and held the best young rider jersey for five stages. After completing his most recent Grand Tour he will now turn his attention to the 2009 Tour de France where he hopes to be part of yet another strong Columbia-Highroad squad.
"We've got a lot of cards to play, we have the sprints for Cavendish so we'll see" said Lövkvist.
While he was guarded about his own expectations, should he make the Columbia-Highroad squad, it would seem that there are those in his camp who think the course at this year's Tour may suit his abilities.
"The management claim so, there's not so many hilltop finishes and a lot of the time the climbs are far away."
Polar opposites for Russian pair
By Gregor Brown in Rome, Italy
Evgeny Sokolov
Photo ©: JF Quenet

While Russian rider Denis Menchov secured the general classification at this year's Giro d'Italia in Rome on Sunday, a coutryman finished at the other end of the standings - Evgeny Sokolov took the virtual maglia nera (black jersey) for taking last overall.
"It was a difficult race. I had a crash and there were a lot of hard days after, but at least I could continue and I did not have a fracture," Sokolov told Cyclingnews.
Sokolov's crash came last Wednesday in the stage to Arenzano. He finished 21 minutes down and slid down the overall rankings to 185th.
He finished 99th in the final stage in Rome, one minute and 53 seconds behind stage winner Ignatas Konovalovas. He closed the three-week race just under five hours (4:59:11) behind Menchov.
"It is nice to finish the race in Rome, though. It is my first time here and I would like to return with my wife on a vacation."
The BBox Bouygues Telecom rider won stage two of La Tropicale Amissa Bongo Ondimba earlier this year, helping earn him a berth in the centennial Giro. Having successfully completed it he will have a short break and continue his season looking for results in the pursuit of a contract for 2010.
The maglia nera was awarded from 1946 to 1951; the last winner was Giovanni Pinarello. Last year organisers awarded a black number plate, but this year there was no actual award.
Stars head to post-Giro criterium
Giro d'Italia stars such as Danilo Di Luca, Ivan Basso, Franco Pellizotti, Alessandro Petacchi and Gilberto Simoni will be the highlight for fans at the Guffanti Formaggi GP - Coppa Fontaneto Ravioli, to be held in the city of Arona on Wednesday.
Some say that post-Grand Tour criteriums are a little cheesy, given that the result is often decided before the race - the Guffanti Formaggi GP takes this a little further however, as Guffanti is a prominent brand of cheese, throwing its support behind the race that's anticipated to attract a sizeable crowd.
The big names may have to work for their win though, with the likes of Robert Hunter, Dario Cataldo, Charlie Wegelius, Michael Albasini and Yaroslav Popovych in attendance, plus a host of local riders who ply their trade in the ProTour making an appearance for the local fans.
The event also serves as a litmus test of the viability for a possible 'three days of professional cycling' to be held in the city. "The request has already been submitted to the technical committee of the Italian Cycling Federation and is for the weekend preceding the Tricolore Week 2010, then June 19 and 20," said head of the AC Arona organisation, Antonio Bertinotti.
Men in red reap red rewards
Australian Continental squad Drapac Porsche Cycling kicked off its latest European campaign with a solid performance in Le Tour de Gironde that netted it a stage win and the King of the Mountains jersey.
The team of Australian national road champion Peter McDonald surpassed all expectations, with Stuart Shaw winning the first stage before wearing the yellow and green jerseys, while Peter McDonald heavily contributed to the success by winning the mountains classification.
Drapac Porsche directeur sportif Agostino Giramondo was obviously pleased with the performance, explaining that it puts them in good stead heading into the second half of the season. "The team's results have been very satisfying over the last four days. It proves that we are more than competitive at this level," he said.
"We came to this Tour to gain some invaluable experience and to come away with a stage win, the King of the Mountains jersey and few days in the yellow and green jersey's is exceptional. Full credit to all the team."
Drapac Porsche team captain Stuart Shaw featured highly throughout the four-day race, winning the first stage to give him the yellow and green jerseys which he proudly wore for the next two days. Shaw displayed his strength and versatility in finishing in the top 15 during three of the four stages.
"I have been training really well back in Canberra and I am really motivated to perform here in Europe," said Shaw after the final stage. "I crashed heavily in The Tour de Taiwan and was forced to have three weeks off the bike. It is great to see all the hard work I did to get myself back into shape pay off."
The team will travel back to its European base in Oudenaarde, Belgium before returning to France on the 11th June for their next race Le Ronde L'Oise which is another four day stage race in the north of France.
Triple Tour treat for the Dutch
The Netherlands will hold the start of all three Grand Tours in the next year, as Giro d'Italia organisers announced over the weekend that next year's race will start in Amsterdam.
The Dutch will host the start of this year's Vuelta a España on August 29 with an individual time trial in Assen, to be followed by two additional stages in the country.
The Giro d'Italia will visit the Netherlands for the second time since 2002. It will start in Amsterdam, and stay in the country from May 6 to 10.
The Tour de France will round out the Dutch honours, as the 2010 Tour starts in Rotterdam. The first stage will be a nine-kilometre individual time trial through the city on July 3. The race leaves the country the next day as it rides along the windy North Sea coast to end in Antwerp, Belgium. (SW)
(All rights reserved/Copyright Future Publishing (Overseas) Limited 2009)