Latest Cycling News, January 22, 2009
Edited by Bjorn Haake
Armstrong's new groove
By Greg Johnson in Adelaide, Australia
Lance Armstrong made a break royale
Photo ©: Mark Gunter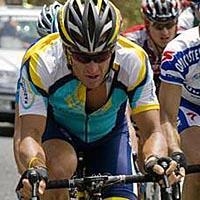 Lance Armstrong (Astana) joined 13 riders in a 90-kilometre long break away throughout the Tour Down Under's Stage three today, as the American gets back into the swing of racing. Armstrong joined a powerful break away early in the race – which included Stuart O'Grady (Saxo Bank) and Michael Rogers (Columbia) – and stayed away through to kilometre 101.
"I felt okay; high end intensity, I don't have that yet, I haven't worked that part of my training," he said. "Like I said you had to be strong to be in that group, if you looked around there was some horsepower in there, I've got to be happy with that."
The seven-time Tour de France winner believes the racing will help his comeback. The rider believes the only way to get competitive again after three and a half years off the bike is by racing.
"I think it's the kind of stuff I need to do, I need to get in the race and work that top end," he said. "Like I've said 100 times here, I can't get that in training so the more I can be out there... I mean, I looked down at my power metre and the average after two hours was 340 watts, you can't do that in training. You're just constantly going and going and going."
Coming up on
Cyclingnews will cover the 60th edition of the Dauphiné Libéré live as of stage 4 on Wednesday, June 10, at approximately 15:00 local Europe time (CEST)/ 23:00 Australian time (CDT)/ 9:00 (USA East).

WAP-enabled mobile devices: http://live.cyclingnews.com/wap/
Armstrong asked race director Mike Turtur during the race to have a helicopter flying overhead pushed back. The American thought the helicopter's proximity further complicated issues for the lead group, which was already battling windy conditions.
"It was windy. There were periods where kilometres up the road you could just see dust blowing sideways," he said. "When it's that windy the last thing you need is a big wind machine on top of you, because it was swirling so much and it's not safe. And also it's a little nauseating listening to that thing all day long. No offence to helicopters but it's just a little off course."
Greipel cops an unlucky blow
By Greg Johnson in Adelaide, Australia
André Greipel is done laughing in this year's Tour Down Under, as he crashed out of the race.
Photo ©: Mark Gunter

Reigning Tour Down Under champion André Greipel (Team Columbia) will return to Germany tomorrow morning after crashing out of this year's event on Stage three. Greipel was one of several riders to collide with a parked police motorbike after being hammered by a gust of wind on today's stage.
"There was a cross wind, normally the riders show that there is something on the street but no one showed it and there was a motorbike," he said. "I think I'm out for three weeks, but yeah, I'll be back next year."
Greipel was treated for a dislocated shoulder and stitches to wounds on his leg and arm as a result of the collision. He will travel to Team Columbia's medical centre in Hamburg once arriving in Germany to undergo an operation on his shoulder.
"No, it was not the wind," he added. "The motorbike was just on the street and we were riding along the left side, then, yeah, there was a motorbike.
Find out who else was involved in the crash and is out of the race.
Roy working hard to become a "king"
By Jean-François Quénet in Adelaide, Australia
The king wears his customised cycling shoes
Photo ©: JF Quénet

Jérémy Roy doesn't remain unnoticed at the Tour Down Under. He was an active member of the 14-man breakaway which included Lance Armstrong and Michael Rogers in stage three. But that wasn't his first attack as he also tried his luck during the Cancer Council Classic on Sunday. That day, the race announcer told the public that his name means "king" in the French language and should be pronounced "ro-a". "I'm the king of the team," he joked publicly.
The 25-year-old from Tours in the Loire valley where the kings of France built some famous castles during the Renaissance period starts his season for the second time in Australia. In 2007 he wasn't free to race in January although he had a contract as a professional cyclist. His focus was on his commitment to study mechanical engineering at the same time. He graduated at the highest level of the French university and had the best result of his class at his final exam.
It wasn't an easy task to study and race for five years. "I didn't have much time to hang around at night with the other students but sometimes they joked about me being a cyclist," he remembers. "But they also envied me for the travelling, for example when I came back to university after riding the Tour of Spain."
Once at the university of Rennes he organised a conference about drugs with the help of his team manager Marc Madiot. It was about drugs in sport but also about drugs used by the students to prepare for exams or recover from partying. Roy was the first professional cyclist to adhere to the program "athletes for transparency" that includes more out-of-competition testing and the publication of all the blood results online.
"I've become sick of hearing nasty comments about drugs and cycling," he said. "Last year during the Route du Sud, a spectator yelled at us: 'Courage, the pharmacy is up the road'." He admits he even considered pulling out of the sport he took up as a teenager because his dad was also a cyclist. But the Tour de France helped for his reconciliation with cycling. He rode the Grande Boucle for the first time last year. He climbed the Tourmalet in the breakaway group and finished second in stage 19 to Montluçon behind his compatriot Sylvain Chavanel.
Now he aims for more results. "I wanted to get some right from the start of this season", he told Cyclingnews in Victor Harbour. "That's why I attacked today. I thought this breakaway could be the right one. We were going really strongly. Rogers was probably the strongest of our group of 14 but Armstrong wasn't far from him in terms of condition. Unfortunately it didn't work out because Luis León Sánchez had a flat tyre and Armstrong's teammate [Jesús Hernández - ed.] dropped off."
Roy's condition is promising but he doesn't assure he'll get results anytime soon. "It's hard for me to set up goals because I'm not a super sprinter, I'm not a super climber and I'm not a super time triallist," he said. But he is a role model for Mikaël Chérel and Yoann Offredo who wanted to become professional cyclists without giving up their studies. All three are united at the Tour Down Under and can talk racing and university.
German federation has questions for Schumacher's license
The Bund Deutscher Radfahrer (BDR, the German cycling federation) has a list of questions that need to be answered before it issues a license to Stefan Schumacher. The German rider's attorney said recently that there is no reasonfor the license to be denied.
Interviewed on muax.de, BDR vice-president Udo Sprenger confirmed receiving Schumacher's application. The first step is for confirmation that Schumacher is registered with the International Cycling Union. "So we have asked the UCI, which team he is registered with, if any."
The next step is the National Anti-Doping Agency (NADA), "asking them to get in touch with the French national anti-doping agency [AFLD] to find out the current status of the investigation."
The third question goes to Team Quick Step, with which Schumacher was to ride this season. Team Manager Patrick Lefevere had declared the contract "void" after Schumacher's positive doping controls were announced, so the BDR must ask whether the contract is valid.
"None of these questions has yet been answered, so we have to wait," Sprenger said.(SW)
Moreno eyes the Tour de France
Daniel Moreno Fernandez (Caisse d'Epargne) would love to ride the Tour
Photo ©: Isabelle Duchesne

Daniel Moreno is currently in Argentina, but is not racing in the Tour de San Luis. The Spaniard has a girlfriend in South America and spent the last two months south of the equator. The Caisse d'Epargne rider prepared in Argentina for the upcoming season – a season in which he dreams of debuting in the Tour de France.
Moreno has now returned to Europe. "With the great weather I could have stayed a few days longer." He enjoyed the time in Argentina, especially the first month. "I took some vacation," he said. "After that I was ready to work hard on my pre-season training."
Despite the cold back in Spain, Moreno was no slacker. "Today I am in Pamplona for some events with the team." Moreno admitted it took him a while to get used to Caisse d'Epargne, but all is well now. "There is a great atmosphere between the riders and we are lucky to have a director like Eusebio Unzue, who always is by your side. This year I already know where I am, what my races will be and what objectives I have. That is much better for your mind."
Last weekend was very important for Moreno. "I worked with a biomechanic in Barcelona who was recommended to me by a friend of the team. I want to improve my position on the bike. To be honest, it is a radical change. He told me I sit very low and stiff. Now it is a matter of getting used [to the new position] as quickly as possible."
Moreno will start in Mallorca "although I may only do the first or second stage." The reason for the short season start is his first major race, the Tour Méditerranéen. It starts on February 11, when the Trofeo Mallorca is still going on. He will continue with Haut Var, Tirreno-Adriatico, Milano-Sanremo and Amorebieta, before heading to the Belgian Classics.
The first major objectives for Moreno are the Amstel Gold Race, Flèche Wallonne and Liège-Bastogne-Liège. "I would like to do well in those races because they suit me really well. There are other team members who will be ahead, like Valverde, but I'd say he will concentrate on the Tour. Let's hope we can do well. And if things go right for me..."
Moreno will almost certainly come back to his home tour, the Vuelta a España. "I think I can do better than this year." Moreno finished 12th overall in 2008. His big goal is a debut at the Tour de France, but at this moment, nothing is certain. "I am a reserve rider. It is the dream of every professional to ride the Tour de France, and it is a race that I could be doing well. But I have no illusions, especially since it is the grand objective for the team and naturally Valverde. I thin Alejandro can win it."
First training camp for Contentpolis AMPO in 2009
By Antonio J. Salmerón in Murcia, Spain
The Contentpolis AMPO team for 2009.
Photo ©: Antonio J. Salmerón

Professional Continental team Contentpolis AMPO is holding its first training camp this week, from January 19 to 25. The 19 riders arrived on Monday for an intense week of training.
The mechanics, Francisco Rubio and Marcelino Oliver, also had a lot of work and the camp gives them the chance to get ready for the season.
The camp is the first time that directors Manuel López and Oscar Guerrero have contact with the whole team at once. The team has ambitions for this year, such as the Vuelta a España.
For that the team is training hard in Murcia, although the first workout on Tuesday was a rather easy ride over 100 mostly flat kilometres.
The Contentpolis AMPO team for 2009: Javier Benítez, Francisco Pacheco, Manuel Vázquez, Julián Sánchez Pimienta, Adrián Palomares, Dioni Galpasoro, Aitor Pérez, José Herrada, Eloy Teruel, Claudio Casas, Sergio Domínguez, Pedro José Vera, Oleg Chuzhda, Oscar García Casarubio, Rubén Reig, Gorka Izaguirre, Mikel Gaztañaga, Javier Etxarri and Rafael Serrano. The sports directors are Manuel López and Oscar Guerrero.
Photography
For a thumbnail gallery of these images, click here
Images by Antonio J. Salmerón
Team Caisse d'Epargne signed with Li-ning
The cycling team Caisse d'Epargne signed an agreement with the sportswear brand "Li-ning" which will be its official supplier of sportswear out of competition.
Li-ning is predominantly on the Chinese market. They were the official suppliers of the entire Spanish Olympic selections and it also supplies the Spanish Basketball Federation.
This sportswear bran was created by Chinese gymnast Li Ning, who won six Olympic medals during his career (three gold, two silver and one bronze). He will also be remembered as the man who, during the last Olympic Games in Beijing, was lifted into the air and 'run' around the entire stadium before he lit the Olympic Cauldron.
Win an autographed Team Columbia jersey
Enter Cyclingnews' contest to win a unique piece of cycling history – a 2008 team-issue Team Columbia jersey signed by the entire 2009 men's team, gathered in Mallorca, Spain for its December 2008 training camp.
The Team Columbia jersey appeared on the top step of the podium 85 times in the 2008 season, more than any other professional team, with stage wins at the Giro d'Italia, Tour de France, Tour of California, Tour de Georgia, Dauphiné Libéré, Tour of Germany and Tour of Ireland plus victories in one-day events such as Flèche Wallonne and Scheldeprijs Vlaanderen.

The contest's winner will be selected at random from all correct answers to a Team Columbia trivia question.

Hurry now and enter to be in the draw. Good luck!
(Additional editorial assistance by Susan Westemeyer.)
(All rights reserved/Copyright Future Publishing (Overseas) Limited 2009)