Latest Cycling News, January 16, 2009
Edited by Bjorn Haake
TDU: When the stars align
By Les Clarke
Armstrong is the talk of the town in Australia
Photo ©: AFP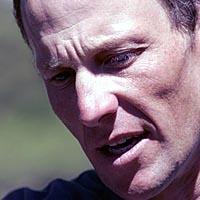 Many of Australia's cycling fans have enjoyed an affinity with Lance Armstrong during the past decade. Some are more familiar with his exploits than those of their countrymen who also race at the highest level, such is the pull of 'The Armstrong Factor'. With the seven-time Tour de France winner in Australia for the Tour Down Under, local fans will get the chance to see their cycling idol in the flesh.
There's plenty of public interest, but what do some of Australia's best riders make of Armstrong? Some have competed against him for the Tour crown (Cadel Evans in 2005), while others have shared podium space with him in Paris (Baden Cooke in 2003). Others have beaten him (Brad McGee in the 2003 Tour de France prologue) whilst another has shared a team with him (Matt White in 2001 and 2002).
Baden Cooke won the green jersey at the centenary edition of the Tour de France as an uncompromising 24-year-old riding for Française des Jeux. The two had won separate classifications, but the Victorian was suddenly on the biggest stage with arguably the world's best-known rider and he still realises just how big a name Lance's is.
"Everyone wants to have a piece of a guy like that, so considering that I think he handles himself quite well," says Cooke. "Everyone knows he's a tough character. There's no denying the fact he's an incredible athlete. He's straight down to business - no ifs, no buts - he's about winning. I find him quite an impressive character."
Read the full Tour Down Under feature.
TDU set for 200 dope tests
There will be more than 200 doping tests carried out at the Tour Down Under, and riders may even be tested multiple times on one day. Each rider must provide a blood sample before the race starts, and blood and urine tests will be conducted throughout the race.
"Every athlete competing at the Tour Down Under will be tested," said Federal Sports Minister Kate Ellis to the AP press agency. "We are implementing world-best practice to protect the integrity of Australia's premier cycling event."
The various samples will be tested for EPO and its new variant, CERA, as well as for human growth hormones. In addition, some samples will be frozen and stored for up to eight years, to be thawed and re-examined if and when new test procedures become available.
Michael Rogers of Team Columbia said that he has already been tested three times within 24 hours, twice by the Australian Sports Anti-Doping Authority (ASADA) and once by his team. "It's been quite a busy 24 hours for me," Rogers said. "[But] it's for the benefit of the sport and if that's what I have to do to have a level playing field, then that's what I've got to do—and that makes me happy."
According to ASADA chairman Richard Ings said there was a good reason to test riders more than once on a given day. There was a tendency in the past, he noted, for athletes to believe that if they were tested once on a particular day that anti-doping officials would not test again for several days.
"The fact that there may be a follow-up test later that day or early the next morning is really an indication that athletes can and will be tested anytime, anywhere," Ings said.(SW)
Rasmussen still in the dark
By Susanne Horsdal
Rasmussen is still unclear if he can get back to the Tour this year
Photo ©: Luc Claessen
On July 26 it'll be two years and one day exactly since Michael Rasmussen was withdrawn from the Tour de France - only a few days away from a very likely overall victory in La Grand Boucle - and later fired from Rabobank.
Almost a year later the Monaco Cycling Federation suspended him for two years for breach of the whereabouts rules. Rasmussen admitted to not having complied with the whereabouts regulations but on June 22 last year appealed the length of the ban to the Court of Arbitration for Sport (CAS). In November the hearing was held and since then Rasmussen hasn't heard anything.
"I'm just waiting. I still know as much – or as little - as anyone else," Michael Rasmussen told Cyclingnews. At first he was told to expect an answer to his appeal between December 6 and 10. This was then postponed to "before Christmas", but Rasmussen is still waiting.
"My lawyer contacts them regularly. He's had maybe 10-15 cases with CAS and he's never experienced anything like this," said Rasmussen, who admits he's growing impatient. And impatient to get back to racing. Despite having turned 34 the Dane has no intentions of giving up his career and trains as much as anyone else.
"I'm normally not known as one who rides fast in the spring, but in December I rode 2500 kilometres and this month I'll do about 3000 kilometres so I'm probably not training very differently from my colleagues at this time of the year. I have no problems keeping my training morale high – after all, July isn't that far away, so for now that's what I'm training towards," said Rasmussen. He is currently making one exception to his normal regime. "I basically live as if I was racing, but I'm not watching my weight as carefully. I generally eat and drink as I like - for the first time in 15 years."
With the uncertainty of his return date to racing he's not yet been in contact with teams regarding a contract. "People still want clarity and that's only fair," he said. But his ambitions to race with the best of his profession haven't abandoned him whether it'll be from July 26 or earlier. If he has to wait until late July his hope is to participate in the Vuelta a España.
"I expect that I can get to race on a good team again. My ambitions are to race on a high level and since the Vuelta takes place in the part of the season where I'm able to race again and it's a race that suits me, it's obviously a priority for me," said Rasmussen. "But I'm not in a position where I can make demands."
And for now he has to just watch his cycling colleagues taking the first turns in a new season kicked off with the Tour Down Under and the return of Lance Armstrong. "It doesn't bother me to see them saddling up again. After all July isn't that far away, and regarding Armstrong I think it's excellent that he is back. Cycling needs some superstars at the moment. I don't see it as him stealing the lime light. Those who are already interested in cycling would follow it whether he is there or not, but maybe he can attract those who are not that interested in the sport and just know him as the cancer survivor who won seven Tours. That I think is only positive."
Merckx happy with first team meeting
By Mark Zalewski, North American Editor
Axel Merckx is the coach for the youngsters at the Trek/Livestrong team
Photo ©: David Reinhardt

The Trek/Livestrong team held its first 'pre-camp' of its inaugural season in Austin, Texas, in an effort to get to know each other and get all the nuts and bolts sorted. While all of the riders are 21 or younger and largely new to this level of competition, their directeur sportif, Axel Merckx, is also new to the position.
"Everyone was impressed with how well everything was organised and impressed with SRAM and Trek," Merckx said about the new riders' reaction. "They have a lot of support and I am happy with how the team has come together. We got the bikes and clothing to the riders, did some tests and some rides."
Merckx said that the newness of the team, especially coming so late last year, put pressure of equipment sponsors to come through. "It was a little 'race against the clock' but the support of the sponsors came through."
From this pre-camp the riders disperse to various locations before reassembling for the official training camp in Santa Rosa, California, in February. "They have a bit of homework before camp and some guys are racing, a few go to 'cross Worlds [January 31-February 1]. Guy East is going back to Europe to finish up there and a couple are going to Beijing to do the track World Cup [Janaury 16-18]. Then it's the training camp in February in Santa Rosa with a lot of hard work."
But Merckx recognised that this team is different than a regular pro team. "We don't have all the pressure of a ProTour team to win all the time, but I do want to make it grow. It will still be with the spirit of a training camp. I will still try to teach... make them as good as possible and also learn how to prepare themselves, like dealing with the pressure. There are a lot of riders with a lot of natural talent, but that is not enough anymore. It takes preparation and knowledge."
Though most of the racers are relatively unknown, one name does jump out – Taylor Phinney. But Merckx said he does not automatically expect him to take on a leadership role. "I think Taylor is just one of the guys on the team, but I know he can deal with it. He has been to the Olympics but he is also only 18 years old. The leadership is going to come naturally but we are going to race as a team – not as a one-man team. They are already getting along and having a lot of fun together."
Alberto Volpi: "Team spirit is strong at Team Barloworld"
The excitement of Hunter after his Tour stage win in 2007
Photo ©: Roberto Bettini

Two weeks before Team Barloworld starts its 2009 season at the Trofeo Costa degli Etruschi race in Tuscany on Saturday, February 7, directeur sportif Alberto Volpi spoke about the season ahead.
"The start of every new season is a bit like the first day at school and every time it's almost like starting from scratch all over again," Volpi said. "I think the secret of Team Barloworld's success is that everybody gives their best and works hard to create a good team spirit. I'm convinced we can be competitive and do well in 2009. We've got some talented young riders who are keen to grow and succeed. We're also optimistic that we can give them an excellent calendar of important races, both one-day classics and major stage races."
Alberto Volpi did not hide his hope that Colombian climber Mauricio Soler can again impress in the mountains and have a successful 2009. "We're optimistic about his comeback. As a directeur sportif, I've seen few riders who can climb as well as Mauricio," Volpi says.
He also revealed that South Africa's Robert Hunter will have a special role in the team this year. "We hope Robert can win sprints yet again but his role within the team is also important. Along with Felix Cárdenas we expect him to be the road captain of the team, both in and out of competition," Volpi said.
"We're also excited about talented young riders, such as Chris Froome and John Lee Augustyn, after their impressive performances in last year's Tour de France, and about British riders Steve Cummings and Geraint Thomas. They're both strong riders, fast finishers and good in time trials."
Volpi is also optimistic about new professional Michele Merlo's prospects. "He's quickly shown he's willing to help the rest of the team but will also know how to take his own chances in some races."
National teams for Rund um Köln
Last year Rund um Köln was cancelled due to too much snow – this year the organiser is struggling to invite riders due to sponsor pressure
Photo ©: Frank Wiemann

The traditional German Easter Monday race "Rund um Köln" will take place this year under extremely different circumstances: race organiser Artur Tabat has admitted that German television has forced him to invite only national teams and not trade teams to the race.
The race is scheduled to be broadcast by the WDR, whose sports director Steffen Simon said that "In this different atmosphere we'd like to give cycling another chance." However, Tabat said that the decision was made six weeks ago and that since then, he has struggled to find teams for the race.
"So far hardly anyone has answered us," he told the Kölner Stadt-Anzeiger. "Maybe we will have to invite some smaller teams, too, if we don't have enough." The Bund Deutscher Radfahrer, the German cycling federation, has promised its help, as far as possible. "Our goal is to form a national team, but we will have to wait and see whether the pro teams cooperate."
"We still want as many pros at the start as possible," Tabat said, but noted he was relatively helpless. "We didn't have any other choice in the current situation. The WDR is too important, so that we couldn't decide otherwise."(SW)
Simeoni in Corsa di Miguel
Filippo Simeoni signs
Photo ©: Start Communcation

Italian road champion Filippo Simeoni will participate in the Festival della Letteratura Sportiva, a sportive literature festival, in Rome this weekend, including the Corsa di Miguel, a ten-kilometre running race, on Sunday. Simeoni will precede the runners on his bicycle and commentate the race live for Italian TV station RAI.
The Corsa di Miguel is a race in remembrance of Miguel Benancio Sanchez, who was abducted during the military dictatorship in Argentina in the 1970's. Long distance and marathon runner Benancio Sanchez was 25 years old when he vanished.
Simeoni didn't hesitate when he received the invite. "I accepted the invitation immediately and I am donating my maglia tricolore to represent the defence of civil rights in all of the world."
Austrian Cyclist of the year
Boris Tetzlaff, who finished second in the European Downhill Championships, has been elected Austria's Cyclist of the Year. The ongoing selection had to be restarted when Bernhard Kohl admitted to having used doping products during the Tour de France.
Tetzlaff received 40 percent of the votes from the readers of the website of the Österreichischer Radsport Verband (ÖRV), the Austrian Cycling Federation. Second place, with 34 percent, went to Jacqueline Hahn, who finished second in the Junior European time trial championships. In third place, with 11 per cent, was the women's four-person team in Artistic Cycling, which won gold in their World Championships.
The first pro rider was Christian Pfannberger, Team Barloworld, with four per cent in fourth place.
"The good news is that the performance of the young riders is being acknowledged," said ÖRV president Otto Flum. "I think that is a step in the right direction."(SW)
Gentili crashes hard in training
Massimiliano Gentili of the Italian Italian team Flaminia Bossini, crashed during a training ride along the roads near his home on Thursday. The 37-year-old went down and hit the asphalt with his face.
Gentili's girlfriend, Cristina, reported the news from the hospital. "Massimiliano is still in a confused state and has not been able to explain the cause of the accident."
Gentili was diagnosed with a cranial nerve trauma and several injuries to his face. He had surgery on one of his fingers on his right hand immediately after he was transferred to hospital. He also had surgery on his left eye. Surgery on his nose will follow on Monday morning.
Fondard signs with Lotto-Bodysol PCW
French rider Romain Fondard has signed a contract with Belgian Continental team Lotto-Bodysol Pole Continental Wallon. The 24-year-old will ride for one season for the feeder team of Silence Lotto.
Fondard rode for the GroupeGobert.com in 2008. His main objectives will be the Ronde van België, le Circuit Franco-Belge and the French National Road Championships.
Inexperienced cyclists on the rise
Inexperienced cyclists crash more often
Photo ©: Scott Herman

Mounting financial pressures have led to a surge in inexperienced cyclists taking to the roads in Great Britain, resulting in a 29 percent increase in road accidents involving cyclists in the past six months.
A lack of formal training may be one of the causes of this problem, with more than half (52 per cent) of cyclists admitting they have never read the Highway Code's advice for cyclists and just 42 percent have taken a cycling proficiency course.
In the past year one in three cyclists have cycled the wrong way up a one way street, one of the most common causes for bike-car accidents.
Emma Holyer, Spokesperson for LV= car insurance, asked for compulsory cycling proficiency training. "Cycling is a cheap and enjoyable way to get from A to B and great exercise at the same time but it's essential that cyclists are fully equipped to deal with the busy British roads to ensure their own safety and that of other road users.
"If cycling training was compulsory, and cyclists were better equipped to follow the rules of the roads we believe motorists, pedestrians and cyclists themselves would all benefit from fewer accidents and a safer environment on the road."
The survey was conducted online by YouGov Plc (http://www.yougov.com/), with a sampling size of over 2,000 adults.
Addition to the Cyclingnews family
The Cyclingnews family has grown again. We are proud and happy to welcome the newest addition to Hedwig Kröner's family, daughter Annika. She was born January 15 at 2:20 a.m, and joins big sister Sofie in the family. "All the girls are feeling very well and the father is really proud," the family said.(SW)
(Additional editorial assistance by Susan Westemeyer)
(All rights reserved/Copyright Future Publishing (Overseas) Limited 2009)