First Edition Cycling News, February 28, 2009
Edited by Laura Weislo and Sue George
Sunderland reaches for the SKY
Scott Sunderland joins the SKY team
Photo ©: Bjorn Haake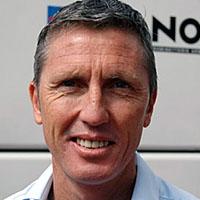 Australian Scott Sunderland will join Team Sky, the ambitious new British professional squad, the organisation announced Thursday. Sunderland will assume the role of sports manager of Team Sky under general manager David Brailsford CBE.
Sunderland is a highly regarded director who has spent four seasons with Bjarne Riis at Team CSC/Saxo Bank. He was due to move over to the new Cervélo TestTeam for the 2009 season, but negotiations were mutually ended in October, 2008. At the time, his wife Sabine hinted that Sunderland would move on to "another exciting project".
"Late last season, I was approached by Dave Brailsford and Shane Sutton to become Sports Manager for the new Sky Team," Sunderland said. "Shane and Dave invited me to the British Cycling High Performance headquarters in Manchester and told me about their dream of building a British Pro Tour Team and how Sky's sponsorship would make this possible.
Coming up on
Cyclingnews will cover the 60th edition of the Dauphiné Libéré live as of stage 4 on Wednesday, June 10, at approximately 15:00 local Europe time (CEST)/ 23:00 Australian time (CDT)/ 9:00 (USA East).

WAP-enabled mobile devices: http://live.cyclingnews.com/wap/
"Because of the successes both these men and their staff achieved on the track, I was very proud to become part of this project which will place another ProTour Cycling team on the roads in 2010."
Looking toward the short-term goals of filling the 25-man roster and a full calendar for next year, Sunderland said, "It is Brailsford's forte and winning method to plan everything meticulously and that's exactly what we have been doing over the last few months and will continue to do in the course of 2009.
The task of building a top-caliber team in such a short amount of time might seem daunting, but Sunderland said the team has been getting a "warm welcome everywhere".
"Our first and main objective is to gain an invitation to the biggest races in 2010 and to do this with a credible and skillful team. My task is to make this happen and I am very excited about this."
The team has ambitions to join the ProTour and to put a British rider atop the Tour de France podium in five years - all quite lofty goals. "But," Sunderland said, "not to aim for the highest possible result within one's reach is an insult to the God given talent that person has received.
"I think with the right guidance and support, it is so fulfilling and rewarding for any cyclist to reach the pinnacle of their natural abilities. Besides that, it is good for everyone, that together - and for sure in these economically strenuous times, we want to believe in better!"
"Hometown" Farrar hopes for Belgian success
Tyler Farrar (Garmin-Slipstream)
Photo ©: Mitch Clinton

Team Garmin-Slipstream's Tyler Farrar is excited to open his Classics season with the Belgian Omloop Het Nieuwsblad on Saturday and the Kuurne-Brussels-Kuurne on Sunday.
"Covering many of the same climbs and cobble sections as the Tour of Flanders later in the spring, they offer a good chance to test the legs and refresh our memories of the race courses," said Farrar on the team's web site www.slipstreamsports.com.
Farrar lives nearby and has a fondness for these races, which are run on roads very familiar to him. "They are some of the closest things I get to a 'hometown' race. In fact, Omloop Het Nieuwsblad starts and finishes only about one kilometer from my apartment in Gent."
Fresh off the at times rainy Tour of California last week, Farrar knows that the weather can sometimes play a role, especially if the cobblestones are wet. "Often the race can be won or lost on one wet section of cobblestones. This year it appears we will have somewhat of a reprieve as the forecast calls for dry and relatively warm conditions." However, this year the forecast is looking good, which may mean additional spectators.
Saying that everyone is riding strong, Farrar is predicting that Garmin-Slipstream will do well.
Cabreira suspended for using protease to cheat doping control
João Cabreira (LA MSS Póvoa)
Photo ©: João Dias

Former LA-MSS rider and Portuguese road champion João Cabreira was suspended for two years for "tampering with a doping control sample", the Portuguese Cycling Federation announced Friday. The rider is the first to be suspended for a long-suspected technique of using an enzyme called protease to break down products such as EPO in the urine to cheat a doping control.
The Portuguese anti-doping laboratory director, Luis Horta, became suspicious of Cabreira's samples and sent them to Cologne, Germany to check for the presence of protease, an enzyme commonly found in detergents which digests proteins. Use of the substance by athletes to mask EPO use has been suspected since 2006, when anti-doping authorities noticed some rider's samples had no trace of the body's normal EPO molecule.
The German laboratory confirmed the presence of protease in Cabreira's sample, but the he protested, saying he'd never even heard of the substance. The rider insisted he had "done nothing illegal".
"I will fight to the end to prove my innocence," he told the Lusa news agency.
Cabreira, 26, was controlled on May 19, 2008 as part of an investigation of the LA-MSS team by the Judicial Police and the National Anti-Doping Agency (CNAD) which resulted in the seizure of doping substances at the team's headquarters and led the Portuguese Federation to suspend nine members of the team.
Cabreira signed a one-year contract in December with the Continental team CC Loulé-Louletano-Aquashow, but that agreement was suspended after the decision.
Fuji-Servetto takes exclusions to CAS
The Court of Arbitration for Sport (CAS) will give an expedited hearing to the Fuji-Servetto team owner GM Bikes, the court announced Friday. The team was left off of the invitation list for the upcoming "historical" races Paris-Nice, Tirreno-Adriatico and Milano-Sanremo. The team is requesting the arbitration with race organizers Amaury Sport Organisation (ASO) and RCS Sport and the International Cycling Union (UCI).
ASO, which also organizes the Tour de France, and RCS Sport left the Fuji-Servetto team off the list of invited teams for Paris-Nice and the Giro d'Italia, Tirreno-Adriatico and Milan-Sanremo, respectively.
Fuji-Servetto's manager Mauro Gianetti is the previous owner of the Saunier Duval team which, in 2008, left the Tour de France after its Italian rider Riccardo Riccò tested positive for EPO-CERA. His fellow Italian teammate Leonardo Piepoli later tested positive for the same performance enhancing substance. Both riders were subsequently suspended by the Italian International Olympic Committee (CONI).
The race organisers similarly excluded the Astana team from races last year because of its 2007 doping cases, but the team earned a last-minute invitation to the Giro d'Italia, which Alberto Contador went on to win.
Since Paris-Nice, the first race in question, begins on March 8, CAS offered an expedited procedure with a final decision by March 6.
Priamo exonerated, Sella "told the truth"
Italian Matteo Priamo was exonerated on Friday of charges that he supplied doping products to his former teammate Emanuele Sella. The Italian Olympic Committee (CONI) had requested that Priamo, a former CSF Group Navigare rider, be given a four-year ban, reportedly for having been named by Sella as his supplier of the EPO variant CERA (trade name Mircera).
Sella confessed to using the drug and was given a reduced one-year suspension in December for cooperating with the anti-doping authorities. He was reported to have named Priamo as his supplier, but Priamo's attorneys were able to discredit Sella's testimony in the hearing with the National Anti-Doping Tribunal in Rome this week.
According to tuttobiciweb.it, lawyers Morgagni Luca and Celestino Salami showed that Sella repeatedly "changed the date of the alleged delivery of the vial of Mircera". Sella gave date ranges of before July 13 and between July 10-15 before finally settling on June 30th as the day Priamo delivered the drug. However, Priamo had an alibi for his whereabouts on those occasions. After July 6 he was training in Val d'Agordo with his teammate Tiziano Dall'Antonia, and on June 30 he was receiving treatment related to a fractured elbow sustained in the Giro d'Italia.
Priamo looked forward to getting back to training and racing now that he has been acquitted, and criticized the press for inaccuracies which were written about him. "I still have a year's contract with the CSF, and will speak with Burno and Roberto Reverberi to see if I can stay with them, otherwise I will try another team."
For his part, Sella expressed disappointment that his former teammate's acquittal had not gotten more press. "If the courts have decided there is not sufficient evidence against Priamo, I am happy for him, but the fact remains that I have told the truth and I accepted the consequences of my behavior. And when the time comes, I will return more mature as a rider and an athlete."
Simoni, Armstrong to appear in Mexico
Gilberto Simoni at the Vuelta a Andalucía
Photo ©: Roberto Bettini

Two-time Giro d'Italia champion Gilberto Simoni and seven-time Tour de France winner Lance Armstrong (Astana) are among the big names who will appear at the presentation of the Vuelta Mexico Telmex this weekend. The race starts on Sunday in Oaxaca, Mexico.
Simoni (Serramenti PVC Diquigiovanni-Androni Giocattoli) is fitting the Vuelta Mexico Telemex into his racing schedule after a 10th place overall at the Vuelta a Andalucía and before he heads to Tirreno-Adriatico.
Armstrong, coming off a seventh place overall finish in the Tour of California, will not participate in the race, but will make an appearance at the presentation of teams on Saturday evening. His Trek-Livestrong U25 team, including pursuit World Cup champion Taylor Phinney, will take part in the race.
Other favorites such as New Zealand champion Glen Chadwick (Rock Racing), American champion Tyler Hamilton (Rock Racing), Floyd Landis (OUCH Presented By Maxxis) and Fred Rodriguez (Rock Racing) were scheduled to arrive Friday.
The Vuelta Mexico Telemex will run from March 1 through March 8.
Boasson-Hagen, Burghardt headline Columbia's Belgian roster
Edvald Boasson Hagen (Columbia)
Photo ©: Gerry McManus

Columbia-Highroad's Edvald Boasson-Hagen will step up to the big leagues when he contests the Belgian semi-classics Het Nieuwsblad (nee Het Volk) and Kuurne-Brussels-Kuurne.
"Edvald has had a great first year as a pro with us in 2008, winning three stages of the Tour of Britain as well as a stage of the Eneco Tour," said director sportif Allan Peiper, "but we want to see what he can do in the Classics, too."
"He had a bit of a cold so he missed out on the Tour of the Algarve, but we're sure he'll put in a good performance here in Belgium."
Saturday's Het Nieuwsblad is the tougher of the two, Peiper said. "[It is] so early in the season it's never easy to know who's got what kind of form. The combination makes things very unpredictable. The race itself has three big climbs in the final, the Eikenberg, Wolvenberg and Molenberg and three sections of cobbles in the last 40 kilometres. I've heard the last one's extremely muddy!"
Joining Boasson-Hagen will be Marcus Burghardt, winner of the 2007 Gent-Wevelgem. "I know that Marcus is is very motivated after missing out on the Classics last year because he had knee problems. He did the Tours of Qatar, Mallorca and the Algarve, which are the right kind of stepping stones to build up for the Classics," said Peiper.
Kuurne-Brussels-Kuurne will be more than a revenge match after Het Nieuwsblad according to Peiper. "The race is more suited to the sprinters, but it's also tricky to predict because anybody's who has gone all out on the Saturday in Het Nieuwsblad will not be in good shape for Sunday. Really, you've got to make a choice."
"We're lucky in Columbia-Highroad because we don't have such a structured set-up as some other teams in that we have no set leader for each race. Here it's a question of working for whoever's good on the day."
Looking further south, a Columbia-Highroad team will also race in Spain on Sunday at the single-day GP Almeria. Greg Henderson will lead the team there.
Columbia-Highroad for Het Nieuwsblad & Kuurne-Brussels-Kuurne: Edvald Boasson-Hagen, Marcus Burghardt, Bert Dockx, Bernhard Eisel, Bert Grabsch, Frantisek Rabon, Vincente Reynes, Marcel Sieberg.
Columbia-Highroad for GP Almeria: Michael Albasini, Greg Henderson, Craig Lewis, Tony Martin, Maxime Monfort, Marco Pinotti, Morris Possoni, Kanstantsin Sivtsov.
Next step in Schumacher-Holczer court case
An employment-rights court in Germany has ruled this week that it has no jurisdiction in the case between Stefan Schumacher and his former employer Hans-Michael Holczer to the civil court in Stuttgart, Germany. Schumacher is suing the former Team Gerolsteiner manager for wrongful dismissal.
Holczer terminated Schumacher's contract after it was announced that the rider had tested positive for CERA during the Tour de France. Schumacher, who last week was suspended for two years by the French National Anti-Doping Agency, has continued to deny having doped.
The decision of courts was hailed as a victory by Holczer's lawyer. "This proves that Schumacher is not an employee but a free-lancer under contract, as in stated in his contract with Holczer," said attorney Jürgen Schmitt to the dpa press agency. Holczer will now look to recover Schumacher's salary from July 3 to October 15.
Holczer said that he was surprised that no one in Schumacher's entourage "explains the situation to him, the way practically everyone else sees the reality of it." He encouraged the rider to follow the example of his Tour de France roommate Bernhard Kohl and confess to using the drug. (SW)
(All rights reserved/Copyright Future Publishing (Overseas) Limited 2009)