Latest Cycling News, February 4, 2009
Edited by Bjorn Haake
Belgian Champ Roelandts back in sprint mix
By Gregor Brown in Doha, Qatar
Jürgen Roelandts starts the season well
Photo ©: Brecht Decaluwé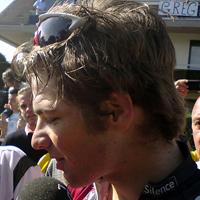 Jürgen Roelandts is back at the front end of the races in 2009, seven months after he won his first professional race at the Belgian national championships. The Silence-Lotto rider finished third in Tour of Qatar stage three behind his famous compatriot Tom Boonen and Italian Danilo Napolitano.
"When Boonen starts first it is difficult to beat him, but to begin first it is also hard to beat him!" Roelandts said to Cyclingnews.
The 23-year-old in his country's black, yellow and red colours made the elite group of 26 on Tuesday's 137.5-kilometre stage from Al Zubarah to Doha. High winds made it difficult to maintain position when riders formed in echelons to protect themselves.
"I first had four teammates. One had a problem with his wheel and the other one had a flat tyre. You go from four to two, and then it is really difficult."
Roelandts worked with teammate Wilfried Cretskens to control the fellow Belgian team of Tom Boonen, Quick Step. He found his place behind Napolitano as De Jongh led out Boonen.
"It is very difficult to beat Boonen when he is out of wheel only one-hundred metres before the finish."
He will have his chance again in the next three days of the Tour of Qatar. Roelandts travels back to Belgian after the Middle Eastern race to continue his preparations for the Spring Classics.
Roelandts shares responsibilities in Team Silence-Lotto in the one-day races. In the team are also Leif Hoste, Greg van Avermaet and new member Philippe Gilbert.
Napolitano out-foxed by Belgian
By Gregor Brown in Doha, Qatar
Danilo Napolitano (Katusha) came close again in Qatar
Photo ©: Gregor Brown

Danilo Napolitano missed his second career Tour of Qatar stage win by one position Tuesday. The Italian discovered that the tactics of the Belgians – like winner Tom Boonen – gave that extra bit of advantage needed to take the victory in stage three.
"Team Quick Step did well; they had good representation with three men. They are more accustomed to this wind since they are from Belgium," said Napolitano of Team Katusha to Cyclingnews.
The 137.5-kilometre stage from Al Zubarah in Qatar's north to the country's capital city of Doha featured a strong north wind that helped split the race into small groups. Napolitano made the select move of 26 riders with teammates Filippo Pozzato and Denis Galimzyanov.
"I did this race last year and I know that the stages can be windy every day. It is a strange race. In Qatar it is a race of the wind."
Pozzato followed the early move of a Cervélo TestTeam rider in the stage's finale. Napolitano positioned himself well for the sprint behind Boonen.
Steven de Jongh led teammate Boonen to the finish line. Napolitano found himself boxed in when De Jongh's work was finished. He finished second to Boonen and ahead of Jürgen Roelandts (Silence-Lotto) and Heinrich Haussler (Cervélo TestTeam).
Napolitano also finished second in stage two to Briton Roger Hammond.
The six-stage race, February 1 to 6, continues Tueday with a 141-kilometre stage from Doha to Qatar's north, in Madinat Al Shamal. It will be another flat stage that is suited for the sprinters.
Burghardt keeps on after crash, Wagner out of Qatar
By Gregor Brown and Susan Westemeyer
Marcus Burghardt (Columbia-Highroad) continues to have bad luck with injuries
Photo ©: Gregor Brown

Marcus Burghardt of Team Columbia-Highroad took to the start of today's Tour de Qatar stage despite injuring himself in a crash on Monday. He appeared at the start with a bandage on his knee and said that he was otherwise all right.
Another German rider was not so lucky. Robert Wagner of Skil-Shimano crashed in the neutral zone Tuesday and had to drop out of the race. There was no immediate word on his injuries.
Burghardt ripped open his left side and injured his elbow, and also complained of a swollen knee, when he went down in stage three. After the stage he was checked out at the hospital, but nothing was broken.
Burghardt, 25, is a Classics specialist who won Gent-Wevelgem in 2007. He missed the entire Classics season last year due to a knee injury.
Bissell hunts Tour of California time trial
By Kirsten Robbins in California
Bissell formed Belgian-style echelons in training
Photo ©: Kirsten Robbins

Team Bissell riders added the finishing touches to their fitness at a week-long training camp in Santa Rosa, California, before the start of the Tour of California on February 14. The riders and staff stayed at the historical Hotel La Rose, where the riders made use of the tough climbing the Sonoma County is famous for.
"We plan to show up at the Tour of California with a strong roster," said directeur sportif Glen Mitchell. "Our athletes should be commended for their hard work and training."
The team's eight-man roster for this year's Tour of California will field three strong time trialists. Ben Jacques-Maynes has placed inside the top ten in the time trial for two consecutive seasons and hopes to improve his time in the stage six 24-kilometre time trial, held on the rolling Solvang countryside.
"I haven't put the same amount of time into my time trial as I have in years passed," said Jacques-Maynes, who hopes to break away from being the team's GC rider and race less conservatively and more aggressively. "I think my time trial form comes as a result of doing work on the track. I think I've become a better road racer because of the work I've done on the track."
He and teammate Tom Zirbel joined the camp after competing in a season opener at the Tour of San Luis held in Argentina last week. Zirbel's second place in the Tour of San Luis time trial proved that he will arrive at the Tour of California on good form.
The Boulder native turned heads when he placed second in the 2008 US Pro time trial championships, a slim margin behind Dave Zabriskie (Garmin). "I look at Tom, who was seconds away from the time trial championships and he continues to perform extremely well," said Mark Bissell, owner of Bissell vacuum cleaners. "Anything is possible for us at the Tour of California this year. They have the capabilities, the equipment and the full support. I think with the right set of conditions there is no reason why either Tom or Ben couldn't win the time trial."
The Santa Rosa training camp offered good climbing
Photo ©: Kirsten Robbins

Jeremy Vennell, the New Zealand national time trial champion, is also hoping to perform well alongside his teammates in the time trial. Vennell won the national title on January 9 in Te Awamutu, New Zealand. "I spent a lot of time working with my new coach on the time trial," said Vennell. "The goal is for a good ride at the Tour of California. Of course, the time trial is not until stage six so there will be a lot of racing and hills before that. I think if a rider wants to finish within the top places in the overall, they need to make it to the time trial with the front group and then the time trial will decide the rest."
After six years of racing on separate teams, Andy Jacques-Maynes joins his twin brother Ben on the Bissell roster at the Tour of California for his debut at the professional level racing. "We are each other's biggest fans," said Andy Jacques-Maynes. "We are always there to support each other, cheering each other on. We always talk about our racing and now we are actually going to be racing together. That confidence in one another is cool and the synchronistic we have with each other is awesome. The two of us together is so much better than two random individuals with our strengths."
The eight-man roster includes the Jacques-Maynes brothers, Zirbel and Vennell along with strong sprinters Peter Latham, Kirk O'Bee, Frank Pipp and Omer Kem. "We are rounding out the team in terms of capabilities," said team owner Bissell. "We added some speed with Kirk, Frank and Peter. We've always had great results at the Tour of California and my hope is that we continue to raise the bar. The race in California has evolved into an international race that gets a lot of attention. It's the highest level of competition and great exposure for our guys."
Photography
For a thumbnail gallery of these images, click here
Images by Kirsten Robbins
Basque races unite to battle grim future
By Antonio J. Salmerón
Less media interest at the Euskal Bizikleta in dire financial times may make sponsors think twice before supporting an event
Photo ©: Monika Prell

The organisers of the Basque races Vuelta al Pais Vasco, Clásica de San Sebastian and Euskal Bizikleta will hold a press conference on Thursday. The three races want to build closer ties with each other in order to fight the current sponsorship crisis, which affects so many races.
The Euskal Bizikleta is already threatened for 2009, after reducing the number of stages in 2008. Jaime Ugarte, organiser of País Vasco and San Sebastian, and Julián Eraso, the head of Euskal Bizikleta, will explain the future of the races in the Basque country.
In a joint press release the organisers explained the strategy. "We want to communicate a new trajectory for our events, the Vuelta al País Vasco and the Clásica San Sebastián. We need a formula to guarantee the future of our races at the highest level in elite racing."
This is not the first time races combined efforts. Between 1969 and 1973 the Vuelta al País Vasco and the Bicicleta Eibarresa (later renamed to Euskal Bizikleta) joined forces. The Vuelta al País Vasco was only held once between 1931 and 1968, when Gino Bartali won it in 1935.
Homeboys take Copenhagen Six
Danish riders Alex Rasmussen and Michael Mørkøv won the Copenhagen Six Days by snatching the lead from Dutch riders Danny Stam and Peter Schep in the final night. Rasmussen/Mørkøv were equal on laps in the end with Stam/Schep, but had amassed almost 100 more points (254 versus 158). The lap gain came only thanks to the rule of lap gains every 100 points.
The Danes started the night with 199 points, so made up the lap almost immediately. Despite strong efforts from the Dutch pair, this was enough for Rasmussen/Mørkøv to win the event.
The showdown came in the final Madison, where Rasmussen/Mørkøv prevailed with 24 points over Robert Bartko/Leif Lampater (Germany, 22 points) and Stam/Schep, who had 12 points. All other pairs ended at least one lap behind.
Full results of the final day are here.
Spitz notes effect of Olympic win
Sabine Spitz of Germany won an Olympic gold medal in Beijing
Photo ©: AFP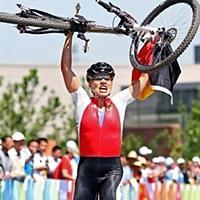 Winning the mountain bike gold medal at the Olympics in Beijing changed Sabine Spitz' life, but not her person. "I'm still me," she said. "But if I'm honest, I'm still just realising what I accomplished."
The changes include many more commercial offers, everything from judging beauty pageants to opening football games to appearing at cycling shows. Spitz, 37, is now asked to appear on German television and is interviewed for women and fitness magazines, according to badische-zeitung.de. In addition, she was voted female German cyclist of the year and was sixth overall as female athlete of the year.
Her husband and manager, Ralf Schäuble, noted however, that "Many people think that you have made your fortune with an Olympic win. But athletic successes don't necessarily bring financial successes with them." Spitz has acquired two new sponsors, "but not in a dramatic extent."
"We are moving in a problematic area. The financial crisis is having a negative effect on the sponsor market," Schäuble said.(SW)
Vorarlberg: Klinger goes, Capelli comes
Tim Klinger surrendered to injuries and ended his career
Photo ©: Bjorn Haake

Tim Klinger of Team Vorarlberg-Corratec has announced his retirement from pro cycling at the age of 24, due to injuries. The team also announced the signing of Andrea Capelli, formerly of Team Miche.
Klinger rode for Team Gerolsteiner in 2007 and 2008, and signed with the Austrian Professional Continental team this season.
Various injuries limited his racing both years. In 2008 he did not start riding until June, and tendon problems in his knee appeared later in the season.
Although he was able to recover from the knee problem and finish the season, the problem appeared again while training this winter. "Despite innumerable doctors' visits, intensive treatment and countless new attempts, I haven't been able to get the problem under control," the German said in statement released Tuesday.
"For this reason I don't see any perspective for my future in cycling, and I want to concentrate on other professional goals," he said. "And it wouldn't be fair to Team Vorarlberg-Corratec, the sponsors and the staff, for me to have another messed-up, injury-filled season."
"After many years of uncompromising hard work for the sport, this decision was extremely difficult," he concluded.
The team also announced the signing of climber Andrea Capelli, 27. "He has proven climbing qualities and fits in well with us," said team manager Thomas Kofler. The team opens its season at the Tour de Langkawi next week.(SW)
San Jose Cycling Classic set for February
"Season of cycling" to promote San Jose Green Vision green mobility
The San Jose Cycling Classic will be held February 14, 2009 throughout San Jose, California, in conjunction with the returning Amgen Tour of California and the Livestrong Challenge. The multi-pronged event will encompass professional, amateur and community cycling activities, including a competitive time trial race, a criterium, a recreational ride and a CEO Challenge.
It is expected to attract more than 1,000 cycling athletes. "Cycling is an important form of alternative transportation, and San Jose's Green Vision puts San Jose on the path to being a cycling-friendly city," San Jose Mayor Chuck Reed said. "The San Jose Cycling Classic lets the cyclists everywhere know that San Jose and the greater South Bay region is a one of the best places in the world to cycle, whether you're an amateur or a professional."
The San Jose Cycling Classic will kick off with the The King of the Mountain time trial and a CEO Challenge. The time trial is held on Sierra Road, a challenging hill that featured several times in the Tour of California. The climb is 3.7 miles long with an average gradient of 10 percent and a maximum of 18 percent. The San Jose Cycling Classic will also feature a 30-mile recreational ride which will start along the same route but will not include the challenging Sierra Road climb.
All rides will start with police motorcycles leading a rolling closure north and east of Downtown San Jose to the base of the Sierra Road climb. Cyclists on the King of the Mountain and CEO Challenge ride will then cross a timing pad to activate timing chips and begin their ascent. After topping Sierra Road, riders may complete the Sierra/Calaveras/Piedmont loop.
The next event is a criterium in downtown San Jose on a 1.4-kilometre course. There is an equal prize money of 5,000 dollars for top male and female professionals. All the action starts and finishes on Park Avenue near Plaza de Cesar Chavez.
San Jose will also kick off the Livestrong Challenge. In addition to San Jose, events will take place in Seattle (June 21), Philadelphia (Aug. 23) and Austin (Oct. 24-25).
The final event will be hosting the Tour of California stage 3 Start Tuesday, February 17, at Park and Almaden in Downtown San Jose. A host city for the fourth year in a row, San Jose will, for the first time, serve as a start city.
(Additional editorial assistance by Susan Westemeyer)
(All rights reserved/Copyright Future Publishing (Overseas) Limited 2009)