First Edition Cycling News, April 29, 2009
Edited by Greg Johnson
Lefevere leads call for quicker testing turnaround
By Daniel Benson with assistance from Greg Johnson
Quick Step team manager Patrick Lefevere is disappointed
Photo ©: Bjorn Haake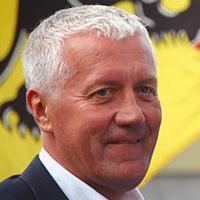 Quick Step boss Patrick Lefevere has led calls for quicker turnaround of anti-doping testing, as debate erupts following the International Olympic Committee's (IOC) announcement that two cyclists are among the six positive tests returned from last August's Beijing Olympic Games. Lefevere described the eight months it's taken to re-test and announce the results provides the biggest blow for cycling.
"This isn't normal, it shouldn't take so much time as the damage is so much greater eight moths later than if it had come out one month after the event," said Lefevere. "Some of these guys might have won events since then and that's the biggest blow for cycling.
"If you drive over the limit and you're caught they don't ban you eight months later, do they? It's done immediately. You shouldn't need nine months to do it. I don't know why it takes so long, you have to ask the IOC that. It's very bad."
International Cycling Union (UCI) president Pat McQuaid distanced the governing body from the issue, telling Cyclingnews he's still not aware which cyclists are in question. "It's a question for the IOC as to why this has taken so long to come out," said McQuaid. "I'm sure they only announced this once they were ready and had the information. I don't think it's strange that the UCI wasn't aware of this until now though. We'll wait and see what else comes from this over the coming days."
La Gazzetta dello Sport has alleged that one of the cyclists is La Flèche Wallonne winner Davide Rebellin, after the Italian National Olympic Committee (CONI) admitted one of the athletes is Italian. McQuaid however wasn't even expecting the news to break for another 24 hours.
"Like everyone else I'm awaiting more news from [the IOC] tomorrow," said McQuaid. "I have no idea who the other athletes are and I thought the news was coming out tomorrow."
Rebellin's former Gerolsteiner team-mate Levi Leipheimer said it's disappointing news of a non-negative sample has been made public prior to the outcome of a B-sample. Leipheimer contested the Olympic Games in Beijing, China and finished 20th in the road race.
Does the system need improving?
Share your thoughts in the Cyclingnews forum.
"I was just talking to some of my team and we all think it's a pity that it's come out like this," said Leipheimer. "Of course the B sample hasn't even come back and we're sitting here talking about this. The process shouldn't be like this.
"We don't need this anymore and it's disappointing to have this story in cycling again," he added.
Cycling commentator Phil Liggett was disappointed that cycling will be damaged once more for its efforts to fight the doping issue. He is angry that the only athlete linked to any of the six samples is a cyclist, which he believes demonstrates cycling is being unfairly targeted.
"I've no sympathy for the guilty but we were promised results in January and what angers me is that only the cyclist's name has come out," he said. "Cycling seems to be the easy sport to kick around. Of course there were some very questionable performances at the Olympics, from a lot of sports.
"It's up to the IOC to come out and name names but once again it's one rule for cycling and one rule for everyone else," he added. "If the news on this rider is correct, then it calls into question all of his results from the last year and it raises the question whether they're still testing for CERA. Cycling pays for its honesty."
The International Olympic Committee (IOC) began performing retroactive testing on the Beijing Olympic Game samples in January using a newly developed test for the recently introduced erythropoietin (EPO) drug Mircera (CERA). Italy's Riccardo Riccó was the first cyclist to be sprung for CERA during the Tour, one month prior to the Olympic Games, when the substance was thought to be undetectable.
McQuaid said that the Olympic Games' proximity to last year's Tour means he's not surprised by the latest news. "It's no surprise that some riders think that they were safe riding with the substance in them during the Olympics," said McQuaid. "Remember there's only a two week window between the Tour and the Olympics."
Leipheimer hopes that the way in which these cases have unfolded will further deter athletes from trying performance enhancing substances thought to be undetectable in future.
Leipheimer pleased with late Gila call-up
By Daniel Benson
Levi Leipheimer rides in Astana kit at Sea Otter
Photo ©: Mitch Clinton

Levi Leipheimer is looking forward to racing in the Tour of Gila, starting today in New Mexico, despite his late call-up. "It was a bit of a shock but a good surprise," Leipheimer told Cyclingnews.
Leipheimer and his Astana teammates Lance Armstrong and Chris Horner were only told of their inclusion on Tuesday. "I found out at 6 AM and was told to get on a 10 AM flight to New Mexico," said Leipheimer. "Being on Astana means we're getting used to sitting by the phone and taking last-minute call-ups. It's part of the job for us."
The three had originally planned to start the race but the International Cycling Union (UCI) refused their entry on the grounds that their rules prohibit top-level riders from entering national-level races. USA Cycling and Astana reached a compromise: the riders will race in the neutral jersey of Mellow Johnny's, Armstrong's bicycle shop in Austin, Texas.
"The plan is for the three Americans on the Giro d'Italia team to base themselves in the US and then do the race as it's not as hard as Romandie," said Leipheimer. "The idea is to get some competition, but not too much as it's close to the Giro. It is going to be a tune-up race for us."
Leipheimer competed in the event 13 years ago but believes that Astana's presence in the race will benefit both their Giro preparation and the United States of America racing scene. "It's a great race from a US point of view as we don't have many UCI registered events and it's a real stage race with a time trial and climbs," he said. "It almost went away but it has a lot of exposure and support. This race deserves to continue and hopefully it can develop the next generation of US cyclists."
Leipheimer was keen to point out just how ideal Gila is for his Giro preparations. "If I had a choice between training in Aspen, riding Romandie or Gila, then I'd pick Gila every time," he said. "There are not a lot of races in Europe that suit me at this time of year, and I like to stay fresh for the rest of the season and the Giro and Tour de France. For me it's perfect."
BMC calls for UCI, USA Cycling discussions
By Kirsten Robbins in Silver City, New Mexico, USA
BMC wants some changes to regulations
Photo ©: Marco Quezada

Professional Continental team BMC has called on the International Cycling Union (UCI) and USA Cycling to commence dialogue on finding a solution that allows outfits at its level to compete in smaller American races. The request comes after it was forced to reduce its roster to allow Astana riders to contest this week's SRAM Tour of the Gila, with both teams having to wear non-descript clothing.
"The message that we need to send out on behalf of the ProTour and Professional Continental teams is that we look forward to creating solutions with the UCI and USA Cycling that allow our participation in American events, a set of guidelines that suits all parties," Chilcott told Cyclingnews. "We see that there are problems and that there are avenues to achieve solutions. We are motivated in a collaborative fashion to reach these solutions with the two organisations."
The UCI allowed Astana to start three riders and forced BMC to downsize its roster from eight to three riders in order to compete in the Tour of the Gila, a USA Cycling sanctioned event. A last-minute agreement to bypass UCI code 2.1.009 was reached between the UCI and USA Cycling to allow the ProTour team Astana riders and Professional Continental team BMC riders to start the national level event, set to begin on April 29 in Silver City, New Mexico.
Astana riders Lance Armstrong, Levi Leipheimer and Chris Horner will compete under a neutral team name Mellow Johnny's. BMC will start a reduced team of three that includes Scott Nydam, Florian Stalder and Chad Beyer, who are registered as individual riders and will wear non-descript clothing.
Code 2.1.009 prohibits ProTour and Professional Continental team from competing in national level events where only UCI Continental teams of the country, regional and club teams, national teams and mixed teams may participate. The UCI agreed to allow participating teams Astana and BMC to compete with a maximum of three riders and non-sponsored clothing.
"The UCI rules and the USA cycling rules have been interpreted to say that riders from the Pro teams can enter individually but not as teams," Chilcott said. "The number of entrants must be below the minimum number required riders that make up a team. We have to fall outside the definition of the team. Which means that the minimum team for this race is four, then we can only start three."
The UCI rule has just flown under the radar for more than 20 years, according to Chilcott. "I don't believe we were in violation of the rules," Chilcott said. "Its not difficult or unheard of for UCI registered teams to operate in areas that do not offer UCI races, which is the case in the US.
"Historically speaking this has taken place for many years, back in the days with teams Motorola, 711, US Postal and even Mercury, Health Net, Navigators and BMC have always operated in the US and participated in US events," he added.
BMC's original eight man roster included Nydam, Stalder and Beyer along with Tony Cruz, Thomas Frei, Martin Kohler, Jackson Stewart and Jonathan Garcia.
Disabled Esparza pays tribute to cycling
By Kirsten Robbins
Fausto Munoz (right) on the podium at the 2006 Univest Grand Prix
Photo ©: FJ Hughes

Fausto Muñoz Esparza has paid tribute to the sport that bought him freedom, nearly one year after the life altering accident at the 2008 Tour of the Gila which has left the rider disabled. The 33-year-old from Guadalajara, Mexico was paralyzed after crashing on a high-speed descent on the final stage of last year's event.
"I can't believe it will be one year since this step in my life," said Esparza, who raced for the Mexican-based Tecos-Trek team. "I'm stable now but I have my good and bad moments and thank God that I'm improving every day. After many visits to the doctor they have now told me that my spine was fractured completely and the reality is that I will never walk again - my life has changed 360 degrees."
The former Mexican national champion was air lifted to Thompson Hospital in El Paso, Texas where doctors diagnosed he suffered from a broken back that left him as paralyzed from the waist down. He was later taken to CONADE Hospital, a national physical and athletic rehabilitation centre located in Mexico City. Esparza now resides in Mexico City with his wife, Pati and their three children Samantha, Elias and Faustus.
"I have to say thank you to this beautiful sport of cycling," said Esparza, who was introduced to the sport by his older brother Jose at a young age. "I spent every day on my bike with a sensation of freedom that someday I hope to find in some other kind of activity that I can do."
Esparza is a former Mexican National Champion and was a long-time member of the Mexican National Team. His palmares includes 2006 Central American Champion, second place at the 2007 Univest Grand Prix, fifth place at the 2007 Pan American Games and multiple victories in top-level Latin-American events.
"After living an active life-style with a career as a professional cyclist, I was given so many great things," Esparza said. "I was happy riding my bike and it gave me the opportunity to race in countries like Columbia, Canada, USA, El Salvador, Argentina and Chile.
"I really have to thank the owner of my team, Juan Manuel Navarro and my teammates for all their continued support," he added.
The 2009 SRAM Tour of the Gila commences today in Silver City, New Mexico.
Cervélo names debut Giro squad
Carlos Sastre in the Cervélo kit
Photo ©: Shane Stokes

Cervélo Test Team has shaved it Giro d'Italia short list from 12 riders to the nine that will start in Venice on May 9. The team is aiming for a top three finish on general classification in Italy according to sports director Jean-Paul van Poppel, as it readies to defend Carlos Sastre's Tour de France title in July.
"We are going for a top result in the general classification with the leader and Tour de France winner Carlos Sastre," said van Poppel. "He will get support from the entire team to reach a top three place in the general classification."
Australia's Simon Gerrans has been drafted into the squad with the aim of claiming a stage victory. Gerrans took his first Grand Tour stage victory in France last year.
"Another target is a stage win during the 100 anniversary edition of the Giro," said van Poppel. "With Simon Gerrans the team has a good candidate to win a stage, though we also have Philip Deignan and Hayden Roulston as potential stage winners."
Norwegian sprinter Thor Hushovd, also in the 12 man pre-selection for the Giro team, decided last week to turn his focus on the Tour and will not start the Giro.
Cervélo for Giro d'Italia: Philip Deignan, Simon Gerrans, Volodymir Gustov, Jeremy Hunt, Ted King, Ignatas Konovalovas, Serge Pauwels, Hayden Roulston and Carlos Sastre.
Rabon shocks all in Romandie
Czech national TT champ Frantisek Rabon
Photo ©: Edward A Madden
Czech rider Frantisek Rabon (Columbia-Highroad) shocked even himself with his first professional prologue victory at the Tour de Romandie. The 25-year-old leads the race heading into today's stage one, a situation he wasn't expecting.
"To be honest I was targeting the top 10, nothing better," Rabon said. "When I got the fastest time, I sat down and wondered which of the last guys off, maybe [Fabian] Cancellara, maybe [teammate] Mark [Cavendish], would beat it. This race is very much for the guys who are preparing for the Giro d'Italia, and I thought one of them would have a better chance. But it didn't happen."
Rabon laid down a time two seconds faster than Frenchman Sandy Casar (Française des jeux) over the 3.1 kilometre stage. Spain's Alejandro Valverde (Caisse d'Epargne) claimed third place with United States of America rider Tyler Farrar (Garmin - Slipstream) finishing fourth.
"The course itself on Tuesday was supposed to be completely flat, but in fact it was trickier than that, with one kilometre flat, one kilometre downhill, and one up," he said. "But I went full gas anyway, there was no point in doing anything else because it was so short, and it worked out."
Rabon is remaining realistic about his hopes of maintaining the general classification lead. While he will attempt to hold on to the jersey, winning Romandie wasn't named as one of the American squad's aims heading into the race.
"We'll see what happens next," he said. "I've ridden Romandie two times before and I know the climbs a bit. In any case I'll go all out and try to defend my lead for as long as possible and the best I possibly can."
See Cyclingnews' full results, report and images from Romandie.
What's hot on the forum
One hot topic so far this week has been the news that Lance Armstrong's Astana team was not allowed to start in the Tour of the Gila . The UCI enforced a rule that excludes ProTour teams from racing smaller events. But who should be more protected against the top teams? The race or the smaller riders/teams?
Here's a sample of the forum entries:
Like the global economy, cycling is also in a recession. A week doesn't go by w/out some bad news. We're living (surviving) in extraordinary times and we NEED to stimulate cycling and the economy. Article 2 of the UCI constitution states their purpose as: b) to promote cycling in all the countries of the world and at all levels. d) to encourage FRIENDSHIP between all members of the cycling world.

I hope the UCI reconsiders their decision. They've hurt cycling and our small community.

Gila is not a ProTour race and the continental teams need to have their share of the pie. Any Conti team left out for a ProTour team is a loss for the local Conti teams. The ruling is fair and just, the race almost went bust and then they're going to give it to a ProTour team to win against the Conti teams, to take the money and run so to speak?

No they did the right thing.

Cycling is popular in the US because of Lance. This race almost didn't make it this year because of the downturn in the global economy. Luckily, SRAM stepped in and saved it, but the presence of Lance and company would have been enormous to the community of Silver City. Who doesn't want to see a seven-time Tour winner race his bike in their event. Look at the Tour Down Under and the increased press coverage for that event. The UCI blew it on this one!

Sure Astana has a great effect on the profile of the race and attracts spectators. These are definitely good things but what about the amateur team that keyed this race? What about the continental team that might just get enough recognition at the normal level of the race?

Yes I am sure there are more than a few cat 1 riders that would think it is pretty cool to ride with Lance or Levi but they won't be taking home any cash if the pro tour guys race hard. As a guy who generally sucked as a rider I know the fun just disappears at any race there was even 1 cat 2 in our group. They just make the race that much harder. I think it is a good rule and I'd guess I might be in the minority.

Twitter with Cyclingnews!

Cyclingnews now twitters! It's the fastest way around to check up on the headlines, latest stories, photos and race previews, and all the other information you can find the world's largest cycling site. Keep up-to-date by using the latest technology, and look us up at twitter.com/Cyclingnewsfeed.
(All rights reserved/Copyright Future Publishing (Overseas) Limited 2009)