Latest Cycling News, April 22, 2009
Edited by Bjorn Haake
Gilbert among Flèche favourites
Philippe Gilbert is one of the favourites in the Ardennes
Photo ©: Brecht Decaluwé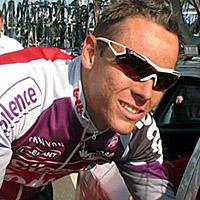 Silence-Lotto's Philippe Gilbert is one of the favourites for today's Flèche Wallonne, despite the rider playing down his chances. The Belgian finished on the podium in the Ronde van Vlaanderen and fourth in the Amstel Gold Race.
"You can't get carried away," a modest Gilbert told La Dernière Heure. "One good race doesn't mean everything will go well after that."
Gilbert knows past performances aren't on his side, with his best finish Flèche Wallonne an 18th place in 2007. However Gilbert showed his serious approach to today's race when he viewed parts of the course yesterday, accompanied by team-mates Jelle Vanendert and Christophe Brandt. The riders viewed the côte de Boussale, included in this year's race after the côte de Bohisseau, and the slightly modified finish.
"It was interesting to see," said Gilbert. "I think it [the final] is not quite as hard as before, as the Bohisseau is shorter [than in the past] - we leave the climb before its usual summit."
Gilbert is drawing hope from one big difference for this year's race. "I am riding into at just the right moment. In previous years I was already in need of taking a rest at this point but I saw on Sunday [at Amstel] that I was as strong as the others on the climbs. Nobody really impressed me and I had the legs to win but just missed out."
Valverde getting better and better
Valverde is getting in shape just in time
Photo ©: Elmar Krings

Alejandro Valverde (Caisse d'Epargne) believes his form has come along in time for the final Spring Classics this week. After finishing 21st in the Amstel Gold Race, he hopes to step up his efforts for today's Flèche Wallonne and Sunday's Liège-Bastogne-Liège.
Valverde finished last in the second group of almost 20 riders in the Amstel Gold race, behind the winning trio of Serguei Ivanov, Karsten Kroon and Robert Gesink. "Each year it is more or less the same for me at Amstel," the Spaniard told La Dernière Heure. "I am always a little off at the start of Amstel. Of the three Classics [with Flèche and LBL] it's the most difficult for me.
"At the penultimate climb, the Keutenberg, our group chased the leaders with just a small gap," he added. "We put in a considerable effort to reach the front [but] on the final climb I didn't have the power."
Despite missing the Dutch win, Valverde remains hopeful for the two last two Spring Classics. "I like Flèche and la Doyenne [LBL] even better," he said. "I noticed that no rider was really above the others. I am getting better and better and I am convinced that I can contest the win."
Doin' the Ardennes double
By Greg Johnson
Ferdi Kübler
Photo ©: Marcel Segessemann

The past winners list for both Ličge-Bastogne-Ličge and La Flčche Wallonne reads like a who's who of cycling's rich history. But even on a list featuring cycling's finest, there are a handful that stand out as winners of the Ardennes double.
In fact just six riders throughout history have managed to claim both race wins in the same season. It's a prestigious club of men who, combined, have won anything that truly matters in the sport of cycling.
They share six world championships, victories in each of the three Grand Tours, and wins in every other major classic race thanks largely to Eddy Merckx.
1951 & 1952 - Ferdinand Kübler
Doing the Ardennes double in 1951 just wasn't enough for Swiss rider Ferdinand Kübler. So to prove his ability, he returned the following year to claim the title once more.
Not only is he the only rider to claim two Ardennes doubles, but Kübler did it back-to-back while riding for Frejus during what were his strongest years as a professional cyclist.
Now 89 years old, Kübler's major race winning streak started in 1948 when he claimed both the Tour de Suisse and Tour de Romandie. It was the beginning of a glorious run for the Swiss mountain bike, cyclo-cross, road and pursuit champion.
Read the full feature on the Ardennes doubles.
UCI: No confirmed blood passport cases
By Bjorn Haake
The International Cycling Union (UCI) has clarified its comments regarding the blood passport programme, saying it has no confirmed doping cases under the new programme. The system is still being perfected by scientists and there's currently no timeline for its active use in the prosecution of suspected doping cases.
UCI spokesman Enrico Carpani clarified remarks that appeared in the Guardian yesterday. "I never said that there were confirmed cases or that anything would be announced before the Giro d'Italia. Never," Carpani told Cyclingnews.
Carpani reiterated that the system had to be bullet-proof. Doping cases have previously been dogged by questions over the handling of samples and quality of testing, which had led the UCI to having a cautious approach to its new program to ensure its development isn't rushed and that the outcome is a reliable, effective system.
"We are waiting so that the experts are 100 per cent sure that their recommendations can be used," he said. "From a legal point of view the system is different and it's about being positive or negative."
Instead of traditional methods that require the detection of a band substance, the blood passport checks for anomalies in a rider's profile. There's was no margin for error in the system's development, according to Carpani.
"You have to be really, really sure that your decision is the right one," he said. "The first riders [who would be caught under the new system] will try to fight against this decision in court."
Scientists are still collecting data and working on getting the system ready for use. "People have to believe in the system, so we are waiting for the next phase," Carpani said.
The next phase will be when the scientists can recommend actions to the UCI. "Nobody can anticipate when that will be," he added.
Basso back in Italy
In his exclusive Cyclingnews diary, Ivan Basso details his lead-up to his season highlight, the Giro d'Italia. The Italian knows the parcours pretty well already. Here is why:
Ciao to everyone at Cyclingnews and all the readers worldwide. It has been a great two weeks since I last wrote a diary and it is only around 20 days until the start of my season's objective, the Giro d'Italia stage race.
I returned Saturday [April 18] from the Spanish island of Tenerife, the place now famous thanks to Lance Armstrong's winter training camp. I passed a good 14 days together with my teammates training at altitude. Pellizotti, Stangelj, Miholjevic, Carlström and Szmyd joined me on the trip.
Read the full diary here
Kirsipuu set for FBD Insurance Rás
Jan Kirsipuu in his last year as a pro
Photo ©: AFP

Jan Kirsipuu will contest this year's FBD Insurance Rás in Ireland, May 17-24, where he will lead the Norwegian Giant Veolia team. Kirsipuu retired as a professional cyclist in 2006 but remains a successful amateur rider, and the Irish race is delighted to attract such a big name.
"Having a rider with such a vast experience is big news for the race," said Dermot Dignam. "Jaan Kirsipuu is one of the big names in world cycling. He's sure to make a big impression."
Kirsipuu's team will target the sprints. Kirsipuu's teammate Rune Jogert rode with Thor Hushovd and has won a number of important races, including the Norwegian road race and criterium championships. Jogert's brother Espen has won Norwegian national events.
"The team will be aiming for stage wins through Kirsipuu, who is still very strong, or Rune Jogert," said David McQuaid, who will be managing the team in the race. "The aim will be to get them to the finish [with the leaders] where they can use their sprints."
The 2009 FBD Insurance Rás is 1,289 kilometres in length and includes over 20 categorised climbs. Ireland's Stephen Gallagher triumphed in 2008, the first home victory in four years.
Vázquez back to training
Manuel Vázquez is healthy again
Photo ©: Bjorn Haake

Manuel Vázquez (Contentpolis-AMPO) resumed training on Tuesday after recovering from flu. The Spaniard will return to competition at the end of the month.
Vázquez was racing in the Basque Country when his health turned bad. "I began to feel sick in the last few days of the race and ended the Klásika de Amorebieta powerless," said Vázquez. "Yesterday [Tuesday] was the first day I didn't have a fever and today I will train to prepare for the next set of races."
Vázquez' next race will be the Vuelta a Asturias, which starts on April 28. "After that I'll do the Subida al Naranco and the Volta a Catalunya," he said. "In the latter I really want to do well."
Herrera guest at major Colombian team launch
Fabio Duarte won the Worlds for Colombia in last year's U23 race
Photo ©: Sirotti

The Colombian cycling federation launched a new team called Café de Colombia-Colombia es Pasión in Bogotá this week. The federation will back the team for three years with a goal of riding the Tour de France in 2011.
Former professional Luis 'Lucho' Herrera was the most prominent guest at the launch event. Café de Colombia sponsored a bike team in the 1980s.
"After 19 years we return to cycling. It's a golden opportunity to make the name of our country and Café de Colombia known in the world," Gabriel Silva, manager of the National Coffee Federation of Colombia, told www.soitu.es.
Colombia es Pasión had already been sponsoring a team, which will merge with the new squad. "This merge will strengthen a team that already has shown a great level," said María Claudia Lacouture, the company's manager. "It's a group of athletes with great performances, free of doping and who are part of the biological passport programme."
Herrera was celebrated as the event's special guest. The climber had great success during his career in Europe, winning the mountains classification in all three Grand Tours. From 1985 to 1990 he was rode for the Café de Colombia team.
Herrera also won the Vuelta a Espańa in 1987 and the Dauphiné Libéré in 1988 and 1991. His busy programme in Europe didn't prevent him from winning his country's Vuelta a Colombia six times.
Soitu reported that the commitment is for three years, with a budget of 700,000 US dollars. There will be 21 riders on the team - 11 elite riders and 10 Under 23.
The current team includes the 2007 Worlds U23 winner Fabio Duarte as well as Felipe Laverde, winner of two Giro d'Italia stages. The other elite riders are Jairo Salas, Juan Pablo Forero, Oscar Sánchez, Robinson Chalapud, Wilson Marentes, William Muńoz, Alejandro Ramírez, Alex Cano and Fabio Gordillo.
The U23 riders are Sergio Henao, Camilo Suárez, Jarlinson Pantano, William Rodríguez, Hebert Ostiliocorredor, Edgardo Moyano, Darwin Atapuma, Darwin Pantoja, Johan Chávez and Carlos Martínez.
Fuji-Servetto continues social projects
Fuji-Servetto, the successor of Saunier-Duval, continues one of its traditions with a social project at the International Earth Day celebrations at French newspaper Le Monde on Thursday.
Team Manager Mauro Gianetti will represent the team for the project 'Recycling the World'. Gianetti will be one of the five keynote speakers of the evening. The conference is titled 'From Greenwashing to Greenacting: Corporations compromise themselves against climate change'.
The Spanish squad has supported various projects in the past, such as the tree planting project in Mali and giving school supplies to 15,000 children in Africa.
Giro issue of Procycling goes on sale
Who will be next to kiss this trophy?
Photo ©: AFP

You'd be hard pressed to miss the May issue of Procycling, which comes in Giro d'Italia pink and looks ahead to the centenary edition of the corsa rosa. The cover stars are Lance Armstrong and Levi Leipheimer, whose chances of succeeding Astana team-mate Alberto Contador as Giro champion are assessed by no fewer than seven extremely illustrious foreign winners, including Eddy Merckx, Bernard Hinault, Stephen Roche and Contador himself. They provide some unparalleled insight into the race, but no prizes for guessing which of these icons stated bluntly, "You have to show you're the strongest, that's all," when asked how to blunt the Italian challenge.
The Giro theme continues with two features by well-renowned writer Paul Howard on the race and the state of Italian cycling in general. Paul investigates the cultural significance of the race to Italians and visits an Italian cycling landmark that is being kept afloat by an American football team. The Giro coverage also comprises team and route details, with expert stage analysis from 2004 winner Damiano Cunego and profile maps of all of the key climbs.
We stay in Italy for the latest in our series of features remembering Lance Armstrong's seven Tour victories. We've reached 2004 and, Lance apart, the main focus of attention was Filippo Simeoni. Derided by many, Simeoni is the current Italian champion, but won't be lining up with his Flaminia team in Venice on May 9. The reason? Well, his dispute that year with Armstrong may have something to do, so Procycling heads to Italy to ask the Italian champion whether he has any regrets and what he'd do if he could turn the clock back.
Earlier this month, news came through that Genevičve Jeanson, not too long Canada's top rider, had been banned for 10 years for admitting persistent use of EPO. That news stemmed from interviews Jeanson did with journalist Alain Grave, and May's Procycling also features some explosive extracts from Gravel's biography of Jeanson, charting her rapid rise and controversy-beset fall. Not yet available in English, this is the first chance to read extensive parts of what is a brilliant insight into what became a tragic tale of doping and alleged abuse.
And for those who fancy a trip to Paris for the final day of the Tour de France at someone else' expense, there's also the chance to win a VIP trip for two to Paris courtesy of Quick Step. Procycling is on sale in the UK now and across the rest of the world from early May.
(All rights reserved/Copyright Future Publishing (Overseas) Limited 2009)