First Edition Cycling News, April 16, 2009
Edited by Laura Weislo and Peter Hymas
Petacchi wins number seven
By Bjorn Haake in Schoten
Alessandro Petacchi (LPR Brakes) wins with ease.
Photo ©: ISPA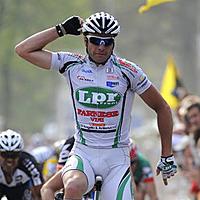 Alessandro Petacchi (LPR Brakes-Farnese Vini) won his seventh race of the season and his first career victory in Belgium at the Scheldeprijs near Antwerpen on Wednesday. The Italian is on track for next month's Giro d'Italia, where he hopes to capture the points jersey for the third time in his career.
While most of the Italian's wins have come as a direct result of a carefully choreographed lead-out, this time Petacchi was without teammates in the end. "I had to go from far out, but I did a great sprint," he said. This could have been a blessing in disguise, as he was not affected by the big crash behind him, which took out several key players, like Robbie McEwen (Katusha), Tom Boonen (Quick Step) and Greg Van Avermaet (Silence-Lotto).
Neither the crash nor the lack of teammates affected him. "I was very well positioned and having [Lorenzo] Bernucci in the break allowed me to save energy." He also thought he was capable of winning even if the crash hadn't happened. "I had good legs and I took the sprint rather easily."
Petacchi is building towards the Giro d'Italia and had long thought about the best possible preparation. "I did Bergamasca, then I was thinking of doing [the Giro del] Trentino, but it is too difficult." He opted for the Scheldeprijs as the team was invited, but said he doesn't race in Belgium very often.
"The races are a bit different here, a bit more dangerous with the small roads," he said. "You have to be ahead at the cobble sections, it is a bit more dangerous than other races." While he finished third in Gent-Wevelgem in 2006, it was his first win in the cycling-mad country, and Petacchi acknowledged that winning here is very important. "It's quite special, as cycling is really big in Belgium."
As nice as the win was, his main focus is to get ready for the Giro d'Italia, and toward that end he will also take in Thursday's Grand Prix de Denain. "The race today and tomorrow are very important as preparation for the Giro, racing 200 kilometres. It's much better than not racing."
Coming up on
Cyclingnews will cover the 60th edition of the Dauphiné Libéré live as of stage 4 on Wednesday, June 10, at approximately 15:00 local Europe time (CEST)/ 23:00 Australian time (CDT)/ 9:00 (USA East).

WAP-enabled mobile devices: http://live.cyclingnews.com/wap/

Petacchi added the Giro preparation was initially a bit in the air. "It depended if the organisers would invite us." After receiving the notice Petacchi was able to more specifically target his country's Tour, but the team has been left out of the Ardennes races. "I am not happy about it. Di Luca won't be at Flèche Wallonne or Liège-Bastogne-Liège.
"The organisers make the rules, that's cycling. But frankly, I don't understand why we are excluded in those races."
Petacchi was a bit puzzled about the question why he still races at age 35, given that he has won all that a sprinter could possibly win. "It's my work. I still have a lot of passion for it. I love winning.
"As long as I have the physical ability to win races I will continue to compete. After that I don't know, maybe I will work with younger riders."
Scheldeprijs pile-ups leave a dozen damaged
Robbie McEwen (Katusha) had a few choice words
Photo ©: ISPA

At least 12 riders were injured in two massive crashes that marred the final kilometres of the Scheldeprijs on Wednesday. The first wreck came on a 1.7km long section of pave inside 40km to go. The wreck put race winner Alessandro Petacchi's lead-out man Alberto Ongarato out of action with a broken collarbone. ISD's Sergiy Matveyev also left the race with a fractured clavicle.
Also leaving the race after the first crash was Ian Stannard (Landbouwkrediet-Colnago), who hurt his back, Allan Davis (Quick Step), who was later relieved to find that his wrist was not broken as suspected. Maurizio Biondo (Ceramica Flaminia) exited with an injured elbow.
A second dramatic crash occurred in the final sprint when Silence-Lotto's Greg Van Avermaet touched wheels with Petacchi and set off a devastating chain-reaction.
"Petacchi moved too soon to the left and I had no room," Van Avermaet explained to Sporza.be. Video replay clearly showed the Italian moving over, brushing across the Belgian's front wheel. "I touched his wheel and took everyone else with me."
Petacchi defended his actions, saying that Van Avermaet started sprinting too soon, and was heading backwards when he passed. "I was easily able to come off his wheel," Petacchi said. "I never saw what happened behind me until I saw it on TV afterwards."
As Van Avermaet began to fall, Australian Robbie McEwen was coming on fast to the right, and had no place to go but down. "Van Avermaet leaned into my saddle, fell and took me with him." The Katusha team rider was critical of Van Avermaet, who he said tried to get back on to Petacchi's wheel after starting his sprint too soon.
McEwen cursed repeatedly. "I've got lots of road rash but more than that, I think. My hip and ribs, f___, everything hurts." He was taken to the hospital where he was treated for a suspected concussion, broken rib and scrapes on his knee and elbow.
Paris-Roubaix winner Tom Boonen also hit the deck, but was able to find some humor in the situation. "My whole right side's been scraped open, my shin, wrist and foot," he explained. After falling on his left side in Paris-Roubaix, he joked "at least now the left and right are in balance."
The Quick Step star was concerned that he had broken a bone in his foot, since he was having trouble standing on it, but later examinations found no fractures.
Van Avermaet also came away with only scrapes and bruises, as did Francesco Rivera (Amica Chips-Knauf), Vicente Reynes (Columbia-Highroad) and Simone Cadamuro (Amica Chips-Knauf) according to the medical communique. Martin Hebik (PSK Whirlpool-Author) also fell, but no report on his condition was available.
Rollin nets first podium
Kenny Van Hummel (Skil-Shimano), Alessandro Petacchi (LPR Brakes) and Dominique Rollin (Cervélo)
Photo ©: ISPA

Canadian Dominique Rollin took his first European podium spot in the hectic sprint of the Scheldeprijs in Belgium on Wednesday. The Cervélo TestTeam rider finished third behind winner Alessandro Petacchi (LPR Brakes-Farnese Vini) and Kenny Van Hummel (Skil-Shimano).
This explosive sprinter is inching closer and closer to his first European victory after taking fifth in the Profronde Van Drenthe earlier in the week. "[I was] fifth on Monday, third today – the next step is a top two, I guess. This was a good result, I am quite excited."
"I couldn't catch Alessandro. I thought 'second is good' and then Kenny just came flying by me."
Rollin proved himself to be a solid back-up plan for the team after Heinrich Haussler was caught behind a crash with 40km to go and lost contact with the peloton.
"We tried something in the last lap, Roger Hammond tried to break away together with Servais Knaven (Team Milram) but they got no space so there was a bunch sprint left," said director Jean-Paul van Poppel. "We got Dominique Rollin in an excellent position with 150 meters to go, behind him there was another big crash with all the big names in, but Dominique was at that moment in the second position.
"Again a rider from our team on the podium, so we are pretty happy even though we were unlucky with Haussler. He should have been our man today."
Kirchen not betting on himself
By Bjorn Haake in Schoten
Kim Kirchen (Columbia-Highroad)
Photo ©: ISPA

Kim Kirchen (Columbia-Highroad) is slowly gearing back up after his early season was ruined by a crash in the Tour of California. The Luxemburger recovered from a broken collarbone and shoulder, but with his first foray into racing since February coming in last week's Circuit Cycliste Sarthe, Kirchen isn't betting on himself to repeat his victory in La Flèche Wallonne.
He still hopes for a few good results in the near future, however. Kirchen lined up for the Scheldeprijs with few racing kilometres in his legs. "I need to get some race rhythm again, but I don't see the Scheldeprijs as a training race," he said to Cyclingnews before the start. "I will do my work for the others. This is an interesting race."
Kirchen had a great 2008 season, when he won the Flèche Wallonne. This year, he said, things might be different. "I wouldn't bet on myself. But with my experience and a little bit of form it should be enough to ride near the front a bit."
There is a simple difference to 12 months ago. "I don't think I am as fit as last year for the Ardennes races. We'll see."
Kirchen had a flat in the Scheldeprijs and ended up not finishing the race. He will add some more training kilometres now. "I won't be racing Sunday [in the Amstel Gold Race - ed.], but Flèche Wallonne and Liège the following week."
American Cruz's to fourth in Belgium
Californian Tony Cruz recovered from a dismal Paris-Roubaix to take a strong fourth place finish in the Scheldeprijs on Wednesday. The BMC Racing Team captain followed up strong work by his teammate Jeff Louder, who spent the day in a four-man breakaway which was caught with nine kilometres to go.
"Jeff's work in the break was absolutely perfect for me today because it gave me a chance to sit in and open the legs up little by little," Cruz said. "A race like this really needs a complete performance from the team, and we were able to deliver that today, especially with Jeff who was phenomenal."
The result was Cruz's best placing in Europe since a stage win in the Tour de l'Ain in 2004. "For me today is really special because it is a race for the best sprinters in the world," Cruz said. "So to get a good result here is very important to me and very good for the team in general."
The result was satisfying after a disappointing Paris-Roubaix, where a broken bike ruined his chances to make the leading group. "I had such good legs at Roubaix that I was never able to make use of, I definitely wanted to get a result here before heading back to the states," Cruz said.
Officials asked to avoid Dajka's funeral
Officials from Cycling Australia have been told that they are not welcome at the funeral of former world keirin champion Jobie Dajka. The rider passed away last week of unknown causes.
A funeral notice in the Adelaide newspaper, The Advertiser, said, "Executives of Cycling Australia are not welcome at the request of the Dajka family."
According to The Age, Cycling Australia president Graham Fredericks and his fellow officials will respect the family's wishes. "We fully understand their sentiment … If it's going to make the family feel uncomfortable, it's not appropriate and that's fine.
"It is a very sad day for the family and we do send them our genuine condolences and our thoughts are with them. We hope, as we've said before, and we'll say again, that Jobie is remembered as a world champion and a Commonwealth champion."
Dajka, the 2003 world keirin champion, fell afoul with Cycling Australia in 2004, when he was dropped from the Olympics team for lying at a doping inquiry. In 2005 he was given a three-year suspension by Cycling Australia for assault on Australia's head track coach, Martin Barras. In 2006 he received a suspended three-month jail term for that incident.
Dajka's life went into a downward spiral, and he admitted to having alcohol related problems to suffering from depression. He had just begun to turn his life around in recent months. He was found dead in his home last Tuesday. Reports have said the cause is not suspicious.
Roubaix videos now online!

Can't get enough of Paris-Roubaix? We can't either! We've just posted four new video interviews from before the Hell of the North.
Jim Fryer talks to Steven Cozza, Bernhard Eisel, George Hincapie and Bjarne Riis. See if their prognostications came true or not in these four fine interviews.
Cyclingnews weekly podcast: Episode 7
Paris-Roubaix run-down and Lance Armstrong's suspicions
Somehow, we've made it to week seven without being cancelled. Does this mean the Cyclingnews weekly podcast is, as they say, here to stay?
Just in case it isn't, make sure you pick up a rare, unsigned copy of Episode 7 for your listening pleasure. This week's audio feast is nearly 25 minutes long and contains no naughty words. Instead, Cyclingnews' Daniel Benson and BikeRadar's Jeff Jones talk about the biggest and baddest one day race of them all, Paris-Roubaix. Who won, who fell off, who won and fell off, who got spat on, who punctured and failed, and most importantly, where was Heinrich Haussler.
We also discuss the upcoming classics, Amstel Gold Race, Flèche Wallonne and Liège-Bastogne-Liège, and Lance Armstrong's run-in with the French anti-doping agency, which could result in him not racing the Tour de France. Did he have good reason to be suspicious?
You can subscribe to the podcasts via iTunes (or just go to iTunes and search for 'cyclingnews') or via this XML feed: http://video.cyclingnews.com/podcasts/cn_podcast.xml
You can also download the podcasts directly by clicking on these links:
(All rights reserved/Copyright Future Publishing (Overseas) Limited 2009)