News feature, August 18, 2008
Feedback given to UCI world cycling calendar announcement
Pat McQuaid and the UCI try to get past the ProTour problems by announcing a world calendar
Photo ©: Gregor Brown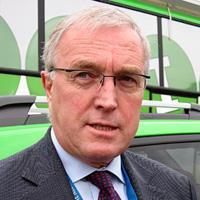 Following the announcement that the UCI and EPA (Editions Philippe Amaury, the owner of ASO and Société du Tour de France) had had discussions about the future of world cycling and that the governing body would introduce a new structure to try to solve ongoing political divisions in the sport, Cyclingnews' Shane Stokes gathered some initial reactions to the news.
Gerolsteiner's Hans-Michael Holczer has been heavily involved in discussions between teams and the other parties, and said that the initial signs were encouraging. However he stated that it was too early to give a definitive reaction. "The teams put a lot of pressure, starting the initiative to solve the problem," he said. "But now, I am still waiting for something like a contract for more details. Right now, I don't have the position of the organisers to see exactly what it all means. So I won't make much comment on this.
"However what I will say is that it seems to be pretty interesting. I find a lot of proposals in there that the teams [previously] made to the UCI, and something of the contract we signed with the organisers. A lot of the ideas that we had are there, but before giving a final comment on that, I think we should see the details of what has been signed between ASO, the organisers and the UCI. Then we can give [proper] comments on it."
Fellow ProTour team manager Gerry van Gerwen (Milram) also gave a tentative thumbs up, while stating that he is waiting for more details to emerge before knowing how significant the news is.
"I have a lot of questions, of course, and I think everyone has. "
-Milram's Gerry van Gerwen is cautiously optimistic about the agreement
"I saw the press release this morning, and I saw the letter from [Pat] McQuaid to the teams," he said. "I have a lot of questions, of course, and I think everyone has. But that will come later.
"My first reaction is that it is great that they have talked with each other, and that there is something like an agreement. But I saw no specific reaction from ASO in that press release. That was a little bit strange…it was only a message from the UCI. There is no statement in it from ASO, so I am waiting for that.
"Anyway, there is something, there is a movement in a certain direction, so I feel that is positive."
As both stated, much details remain to be disclosed. Cyclingnews contacted Pat McQuaid in order to clarify matters; he said that more things remain to be finalised, but that the initial structure is in place and that things are finally moving forward.
"During the discussions we have had, the elements which we have proposed today have been agreed. They have agreed to those things, so I would expect them [ASO and the other organisers] to respond positively. There are still some outstanding issues such as legal proceedings, things such as the suspension of the French federation and issues in relation to that that we still have to work out.
Gerry van Gerwen is cautiously optimistic
Photo ©: AFP

"I would imagine that with a positive response from the Amaury group on this proposal, that we would then get down to dealing with those issues and getting those out of the way as soon as possible so that everybody is working together."
McQuaid said that he hopes everything to be resolved before the UCI Congress in September, so that the French federation can be reinstated there.
The Irishman also explained why the UCI spoke with EPA rather than ASO itself. "The reason was because it was EPA who initially made contact with the IOC and said that they wanted mediation." He added that he felt that ASO would follow suit now that a provisional agreement has been reached. "EPA owns ASO and the Société du Tour de France, so they will act under the instruction of their superiors."
Under the proposed UCI World Calendar, as the new structure is titled, the monuments of the sport and those on the ProTour calendar will both be combined in the calculation of new individual and team rankings. McQuaid said that the ProTour would continue in its current guise, making up part of the overall rankings, and that he expected the current ProTour teams to take up their licences once again.
Van Gerwen and Holczer said that they needed more information before knowing if all the teams would get back on board. "Right now, it is too soon to say," said the former. "There are details that are not in that release. They talk about the road calendar and that is fine, but it is hard to know what that means in practical terms. I couldn't see that in the message, that will come later, I think.
Hans-Michael Holczer is awaiting more details
Photo ©: AFP

"It is I think a nice start, they have been talking with each other. We have a lot of questions so we must wait."
Holczer echoed this. "We will see what happens. Nobody from the teams wanted to finish the ProTour, but we wanted to have the UCI in this renewed ProTour. We even wanted to keep that name. They refused totally. We will see how it works now."
More comments are being sought and are expected, including those of ASO itself. Today's announcement did however get a firm thumbs up from USA cycling chief executive officer Steve Johnson. "I am very pleased that the UCI and EPA have worked behind the scenes towards a common understanding with regards to the international professional calendar," he said.
"I believe the proposed agreement is in the best interest of the sport and I applaud all parties for their efforts to resolve this conflict. We are looking forward to the spotlight returning to the competitive aspect of professional racing and the athletes who will compete under the auspices of a stable environment. "
Cyclingnews will continue to monitor this story as it develops.
Photography
For a thumbnail gallery of these images, click here
Images by Gregor Brown/Cyclingnews.com
Pat McQuaid and the UCI announced changes to the international calendar, hoipigmn to resolve the dispute with the race organisers.
Images by AFP Photo