News feature, May 8, 2007
Road rage crash shocks Sydney cycling fraternity
By Greg Johnson in Sydney, Australia, with additional reporting by Gerard Knapp
Kevin and Kate Nichols pose for a photo with Ben Kersten
Photo ©: Greg Johnson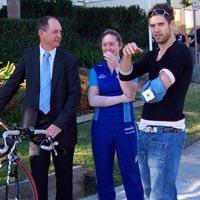 Sydney's cycling community was rattled when over 50 riders in a popular training group became victims of a hit-and-run crash this morning. The group included Australian Beijing Olympic Games hopeful Ben Kersten, former Olympian Michelle Ferris and Kate Nichols, one of the Australian Institute of Sport riders injured in the 2005 training accident that claimed the life of Amy Gillett.
Riders have expressed outrage at the actions of the erratic driver, which they described as being deliberate and premeditated. Nobody was seriously injured in the accident however the equipment damage bill is expected to run into the tens of thousands of dollars and has upset the run into Kersten's Olympic trials in two weeks time.
While traveling south - the opposite direction to the morning's city-bound traffic - on Southern Cross Drive, Mascot at 6:30 AM a grey sedan approached the bunch and demonstrated erratic behavior as it passed. Once ahead of the group the sedan pulled in front of it and braked hard, forcing the group to slam into the vehicle travelling at over 50 km/h.
The road-rage attack made headlines within the mass-media,
Photo ©: SMH.com.au

"It was intentional, I have no doubt about it," said Matt Bazzano of the incident. Bazzano, a highly experienced cyclist is an executive with Shimano Australia and former winner of the Commonwealth Bank Cycle Classic. "The fact is that after he did it, he (the driver) then took off, which he shouldn't have done. But then I wonder what could have happened had he stopped...you don't know what someone may do."
The crash caused traffic behind to take evasive action as riders spilled across the road, including a semi-trailer which jack-knifed under braking forces. The prime mover's driver skillfully brought the vehicle under control to avoid slamming into the fallen riders.
"I'm just glad nobody is dead," admitted Kersten, who was left with the imprint of a chain ring on his back. "I went flying through a group of about 20 people and 20 more hit me."
Bazzano, who's trained on the roads of Sydney for well over two decades, said it was the most extreme example of road rage he'd yet witnessed. "You'd have to go a long way to do worse than this," he said. "You know, things happen on the road and it can be accidental or careless, but this was intentional."
Kersten joined his fellow riders in saying the driver's actions were deliberate at a press conference called near the scene of the incident shortly after midday. "It's totally no accident, this guy is a psycho," he said.
Notice anything wrong? Both the shifters on
Photo ©: Greg Johnson

Nichols, who was riding with father and 1984 Olympic gold medallist Kevin, said she could fathom what posses someone to act in such a way. "I think he knew very well what he was doing," she said. "That's the scary part. Just what some people are capable of."
The 'Coluzzi bunch', as the group is known in Sydney cycling circles (given its name as it forms at Bar Coluzzi in Darlinghurst), was travelling south on a slight downhill section of three-lane freeway, with a speed limit of 80kmh, just south of Sydney city. Bazzano said at that time of the morning, the main traffic flow is on the opposite side of the freeway going into the city, and in the south-bound lanes there are always ample overtaking opportunities. In fact, Bazzano questions whether the driver would have even needed to slow down at all to pass the group if he he'd used one of the two other lanes.
The media scrum gathers around
Photo ©: Greg Johnson

"At that time of morning, heading away from the city, there's always plenty of space to overtake," he said. "To be honest, there is so much space to get around us I don't think he (the driver) would have even needed to back off to get past (the group)."
"It could have been carnage," he added. "We've all seen our share of incidents but this was the worst."
Kersten said he has noticed the attitude of Sydney drivers towards cyclists decline in recent years. The track star refused to make the matter political when asked if he had a message for New South Wales premier Morris Iemma, instead calling on motorist and cyclist to come together and find a way to share the roads safely.
"It's building, we've noticed for a long time, the road rage," he said. "This isn't personal, it's not a government attack, we are just out here because we want to find a solution."
Kersten, Kate and Kevin said even after the accident the group was abused by passing motorists, with one person shouting "go get a car you tight-arses".
Nichols' return ride
Kate Nichols holds her bruised and battered right arm
Photo ©: Greg Johnson

While X-rays have cleared Kate of a feared broken wrist, she has suffered gravel rash on her arms and legs. The incident, which occurred on her first group ride since the fatal accident in Germany two years ago, has also caused some of her old injuries to flare up again.
"I've had a long battle to return," she said. "It was actually my first bunch ride in a long time, so it's not good for my motivation."
Kevin Nichols, an Olympic gold medallist, was able
Photo ©: Greg Johnson

While Kate said the latest accident wouldn't stop her return, father Kevin said he worries for his daughter. "I have cause for thought everyday," said Kevin, who was able to remember the driver's license plate. "This just heightens it."
"[I was] relieved to see she was sitting up on the road," added Kevin of his immediate reaction to the crash.
Kevin also thanked the actions of an off-duty Police officer, who took control of the scene immediately after the crash. He went on to describe the driver's actions as "dangerous, erratic, lack of care for others, premeditated".
"Totally unprovoked," added Kevin, who said the driver was in his 30s with dark hair. "We're keen to see what the outcome of the Police investigation is."
Crash impacts Kersten's preparation
Ben Kersten has suffered damage to his left elbow
Photo ©: Greg Johnson

It's not yet known how much of an impact the crash will have on Kersten's Beijing Olympic Games sprint hopes, however it has served as a disruption to his trial preparations. The trial is slated to be held behind closed doors in Melbourne in a fortnight's time; however the cyclists can opt to apply for a postponement of the event.
"It's part of the sport, you fall off, but you usually end up in a tree," said Kersten. "Not a parked car on an expressway.
"I'm a bit sore, I've just been to the chiropractor and things are starting to stiffen up a bit," he added. "But I'm by no means the worst of those injured in the bunch."
Ben Kersten's Look doesn't seem to bad at first
Photo ©: Greg Johnson

Kersten said much of his injuries were superficial, but he has sustained an injury to his elbow in the crash. His bike also came off worse for wear, with broken shifters, buckled wheels and damage to the frame.
"I'm supposed to be preparing for the biggest trial of my life and instead I'm going to be chasing bike parts," said Kersten, frustrated at the valuable preparation time he will lose as a result of the crash. "Now today is lost, Friday, Saturday is lost and it's [the trial] only two weeks away."
Kersten isn't the only Australian sprinter to suffer a setback this week, with Shane Kelly dislocating his shoulder earlier in the week. It's not known if the dislocation has caused Kelly any ongoing issues.
Police are calling for anyone who may have witnessed the incident, which is believed to have involved grey EL model Ford Falcon sedan, to contact Botany Police on 8566 7566 or Crime Stoppers on 1800 333 000.
Photography
For a thumbnail gallery of these images, click here
Images by SMH.com.au
Images by Greg Johnson/Cyclingnews.com