News feature, March 19, 2008
California cyclists remembered through ride, memorials
Mark Zalewski, North American Editor
Matt Peterson (Roaring Mouse Cycles) after winning
Photo ©: Larry Rosa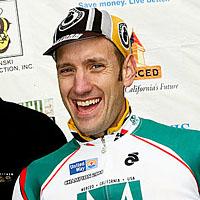 Kristy Gough (Third Pillar Racing) after winning
Photo ©: Larry Rosa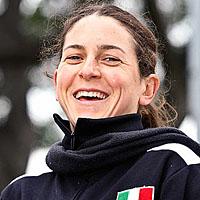 After 3 years and countless hours of training Matt Peterson (Roaring Mouse Cycles)
Photo ©: Larry Rosa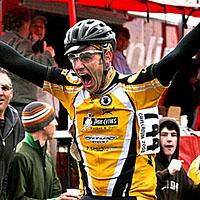 Hundreds of friends, family and other community members gathered on Saturday, March 15 in northern California to honour the memories of two fallen cyclists - Kristy Gough, 30, and Matt Peterson, 29 - who were killed a week before when a Santa Clara County sheriff's vehicle crossed a the double-yellow line, killing the two and seriously injuring a third, Christopher Knapp, 20, of Germany.
In the most fitting way to remember any cyclist, the gathering was organized in the form of a group ride to the site of the incident on Stevens Canyon Road, near Cupertino. At the scene people quietly pondered their memories of the two riders - Gough as an up-and-coming professional triathlete who merged the often incongruous attributes of a gifted athlete and selfless individual, and Peterson as a dedicated team-mate and friend that exuded the best attributes of the sport he loved.
Among the gathered was the Gough's mother, Karen Sue Clarkson. She joined the group ride on her daughter's favorite bike. "Kristy's mom joined us on [her daughter's] bike and she hasn't been on one in years! We got a team kit for her too," Gough's Third Pillar team-mate Anthony Borba told Cyclingnews.
The quick organization of the group ride was aided by the Santa Clara County sheriff's department, which helped escort the riders and closed portions of the road for the memorial. Members of the sheriff's department were also on hand to meet with community members. "We had a police escort from the Santa Clara Sheriff's department and they closed off that section of road for about two hours," said Borba. "Everyone paid their respects. We laid flowers and mementos at the site and rode back. We were worried that there might be some harsh words, but that wasn't the case at all. People were just mostly sad. There is an investigation obviously, but that day was about Matt and Kristy."
Department Undersheriff John Hirokawa was on-hand to help facilitate the ride, saying that everyone involved help make the ride possible in such a short time. "I really put the credit on the two teams, they are the ones who put it together," he said. "Obviously there was some concern about our involvement, but they needed our help."
Hirokawa said that Sheriff Laurie Smith was adamant about helping the event in any way possible. "Her reaction was, 'We help them out however we can; we do whatever we can to help.' Usually you need permits and there are a lot of different parks and wineries along that road, but we got signs up right away that the road would be closed. Nobody seemed to be in disagreement why the road would be closed - they City of Cupertino or the residents all understood."
When the ride actually happened, any concern about interactions between the department and the cyclists were washed away. "At the site, where the emotions would obviously be the highest, our officers saw no disrespect - only thank yous (sic) and appreciations," said Hirokawa. "There were compliments to our people on how the ride actually went. When I was out at the site, people were shaking hands with me and my other deputies, thanking us for helping."
"This is a tragic incident and tragic accident, and our sympathies go to the families of Kristy and Matt," said Hirokawa. "This ride was not about the cyclists versus the sheriff's department, it was all about the memories of the two cyclists."
An 'Olympic' memorial
Gough and Peterson were also individually remembered at memorials organized by their teams and family members. On Sunday, people gathered at the Five Rings Cycling Center in San Mateo, where Gough trained. Family and friends shared their thoughts and memories about the girl who was training to be on the 2008 Olympic team in the triathlon. Because of this fact, a special guest was in attendance at the memorial.
"Rosie Bonds, aunt of baseball player Barry Bonds, and herself an Olympian from the 1964 games, contacted the USOC about the story," Borba said. "They passed on an Olympic Flag and she passed it on to Kristy's mother in recognition that she would have been on the team in a few months. She also gave her a small medal that she had used to get in and out of the 1964 Olympic village."
Only speculation
Little more is known regarding the events of the incident. Reports from many media outlets, including the San Francisco Chronicle and San Jose Mercury News, cited multiple witnesses saying that the sheriff's deputy driving the vehicle, James Council, 27, was heard moments after saying, "I must have fallen asleep".
The Chronicle reported that while Council initially refused to give a statement or blood sample to California Highway Patrol investigators, he did give a blood sample to the sheriff's department for internal investigation purposes - since refusal to follow internal investigation procedures could result in automatic firing. Sheriff Laurie Smith said that sample has been given to CHP investigators with the permission of Council.
A tearful Smith publicly spoke for the first time last week, saying, "We accept responsibility," according to the Mercury News. "Our whole department is sorry. We feel terrible for this incident, for the families, for the victims."
However, many reports show people questioning the handling of the situation immediately following the incident - accusing the sheriff's department of special treatment of Council. Speaking to the Mercury News, the father of the deputy, Toby Council, himself a sheriff's deputy, said he does not agree. "The CHP is called in to handle this accident right away. They place him on admin leave. I don't know where they get this 'special treatment'," Toby Council said.
The California Highway Patrol office did not return Cyclingnews' request for comment.
The elder Council also told the Mercury News that he knows how the families of the cyclists feel, since his family has been in a similar situation. Some 24 years ago their 10 year-old daughter, sister of James, was struck and killed by vehicle. "I would love to say something to them, but words seem so inadequate, words don't stop that pain," he said. "I'm sorry for your loss seems so trite and trivial to me. Because I've experienced it."
Undersheriff Hirokawa echoed these sentiments. "What words can we say to comfort them?" he said. "It would be trivial and trite, to use his words. I talked to both families and there are not enough words we can express to them, and also to Mr. Knapp and the whole cycling community - about how we are feeling about this whole situation."
"[Council] crossed that centerline, for whatever reason," he said. "We brought in CHP to run the investigation - it is our jurisdiction but we turned it over to CHP. It's not in our hands and that is how it should be."
"Maybe somehow this brings more awareness to the drivers and the motor-vehicle public in general," he added. "Maybe some good comes out of this."
A memorial fund supporting bicycle-related causes has been created in Matt Peterson's name, and a fund for Gough's family is in the works.
Injured German recovering well
The injured cyclist, German Christopher Knapp, is doing well, given the circumstances. He suffered a broken arm and fractured his fibula. Knapp spent three days in hospital and was visited by his father. He is well enough to return to Germany on his scheduled return flight on Wednesday, March 19, albeit in company with his father. He is expected to arrive in time for the 2008 team presentation of his squad, FC Rheinland-Pfalz, which is scheduled to take place Wednesday evening.
Knapp has already attempted to walk and he is even hoping to be back on the rollers in three weeks. He also had his personal bike with him in the United States, and is eager to receive one of the team bikes, which were delivered to his team-mates last week, after the last missing components had arrived.
Photography
For a thumbnail gallery of these images, click here
Images by Larry Rosa/www.larryrosa.com