News feature, June 17, 2008
High Road's Stapleton on Columbia future
American squad gets new sponsor starting from the Tour de France
By Procycling's Daniel Friebe and Cyclingnews staff
High Road owner Bob Stapleton
Photo ©: AFP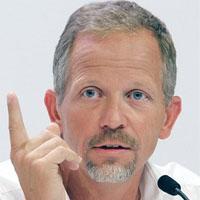 Bob Stapleton's Team High Road has signed a new sponsorship deal that will see the squad compete as 'Team Columbia' from July's Tour de France. High Road, whose men's squad is currently competing in the Tour of Switzerland, has been competing under the generic term of its management company's name since T-Mobile brokered a deal to end its title sponsorship agreement early at the end of 2007.
The California-based ProTour team has signed a three-year sponsorship agreement with Portland, Oregon-based sportswear brand Columbia, a global leader in outdoor apparel and footwear. According to a High Road and Columbia joint statement, the sponsorship contract, "includes both the men's and women's professional cycling teams, which are top-ranked worldwide and have won over 70 races combined in 2008 - the most wins of any competing team".
"In addition, at least 15 riders from Team Columbia are expected to represent their countries in the upcoming Olympics."
High Road chief Stapleton on Monday spoke of his delight at securing a sponsorship deal which will keep his team alive at least until the end of the 2010 season. The team formerly known as High Road - plus its women's equivalent, also owned by Stapleton - will thus be known as Team Columbia. Stapleton called the deal a "very exciting step forward, not just for the team, but also for the sport itself".
"We only signed the deal at the end of last week, and I think we're manufacturing the kits tomorrow."
-Bob Stapleton said the deal has come together quickly
The Columbia deal, the financial value of which has not been disclosed, was signed late last week, within hours of CSC boss Bjarne Riis also firming up a new sponsorship agreement with Danish bank Saxo Bank. Stapleton said that there is scope for further, subsidiary sponsors to lend their name to the team in the coming months.
"It's interesting, I didn't even intend to start looking for [main] sponsors until after Tour," the High Road supremo explained. "I first approached Columbia in 2005, with a view to supporting my women's team. I was always looking for someone whose brand was a good fit with the active, outdoor image that cycling can deliver, and I casually approached them again this year.
Team High Road has had a successful season,
Photo ©: AFP

"They were one of two companies who were seriously interested in sponsoring us… It ended up coming together over a period of a couple of months," he added. "It's all happened so quickly: we only signed the deal at the end of last week, and I think we're manufacturing the kits tomorrow."
The Team Columbia kit will be unveiled in a press conference in Brest in the days leading up to the Tour de France. Stapleton said it will feature the orange colour prominent on Columbia's corporate logo, blue, white and yellow. The current High Road logo will also appear on the jersey.
Stapleton went on to describe how Columbia had been attracted by High Road's stringent anti-doping policy and the international nature of its roster. "A US passport will earn you no special consideration," he said when asked if the team's future recruitment policy will reflect its sponsor's US base. He added that Columbia were keen to use the team as a marketing vehicle in their drive to increase market share in Europe.
Stapleton singled out the Norwegian Edvald Boasson Hagen and Britain's Mark Cavendish as flagbearers for his team's cosmopolitan ethos. He also indicated that Cavendish will almost certainly start the 2008 Tour de France, and confirmed that the Isle of Man sprinter is contracted to the team until the end of 2009.
83 year-old Gert Boyle is the chairman
Photo ©: Columbia

On cycling's well-documented doping problems, and the question of whether they caused Columbia's bosses concern, Stapleton said:
"I have a lot of grey hair, but that didn't come from cycling - I haven't been in the sport long enough to know [how clean the sport is now]. What I do know is that we've gone from a situation where there were a few hundred tests a year, and whole teams and countries hardly being tested, to one where 2500 tests have already happened this year with a plan to do 8000. The playing field certainly seems to be levelling out. I think that the biological passport and blood profiling mark a big change in how doping is being evaluated…I see clear signs of progress. There's work still to be done, but there are definite steps forward."
Stapleton was asked finally - and rather bluntly - if, in light of his team's zero policy on drugs and his new sponsor's commitment in that vein, he would have fired Tom Boonen for after the QuickStep sprinter's recent positive test for cocaine.
Team High Road has a handful of
Photo ©: Jon Devich

Stapleton laughed, then commented, "The challenge there, as I see it, is his pattern of behaviour. I think Tom Boonen can do a lot of positive things for the sport, but [what's happened] needs to be seriously looked into, and there needs to be a way of getting past that. I repeat, I think Tom Boonen can do some really good things for the sport, but the pattern of behaviour needs to be looked into very comprehensively. I think that would be my only comment on that issue…"
Stapleton's squad ended up spending the first half of 2008 without a title sponsor after a tumultuous season in 2007. Despite a string of impressive results from the likes of then neo-professional Mark Cavendish and the promise of a bigger and cleaner future ahead, the team and its name were dogged by doping controversy.
Bob Stapleton's High Road squad will wear the Columbia
Photo ©: Jon Devich

While much of the negative press was brought on by T-Mobile's involvement with previous management companies and related doping cases over its 16 years in the sport, the relationship with Stapleton was dealt a heavy blow with new doping cases coming to light. The team was forced to dismiss Lorenzo Bernucci and Patrik Sinkewitz for doping related violations last year, while the latter's testimony about doping practices on the team in return for a shortened suspension added further strain on the German telecommunication company's long association with the sport.
It was an unfortunate situation for the other riders in the magenta jersey. The general consensus within the sport was that the 2007 team, managed by American businessman Stapleton, was one of those with the strongest anti-doping stances. T-Mobile had been praised in August of last season after it once again decided to put its faith in the sport, reaffirming its commitment to Stapleton's team through to 2010. The deal, however, was short lived with the parties announcing in November that they had come to a mutual agreement to part ways.
Bob Stapleton's team didn't get off to the fresh start
Photo ©: Luc Claessen

With a sponsorship contract scheduled to run through 2010, the firm and Stapleton negotiated a "mutually agreeable termination", he said at the time, with all details to remain confidential. What was made clear was that the team will continue on under the name of the management firm for the near future.
"We have enough money to run the team for the next two years without finding a new main sponsor," he said. "We will continue to look for a new sponsor but we will take our time. It must be the right sponsor, one who is willing to make a long-term commitment to the sport and who will be good for the sport."
At the time Stapleton indicated that the funds would come from other sponsors and suppliers, "as well as a couple of well-intentioned investors," who wish to remain anonymous at this time according to Stapleton. He refused to go into financial detail.
Photography
For a thumbnail gallery of these images, click here
Images by AFP Photo
Images by Jonathan Devich/

Images by Columbia
Images by Luc Claessen/www.ctm-images.com