News Feature, September 9, 2008
Texan cowboy riding back into action?
Media reports are growing that seven-time Tour de France winner Lance Armstrong might be making a comeback. No salary, no bonuses, 36 years of age – it seems like a tall story. Cyclingnews' Shane Stokes analyses the chances of the Texan's return.
USA's Lance Armstrong, 36, reportedly might be making a comeback
Photo ©: Roberto Bettini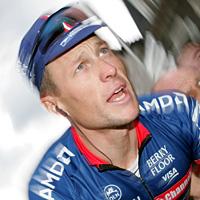 So, could it be true? Initial reports suggested it might be the case, but the team then dismissed the claims. Will Lance Armstrong return to racing with the Astana team, three years after retiring from the sport?
First off, it's worth assessing what he, or Team Astana, would have to gain if the rumours were true. From the team's point of view, there'd be undoubtedly a lot of extra publicity, a lot of extra Astana-issued Treks and team kit sold, and the increased chance that it would get to ride the biggest races.
Going by the whispers, Armstrong's return would see him ride just five events: the Tour of California, Paris-Nice, Tour de Georgia, Dauphiné Libéré and Tour de France. Two of these are based in the USA and would embrace the news.
However two others, Paris-Nice and the Tour de France, are organised by Amaury Sport Organisation (ASO), who this year blocked the Astana cycling team from taking part. At the time the official reason given was that the team had blackened the reputation of the 2007 Tour due to the positive test of Alexander Vinokourov – and the subsequent positive of Andrey Kashechkin – for blood doping. The fact that it grew out of the ashes of the Liberty Seguros team, heavily involved in Operación Puerto, also did it no favours.
For many within the sport, though, the blocking of the team was seen as an anti-US Postal/Discovery Channel move. L'Equipe's assertion that Armstrong used EPO in winning the 1999 race, suspicions about the team in subsequent years and its willingness to sign Ivan Basso despite his own obvious involvement in Puerto were all minus points.
Armstrong ready to face the media scrum one more time around?
Photo ©: Roberto Bettini

The French organisers may never have stated so publicly, but refusing Astana entry to its races was as much a reaction against Johan Bruyneel's taking over of the team as it was to what had happened with Vinokourov.
With that in mind, what would Armstrong's return do for the team's chances of being allowed ride the Tour de France? ASO has never backed down from its concerns about the 1999 Tour, and so having Armstrong on board would seem to bring no guarantees that the squad would get an invite in 2009. Also, riders such as Alberto Contador would surely feel hard done by if he had to play second fiddle, especially after missing this year's race.
As for Armstrong himself, it must also be asked what he would gain from coming out of retirement. He went out at the top, leaving the sport on the day he won his seventh consecutive Tour de France. Unlike the other multiple victors – Jacques Anquetil, Eddy Merckx, Bernhard Hinault and Miguel Indurain – he was never beaten once he had started winning the race. The other four all lost the last Tour they entered.
Going out in such a fashion enhanced his standing as the best Tour rider ever, adding to his legend. And so, in coming back, it has to be asked if he would be satisfied not to win once more?
Armstrong is now 36 years of age, and next July would be just over two months shy of his 37th birthday. Firmin Lambot was the oldest winner, taking the 1922 edition at 36 years of age. Athletic performance is known to drop off with age and – not only that – Armstrong has been out of competitive cycling for three years. Running marathons and placing second in the Leadville 100 this August show that he's kept in shape, but that's a far cry from living the lifestyle of a professional rider and competing in races throughout the season.
Perhaps that's something that would appeal to him; coming back, against the odds, defying expectations and showing he could do it all over again. But he, Bruyneel and the rest of the team would know that there are no guarantees, and that it would be an extremely tough task for a rider – even Armstrong – to get the better of younger opponents, having been out of action for so long.
So why do it?
Armstrong, seven-time Tour de France winner, at the recent Leadville 100
Photo ©: Rob O'Dea

One reason given for a possible return would be for Armstrong to compete in a completely transparent fashion, making his blood and other test results available for examination and thus showing he was racing clean. Those putting this forward as a possibility suggest that this would enhance his claims that each of his seven Tour de France wins were done in the correct fashion.
If this is the reason for a comeback, there are two things to consider. Firstly, if he did anything less than win the race, his critics would use this to further their claims that he was performance-enhanced in the past. And, even if he did win, they would surely point out that cycling has moved on, cleaned up, and winning clean against other highly tested, clean riders doesn't necessarily mean Armstrong did the same when his competitors were doping with abandon.
Lance Armstrong, 36, shown here on the podium of the Tour de France in 2005, his seventh time to win the race
Photo ©: Roberto Bettini

In truth, it seems he has got little to gain in this area. Winning clean would show he's a remarkable athlete, who has overcome age and retirement to trounce younger opponents. That much is true. But if Armstrong was unfairly labelled as a doper in the past, the logical thing to safeguard his legacy then was to have offered – at that point in time – to provide urine and blood samples for future testing.
Australian swimmer Ian Thorpe offered to do just this when questions were raised about his performances; his willingness to undergo retrospective testing led to many of his critics backing off. Had Armstrong done this, his wins could become transparent.
So what other motivations could he have for coming back? Well, he may miss the environment of professional cycling, the team camaraderie, the chance to lead a squad in top races such as the Tour de France. Armstrong was a formidable competitor who thrived on challenges, and perhaps the target of winning big races again, against the odds, is one which whets his appetite.
Perhaps he even misses the spotlight, being the centre of attention; maybe retired life has been a little too quiet for him.
Of course, there's every chance the rumours are untrue. There are all sorts of reasons why such stories can gather weight, how whispers can be transformed into 'fact,' how murmurs can gather a life of their own. Time will tell if this is the case.
Maybe it's someone stirring up a big story, simply wanting to see how far it can go. Maybe it's even Armstrong himself, getting some publicity prior to a possible political career, a renewed push for the making of a film about his life, an expansion of his anti-cancer foundation.
Fact is, there's all sorts of reasons why all sorts of stories get started; time will tell if there is any truth in this, or if it's simply just another wild and crazy rumour in this sometimes-wild and crazy sport.
Photography
For a thumbnail gallery of these images, click here
Images by Rob O'Dea/www.RobODeaPhotography.com
Images by Roberto Bettini/www.bettiniphoto.net