News feature: April 27, 2007
'What is happening is not legal'
European Commission responds to Unibet gambling advertising situation
The ProTour battle heated up this week with two court rulings in Belgium. While one said that the March 5 deal between the UCI and the Grand Tour organisers was not legally binding, another case examined in Liège concluded that ASO was acting contrary to European law in blocking the Unibet team from its races. In a bid to find out more about the legal standpoint, Cyclingnews' Shane Stokes spoke with the European Commission office responsible for such matters.
Will Unibet miss the bus to the Tour de France?
Photo ©: Gregor Brown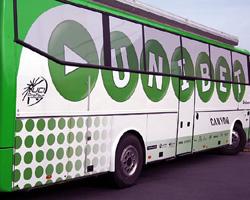 The Unibet.com cycling team have been refused access to ASO's races this year on the grounds that gambling and betting advertising is restricted in France, but the European Commission has made a strong statement that this reason should not be used.
"We want to make it absolutely clear that what is happening is not legal," said Oliver Drewes, EU Commission Spokesman for Internal Market and Services, on Thursday. Speaking to Cyclingnews, he stated that his office has been in contact with both the UCI and Green Cycle Associates AB, the holders of Unibet.com's ProTour licence, on the matter, and that it was concerned about the situation.
The Unibet.com team made an important step forward this week when it won a judgement in Liège against ASO. According to the court ruling, the team is entitled under European law to race in Belgium, and also to use their regular Unibet.com team kit rather than its alternative jersey, which does not mention the main sponsor.
If ASO was to refuse the riders, it would have to pay the team a penalty of €5 million per day missed. However, when the management tried to gain accreditation on Tuesday evening, they were denied and the riders were unable to start the race the following morning. It remains to be seen if they will be able to ride Liège-Bastogne-Liège on Sunday.
ASO and French Legislation
ASO, organisers of the Tour de France and several other events designated as ProTour races on the UCI calendar, have thus far blocked the Unibet.com team from riding its events this year, on the grounds that a French law introduced in the 19th century bans advertising for gambling companies.
It was hoped that a March 5 peace deal would bring an end to the dispute over the ProTour, as it came up with a temporary solution while also setting a schedule for a longer-term compromise to be worked out. However, almost two months on, the situation has not been resolved.
The deal was brokered between the UCI, the Grand Tour organisers and the IPCT, a commercial organisation representing the ProTour teams.
Under the agreement 18 teams – namely Ag2r- Prevoyance, Bougues Telecom, Caisse d'Epargne, Cofidis, Lampre Fondital, Liquigas, Predictor-Lotto, Quick Step – Innergetic, Rabobank, Crédit Agricole, Discovery Channel, Euskaltel –Euskadi, Francaise des Jeux, Gerolsteiner, Saunier Duval – Prodir, Team CSC, Milram and T-Mobile all have automatic entry into the events organised by ASO, RCS Sport and Unipublic.
These are: Paris – Nice, Tirreno Adriatico, Milan – San Remo, Paris – Roubaix, Fleche Wallonne, Liège-Bastogne-Liège, Giro d'Italia, Tour de France, Vuelta a España, Paris – Tours and the Tour of Lombardy.
The deal stipulated that two more teams would be strongly considered for two slots.
"Without prejudicing their right to grant wild cards to all other teams of their choice, for the duration of this agreement ASO, RCS and Unipublic will examine in a positive spirit the granting of wild cards to the teams Astana and Unibet, in particular insofar as such decisions are not likely to expose or be likely to expose the organizers to legal consequences, of whatever nature they might be."
This latter clause appears to have been the cause of much of the recent tension. ASO has insisted that current French laws prevent it from being able to invite the Unibet team.
"We will examine [Unibet's] candidacy closely," ASO chief Patrice Clerc told AFP back in March. "Like Astana, it is part of the teams at the top of the basket. But Unibet confronts us with an additional problem with regard to French law. As long as the team is outlawed [on French soil], we are prohibited to consider its candidacy. If it isn't anymore, as a consequence of a special authorization of some ministry, for example, we would consider inviting it."
If anything, the position has solidified since then. Unibet.com have missed ASO races Paris – Nice, Paris – Roubaix, Fleche Wallonne, as well as Tirreno-Adriatico. Milan – San Remo remains the sole ProTour race the team has contested this year. It has applied to compete in Liège-Bastogne-Liège and the team expected a decision by midnight on Thursday.
Cyclingnews.com sought to speak with Tour de France director Christian Prudhomme this week about this situation. While not available for comment on Tuesday or Wednesday, we expect to speak to the Frenchman after the Liège-Bastogne-Liège race on Sunday and get his position on the matter.
Huge growth for PMU and Française des Jeux under state protection
Two companies permitted under French gambling legislation and with close links to cycling are PMU, sponsors of the Tour de France green jersey competition, and the team-backers Française des Jeux.
Pari-Mutuel-Urbain (PMU) came about after changes to the Horse Racing Act in 1930 and since that time has expanded into a massively-successful operation. In 2001 its turnover was 6.17 billion euro; this jumped to 8.01 billion by the end of 2005.
250 million euros came from turnover from PMU's internet channel. It spent 28.2 million euros on publicity in 2005, with the Tour de France relationship generating a lot of awareness and business. Over the past three years PMU has had 6.5 million bettors, 1.5 million of which were first time customers.
State lottery La Francaise des Jeux has been even more successful since being granted a licence in 1978. It reported a turnover of 9.5 billion euro in 2006, up from 7.01 billion in 2001. That year it introduced several online casino games, contributing to its growth.
According to BettingMarket.com, "a notable feature of the French gambling market has been the refusal of the French Government to allow land based casino operators, such as Groupe Partouche, Groupe Lucien Barriere and Moloflor Loisors to lauch online products, whilst giving the green light to Francaise des Jeux to do so.
"This seemingly inequitable decision has led to a syndicate of said casinos, Syndicat des Casinos Modernes, to file a complaint with the European Commission against 'La Francaise des Jeux' on the grounds that the company is guilty of abusing a dominant market position."
La Française des Jeux is the official organizer and operator of lottery games in France. It is a semi-public company, with the French State owning 72%. Lottery issuers own 20%, with agents (3%) and company employees (5%) accounting for the remainder.
La Française des Jeux thus currently generates several billion euro per year for the French state. Current legislation protects that position against potential competitors such as Unibet.com.
Drewes said on Thursday that the UCI and the Unibet team took the issue up with the European Commission earlier this month.
"They have been sending us letters," he stated. "We have received a correspondence from Green Cycle Associates AB on April 11, 2007 in which they wrote to us to say that the Federation Française de Cyclisme (FFC) was relying on the relevant provision of French legislation prohibiting the aiding and abetting of publicity for gaming services, and supported by written statements from French ministers. That is the situation where the event organisers and France were encouraged to deny teams sponsored by sports betting services providers from participating in events held in France.
"We have also received correspondence from the UCI on April 20, in which it says that it was aware of the situation. It seems that the lawyers of the international Federation will be lodging formal complaints against Belgium and France before national courts. We already have an ongoing legal procedure against France on this matter, and this will certainly not make things better."
Commission has 'serious concerns'
The European Commissioner for the Internal Market and Services, Charly McCreevy, has responded to both the UCI and to the lawyers representing Green Cycle Associates AB/the Unibet.com team. In the first case, the Irish politician noted that the team had indicated it would use a neutral jersey as an interim measure, but that despite that gesture, restrictions were still being imposed on the team.
The two different jerseys
Photo ©: Gregor Brown

He said that he believed the French and Belgian approach to this was highly questionable, on the grounds that other teams sponsored by gaming operators in both countries [Française des Jeux and Predictor-Lotto] were allowed to participate.
In the correspondence to the lawyers representing the team, McCreevy pointed out that the Commission opened infringement proceedings in April and October 2006 against a number of member states, including France. The grounds for this were the restrictions imposed on the cross border provision and promotion of sports betting services.
He said that he was highly concerned about the situation in France. With regard to the French legislation under which a cycling race organiser may be held criminally liable for allowing the team to ride and thus to generate publicity for the sponsor, he referred to the recent Placanica ruling (Case C-338/04), which held that Community law was breached by Italian legislation. This national legislation had sought to impose criminal sanctions for failure to possess a gambling operators licence, where such a licence was in practice unobtainable.
McCreevy made it clear that while criminal legislation is in principle a matter for member states, Community law sets certain limits to that power.
Drewes explained this further to Cyclingnews on Thursday. "Generally speaking, we always made it clear that these rules don't have to be harmonised at European level. We are not striving for harmonisation; in fact, in this area each member state can have its own policy. That is in accordance with court jurisprudence.
"However, if you have your own policy - for example, if the aim is addiction prevention - then the measures you're doing have to be non-discriminatory and proportional. For example, if France banned all sports betting [including those permitted by the state, such as Française des Jeux – ed.], it would comply. But that is very clearly not the case.
"It is just like if they said in a bar, 'beer is only dangerous if you drink the other fellow's brand, but not if you drink my brand'," continued Drewes. "That is the whole argument right there."
Tour de France and border issues
A further concern outlined by McCreevy relates to the Tour de France, which will begin in London in July and travel to France via Belgium. He indicated that he was very concerned that refusing the team's participation to the race on the grounds of French law is, essentially, imposing French legislation in other Member States' jurisdictions. It is understood that he has informed Green Cycle Associates AB's lawyers that he found it difficult to see how French national laws may exclude a cycling team from a Pan European tour which is run through the UK and Belgium, and broadcast throughout Europe and indeed the world.
The infamous question mark
Photo ©: Gregor Brown

McCreevy said that the French approach was inconsistent and highly questionable due to the presence of other teams sponsored by gaming operators, and because another gaming operator, PMU, is one of the main sponsors of the event. In addition, because French authorities permit the screening of overseas races without blocking images of the Unibet jersey or other such advertising, they are taking an inconsistent approach.
Essentially, this ties in with Drewes' comments that if French legislation seeks to block gaming services/gambling, it must do so across the board. Banning companies such as Unibet.com while permitting Française des Jeux and PMU is akin to enabling a monopoly-like service to exist.
McCreevy has also indicated that French authorities were not acting in a proportional way by excluding the team from races, particularly as the squad is willing to abandon references to Unibet on the jersey.
What now?
The European Commission has indicated that it is concerned about the Unibet situation, as has the Liège courts who directed that the team cannot be refused from ASO's races on the grounds of legislation seeking to block companies such as Unibet.com.
The team are likely to try to compete in Liège-Bastogne-Liège on Sunday. If they are refused once more, the Liège court ruling would seem to dictate that ASO are liable for a further €5 million in damages. While a court case competed elsewhere in Belgium this week ruled that the UCI-ASO deal signed on March 5 in Brussels is not legally binding, the Unibet team has insisted that this does not invalidate its own judgement.
Drewes told Cyclingnews that in the wider scheme of things, the Commission will decide shortly what way to proceed vis-à-vis the whole question of sports betting across the EU.
Tour de France boss Christian Prudhomme
Photo ©: Sirotti

"We started the procedure on October 12 last year, a so-called infringement of procedure for breach of treaty rules. We sent an information request to the French authorities. We have received responses and we are now analysing these. In the month of June we have to decide if we will proceed with the case or not."
The timescale for this means that a final judgement will come after the Tour de France. It remains to be seen whether or not the Commission can or will specifically address the Unibet.com situation before then. When asked what the chances were that the team could be included in the Tour, Drewes declined to make a call on the question. However, he suggested that a decision to exclude the team on the grounds of French law could have repercussions down the line.
"I can't make any predictions here [about Tour participation], but from our side we just want to make it absolutely clear that what is happening is not legal. Ultimately, there may be consequences for those who didn't comply with the relevant [European Commission] rules and laws."
When asked if ASO could be liable to claims for damages if they continue to block the team on these grounds, Drewes suggested that this could be the case. "That could very well be possible," he concluded.
Cyclingnews' recent coverage of the ProTour-Grand Tours split
October 4, 2008 - New ASO chief to maintain values
September 26, 2008 - UCI declares peace, appoints new VP
August 30, 2008 - UCI re-signs five ProTour races
August 22, 2008 - ProTour: Bouncing back or lame duck?
August 19, 2008 - Stapleton analyses 'world calendar'
August 18, 2008 - Feedback on 'world calendar'
August 18, 2008 - UCI announces 'world calendar'
Cyclingnews' complete coverage of the ProTour-Grand Tours split