News feature, February 27, 2007
Ullrich's final chapter
By Susan Westemeyer
Memories: Jan Ullrich announced his retirement
Photo ©: AFP Photo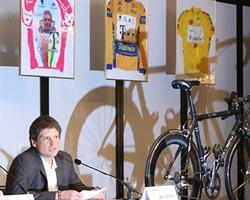 The final chapter in Jan Ullrich's career as a professional cyclist was written on Monday, when the German announced his retirement from competition following the fallout from the Spanish authority's Operación Puerto investigation. "I am ending my active career. It was not an easy decision, but when the inner voice speaks, you have to listen to it," declared the former T-Mobile rider.
"I have thought a lot about my life and I think that it is time for something new, time to take the step in life after my active career. I have had so many successes in this wonderful sport, now it is time to seek out new challenges."
At a press conference Monday morning in Hamburg, Germany, Ullrich said he was not bitter and that he had nothing to blame himself for. While Ullrich refused to directly address the issue of doping, Operación Puerto or Dr. Fuentes, he did send one clear message to those at the conference: "I have never cheated."
Describing the sport as his love and passion, Ullrich announced he will stay involved in cycling as an advisor to Team Volksbank, a small Austrian Professional Continental team where he will be involved in marketing and public relations.
Jan's wife Sara Ullrich
Photo ©: AFP Photo

One thing that particularly appealed to Ullrich about the team was that it had offered not only to hire him as a rider, but also to hire the people that he wanted to bring with him. "That really impressed me," he stated.
Having attended a sports school in the former East Germany as a youngster, Ullrich will pass on his knowledge by working with the young riders at Volksbank. "Nowadays there is less and less attention paid to the young people," he said. "[Volksbank is] an up-and-coming young team, which doesn't revolve around money. It wants success, but it also wants to have fun."
It had previously been speculated that he would join Volksbank as either a rider or directeur sportif. That speculation was quickly quashed last week when Swiss Olympic investigator Bernhard Welten said the investigation of Ullrich would continue even if he retired, and that a life-long ban would affect him as either a rider or directeur sportif - but presumably still allows him to be an advisor to a team.
Ullrich dubbed his dumping from T-Mobile as an over reaction.
Photo ©: AFP Photo

Ullrich appeared slightly nervous at the press conference, but in an obvious good, even playful, mood. Seated in front of a huge poster of himself wearing the leader's yellow jersey from the 1997 Tour de France, Ullrich was accompanied only by his spokesman. His family was in attendance as well as his first two trainers, but former mentor Rudy Pevenage was nowhere to be seen, having allegedly declined an invitation to attend.
Ullrich reflected on the events of last June/July, when he was ejected from the Tour de France and sidelined by his native T-Mobile squad. Describing the happenings as an absolute over-reaction he said: "To this day, I still don't understand how it came to being thrown out of the Tour. That was the worst day of my career. It was an enormous shock, which I still haven't gotten over."
Ullrich described his enormous disappointment that the federations - UCI, Swiss Cycling and Swiss Olympic - failed to take care of the athlete amid the onslaught of damaging claims. "Instead, [they] brought out all these prejudgments, these slurs on my reputation, which only served to keep the stories alive," he hit out. "The Swiss federation has been giving the impression for eight months that it has evidence against me which is sufficient for a lifetime ban (...) but I ask, where is this material? Why is there no process?"
Ullrich's mother Marianne Kaatz with Jan's brothers Stefan (left)
Photo ©: AFP Photo

"I would have wished to have it like Ivan Basso, that I could also have a hearing. In all this time, no one from the federation has called me, no one wanted to speak with me," continued Ullrich, who has raced under a Swiss licence in recent years. "I couldn't give my views or state my position to the federation - I find that weak, very weak from them. The fact is, that no process has been opened against me in Switzerland and that I could have a license at any time."
Ullrich then directed his attack at the UCI for basing its case on: "a report which it illegally got from Spain and is faked, anyway."
The Switzerland-residing Ullrich also explained the reason why his attorneys had tried to prevent Spanish authorities from turning evidence over to German investigators. "[It's] not because I wanted to block the bags of blood, but because I had no more trust in them," he explained. "There has been too much shit coming out of Spain."
That was, however, the extent of his comments on the ongoing German fraud investigation against him with Ullrich declaring: "I can't say much and I don't want to say much."
A photo of Ullrich wearing the yellow jersey at the 1997 Tour de France.
Photo ©: AFP Photo

A philosophical Ullrich denounced claims that he has in anyway damaged the sport's reputation in Germany, going as far to imply that he's the reason for the sport's growth in his homeland. "Cycling was unknown in Germany ten years ago. There was only one pro team and it had great trouble being invited to the Tour in '95," he stated. "And where are we now? We have three ProTour teams, many big names, many big races, such as the Deutschland Tour, and millions of fans, with more fans every year. We have become one of the leading cycling nations. So, have I damaged cycling or helped it?"
Then, returning to the point of the press conference, Ullrich thanked his fans for their motivating messages, and dedication in supporting him along the roads he has traveled during his career. He described his decision as not completely necessary but well thought out and in the interest of his own happiness. "I could ride again immediately. I am fit, as fit as last year, and could immediately have a team. I have seven offers, including from ProTour teams," he said. "I can decide whether I will ride again or not. It has taken me months until I was sure what I wanted, what would make me happy."
Finally, he lashed out at various individuals who "have all profited at my cost and spread lies about me." German cycling federation president Rudolf Scharping, doping crusader Werner Franke, and Britta Bannenberg, who filed the complaint which led to the German investigation, all came in for criticism, as did some "black sheep" in the media.
Cyclingnews will feature a full retrospective on Jan Ullrich's career in the coming days.