News feature: May 25, 2007
T-Mobile to continue sponsorship despite doping admissions
In what was perhaps the only piece of good news to emerge from Thursday's T-Mobile press conference dominated by emotional doping confessions of former riders, the German telecommunications giant announced it will "honour its sponsorship engagement" within cycling, scheduled to run through 2010. Cyclingnews' Susan Westemeyer reports from Bonn, Germany.
Former teammates Erik Zabel and Rolf Aldag
Photo ©: AFP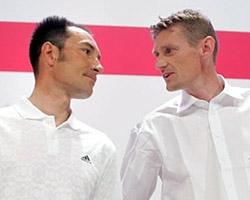 "In the last few days we have heard many explanations," said Christian Frommert, Director of Sponsoring Communications at T-Mobile. "It is not enough to just give an explanation, the world of cycling is not in order."
Following Frommert's assurances, Erik Zabel and Rolf Aldag, 'stars' of what has been the most popular cycling documentary in decades, Hell on Wheels, a film that follows the Telekom team in the 2003 Tour de France, described their experiences with EPO throughout the mid-to-late 90s.
"About four of us sat on the curb during one of the Grand Tours," began Aldag, referring to his 1994 season. "We had been totally dropped and couldn't keep up. What could we do? I started thinking about doping and asked around.
"In 1995 I started with EPO before the Tour and just kept on, step by step. I had the feeling that I wouldn't be caught. That made it easier. In 1997 I had a haematocrit of 50. That made me stop and think. It was not fun to get up at 5am and check my blood values and see if I could ride that day. I think my highest blood value was 53."
Aldag then admitted he even had a tattoo made on his upper arm, to hide the bruises resulting from injections of doping products. "In 2002 I ordered EPO through the Internet," he continued. "It was so bad, I never used it. I saw that it was life-threatening. It finally went click in my head.
"Now is the time to tell how it was, and honestly, whether any of my successes will stand, is the least of my concerns."
-Erik Zabel says he's absolutely prepared to face the consequences of his past.
"I have lied to everyone, and I apologise for that. There was no reason to tell the truth - everyone else was doing it, too. I stayed with that story for a long time."
This spring he finally decided to come clean, and after long discussions with his wife, he spoke to T-Mobile manager Bob Stapleton about his past and offered to quit his current post as Sports Director. "I knew we had to change things, that is why we are here today. I apologise for lying and for doping," he said.
Zabel was next up, and after listening to his former room mate, the Milram sprinter explained why he pulled out of the Volta a Catalunya in Spain to attend the press conference of his former team. "I told my DS that I would go back to Germany to talk to Rolf and then appear in the press conference to explain my past," he said. "I spoke with team manager [Gianluigi] Stanga and told him that I would open up about my past. I have no idea how they will react."
Erik Zabel wipes away the tears
Photo ©: AFP

Both the Milram team and its sponsor reacted by issuing press releases noting Zabel's confession and saying that discussions would take place over the next few days.
Struggling to fight back tears, Zabel then detailed his own history of EPO usage which began in 1996 when it became generally acknowledged that competing at the highest level was no longer possible without some form of performance enhancement.
"In 1996, there was the feeling, even the assumption, that you couldn't have any success without doping," he said. "That year I decided to take EPO before the Tour. I took it through the first week, then had to stop. The side effects were too great. I had a high body temperature and an extremely low resting pulse in the mornings. Every night I asked myself whether I would wake up the next morning. Soigneur Jef d'Hondt and I agreed to stop with the EPO."
d'Hondt became his soigneur and masseur in 1994. "We became friends. I can't say now whether I explicitly asked Jef for the EPO or whether he offered it. I got it from him. I accepted it, and that's that. In interviews I always denied having doped. I lied, and I apologise."
Bob Stapleton
Photo ©: AFP

Team manager Bob Stapleton spoke next, and began by saying, "I have the greatest respect for Erik Zabel and Rolf Aldag.
"We came before you with a bold new plan last fall. The most important part of this plan was bringing people into the team who were committed to a clean sport. Our second goal was to bring a positive change to the sport. I was disappointed - and perhaps a little naive - that we weren't able to change things as quickly as I had hoped.
"Two weeks ago, Rolf Aldag offered me his resignation," the American continued. "We have worked very closely over the last year. He has never wavered or compromised on his commitment to clean sport."
"Can he still lead the team? I have asked our athletes about how they feel about team management. Many of them said that Rolf Aldag was the reason they were here. That is very important. They resoundingly said that he should stay and that he has their full and complete support.
Rolf Aldag
Photo ©: AFP

"He and I still have some issues to resolve, but I intend to continue to work with him. He has my support. Rolf is part of the past, but he must be part of the future, too."
Stapleton also addressed the current doping scandals, saying, "the process has been very unfair. It has focused on two individuals, Jan Ullrich and Ivan Basso. This whole thing goes beyond them, and it is unfair that they are the two being spotlighted. We must know who is involved and treat all of them in a fair manner.
"There must be a serious and consistent commitment to remove drugs from the sport. There is a momentum for change, there is a movement for change," he concluded.
In response to questions from the assembled press, regarding why he waited until now to make the confession, Aldag responded, "In my own little world, I felt that if I was never caught, then I hadn't done anything wrong and didn't need to apologise - and now I know that was wrong."
"It's not important whether it happened once or a hundred times," Zabel chimed in. "The point is, that it was forbidden to dope, and I did it anyway. It is time now for us to say that we need help.
"It was very difficult for me yesterday to tell my son and my parents," he said in a choked voice. "But now is the time to tell how it was, and honestly, whether any of my successes will stand, is the least of my concerns."
Stapleton then further criticised the current doping control system. "The real situation is that the current test, the urine test, can detect virtually nothing. There is virtually not detection of EPO. The testing itself is not effective. Some on our team have been tested 13 times this season. Some riders on other teams have not been tested at all this year, some not even for years."
Looking as to what may lie ahead, Zabel concluded, "There will be lots of discussions. I don't know what the consequences will be, but I am willing to face them."