News feature: July 11, 2007
Landis continues book tour through American Midwest
By Mark Zalewski, North American Editor in Wheaton, Illinois
Landis ponders
Photo ©: Mark Zalewski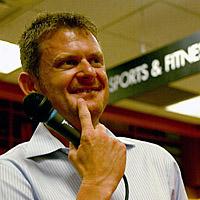 While rumours and speculation about when the decision of Floyd Landis' fate may come circulate, especially as the Tour de France gets underway, Landis himself has been busy promoting his new book, Positively False: The Real Story of How I Won the Tour de France. Monday night Landis appeared at a Borders bookstore in suburban Chicago and was welcomed by a crowd of a few hundred supporters. He greeted each fan with a smile and a thank you, and signed copies of his book until the store sold out.
"Most everything was written by the time the hearing was going on," Landis told Cyclingnews about the book's writing, co-written with author Loren Mooney. "We had to add an epilogue after but everything else was finished six weeks before, because the date was established when we thought the hearing was going to be in January. We wanted it to come out before the Tour, that's all."
"[Mooney] did the vast majority of it and did a great job -- I had never written a book before! To make it entertaining and still from my voice is another thing."
Landis spoke for a couple of minutes and then opened the floor to questions for twenty minutes. Most of the questions were rather benign, inquiring about what he is doing these days and how his hip is feeling, but a few did probe into deeper issues.
Super fans
Photo ©: Mark Zalewski

When a question on his thoughts regarding Greg LeMond surfaced, Landis quickly quipped back, "Care to make that more specific?" -- to which the crowd laughed. While keeping the mood light, Landis did diffuse the question by saying that he did not know why LeMond was brought into the preceding. "He only served to distract [from] what the hearing was about."
Of course, people wanted to know when the decision was going to come down, and if it is against him, if he will appeal. "My lawyers have not heard anything," he said. "There is no real timeline except for a ten day minimum after the hearing closes. It depends on what the ruling says. I really believe there is very little chance I would not appeal it. I don't know what they could possibly write that would convict me. But if they say 'we just don't like the guy', then it is going to be hard to appeal that!"
"I hope it is soon, but I also hope it doesn't take away from the guys who are racing this year. They deserve more credit than they are getting."
On the topic of this year's Tour, Landis said he is pulling for friend Dave Z, but sits in the camp with many others who think Vinokourov will have his year. "I hope Dave Zabriskie wins! So far it's been three days and he has stayed on his bike! He did well at the Dauphinč, but I don't think his team is protecting him -- he has a job to do. I think Vinokourov is the strongest. Klöden was clearly stronger in the prologue but he always suffers in the mountain stages and doesn't seem to get it back. Vino is good -- I like the guy."
A little yellow jersey
Photo ©: Mark Zalewski

A question about the coincidence between his book release and the release of David Walsh's book also was asked, and if Landis had read the book yet. "I have seen the cover... I made the cover of two books at one time!" he joked. "I don't have any idea of what he wants to accomplish. From what I have heard it is just hearsay and the same book he published in French a few years ago to bring down Lance and make money trying."
"I can't say [Lance] is my favourite guy on Earth, but that doesn't mean I disrespect what he did or want to try to bring him down. If you want to read the book... just read the title, that's the best part!" Ironically Amazon.com lists both books as "better together".
Landis was asked if he is training or riding his mountain bike, to which he responded by explaining his result at the Teva Mountain Games last month. "It's not so easy. Plus I was beaten by two girls!" Landis also said he is still planning on racing the Leadville 100 in August, though he joked that he committed to that before racing last month.
Fans of all ages
Photo ©: Mark Zalewski

The final question came from a little boy in the back of the room who was wearing a yellow jersey and held up by his father -- wanting to know how old Landis was when he started riding his bike. "Well I was not nearly that young when I had the yellow jersey! I think I had a little red bike when I was three, but I didn't get a bike that I trained on when I was fourteen. But he should start now, he'll have more than seven [yellow jerseys] by the time he is done!"
Following the Q & A the audience queued up in an orderly fashion and Landis went about signing the books. He greeted each person asking if he or she was a cyclist, and then about where they were from before posing for a photo. Some even brought presents for him, from beer to champagne to a homemade photo album of last year's Tour.
When asked about the size of the crowds, Landis' publicist Brooke Emerson said that the crowds so far have been at least 300-400 people per stop. Local store employees said that the crowd was one of their bigger, with only Ted Nugent and Christian music artist Steven Curtis Chapman bringing in larger crowds.
"I appreciate the support and to see you all out here," he said. "But let's cheer the guys [in the Tour] on now."
Photography
For a thumbnail gallery of these images, click here
Images by Mark Zalewski/Cyclingnews