News feature: April 30, 2007
Holczer talks anti-doping, ProTour and Unibet
Although no firm decisions were made in Saturday's anti-doping talks between ASO and the ProTour team managers, Hans-Michel Holczer felt that things have the potential to move forward in the right direction. "We are in a situation which is still very difficult," the Gerolsteiner boss told Cyclingnews' Shane Stokes prior to the start of Liège-Bastogne-Liège. "However, I think we have some ideas... it was like a brainstorming session as regards what could be done. There will be a meeting on May 4 with all the big stakeholders, and I hope that there will be some ideas, some possibilities, some actions which could be taken and go ahead with clearance.
Gerolsteiner general manager Hans Michael Holczer
Photo ©: Shane Stokes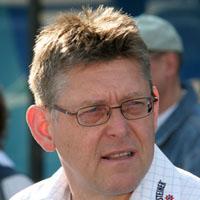 "Some ideas were talked about yesterday but it's still at the discussion stage. We have to see what the fourth of May is going to bring."
In recent weeks T-Mobile, CSC and Gerolsteiner have all taken big wins. Given that they are presently three of the teams most closely associated with the anti-doping push, did Holczer feel that this is a sign that the playing field has become more level? "I am always a little cautious to make such judgements," he answered. "I am pretty happy on a personal level because I saw that the work that we do seems to be successful in the end, and this makes me content. In general, it might be too early to say that [things are better across the board]."
As much as the anti-doping fight is a hot topic of conversation within the sport, so too the current uncertainty about the UCI's ProTour. The German felt that there have certainly been advantages to its introduction. "It is, in my opinion, a very, very important institution. Whatever about all the problems and other conflicts you can see with the ProTour, there are some things which you can't argue with. One thing is that we have got much longer contracts. We can do more solid work with that, and much more honest.
"I remember times when there have been teams going to be to races and the people perhaps wouldn't go there if they didn't get payment for money for January and February, and this might have been in May. So we are completely away from that sort of thing... that is what I think is a real difference, and what makes it [the ProTour] a real step forward. I have to admit that there are some things that have to be improved, but that's from the teams' side."
The Grand Tour organisers are certainly not fans of the system, but many managers can see a benefit. Rather than abandoning the series - as ASO, Unipublic and RCS Sport wish - they seem to want to push for debate, refinement and, ultimately, agreement between all concerned.
"From the point of view of teams, the ProTour brought a lot and it is very important for a lot of the teams that this idea will continue," he continues. "If you look at it, the IPCT is a product of the ProTour and the new strength that the teams now have is definitely a result of the introduction of the ProTour."
So, given that the IPCT played a fundamental part of the March 5th agreement which let to a temporary compromise being found between the UCI and the Grand Tour organisers, did he feel that solidarity between him and other team managers can help push through reforms?
"I think the teams will now fight together [as a group] over the future of the ProTour. I think this is a kind of a new spirit," he said. "With all the problems that we have in cycling, I think that this cooperation is the key to get a lot of problems solved. There is no doubt that everybody here, all the stakeholders, have to work together, because otherwise we will kill our sport."
Unibet.com tries everything to be able to race
Photo ©: Gregor Brown

One team which has certainly lost out due to the tension between the UCI and the Grand Tour organisers is Unibet. Holczer said that this problem could have been avoided, if the UCI hadn't given the ProTour licence to Unibet right away.
"I can see the legal problems," he said. "One day they can ride and then the next day they go to another court, fifty kilometre more North and they cannot ride. The only thing I have to mention there is that the teams really recommended to the UCI [last season] that they should not give a new licence to anybody for one year.
"Because of the difficult situation in cycling, it would perhaps have been better if they had a sabbatical year for new licences. Or perhaps they could have had an approval year, where the teams first show that they can work [as part of the ProTour] and then you take them. That would have avoided a lot of the problems that we have now. I can understand all the sides, I don't want to put any comment on that [allocating blame]."