News feature, August 11, 2007
Tailwind discusses end of Team Discovery Channel
By Mark Zalewski, North American Editor
Last hurrah: Discovery Channel riders celebrate for one last time
Photo ©: PhotoSport International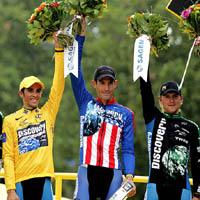 The cycling world was changed Friday as the management company for the Discovery Channel team, Tailwind Sports, announced it would not be continuing its search for a new title sponsor for the 2008 season. Speculation ran wild as to the reasons behind the decision - doping, money, both? Later in the day the management assembled the key players behind the decision for an ad hoc press conference call to give the rationale behind the decision - including Tailwind principles Bill Stapleton and Bart Knaggs, as well as Discovery boss Johan Bruyneel and a rare appearance by Lance Armstrong, who is part owner of the team.
The obvious first questions were why, and why now, having just won the Tour de France for the eighth time in nine years? Bill Stapleton led the responses for the group in this area, placing the blame on other teams and the general environment within cycling, not with the company. "We made a determination in our own minds," he said. "We can control what goes on in our own team but we can't control what goes on in the sport and with other teams. We couldn't in good conscious make a recommendation to a company to spend the sort of money that would be required to sponsor the team, in the current environment."
"There are all kinds of issues in the sport, doping and others," said Stapleton. "It's not an environment conducive to a lot of investment."
"We are not comfortable managing and running a team right now."
-Lance Armstrong says the state of cycling lead to Tailwind Sports' decision
An obvious follow-up to that statement was the recent announcement by T-Mobile saying they are continuing with their sponsorship, in light of the recent controversies. "We are not trying to send any message to other sponsors - we wish everyone the best," said Stapleton. "We had to make an individual decision and we reached a different conclusion than other people. Maybe those other people are European-based or have different reasons for being in the sport."
Armstrong also commented on this. "It's not a statement," he said. "We are not trying to slap T-Mobile for their additions to programmes and plans, or anybody else."
Good times: Lance Armstrong enjoyed watching Contador win in Paris,
Photo ©: AFP

Stapleton went on to say that doping was not the only problem that came up when talking to potential sponsors. "Obviously the doping scandals plague, there has been an issue this year with the teams. We have experiences the rise and fall of AIGCP, and there is not a cohesive ownership and leadership group right now."
We are walking away
Stapleton and Armstrong both commented that this decision was not for a lack of a sponsor, but that it was a stand alone decision in the best interests of a sponsor. "End of the day, it is a great marketing investment, when you look at the metrics and hospitality, you can present to a sponsor," said Stapleton. "We went in to the market at a time when almost every day there was new news regarding doping and admissions or disputes within the sport, and those became an issue in the talks."
"I think we had a firm commitment for three years," said Armstrong. "Based on my impression I think we were 90% there. We are walking away from that today. We are not comfortable managing and running a team right now. Johan is retiring on top of that, and I am going to go and focus on my foundation, so we are not your guys right now."
"I would add the moment it crystalized was when we were at the Tour," said Armstrong, focusing on his well known disagreements with the organiser of the Tour de France. "Taking aside from all the politics and polyemics, the disagreements between ASO and UCI, with the ASO talking about perhaps taking it back to national teams. If something like that were to happen... . If you get a company to invest and then all of a sudden the ASO decides that it should go back to national teams, their investment goes to zero. Issues like that up in the air it is too risky to ask people for that kind of money."
"I see that on a daily basis with the foundation," Armstrong continued. "Same thing goes here, we have to make sure we are a good steward of the money."
Contador a free agent for 2008
Johan Bruyneel watches Tour de France winner Alberto Contador
Photo ©: AFP

When asked about the Tour de France winner Alberto Contador being left without a ride for next year, Bruyneel laughed and said, "He is going to have a team next year, I can assure you!
"He was surprised, but I was in close contact with him - he's been talking to me every other day and I always kept him updated. I indicated to him that he should think about a new future," said Bruyneel.
"Of course he is new to the team and it's his most successful moment. He definitely wanted to stay on the team. That's the feeling I have, most of the riders and staff know its a good team, a unique team - everyone loved to be here. But it's good for him, he had a contract next year and he was tied into it. Now he is on the market."
Jumping ship or leaving gracefully?
One for the road: Disco team manager Johan Bruyneel stood
Photo ©: PhotoSport International

There were still questions as well as a sense of Tailwind leaving a sinking ship, instead of staying in the sport in an effort to help rebuild its image. "We are not being cute here and saying there aren't a whole host of problems," said Armstrong in response. "Perhaps there is someone out there to come in and solve the problems and own the sport - that might not be a bad thing for cycling."
"The organisers, the governing bodies, the rider, the teams, the press, the fans - all of these things are at war, and we need some semblance of organisation," Armstrong continued. "I don't want to minimise doping, but take it out of the equation. All of the other stuff going on is troublesome for sure. I disagree with ASO in the sense that they don't allow Pat McQuaid to come to the Tour de France. He runs the UCI - you have to have a certain level of respect for everyone in the game. That has been put on hold, but we have to get back a level of trust with all of the interested parties."
Returning to doping specifically, Armstrong said that he is out of answers as to what more cycling can do. "No other professional sport can be compared to cycling when it comes to the efforts and strides that are being made... no other professional American or European sport, if you walked in as a commissioner and said you are going to use the rules that cycling uses, those athletes would never play another down, another inning or another match. I have to take my hats off to the UCI and to everyone who has tried to implement the controls. As we see now, the controls work."
"What else can cycling do, is the question? I know there are critics like Mr. Pound and the list goes on, but outside of having someone live with Dick Pound, I don't know what else anyone can do!"
American ProTour void
George Hincapie is believed to be heading
Photo ©: Sirotti

Even though the majority of the current Discovery Channel riders are not American, it has always been thought of as the American team - with American sponsors, management and leading with American riders. So the question as to the impact of not having an American team at the top level of the sport, outside of what Jonathan Vaughters and his Slipstream-Chipotle team are planning for 2008, was asked of Armstrong.
"It's a good question and one I am hesitant to answer as I only want good things for this sport in our country," said Armstrong. "Based upon emails and text messages, people are sad - they feel like a chapter has been closed here, and perhaps more. I think it's sad for cycling, certainly sad for American cycling. But I do think it's the right decision and I was heavily involved. And I am still committed to the bicycle."
And as for filling the space left by Discovery's absence, he said, "We are proud of our record and it stands for itself. We have to leave it at that." But in regards to the future, he said, "Globally it will survive and thrive and I think it will do fine in America too. On the competitive side, you have to have the right people making the right decisions, in terms of who runs the team, the riders they use, the training they use, the tactics they employ - you hope that person comes along and knows what they are doing, otherwise you are just pack-fill."
Overall, Armstrong was optimistic about cycling, especially in light of seeing this year's Tour . "It's cycling, it's been around a long time and endured a lot of hardships and controversies, but you saw the crowds on the road and in London - cycling will survive... and it will thrive."
Photography
For a thumbnail gallery of these images, click here
Images by AFP Photo
Images by PhotoSport International
Images by Fotoreporter Sirotti