News feature: July 21, 2007
McQuaid rejects ASO's claim that UCI is trying to damage Tour de France
UCI President wants apology over claims that governing body leaked Rasmussen information.
By Shane Stokes
McQuaid
Photo ©: Gregor Brown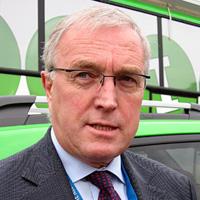 Following criticism of the UCI by ASO chief Patrice Clerc and Tour de France organiser Christian Prudhomme over the release of information concerning race leader Michael Rasmussen, UCI president Pat McQuaid has strongly rejected what he said were improper and inaccurate insinuations against the governing body.
Speaking on French television on Friday, ASO Chief Patrice Clerc had expanded on earlier statements made by Tour de France director Christian Prudhomme questioning the timing of the news about Michael Rasmussen's missed anti-doping tests and the rider's resulting exclusion from the Danish world championship and Olympic squads.
After months of tension between the company and the UCI over the ProTour, Clerc directly accused the governing body on Friday evening of being involved in disclosure of this information, suggesting that there could be an ulterior motive. "I have to ask certain questions about the UCI and their timing," he said. "Why are they bringing this up now when they had the information last month?"
UCI president Pat McQuaid has reacted angrily to this, rejecting suggestions that the UCI were involved in the release of such information while Rasmussen was in yellow. He said that he is demanding an apology from ASO over these suggestions plus a heated phone call made to him by Prudhomme on Thursday night.
Speaking to Cyclingnews in a telephone interview on Friday evening, McQuaid gave an account of how he found out about the news and of a subsequent exchange between him and Prudhomme. He said that he had arrived back in Dublin on Thursday for a week's holiday in Ireland and had gone to a restaurant to eat. "I got phone call at about 10.30pm from a journalist. He asked me what my comment was about the situation vis-à-vis Rasmussen and the Danish federation. I asked him what he meant, saying that I knew nothing at all about it [the release of the news]. He then explained to me that a press release had gone out and they had dropped him [Rasmussen] from the world championship squad.
"I said to him that I couldn't comment, that I needed to find out more about it and talk to my people in the UCI and see what the situation is. Ten minutes after that I got a phone call from Christian Prudhomme and he ranted and raved and attacked me and abused me, refused to allow me speak back and accused me of trying to kill the Tour de France."
McQuaid said that he tried to discuss the claims with Prudhomme but that he wouldn't allow him to speak. "I then told him that I wasn't going to listen to any more abuse and that he should call me back when he was calmer. I put the phone down. After that then I made some phone calls, I got hold of our lawyer, I got hold of Jesper Worre in Denmark and was dealing with all that until after midnight."
McQuaid then clarified details behind the disclosure of information by the Danish Cycling Union, and why the news had come out during the Tour de France. "What actually happened is that on the 21st of June, the Danish federation took a decision not to put Rasmussen into the world championships or the Olympic Games. This was based on the knowledge that they he had missed a certain number of out of competition tests, and I think also based on some past experiences.
"They never contacted the UCI in advance of the communiqué going out, so the UCI was not aware of it."
-McQuaid on why he expects an apology from ASO Chief, Patrice Clerc.
"They informed the rider and informed nobody else, which is their right. They don't have to inform people who they select and those they don't as regards their reasons for selection for the world championships. But they informed the rider and that was it.
"Since then, the media – the Danish media in particular - have been on the case of Rasmussen, particularly since he got the yellow jersey. They were asking about his controls, about his test results, if he had done out of competition controls, and what the results were. There was huge pressure coming on the Danish federation. So last night they had a meeting themselves and decided that they would make public the information that they had not selected him for the world championships."
"They never contacted the UCI in advance of the communiqué going out, so the UCI was not aware of it.
"Because of that, it is absolutely unacceptable for ASO to come and accuse me last night of trying to kill the Tour de France. I am now waiting for and expecting an apology from Christian Prudhomme for his behaviour and the insults he hurled at me on the telephone last night.
"I am really, really annoyed with ASO. They are paranoid about the UCI and the fact that they think the UCI is out to get them. We had absolutely nothing to do with this [the release of the news when Rasmussen was in the yellow jersey]. For ASO to come along and accuse the UCI that they are out to damage the Tour de France – particularly after the anti-doping efforts we made before the race with the new charter - is absolutely inexplicable."
Rasmussen 'has missed four tests':
McQuaid also spoke about the out of competition tests missed by Michael Ramussen, saying that the rider has missed four in all.
Rasmussen in yellow ©: Sirotti

"He has got a Monaco licence, he is with a Dutch team, he lives in Italy, his wife is from Mexico and he spends quite a bit of time there at her place. So he moves around and is hard to track down. He missed two UCI out of competition tests in the month of June and has also missed two of the Danish National agency tests as well."
Current rules stipulate that three missed tests qualify as a doping case. However there is a proviso that the same body has to attempt to carry out these tests. "The rules are that if you missed three you get suspended, but the rules don't state that you can join together the agencies or whatever," he explained.
"When he [Rasmussen] missed the UCI tests in June, we sent him a letter and told them that he is now on his final chance. It explained that he had missed two tests and that if he misses a third test, that he would be declared a positive case and that proceedings will open up against him. He would then be suspended until such time as those proceedings are finished.
"He did do an out of competition control after that, in late June, and did the blood tests prior to the Tour de France. The results of those are negative."
Rasmussen has also done several urine tests during the Tour de France. McQuaid said that he wasn't sure exactly when the results were due back for these, but added that he could say that, "at this time, the UCI has no open procedures against any rider on the Tour de France."
McQuaid was speaking prior to Friday evening's news that a former mountainbike competitor from the United States has claimed that Rasmussen tried to trick him into transporting doping products for the Dane. Cyclingnews is yet to get a reaction to the latest allegations against the maillot jaune. However he did elaborate on the fact that the UCI was unable to locate Rasmussen due to the latter's failure to communicate his whereabouts.
"There is an obligation on the rider to let us know where they are," he explained. "The letter he sent telling us he was in Mexico arrived late, five or six days after it was posted. That's unacceptable in this time of modern communication. Information like that should be e-mailed. The idea of the form [the athlete's whereabout's form] is to tell people before you go away, rather than when you arrive. And if you are changing your plans, then you have got to inform them immediately."
As regards claims that the UCI or the Danish Cycling Union should have communicated the news about Rasmussen's missed tests, he said that the UCI could not do so until such time as the rider was sanctioned for missing three of them.
"In doing the out of competition controls, chasing people around and testing them, the UCI isn't obligated – in fact we are not supposed to – disclose such information. There is a fair amount of confidentiality in all of that and if there is a case whereby a rider gets a warning because he is on his last chance, the UCI doesn't and shouldn't make that public. It shouldn't put that into the public domain. So, again, for ASO to accuse the UCI of having information in advance of the Tour de France and not sharing it with them is completely wrong. We are not supposed to share that information with anybody."