News feature, July 31, 2006
Testosterone, epitestosterone and the doping tests
The standards of testing necessary to find an athlete guilty of doping with testosterone are among the most complex in anti-doping science because testosterone is a naturally-occurring hormone. Cyclingnews fitness panelist Dr Pam Hinton, assistant professor of Nutritional Sciences at the University of Missouri-Columbia, looks at the science of detecting testosterone use.
The situation of Tour winner Floyd Landis has focused attention on testing for testosterone.
Photo ©: Sirotti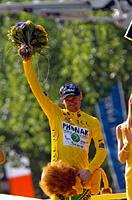 "There are documented cases of non-doping athletes with T/E ratios greater than 6/1."
- The testosterone test requires additional information to establish doping.
Many fans of cycling want to know that an elevated ratio of testosterone (T) to epitestosterone (E) is not synonymous with testosterone doping. It is not. In fact, the World Anti-Doping Agency's Guideline for Reporting and Management of Elevated T/E Ratios states, "An elevated T/E may be an indicator of the use of a prohibited substance." Before declaring an athlete positive for testosterone doping, additional testing is required. As with GH and EPO, doping with testosterone is difficult to detect.
This is because the form of the hormone that is available for exogenous administration is chemically identical to what is produced naturally in the body. Only a small fraction (about one percent) of the testosterone produced every day is excreted in the urine. Blood and urine levels increase after taking testosterone. But because the half-life of testosterone is very short, about one hour, blood and urine levels return to normal very quickly. Thus, measuring testosterone levels in urine is not an effective means of detecting steroid abuse.
There are two alternate methods currently in place to detect testosterone misuse. The first is to examine the ratio of testosterone to epitestosterone. Epitestosterone also is produced naturally in the body; it is chemically identical to testosterone with the exception of the hydroxyl group on C-17. A study of nearly 4000 male athletes reported the median T/E ratio to 1/1 with 99 percent of the men having a ratio less than 5.6/1. Another sample of about 5000 male athletes found the mean ratio to be 1.5/1.
Because testosterone cannot be converted to epitestosterone, an elevated ratio suggests doping; moreover, exogenous testosterone lowers the body's production of epitestosterone, further increasing the T/E ratio. In 1982, the IOC Medical Commission set a T/E ratio of 6/1 as the cut-off value for a positive test; WADA recently lowered the threshold to 4/1. The prevalence of urinary T/E ratio greater than 6/1 in healthy, non-steroid users is less than 0.8 percent. However, there are documented cases of non-doping athletes with T/E ratios greater than 6/1; as a result, additional testing is required to determine the etiology of the elevated ratio.
WADA's Guidelines describe two different approaches to determine if the increased T/E ratio is due to a physiological or pathological condition or to administration of exogenous hormones. The first approach determines the athlete's usual T/E ratio. If an athlete's urine test produces a ratio that is above 4/1, at least three additional samples must be tested. These may be samples that were previously collected and analyzed or unannounced future tests.
If the variation among the results is less than 30 percent for males and less than 60 percent for females, it likely that the T/E ratio is naturally increased. In this case, additional tests of endocrine function should be performed to rule out testosterone-secreting tumors or other hormonal disorders. It should be noted that a T/E ratio less than 6/1 does not mean an athlete has not doped with testosterone. Co-administration of testosterone and epitestosterone or epitestosterone use subsequent to testosterone can mask testosterone use and produce a false negative result. An epitestosterone urine concentration greater than 200 ng/mL indicates its misuse.
The second approach outlined in the WADA Guideline relies on subtle differences in exogenous versus endogenous testosterone. Pharmaceutical companies make testosterone starting with sterols derived from plants. The most abundant isotope[1] of carbon is 12C; 13C and 14C, occur naturally, but are much less abundant.
As it turns out, the semi-synthetic testosterone has less 13C than the testosterone made in the body. The amounts of these carbon isotopes are measured using a method called Isotope Ratio Mass Spectrometry (IRMS). A urine sample that is low in 13C, compared to a standard of endogenous testosterone indicates doping. [French newspaper l'Equipe alleged over the weekend that an IRMS test indicated exogenous testosterone in Floyd Landis' sample - Ed].
[1] For those who have forgotten high school science, the numbers refer to the number of protons and neutrons in the carbon atom. All carbon atoms have six protons. Most also have 6 neutrons; that's carbon-12 or 12C. But some have seven neutrons; the 13C (carbon-13) isotope. Because a 13C atom is heavier than a 12C atom, some biochemical processes handle the different isotopes slightly differently, even though their fundamental chemistry is the same. This leads to a difference in the ratio of 12C to 13C between naturally-occurring human steroid hormones and the plant-derived precursors of synthetic steroids. - Ed.