News feature, August 30, 2006
T-Mobile's new beginning -- but with whom?
T-Mobile has a new manager, a new four-year extension of its ProTour license and several new faces in the management team. As the top German squad attempts to move on from the Jan Ullrich years after its former star's ignominious departure under the cloud of Operacion Puerto, Susan Westemeyer looks at who is likely to ride for T-Mobile in 2007.
New T-Mobile team manager Bob Stapleton, right, at the team's 2006 launch with women's team manager Andrez Bek.
Photo ©: Shane Stokes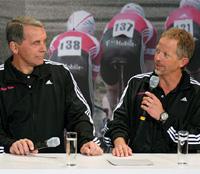 The T-Mobile Team has received "an important signal" for its new beginning and fight against doping in pro cycling, says incoming team manager Bob Stapleton. The UCI granted the team an extension of its Pro Tour license through the 2010 season. "The UCI immediately recognized the value that T-Mobile brings to cycling and respects the team management's commitment to clean and fair sport," the team said proudly.
The Pro Tour license is "a first step in the ongoing restructuring of the team," Stapleton said. The next official step will be taken on November 1, when Stapleton takes the team over from Olaf Ludwig. Ongoing problems with Ludwig evidently came to a head during the Tour de France this year, and may well be related to Operation Puerto and the alleged involvement of Jan Ullrich, Oscar Sevilla and Rudy Pevenage. The team has said that "the determining factor" in discontinuing its relationship with Ludwig "was a lack of confidence in the team management, as well as many radically differing ideas on the future strategy and direction of the T-Mobile Team and the handling of the current doping problem."
It seems that part of that "future strategy" is a "cleansing" of the team's roster: riders who are were associated with Ullrich and those with any hint of suspicion of involvement in doping, even rumoured, are apparently being let go.
Andreas Klöden and Matthias Kessler have sought refuge with former teammate -- and potential Tour rival -- Alexander Vinokourov and his new Team Astana. Klöden and Kessler were both good friends with Ullrich and both have made no secret that they remain in close contact with Ullrich, and feel that he has not been treated well by T-Mobile. In addition, both have publicly criticized the Ludwig regime.
Another reason why they left may be their contract offers from T-Mobile. The team said that it had not offered Kessler a contract extension, and that Klöden was offered "a very attractive offer", which included "performance-related conditions." In his career, though, Klöden has showed himself to be an inconsistent performer, with few significant successes in recent years, which might reduce his earning potential with a performance-related contract. Neither side seems terrible unhappy with the separation.
Jan Ullrich & Andreas Kloden will be absent in 2007.
Photo ©: Shane Stokes

Another who has spoken out in defense of Ullrich is Steffen Wesemann. The two continued to train together over the summer and Wesemann has supported his ex-teammate in the press. Now, according to Radsport-News.com, Wesemann will not be offered a new contract.
Jörg Ludewig made the mistake eight years ago of writing a letter asking about the possibility of buying doping products. Although this was at the beginning of his career, and there is no indication that he ever bought or used doping products, the fact of the letter itself was too much for T-Mobile, which has become hypersensitive to the word "doping". The team announced that it would honor its contract with Ludewig, that he was not suspended -- but also that he would not ride again for the team. His contract expires the end of the year.
Old sins may come back to haunt other current riders, dooming their futures at the team. Serguei Gonchar wore the leader's pink jersey in the Giro for two days, and won both time trials in the Tour de France, as well as wearing the leader's jersey for three days. But his past is not as sparkling clean as it could be decided, even if he is another who has never tested positive and all charges have been eventually dismissed. In 1999, he was removed from the Tour de Suisse when his haematocrit was too high -- a potential, but not infallible, indicator of drug use. Gonchar was also implicated in the infamous 2001 Giro d'Italia raid, and subsequently suspended by his team. He had only a one-year contract with T-Mobile, and despite his successes it's not clear whether he will be offered a contract renewal and even if he is, it will apparently be at a reduced salary.
Another recent T-Mobile acquisition who may be another short-timer is Eddy Mazzoleni. It may be just coincidence that he is engaged to marry the sister of Ivan Basso, who has been suspended by his Team CSC for his possible involvement in the Fuentes scandal. Mazzoleni was one of the targets of another Giro doping raid, this one in 2004. Nothing was found but the release of a telephone call transcript raised enough questions that Team Saeco suspended him. It reinstated him later, and again, he has never tested positive or even been charged with doping violations. But the taint is there.
Mazzoleni also has the disadvantage of being a patient or client of the controversial Dr. Michele Ferrari. His name allegedly appeared as early as 1999 on a list of Ferrari's 'customers'. During the Tour, T-Mobile confirmed that the Italian rider, among others, had his training plans prepared by Ferrari. The key word there is 'had' -- the team has since forbidden its rider to have any dealings with the Italian doctor. But again, as with Gonchar, the rumours and background may be too much for T-Mobile's "new beginning".
Triple world TT champion Michael Rogers is a T-Mobile hope for the future
Photo ©: Shane Stokes

Two other former clients of Ferrari will probably have more luck and stay with the team. Not so coincidentally, both are promising young riders -- Michael Rogers and Patrik Sinkewitz. Both have ended their contact with Ferrari, although Sinkewitz seemingly did so reluctantly only after being ordered to do so by T-Mobile.
T-Mobile is therefore looking at some pretty big holes in its team, having already lost Ullrich, Sevilla, Klöden, Kessler, and Ludewig. Then there's the regrettable departure of Bernhard Kohl, an up-and-coming young climber, who decided there were too many up-and-coming young riders on the team and switched to Gerolsteiner, which actually has no shortage of up-and-coming young riders.
In addition to these confirmed departures come the rumored departures of Wesemann, Gonchar, and Mazzoleni, although the latter two may be able to make up for their pasts by accepting contracts at a lower salary. Will Andre Korff be able to overcome his Ullrich connection and be allowed to stay? Will Giuseppe Guerini be able to stop, as he allegedly wanted to last year, or will he have no choice in the matter because he won't be offered a new contract? Sergei Ivanov and Daniele Nardello have been virtually invisible much of this year -- will they be invited back? The two Netherlanders, Bram Schmitz and Bas Gilling have also not been seen much this year, but have allegedly been re-upped for next year.
The team is being remarkably close-mouthed about what is happening on the signings front. Servais Knaven has announced that he has signed with the team, and Team Wiesenhof-AKUD confirmed sadly that young sprinting ace Gerald Ciolek will wear magenta next year, but T-Mobile itself has never commented on the two. The latest rumors have Jacob Piil, Thor Hushovd and Bernhard Eisel on the verge of signing -- is the team trying to remake itself from a Grand Tour contender to a Classics team? And perhaps it is trying to make a swap with Astana. T-Mobile has allegedly extended offers to Alberto Contador and Luis Leon Sanchez.
The changes extend from new riders to new management to new directeurs sportifs. Former rider Rolf Aldag is returning to the team as directeur sportif. Tristan Hoffman has already announced that he is leaving CSC to become a directeurs sportif at T-Mobile, and the latest news has Alan Peiper coming over from Davitamon. Rudy Pevenage was fired over the summer, but there is no word yet as to which of the other four current directeurs sportifs may leave the fold.
The biggest change, of course, will be the end of the relationship with Olaf Ludwig and the take-over by Bob Stapleton. Ludwig took over the team only on January 1, 2005, but seems to have had little chance to prove himself. Klöden has specifically criticized the team management for race tactics, saying they caused him to lose the Tour. And perhaps Ludwig didn't always respond as vigorously to the doping problems as the sponsor would have wished. As late as the end of July he still seemed to be making overtures to Ullrich and Sevilla, not dismissing the possibility of their return to the team.
In Europe, Stapleton is a bit of a mystery man. It is all but impossible to find background information on him -- T-Mobile says bluntly that they have no such information. He is a 48-year-old Californian, who made his fortune with a telecommunication company, Voicestream Wireless, which later turned into T-Mobile USA. A passionate sportsman, he took over management of the T-Mobile women's team this year.
The Stapleton era begins November 1, and the team has already scheduled a press conference for the end of September, to explain its new beginning and introduce its new management and team -- hopefully with a full squad of squeaky-clean, non-controversial riders.