News feature, July 29, 2006
Six years, 11 doping scandals: The Phonak legacy
By Tim Maloney, European Editor
The cycling team with the most doping scandals; is this how Phonak will be remembered?
Photo ©: AFP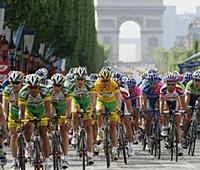 Although the definitive results of American Floyd Landis' "B" sample from Stage 17 of the 2006 Tour de France are not yet available, and may not be communicated for a few weeks, it's now clear that Phonak can claim the dubious prize as the cycling team with the greatest frequency of doping scandals in the sport.
The team fired Austrians Jochen Summer in early 2001 and Mathias Buxhofer in 2002 after they tested positive for banned substances, but the first big scandal broke for the Swiss squad just before the 2004 Olympics in Athens, when 1998 world champ Oscar Camenzind was found positive for EPO from a surprise, out of competition test conducted by the UCI. The former postman subsequently retired.
Next up in the scandal sweepstakes for Phonak were American Tyler Hamilton and Spanish rider Santi Perez. After winning a time trial in the 2004 Vuelta a España, the newly crowned Olympic TT champ was controlled positive for blood doping in Athens. Hamilton's Phonak team-mate Santi Perez, who finished second in the '04 Vuelta, was also controlled positive for blood doping when he was checked at home with a surprise test. Both riders were given two year suspensions.
Even though the Swiss squad cleaned house by firing key management in late 2004, last year produced more Phonak doping scandals under new management. First, Slovenian rider Tomas Nose was caught with illicit doping products in his suitcase at the Tour of Georgia, and was fired by Phonak in April. Just before last year's Dauphiné Libéré in June, Spanish rider Santi Gonzalez was found to have high haematocrit in a team check and was fired by Phonak. In August, Fabrizio Guidi tested positive for EPO, but his B sample returned a negative result, so he was cleared, and is still racing with the team.
As 2006 opened, another Phonak rider, Sascha Urweider, was positive for testosterone in March for Phonak's sixth doping issue in less than two years. In June, the news about Spain's "Operación Puerto" broke, heavily implicating Giro d'Italia runner-up Jose Enrique Gutierrez of Spain, nicknamed "El Bufalo", and Colombian Santiago Botero. Phonak quickly suspended both riders, who were slated to be key support riders for Landis at the Tour; Botero has subsequently retired from cycling.
Phonak Scandal Number Nine is the biggest and baddest of them all, as American Floyd Landis has now tested positive for "abnormal" levels of testosterone at the Tour and has been suspended by his team. Landis has said he will now consult Spanish doctor Luis Hernandez, to try to prove to cycling authorities that his elevated testosterone levels are naturally higher than normal. Landis' former teammate Santiago Botero managed to prove he had high testosterone levels in 1999, while Botero was a member of the Kelme team and his team doctor was Dr. Eufemiano Fuentes, the Spanish gynaecologist at the heart of the Operación Puerto investigation.
What is the future of Phonak?
Phonak's President Andy Rihs has already announced that the Swiss hearing aid firm is pulling out as title sponsor. However, this June, San Francisco based Barclay Global Investors, a major financial services firm with over US$ 1.6 trillion under management, announced their iShares Investors unit had signed a three-year deal to take over the Phonak squad's sponsorship from 2007 onwards, estimated at $10 million/year.
USA Cycling President Jim Ochowicz, who works for Thomas Weisel's securities firm as an investment consultant, is also a paid consultant to ARcycling AG, the owner of the Phonak team, and may take over the management of the Swiss squad next year, but those reports remain unconfirmed. But can iShares still sponsor this team with Landis out of the picture?
In a recent interview with Matt Smith of the SF Weekly, iShares CEO Lee Kranefuss seemed to think Phonak was handling the situation with team riders involved with Operación Puerto well, but probably never imagined that the Landis situation would explode around the globe. Talking about the impending team sponsorship earlier this month, Kranefuss said: "We don't want to be affiliated with someone who, in any way... casts a negative shadow that people might associate with [iShares]."
With the huge news of the Landis scandal breaking worldwide, it's hard to believe that the huge Bay Area financial services firm would want to be involved 'in any way' with a team that has the track record of Phonak. Major Swiss publication Blick is already reporting that iShares will pull out, and the team's current management company ARcycling AG will either be sold or dissolved, leaving Switzerland without a ProTour team. If this is the case, the irony will surely not be lost on world cycling's governing body, the UCI, which has its home base in Switzerland.