Takes from the peloton, February 19, 2006
Italian coaching great Martini turns 85
By Tim Maloney, European Editor
Alfredo Martini, left, with his successor Franco Ballerini at the 2005 world championships
Photo ©: Sirotti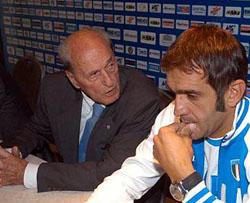 Born 85 years ago today in Firenze, Italy, Alfredo Martini was the Commissario Tecnico for the Italian National road team from 1975 to 1997. In twenty-two years, Martini guided the squadra azzuro to 6 world titles by riders like Francesco Moser, Giuseppe Sarroni, Moreno Argentin, Maurizio Fondriest and Gianni Bugno, who took two World Championships for Martini. And then there were "i piazziamenti" (placings); seven silver medals and seven bronze, 30 percent of all the medals awarded during the two decades and change that Martini ran the Italian Worlds squad.
Known as a smart, tenacious "passista-scalatore", Martini was a professional rider from 1941 to 1957. His best year was 1950, when he won Stage 2 of the Giro d'Italia, and wore the Maglia Rosa for one day later in the race, eventually finishing 3rd behind Koblet and Bartali, but ahead of Swiss rider Ferdi Kubler. Martini also won the Giro del Piemonte and was second in the Italian championship that year, where he lost to speedy Tony Bevilaqua in a close sprint. Later on in 1950, Martini was again second to French sprinter DuPont in Paris-Tours. Of the 14 Giros d'Italia that he rode, Martini was in the top 10 six times. Above all, Martini was a precious "gregario" for Fausto Coppi on the Bianchi squad, for whom he rode for in two Tour de France wins ('49 & '52) and Fiorenzo Magni. Besides his talents as a rider, Martini was valued for his ability to read a race, something that served him well as direttore sportivo for the Ferretti and Sammontana teams between 1969-1974.
Martini is never far from his famous notebooks, where he has recorded in his tiny cursive hand the happenings of innumerable bike races over the past decades. Clever and intellegent, Martini's first rainbow jersey as C.T. came in 1977, two years after taking over the Italian team, when 26 year old Francesco Moser beat German Didi Thurau in a driving rainstorm in San Cristobal, Venezuela, and another Italian, Franco Bitossi took the bronze. "Martini is a champion for his patience and his meticulousness. He has everything written in his notebooks. The history of cycling is inside them." After Moser was Worlds runner-up in 1978, as were Baronchelli in 1980 behind Hinault in Sallanches and Saronni in '81 in Prague, 1982 saw Martini's azzuri take another World Title with a 25 year old Beppe Sarroni in Goodwood, England.
Today the general manager of the Lampre-Fondital squad, Sarroni appreciates Martini because "he was the only one who could create a truce, even if only a short one, between me and Moser. For better or worse, but you couldn't say no to Martini." Two years later, Claudio Corti, today manager of the Barloworld team took the silver medal on a suffocating day in Barcelona, Spain behind a flying Claudy Criqueleon, while Moreno Argentin was just beaten by Greg Lemond in the sprint for second behind '85 worlds winner Zoetemelk in Montello, Italy.
The next year in Lemond's backyard on a cold, overcast day in Colorado Springs, it was Argentin who won Martini's third world championship title in nine years. The talented rider from San Dona di Piave took the win ahead of Mottet, while Saronni took the sprint from the chase group to once again put two Italians on the podium. Argentin gave props to Martini, explaining that "As C.T., I liked Martini because he is someone who communicates, who jokes, who knows how to enjoy life. Martini is someone you can trust. He has great charisma and a special intuition. Martini is kind of like a Inspector Maigret of cycling."
Maurizio Fondriest won a controversial World Championship in Renaix, Belgium when Criqueleon and Bauer tangled and hit the deck in the final sprint just ahead of him. The classy rider from Cles Val di Non had a special feeling with Martini and explained one reason why. "I remember when (Italy) had a lousy World Championship in 1990 in Japan, when Bugno took the sprint for the bronze. Martini took full responsibility for the riders' bad performance. It's something I'll never forget."
Perhaps Martini was the manager who managed to get the most out of the incredibly talented rider that was Gianni Bugno. Martini saw his rider Bugno win back to back World Championships in 1991 and 1992 in Germany and Spain. Introverted, often enigmatic, Bugno was a notable underachiever who seemed more interested in semi-trucks or helicopters than bike racing. But Martini managed to keep Bugno focused while on the squadra azzuro. Bugno paid homage to Martini on his 85th birthday saying, "Martini is like his calligraphy; precise, clean and old-school. And it's with this precision and calm approach that he communicated with his riders."
Today, Martini has turned the reigns of Commissario Tecnico for the Italian National road team to another Tuscan, Franco Ballerini but is still a special advisor to the squadra azzura. Martini lives a quiet life just outside of Firenze with his wife Elda but one can still spot the eminenza grigio of Italian cycling at some races, always with his notebook filled with meticulous notes.