Tales from the peloton, February 14, 2006
Davitamon targets the ProTour
McEwen looks forward to "great duels" with Boonen and Petacchi
The Davitamon-Lotto team was formally launched yesterday and set out an ambitious programme for 2006, targeting the ProTour, the Grand Tours and major Classics.
Thumbs up for 2006 from Robbie McEwen and Mario Aerts
Photo ©: AFP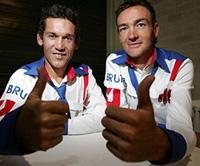 With the six-day racing as a backdrop, Davitamon-Lotto manager Marc Sergeant made it clear that he has high expectations of his riders for 2006, when he formally introduced this year's line-up in Hasselt, Belgium, on Monday.
"If we do the same as last year we're doing fine," says Sergeant. "To win Gent-Wevelgem, a ProTour race, was fantastic but to win Tour of Flanders or Paris-Roubaix is something else still; if we can add one of those great ProTour races to our list that would be beautiful and top things off with the Green Jersey in the Tour, that would be the max we can ask for," he says, before adding, "I have to admit that when Nico Mattan won Gent-Wevelgem last season the pressure came off; we started well in February but fell back in March. He saved us from things which probably wouldn't have done the team any good - the pressure would have become too much for many. It was an important win for us, but, I would like to take a step up this year."
Sergeant will be looking to the team's star sprinter to help deliver that step up this year. "Robbie McEwen always scored early in the previous seasons," says Sergeant. "He was told to take it easier at the start of [this] year. That's why we didn't let him race in Qatar because of the time difference, etc. Robbie says himself he's not top just yet; but he's got a couple of weeks to work on that and if the circumstances are ok he will be able to win Omloop Het Volk for sure."
Robbie McEwen
Photo ©: AFP

McEwen is highly motivated and is not afraid to show his claws to his competitors. He's very clear about his goals for the year, and team management is not the only party wanting him to hit out big time. "I was the one to say it first," the Australian sprinter says, "that I want to win Omloop Het Volk - I'm riding pretty good at the moment but I'll have to work hard though. I'll stay at home here in Belgium from now till the Omloop Het Volk, because my wife is due to give birth this week; I'm not going to have any races until then, but I'll try my best under these circumstances and I feel that it's possible," he says.
"Omloop Het Volk is my first goal; and then I'll continue until Harelbeke and Waregem. In between those races I want to shine. The form will improve heaps still. Portugal was a warm-up; it was the aim to find race speed again there - but I won the first stage and the GC. It's looking good for the coming weeks," he adds.
Het Volk is far from the only race on McEwen's early season hitlist, but he does see it as 'special', saying, "It gets a lot of publicity, it's the opening race of the Belgian season. Everyone is looking forward to it and I myself think it's a great race and I want to win it and have it on my palmares." McEwen outlined his major goals for the early part of 2006. "After Omloop Het Volk I'll continue, I want to be good then - including Tirreno-Adriatico, Milan-San Remo, Waregem and Harelbeke, and I want to win Milan-San Remo, full stop," he says.
Beyond that, it's inevitable McEwen would look to July and an attempt to repeat his 2004 win in the Tour de France green jersey contest. His disqualification in stage 3 of the 2005 Tour put him out of the green jersey, but he has put the disappointment of that decision behind him, saying, "I've started the season with a clear head - it doesn't matter what happened in 2005. I'll start the Tour with the same aim as last year; win stages, and if I succeed doing that I'll go for the green jersey. If I don't crash or get disqualified I've got a chance."
Cadel Evans
Photo ©: AFP

"Of course Tom Boonen is a big rival of mine in the sprints; but this season my tactics stay the same as last year. Every day I sprint against him I'll have to change my approach," McEwen says, and is quick to point out that, "I'm not racing against him in the Classics, those are not my races, that's Peter Van Petegem's puzzle to solve...my days will come."
McEwen knows that Boonen isn't his only rival, but he knows the task that's ahead of him. "Boonen and Petacchi are hard to beat, but I've done it before," he says. "There's no-one of us better than the other one really; of course Boonen and Petacchi are two of the strongest sprinters and it's normal that it's hard to beat them, but as I've already said I have beaten them both before and I will again. We'll get some great duels between us - I'll beat Boonen, he will beat me, Petacchi will beat us both and we'll beat him too!" says McEwen.
"The team's worked hard on our "train" this winter; in Portugal we got it rolling already and the coming weeks we'll work on it even more with Vogels and Rodriguez. But as I said, I change my tactics all the time; whatever I need to do I do."
Peter Van Petegem speaks
Photo ©: Bert Geerts

Marc Sergeant says that he'll continue to back his great one-day classics specialist, Peter Van Petegem. "Van Petegem remains our main one-day Classics man. I believe in him. What he means to our team is invaluable and we've always kept our faith in him. I know what kind of hard work he puts in and it would be super fantastic if he could win another Paris-Roubaix or Tour of Flanders while he's with us." And Van Petegem knows what he wants; the Classics are his main goal for the spring, but he has his sights set on farther horizons than those of the northern Classics. "I'd love to win the World Championships once in my career. So this season that is definitely the goal for September," says Van Petegem, carefully picking his words.
Sergeant has a few more riders aiming for big results. "I think it's realistic to say to Cadel Evans that his set goals are to win Liege-Bastogne-Liege and finish top five in the Tour. I told him last year that top ten was possible; this year he can aim higher; if he can finish eighth in the circumstances he had to consider just before the Tour, then top five is realistic. If we give him the possibility to prepare properly and give him our full trust he should be able to achieve that," he says.
Wim van Huffel is another rider who is expected to move up a step this year and Sergeant knows the expectations on Van Huffel's shoulders might prove heavy. "For Wim Van Huffel to fulfil the expectations we have of him won't be easy. The things he showed last year open great perspectives. To win a mountain stage in the Tour should be possible," says Sergeant. Van Huffel is well aware of the attention he will get this year. "Everyone expects from me that I'll be in the picture more this year, I do myself," he says. "I can feel that I've gotten stronger; in training at home; on the climbs and during the team training camps. I haven't been sick at all this winter, and that's important. I felt good this week racing also; not top, but I have a good feeling already."
Wim Van Huffel, Peter Van Petegem and Tom Steels
Photo ©: AFP

As a climber, Van Huffel has been forced to spend time away from home this winter in search of appropriate training venues. "In the Flemish Ardennes, where I live, there's no cols," he says. "I've trained in Spain in the mountains a few times over the winter and I need to make the investment of going down there to work. I will ride the Fleche Wallonne in which I want to show myself; shortly after we have the Giro. The Fleche Wallonne will be the first big test to see how good I am."
But the target is the race where van Huffel was an unexpected factor in the mountains in 2005 - the Giro d'Italia. "I plan on scouting different Giro climbs; there's quite a few I want to ride beforehand, he says. "I can make the step up to top 10 GC in the Giro. Last year I didn't start the Giro with any ambition for general classification; I lost a few minutes in the first week by not keeping an eye on classement possibilities; top ten would have been possible if I had aimed for GC from the first day, which I didn't. I'm not going in any of those long killing breakaways anymore; they won't let me ride any more, that's for sure."
And eventually, van Huffel has his eyes on the biggest race of them all. "I want to ride the Tour de France; I want to try and see how it all runs. If it doesn't work out for me to ride both Giro and Tour; then we'll have to make choices for the next seasons. They say it's different racing in the Tour, but I'll find that out for myself this year," he says. "If I can win a stage in the Giro that would be fantastic; but my aim will be going for top ten in GC. I've gained confidence; it's important for me to know that I am capable of riding those long climbs, I know I don't have to be afraid; I just have to pick the right moment and not doubt anymore."
Photography
For a thumbnail gallery of these images, click here
Images by AFP Photo
Images by DCP/Bert Geerts