News feature, August 12, 2006
Sarah Hammer's Celebration of Excellence
American World Track Champion Sarah Hammer unveiled her new team at the ADT Velodrome in Carson, California on Saturday in front of friends, supporters, sponsors and racers. The new team is called American Women's Track Cycling Fund (AWTCF). Mitch Friedman was on hand with this report and photos.
Sarah Hammer with the next generation of women's track cyclists
Photo ©: Mitch Friedman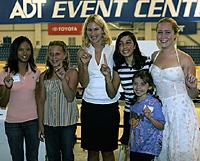 The AWTCF is set up to support the future of American women's track cycling with the Sarah Hammer developmental program and the OUCH Pro Cycling Team. The OUCH sports medical clinic supports women's track cycling and Sarah Hammer.
The AWTCF will work in conjunction with the OUCH Sports Medical Clinic to introduce and oversee the first women's only UCI professional track team. This pioneering effort will not only fund Sarah's racing and training budget as she undertakes her bid for a gold medal in Beijing, but will also aid in critical and costly rider refinements that are mandatory for Olympic gold medals. The objectives for the team are nothing short of Olympic gold medals and world records.
The Sarah Hammer Development Program is designed to provide support for the future of American women's track racing, with the goal of helping, coaching, nurturing and motivating as many young American women cyclists as it can.
Exhibition sprinting
Photo ©: Mitch Friedman

Also on hand at the ADT Event Center Velodrome to help make this a pure celebration of excellence were some of the top men's racers from North America, who took part in exhibition races in sprint and Keirin racing. Adam Duvendeck and Spencer Hartfeld of the USA were joined by Canadians Travis Smith and Matt Barley and Malaysia's own Josiah Ng.
The event saw some of the best junior women racers from the area show what they want and could do on the velodrome. Local fast girl Coryn Rivera, Tara McCormick, Amondo Duarte and Madison Scott, as well as a recovering from injury Shelby Allen took part in the racing.
More information: www.awtcf.org
Photography
For a thumbnail gallery of these images, click here
Images by Mitch Friedman/www.mitchophoto.com
Images by Mitch Clinton/www.clintonphoto.com