News feature, April 21, 2006
"A question of mentality"
In his final press conference before tackling the first of two major season objectives that he hopes will see him become only the eleventh rider in the history of sport to achieve the Giro-Tour double, Team CSC invited members of the press to talk cycling with their man of the moment, Ivan Basso. Cyclingnews' Anthony Tan found the 2006 Giro d'Italia favourite and his master tactician their usual quietly confident selves.
Ivan Basso is not afraid to try and win two Grand Tours in one season,
Photo ©: Anthony Tan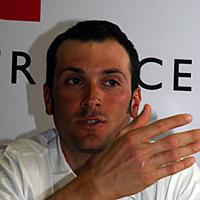 Sitting down before a packed press room at the Eurotel in Lanaken, Belgium, a few kilometres down the road from where the Amstel Gold Race began in Maastricht last Sunday, a very slim-looking Ivan Basso took his position in the middle of the table, flanked by two people. To his right, Team CSC's press officer Brian Nygaard, who would help him with what he wanted to say in English, a language he's improved on considerably since joining the team, and on his left, the man who he says is largely responsible for getting him where he is today, Bjarne Riis.
"I don't know a rider who doesn't like this," said Basso half-jokingly, which brought plenty of laughter from the audience.
"Two years ago, I didn't have this [many] journalists in front of me - it wasn't good for me! I explained before: it's a pleasure for me; when I go training and people go past in the car and stop and take a photo... when I was in San Francisco, in one training session, 20 people came up to me on the bike. It's nice for a rider; I think if one rider doesn't like this, he's not honest."
Two years ago, however, the then 26 year-old was already set for stardom after his mountain victory atop La Mongie at the 2004 Tour de France and eventual third place finish. Even four years back, he showed plenty of promise as the best young rider at the 2002 Tour, finishing 11th overall. The difference now is that Basso is an overwhelming favourite to win both the Giro d'Italia and Tour de France, something which hasn't been done since Marco Pantani achieved the feat eight years ago.
Whether it's the fact that these 30 riders who wear the red, white and black colours of Team CSC have enjoyed their most successful Spring campaign ever, with Fabian Cancellara dominant in Paris-Roubaix and Fränk Schleck equally impressive in Amstel; or Basso's special winter training, done to improve his ability to respond to and attack up hills; or that he is simply the best prepared contender for both Grand Tours and believes more than anyone that now's his time, one saw and heard a tranquillo Basso today.
"Honestly, I don't think I'm 100 percent now; each year, I feel I'm not at the top, that it's possible to go better. "
- Despite the work done over the winter and the improvements made to his time trialling, descending skills and climbing, Ivan Basso says he can still be even better
"I'm really happy for myself, Fabian and Fränk, but the power of this team is that the motivation and morale is always high. When we win, when we go bad... Last year before the Giro when I hadn't won [a race], I didn't go in with bad morale, I had the same morale like I have now. This year, I win three races, so it's perfect, it's fantastic - but it doesn't change my morale. The team is ready when we win and when we don't win.
"I win a lot of races thanks to the strong team around me; I don't win alone. Of course, when I go to the races and Bjarne puts pressure on me, saying, 'You need to try and win', I often have the legs for victory but sometimes I don't take risks; I'm happy to stay in the first group and not do the sprint. I'm talking two, three, four years ago - but now I try. If I don't win, it's okay, no problem - but I try."
Eight seasons of total dedication as a professional cyclist have brought this rider from Gallarate in the province of Varese in Lombardy to where he stands today. But it goes deeper than that: his parents were mad cycling tifosi and one of his next door neighbours happened to be a guy by the name of Claudio Chiappucci; it was inevitable he would end up riding a bike for a living.
Before he was ten years old, Basso rode up the Passo di Stelvio, a 25 kilometre climb with an average gradient over seven percent. His parents waited for him at the summit for most of the day, but he got there. In his early junior years, he began keeping a cycling diary, scribbling down pages and pages' worth of notes on his training with methodical accuracy - not unlike his log he keeps for Bjarne Riis today.
At 15 years of age, his victory in the Coppa d'Oro, the most prestigious race in the student category in Italy and previously won by riders such as Giuseppe Saronni and Gianni Bugno, was certainly the first significant sign of greater things to come. Five years later at the junior world championships in San Marino, Basso was in striking distance of that moment, but a puncture with 10 kilometres to go cost him a rainbow jersey and he had to settle for second.
Basso has fond memories of this region of Limburg, where he's currently staying until the start of this year's Giro d'Italia in Seraing. For in 1998, he bore the fruit of the seeds he planted since first throwing a leg over a bike as a five year-old, taking victory in Valkenburg at the under 23 world championships ahead of two of his countrymen, Rinaldo Nocentini and Danilo di Luca.
Bjarne Riis is largely considered the mastermind
Photo ©: Anthony Tan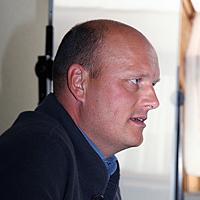 From there, it's been a steady, upward progression. Nothing out of the ordinary, other than an extraordinary amount of time on the bike and in the past three years especially, thinking about and trying new ways to improve in order to achieve his ultimate goal. Said Basso: "When I arrived on this team, I was another rider; when Bjarne bought me, he said: 'Basso is just another rider'.
"Day after day, month after month, year after year, I work until I reach 100 percent [of my capabilities]. Honestly, I don't think I'm 100 percent now; each year, I feel I'm not at the top, that it's possible to go better. Everybody sees how I move in the group during the race; now I attack more, I do a good time trial... I don't believe in a big change at once - I believe in a lot of work, and little by little."
However, for someone who philosophises in taking things one step at a time, it's slightly unusual to see Basso choosing to target victories in two Grand Tours in one season. At first, it appeared Riis was against the idea, but now the opposite seems true.
"I don't agree with you, because a lot more riders - not only my team - are able to do more big tours in one year," Riis said to Cyclingnews. "It's just a question of mentality: putting your head [in the right place], wanting to do it and making the right plan. In my team, we have more riders doing the Giro and the Tour; of course, we have one rider to do the classement, and that's Ivan, but we have more riders doing both.
"We have a rider like Carlos Sastre who's doing a very important role for Ivan in the Tour; we've seen before he's able to arrive in the first ten in the Tour, then have a big focus and go well in the Vuelta [a Espaņa]. We have Jens Voigt, we have Julich doing the Giro and Tour, so... "
Certainly, there are plenty of riders who can ride more than one in a season and there's even a few who can do all three - but in this age of modern racing that is so often about specialisation, coupled with the immense pressure from sponsors to perform at still the only race everyone knows, how many can win two Grand Tours in one year?
"I always do the whole season, but for a one-day rider, it's different; when you do the Giro and the Tour, you pay a little bit at the end of the season," admitted Basso. "When you do the Giro and the Tour and your focus is to finish on the podium... Two months before the Giro, you need to work a lot to come in good condition; in between you need to work a lot for the Tour - and then you have the Tour - so you need to five months where your form is high, and it's possible you pay at the end of the season.
"I have never won one Grand Tour, so my first objective is to won one first. I need to do the best possible [performance] in the Giro, and the day after, I have another big victory with the birth of my baby. After that, I start thinking about the Tour de France; I don't think about both."
Armed with 30 hungry riders, how Riis will choose the best team to support these goals will be interesting. For the Giro, he says eleven riders have been short-listed and knows he must choose nine by the end of next week. "I have a couple of other names I'm unsure on, but it's not going to be decided before the Tour of Romandie," Riis said. "So at the last moment, the last rider or two will be in the team. Of course, Ivan, Jens Voigt, Bobby Julich, [Giovanni] Lombardi, [Volodymir] Gustov, Nicki Sørensen... Christian Vandevelde was sure but crashed some weeks ago and broke a collarbone again, so I need to see him next week. Peron, the same, he's been sick, but we'll wait and see.
"As I said," continued Riis, "we want to have a team that's presenting the team and able to win races from January to October - that means good planning, good strategy and carefully picking out your riders. You know the rider, you know what they can do during the whole season, and I think that's what it's all about."