News feature, August 25, 2005
"No evidence of EPO" during Vaughters time at Postal
Jonathan Vaughters was a team-mate of Lance Armstrong on the US Postal team during the 1999 Tour de France. In the light of L'Equipe's allegations that Armstrong used EPO during that Tour, Vaughters tells Gerard Knapp what he did - and didn't - see.
Jon Vaughters & Lance Armstrong just before the 1999 Tour
Photo ©: AFP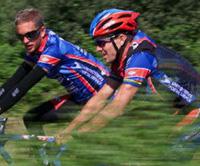 It was two weeks before the 1999 Tour de France, and a young American rider asked his director sportif if he had anything to worry about.
The US Postal Service rider - and team-mate of Lance Armstrong - was nervous. Jonathan Vaughters said he had watched the whole Festina debacle of the previous Tour de France, and he didn't want to spend a week in a French gaol if the police carried out sweeping raids on the peloton and arrested riders based on circumstantial evidence.
"I was this skinny guy," he said this week. "I didn't want to end up being the girlfriend of some gendarme," he told Cyclingnews.
"I was thinking back (to that time) and I remember I could feel that we (USPS) were going to be real contenders for the Tour. So I called Johan (Bruyneel) and asked him if there was anything I should be worried about. He assured me and said, 'we're not going to be doing any of that (doping)'. Basically, he said there was none of that (in the team). There would be nothing to worry about."
Still, it was Vaughters himself who received a fright at the pre-Tour medical tests, as his hematocrit posted a 51 percent reading, above the UCI's limit of 50 percent, but still under his special dispensation of 52 percent. (Frequent testing had shown that Vaughters - like many good climbers - have naturally high hematocrit levels and they are granted dispensation from doctors.)
"I'd never tested (at a race) above 50 percent, except before the start of the '99 Tour," he said. "I told the team doctor 'don't worry, I've got a certificate, I've got a hall-pass for this'," he recalled. "But the doctor said it wasn't me they were worried about, it was that the whole team was very close (to the 50 percent limit)."
Jon Vaughters in his post-racing role as director of the TIAA-CREF team
Photo ©: Beth Seliga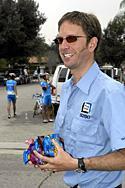 But that year, it is now widely accepted even by the UCI, according to Vaughters, that its testing apparatus was calibrated somewhat high. He said this is not that uncommon, given that the machines are carried from race-to-race, through baggage handling and screening, and while efforts are made to ensure they are accurately calibrated, "there is some slop room" for variations.
But as far as Vaughters could see in the USPS team, "there was no first-hand evidence of anything (doping-related). I didn't see any evidence of EPO or anything like that. But that said, I wasn't there for the second and third weeks of the Tour," he said. (US Postal lost Jonathan Vaughters after he was caught up in the second fall over the Gois on stage 2. He was part of Armstrong's plan for the mountains.)
"I've kept in touch with (former USPS team-mates) Kevin (Livingston) and Frankie (Andreu) and it's never really come up," he said of any post-Tour doping revelations.
But later Vaughters admits, "Lance is a very private guy. You'd be surprised how little contact we had with him in the team."
Intended malice
Ironically, Armstrong's privacy is not reflected in the recent allegations from the French newspaper, that Vaughters described as "bizarre" and "weird".
"It's bizarre to me that what was supposedly an experiment for research has become this story," he said of L'Equipe's headline-grabbing story this week that urine samples from the 1999 Tour de France have shown evidence of EPO use, and the only rider claimed to be the donor of those samples is seven-time Tour winner Lance Armstrong.
"He's not going to get suspended, they're not going to take his Tour wins away, or they're not going to test the A samples. It's just weird."
But there is the identity of the riders whose urine samples are also said to show EPO. "I'm not worried," he said, "I was never urine-tested in that Tour," he said. But Vaughters said that if the newspaper can claim they have the information to identify Armstrong, then what of other riders? "It's not really fair," he said, "and it seems like there's a bit of malice" in the selective reporting. "These other guys are getting off scot-free."
"But it's pretty significant. It makes the race look bad, makes the sport look bad. It does put a cloud over cycling," he said of the publicity.
And what is the impact - good or bad - on younger riders? After retiring from professional cycling, Vaughters put his effort into a development team in the USA, called TIAA-CREF (for the record, this web site is a supporting sponsor of this team). One of his promising young riders is Timmy Duggan. "And I was thinking, 'what does this do for him?' It does nothing for him; it doesn't help him one bit."
Still, Vaughters noticed at this year's Route de Sud, a French stage race where his young team competed, there was a more consistent level among the field. "It appeared to be fair competition. It looked very real to me," he said of the race, as he knows what his riders are capable of in terms of their power output and physiology.
Team TIAA-CREF
Photo ©: Beth Seliga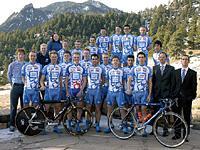 But if he entered his development squad in the 1995 edition of the race, "they would have been lucky to last one day".
One observation he made was how "they used to say 'doping didn't exist' at that time; doping wasn't a story back in '95 and '96, but that's when it was absolutely rampant".
Vaughters said that "these oxygen vector drugs" like EPO and blood doping offer such a huge advantage that their use can also be seen on the road. He said agents like human growth hormone and testosterone offer comparatively "minute" improvements. "The users can have their balls shrivel up and their foreheads grow larger and whatever and good luck to them, but it's the oxygen vector drugs that are really powerful."
He said there is more validity to the correlation that French teams are cleaner and therefore struggle in the big Tours. "That's why I don't like it when people make fun of those teams if they don't perform that well." (Vaughters left the USPS team and joined French team Credit Agricole, and one highlight for the team was when it won the team time trial of the 2001 Tour de France).
"But this year was probably the cleanest Tour since the early '90s. It (doping) has decreased enormously since the '95-'96 period." Now, Vaughters estimated about "80-85 percent" of the field is clean.
Cyclingnews coverage of the L'Equipe allegations
June 27, 2006 - Carmichael defends Armstrong, Armstrong answers L'Equipe & LeMond
June 26, 2006 - LeMond: "Armstrong threatened my life"
June 19, 2006 - Armstrong calls for Pound's exit
June 18, 2006 - Lance Armstrong's open letter against Dick Pound
June 4, 2006 - UCI hits back at WADA
June 3, 2006 - WADA slams the Vrijman report
June 2, 2006 - L'Equipe stands by its story, UCI supports Vrijman's findings
June 1, 2006 - UCI, WADA and Armstrong react to Vrijman's report
May 31, 2006 - UCI lawyer asks for Armstrong's name to be cleared
May 14, 2006 - Two more weeks for Armstrong investigation
Click here for full coverage of the L'Equipe allegations.