Team Profile, January 25, 2005
Team Liquigas-Bianchi presentation
A mean green ProTour machine ready to rock
By Tim Maloney, European Editor in Milano
Liquigas' three captains
Photo ©: Liquigas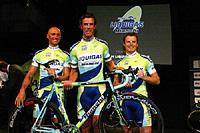 In a fun, show-bizzy team presentation with top riders riding their bikes on stage through the smoke, the big reveal for the mean green ProTour machine of Team Liquigas-Bianchi happened Milano's East End Studios Tuesday evening, with the return of Mario Cipollini as the highlight. A fit looking Cipo shared the stage with the other key men at Liquigas, Giro hopeful Stefano Garzelli and Danilo Di Luca, who is looking for a big comeback year in 2005. The show was hosted by Italian TV sports personality and former track star Giacomo Crosa, who asked Liquigas boss Paolo del Lago up front why the Italian energy giant has returned to cycling.
"We have been sponsor of the Italian national team jersey for a few years and have a national mountain bike series (Liquigas Cup) but when we heard about the ProTour, we thought that it was a good idea. This is something new in cycling, a situation where all the ProTour teams have the same objective. It's an ideal situation for us."
Del Lago brought back Roberto Amadio, who had run the previous incarnation of the Liquigas squad. Amadio hired two excellent team directors from Fassa Bortolo, Stefano Zanatta and Roberto Damiani, who set about putting together a highly competitive squad for 2005, with a mix of experienced veterans and some good neo-pros. "Our focus is to do well in the ProTour and have the best results possible", explained Amadio. "We've got the excellent resources of Liquigas behind us to do it."
Mario Cipollini
Photo ©: CN

Although Mario Cipollini thought his career was probably over when he was at the World Championships last year in Verona, a chance encounter with del Lago and Amadio changed everything. Both men understood that Cipo could launch their mean green Liquigas machine with a big bang and Cipo still wanted to race, so the deal was done and Mega-Mario is ready to go again. Although he'll be 38 in March, Cipollini showed up today at the Liquigas presentation looking tan and trim from two weeks of hard training in South Africa. Sources close to Cipo told Cyclingnews that the 2002 World Champion is in fantastic form and wants to open the season with a win as soon as possible. "It seems like I'm in good shape, but I still have to race," explained the always eloquent Cipo.
"At this point, I know I've done my best to get ready for the season. Yes, the team has put together a strong train for me, but at this point the only real question mark is me." When asked if he was the oldest rider in the ProTour, a bemused Cipollini said, "I don't know; I'll be 38 in March, so perhaps...that will give me a double satisfaction if I win since I will be the oldest ProTour rider."
Cipo will have a powerful leadout train in 2005, with Loda, Zanotti, Milesi and Bäckstedt as his opening acts, a fact that pleased Cipo muchly. "This is an excellent group and I've never had such a big man (as Bäckstedt) to race behind." The Liquigas-Bianchi train will be in action for the first time ever this Sunday in Qatar, as Mario and his mean green teammates leave for the Gulf on Wednesday morning to prepare for their first race of the season. But Mario isn't just looking short term. He explained that his season objectives are clear. "Of course, Milano-Sanremo is important for me; that's my first big objective of the season. Then I will focus on Gent-Wevelgem and the Giro d'Italia. As usual, the main adversaries will be Petacchi, McEwen, Freire, Zabel...there are always plenty."
Mario Cipollini
Photo ©: Liquigas

Fresh from winter training in Valencia, Spain, Liquigas-Bianchi's stage race leader Stefano Garzelli wants only one race in 2005: the Giro d'Italia, the race he won five years ago. The always composed Garzelli explained that, "I've been training well since December 1 and this season, I'm hoping to not make the same small mistakes as last year in my preparation. I'm doing more base miles than last year. This is an exceptional team and I have a good feeling so far; even from our first training camp in December, we had a good group. So I'm looking to be at 100 percent when the Giro starts."
Asked if being considered an outsider to the highly touted Cunego-Basso duel in the upcoming Giro, Garzelli smiled and said, "Last year's Giro was supposed to be Simoni-Garzelli duel but in the end, neither of us did as well as we had hoped. Both Cunego and Basso will have plenty of pressure to succeed and I'll be there to do my best and hope to play my cards until the end in Milano." Garzelli starts his season in his Spanish backyard in the Tour of Valencia and when the Giro starts in May, he can count on the support of Cioni, Noè' and Wegelius and will have the powerful presence of Dario Cioni as well.
Danilo Di Luca is coming off several years where he had hoped for better results, but either bad luck or injuries have stopped the explosive 29 year-old Italian rider from fully coming into his own. "I'm happy for the change of scene to this team and I really want 2005 to be a big year, a comeback year for me."
Di Luca and his teammate Cioni and other riders will leave in the next few days for a three week training camp in Toluca, Mexico and he'll make his season race start in Milano-Torino on March 5. "This year, I'm looking forward to the Giro d'Italia," said Di Luca. "I like the stages in the first ten days; they look good for me and if everything goes well, I might even be able to take the Maglia Rosa."
2004 Paris-Roubaix winner Magnus Bäckstedt has one date in mind: April 10, the day of guess which race. The always friendly Maggie B. told Cyclingnews how much he enjoyed his recent experience at the Rotterdam Six-Day. "It was great! It was my first six and I took some time to adjust to the tight 200m track. I'd never done one before and will certainly be back." After speaker Crosa embarrassed Bäckstedt into saluting his teammates in five of his six languages, the cheerful Swede just smiled while his fellow Swede Marcus Ljungqvist tried hard not to crack up on stage.
Italo-Brit Dario Cioni was all smiles as well and told Cyclingnews that he was really happy so far with the vibes at the Liquigas-Bianchi squad. "The Giro d'Italia is a major objective for me this year; I think it will be good to ride together with Stefano Garzelli as allies."
100 percent Brit Charlie Wegelius was also embarrassed by speaker Crosa, who made him ask the team manager a question in Milanese dialect. Wegelius, who has raced in Italy for many years and handled the challenge with aplomb. Charlie echoed Cioni's positive perceptions of the early days at Liquigas-Bianchi, and told Cyclingnews that his main objective was to play a strong support role at the Giro d'Italia this year. Although the mean green machine they call Liquigas-Bianchi has yet to pound a pedal in anger yet in 2005, on paper the 26 man team looks like it could be a powerhouse outfit this season.
Click here to read an interview with Mario Cipollini
Photography
For a thumbnail gallery of these images, click here
Images by Tim Maloney/Cyclingnews.com
Images by Liquigas
Images by Fotoreporter Sirotti