MTB index page for all MTB content
Mohican 100 - NE
Mohican State Park, Ohio, USA, May 31, 2008
Schalk and Shogren triumph in Ohio
By Harlan Price in Ohio
Jeff Schalk and Chris Eatough
Photo ©: Guru Graphix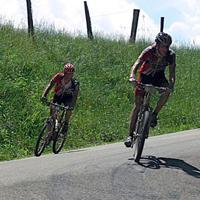 Jeff Schalk made it two in a row when he won the Mohican 100, round two of the National Ultra Endurance (NUE) Series in Ohio. After a tight battle with his Trek / VW team-mate Chris Eatough, Schalk finished first. Eatough was second and Sam Koerber, the brother of elite women's racer Willow Koerber, finished third. In the women's race, Betsy Shogren threw her hat into this year's 100 mile competition and won the race. 24 hour solo ace Rebecca Rusch finished second while Michelle Stoppard ended in third.
Stop number two took the competition to the rolling hills of the interior of Ohio. The town of Loudonville hosted an early morning start with over 300 racers being led out by a police escort toward the city limit sign and the first and only prime of the NUE series. Over the next 14 hours racers took a five county tour through some of the best singletrack, farm roads and rails-to-trails the country has to offer.
Cohutta winner repeats
Racers got off to a faster than usual start
Photo ©: Hollie Mcfadden

Like the Cohutta 100, the Mohican 100 started under cloudy skies from the previous night's rain, highlighted some of the best trails in the state and ended with Jeff Schalk (Trek/VW) winning by a similarly narrow margin of two minutes after seven hours of racing. This time Schalk's biggest protagonist was his team-mate and last years NUE series winner Chris Eatough (Trek/VW).
Moving the race start to the town of Loundonville created an early morning migration from the Nuhope campground and race headquarters. A police escort lead the way out of town directly into a wall of pavement and a city limit sign that was designated as a US$100 prime for first racer to it. Evan Plews of Scott / Capitol Subaru launched an uncontested attack and earned some extra travel cash. The early acceleration encouraged a high paced start to the race, and after a transition to gravel road then dual-track jeep road, the peloton was strung out in a long line of 300 plus racers.
The first split of the day came at about mile two, just before the start of the singletrack, when Schalk, Eatough, Christian Tanguy (American Cycling and Fitness), Sam Koerber (Subaru/ Gary Fisher), and Evan Plews created a small gap over a little climb, and when they dropped into the campground the next group lost sight of them for about thirty seconds. When the chase group came over the hill 10 seconds later, confusion ensued when the riders couldn't figure out which way the course went. After a minute of debate and a regathering of about 25 riders a direction was chosen and the group proceeded. The delay gave an instant and early advantage to the lead group going into the slick 25 miles of trail. Because of the conditions, including wet rocks, slick turns and slicker roots, chasing was limited and by the time the lead group of Schalk, Eatough, Koerber and Tostada came out of the singletrack two hours later, they had a six minute advantage over the next chasers. Evan Plews, who was suffering mechanicals, was on his own with Christian Tanguy trailing not far behind.
Evan Plews wins the $1000 cash prime
Photo ©: Hollie Mcfadden

In the meantime Harlan Price (IFRacing.org), who had been cautious at the start due to an injury earlier in the week, teamed up first with Michael Simonson (Trek/VW) to chase a bit. As Simonson faded, Chris Beck (Gary Fisher/ Joe's Bike Shop), who was dealing with a half-working rear shifter, came into the picture, and they worked together through aid station four.
Back at the front the lead group had been whittled down to Schalk, Eatough and Koerber, who was having a stellar day on the bike. The three worked together all the way through aid station four, where Schalk and Eatough made a quick transition but Koerber lingered a bit longer and lost contact with the two Trek riders. With under 30 miles to go, Schalk knew he had to make a move before the last eight miles where Eatough would have an upper hand in the technical singletrack.
"I was not familiar with the course, and when I saw what looked like the biggest climb of the day I attacked, and probably got about three to four minutes on him (Eatough)," said Schalk. "From that point, anytime there was big climb, I attacked like mad." Schalk suffered in the last few miles for his efforts with severe cramping. When it came to the dam hike-a-bike, he recounted, "I almost couldn't walk up." His efforts paid off and at the finish. He had had held on to a slim two minute lead after seven hours of racing.
"The course was bad for me, since there were no extended climbs, but it was actually an awesome course. [There were] a lot of fun trails; I just wished it hadn't rained the night before." With two 2008 NUE wins in a stacked field, Schalk's name will be more recognized as the favorite going into subsequent rounds..
Shogren introduces herself to the 2008 NUE series
Michelle Stoppard
Photo ©: Guru Graphix

The women's field gained a reprieve when the Cohutta 100 winner dropped out of the series, but the competitive void she left was quickly filled by the Cannondale / Sobe rider Betsy Shogren and adventure racer, Rebecca Rusch (Specialized/Red Bull). In the end, their heated battle saw those two come across the finish line just one minute apart but almost 30 minutes in front of third and fourth place finishers, Michelle Stoppard (VisitPA) Cheryl Sornsen (Trek/VW). Proving that the women's field is as stacked as the men's, Trish Stevenson (IFRacing.org) kept the pressure on the two ladies in front by coming in only four minutes back after nine and a half hours on the bike.
Shogren didn't blast off the front in first place. She chose a steady pace for her race. Starting out in fourth, where she stayed for awhile, she slowly moved her way to the front. After catching Stoppard, she proceeded to pick off Sornson and Rusch. Those two hung off the back to almost aid station two. At that station she saw her husband, who was racing in the 65 mile race, and was suffering from a little leftover illness from earlier in the week.
"It was a highlight of the race to be able to ride with Gunnar, since we never get to do that," said Shogren.
Her day in the lead almost came to an unexpected end when with a mile to go, she missed a turn onto singletrack and spent some time riding back and forth looking for it. She saw Rusch make the turn ahead of her and proceeded to follow. "I was running on adrenaline at that point, and attacked on a hill." Shogren said of her need for an unexpected last minute acceleration to take the win.
Birtch tops singlespeed division
In a field of over 33 singlespeeders Deejay Birtch (Niner) proved his Cohutta 100 win was no fluke. His 22 minute win over team-mate John "Fuzzy" Mylne (Niner) took him to an 11th place overall finish, one spot away from his goal of a top ten at one of the NUE series races. The two West Coast riders managed to stay ahead of the East Coast third through fifth place finishers: Mathew Ferrari (Mt. Nittany Wheelworks), Chris McGill (WV29ers Cannondale) and Jamie Huber (Sickler/ Twin 6).
Photography
For a thumbnail gallery of these images, click here
Images by Hollie Mcfadden
Images by Robert Sroka
Images by Guru Graphix /www.gurugraphix.net
Results

100 mile

Men's Open

1 Jeff Schalk (Trek/VW)                                                      7.09.37
2 Chris Eatough (Trek/VW)                                                       1.59
3 Sam Koerber (Gary Fisher 29er crew)                                          12.34
4 Evan Plews (Scott USA / Capitol Subaru)                                      25.39
5 Harlan Price (Independent Fabrication)                                       29.06
6 Christian Tanguy (American Cycle & Fitness - WSC)                            32.08
7 Josh Tostado (Smith optics, ergon, michelin, niterider, dakine, redbull)     34.13
8 Christopher Beck (Gary Fisher/ Joes Bike Shop)                               40.40
9 Gerald Pflug (Speedgoat/SPK/ Salsa)                                          49.21
10 Brandon Draugelis (SoBe Cannondale)                                         50.22
11 Andy Gorski                                                                 56.55
12 Peter Joski (Dedicated Athlete)                                             58.57
13 Michael Simonson (Trek)                                                   1.10.15
14 Scott Henry (Trek/VW)                                                     1.21.21
15 Thane Wright (Voodoo cycles)                                              1.21.22
16 Stephen Cummings (Indiana Regional Medical Center)                        1.26.03
17 Greg Kuhn (Team Fraser)                                                   1.51.09
18 Terry Vanden Heuvel                                                       1.58.49
19 Shawn O'Neil (Ellicottville Bikes)                                        1.59.00
20 Alexander Cox (Freddie Fu Cycling Team)                                   2.00.03
21 Mike Lawler (Team Dayton)                                                 2.03.50
22 Alex Kopko (Independent Fabrication)                                      2.05.12
23 Mike Loranty (Wachovia Cycling Team)                                      2.06.38
24 Bradley Cobb                                                              2.21.39
25 Ryan Wayne (Endura Clothing, Mongoose Bicycles, Ray's Indoor MTB Park)    2.22.17
26 Dennis Baldwin (Ellicottville Bike)                                       2.22.18
27 Scott Cole (Specialized)                                                  2.24.22
28 Edward Moreadith (ATL Pro Bicycles)                                       2.27.57
29 James Rasmussen (Cross Roads Racing)                                      2.30.18
30 Jeff Cote (twinsix)                                                       2.33.17
31 Brian Lennon (CAMBA, Bike Authority)                                      2.33.59
32 Nicholas Shaffer                                                          2.37.38
33 Dan LaRocque                                                              2.42.29
34 Mike Kuhn (visitPA.com)                                                   2.44.22
35 Dennis Lessard (Health & Fit Magazine)                                    3.00.43
36 Jon Rittling (Endorphin Fitness)                                          3.06.59
37 Ryan Heerschap (Team Bulldog/Campmor)                                     3.15.03
38 Darin Shriver                                                             3.15.46
39 Hamish Bingley                                                            3.16.06
40 Taylor Sullivan (Bicycle sport/ organic systems)                          3.18.36
41 Mark Parmelee (Cycletherapy)                                              3.19.34
42 Jonathan Kindig (Goose Creek Cycle.com)                                   3.21.22
43 Doug Milliken (Bike DR)                                                   3.27.33
44 Christain Baks (Pawling Cycle and Fitness)                                3.36.16
45 Steve Toorongian (Ingram Micro/The Bicycle Company)                       3.45.51
46 Tom McArdle (Stubway Riders)                                              3.47.37
47 Shane Cusick                                                              3.52.31
48 Chris Reynolds                                                            3.52.33
49 Brett Davison (Solon)                                                     3.57.15
50 Jim Core                                                                  4.00.02
51 Dan Orzell                                                                4.04.18
52 Nathan Mirus (BioWheels Racing Cincinnati)                                4.12.20
53 Ken Waring                                                                4.23.16
54 Gary Hall                                                                 4.27.17
55 Patrick Wallace (Ellicottville Bike shop)                                 4.28.48
56 Adam Jones (New Leaf Adventures)                                          4.33.58
57 Gregory Brands                                                            4.39.29
58 Wes Jones                                                                 4.45.09
59 Dan Frayer (Autismspeaks.org)                                             5.01.33
60 Todd Enders                                                               5.04.37
61 Thomas Mallory, Jr. (Mallory Law Office, LLC)                             5.10.01
62 Erin Ford                                                                 5.14.25
63 Derek Hill                                                                5.16.10
64 Chet Johnson (Velcro Gloves & Hip Boots)                                  5.25.27
65 Jed Johnson (mommy)                                                       5.25.28
66 Mark Shellhamer                                                           6.30.23
67 Peter Rajcani (Triangle Cyclopaths)                                       7.30.23
DNF Ed Barker (CycleTherapy)                                                        
DNF Chris Coulston (Lake Country Bike)                                              
DNF Kevin Flanders                                                                  
DNF Grant Hammons (Team Dave!)                                                      
DNF James Hurst (Motor Mile Racing)                                                 
DNF Andy Klumb                                                                      
DNF Ryan Knopf                                                                      
DNF Matthew Melvyn                                                                  
DNF Scott Miller (Ellicottville Bike)                                               
DNF Jason Murrell (Scott's Bicycles)                                                
DNF William Ransom                                                                  
DNF Doug Schmidt                                                                    
DNF Mike Schultz (Highland Training/Dirty Harrys)                                   
DNF Robin Scurr (Cannondale Midwest Racing)                                         
DNF David Shore                                                                     
DNF Rob Smith                                                                       
DNF Sean Adams (Lake Effect / OE 800)                                               
DNF Shey Lindner (Sobe/ Cannondale)                                                 
DNF Peter Muench (Park Ave bike)                                                    
DNF Joe Pozega                                                                      
DNF Adam Schmidt (biowheels)                                                        
DNF Travis Sims                                                                     
DNF Lee Unwin (Van Dessel Cycles)                                                   
DNF David Vesper                                                                    
DNF Cory Volz                                                                       
DNF Gary Williams                                                                   
DNF Derrick Young                                                                   
DNF Floyd Landis (Smith and Nephew)                                                 
DNF Lawrence Lanphere                                                               
DNS Kip Biese (Old Town Bike Shop)                                                  
DNS Andrew Brautigam (Chippendale's Exotic Dancers)                                 
DNS Phillip Esempio (Kelly Benefits/LSV Amateur Racing)                             
DNS Jason Hilimire (Gary Fisher 29er Crew/Geneva Bicycle Center)                    
DNS Harvey Minton (Independent Fabrication)                                         
DNS Ross Clark (Solong Bike)                                                        
DNS Joe Collins (Team Louisville)                                                   
DNS Matt Idle                                                                       
DNS Mathew Kendall                                                                  
 
Women's open

1 Betsy Shogren (Sobe-Cannondale)                                            9.08.32
2 Rebecca Rusch (Specialized / Red Bull)                                        1.06
3 Michelle Stoppard (VisitPA.com)                                              28.14
4 Cheryl Sornson (Trek East Coast)                                             28.32
5 Trish Stevenson (Independent Fabrication)                                    33.10
6 Karen Potter                                                                 48.22
7 Carey Lowery (Outdoor Store-Specialized)                                   1.06.10
8 Rebecca Tomaszewski                                                        1.43.58
9 Laureen Coffelt (Rbs Cyclery)                                              2.20.38
10 Reenie Greene                                                             3.13.25
11 Sandra Thomlinson-Gross (Kenda Vanderkitten)                              3.26.34
12 Cricket Butler                                                            5.16.28
DNF Paula Figura                                                                    
DNF Erika Tieszen (Michelin/Dakine)                                                 
DNF Anne Grofvert (Bicilibre)                                                       
DNF Laura Maddy (Bolt Brothers Cycles)                                              
 
Singlespeed

1 Dejay Birtch                                                               8.05.36
2 John Mylne                                                                   21.56
3 Matthew Ferrari (Mt Nittany Wheelworks)                                      42.45
4 Chris McGill (WV29ers Cannondale)                                            47.02
5 Jamie Huber (Sicklers/Twin 6)                                                50.59
6 Robert Kranz (Spin -- RR Donnelley)                                          53.57
7 Travis Mullen                                                                55.54
8 Richard Dillen                                                             1.03.35
9 Topher Valenti (Bikesport)                                                 1.09.27
10 Chip Meek                                                                 1.14.49
11 Ramunas Katkus                                                            1.26.38
12 Michael Tressler (Rad Racing)                                             1.41.52
13 Jake Kirkpatrick (Belgium brewing co.)                                    1.47.14
14 Douglas Jenne (Viscous Cycles)                                            2.11.36
15 Tomi McMillar (Sticky G Fixy; TomiCOGs)                                   2.11.43
16 Dan Fuhrman                                                               2.15.33
17 Jason Pruitt                                                              2.15.38
18 Jeff Bushong                                                              2.20.29
19 Marty Swanson (Stubway Riders)                                            2.52.06
20 Steve Smith (team drain bamage)                                           3.32.50
21 Eric Kriberney (Ellicotville Bike Shop)                                   3.32.52
22 Joshua Cohen (dirty harrys)                                               3.55.00
23 Eddie Klein (Team Seagal)                                                 4.12.22
24 Thomas Greene                                                             4.16.22
25 Max Steinbrenner (trophy bikes)                                           4.39.42
26 Brian Archer (Vassago Cycles, WTB, Ergon, Crank Bros, White Bros.)        4.46.52
DNF Timmy Dougherty (Cannondale/Sobe)                                               
DNF Robert Lamberson                                                                
DNF Connell McCormack                                                               
DNF Louis Secreto (Pabst Blue Ribbon)                                               
DNF Dmitri Zorine                                                                   
DNF Michael Gorman (Orrville Red-N-Bacher)                                          
DNF Greg Sandknop (Team Seagal)                                                     
DNS Will Baker (Touring Gear)                                                       
DNS Michael Mazzarese (Avalon Cycles)                                               
DNS Ryan McCullough (BodyGoals.com/Honey Stinger/Maxxis/SixSixOne)                  
DNS Brian Rogers                                                                    
DNS Ben Thornton (Soulcraft Bikes)                                                  
DNS Jimmy Bean (Global)                                                             
 
Master men 50+

1 Greg Turner (RBM/ Velo Voodoo)                                             8.23.50
2 Scott Root (Dirty Harrys Bicycles)                                         1.52.17
3 Chris Wurster (Independent Fabrication)                                    2.18.25
4 Steve Kinley (Sobe Cannondale)                                             2.28.58
5 John Majors (Giffin Interior)                                              2.35.19
6 James Wilson                                                               2.58.56
7 David Grauer (orthopro)                                                    3.00.08
8 Zeke Lilly                                                                 3.44.42
9 Terry Gardner (Meth US Aleh Racing)                                        3.51.10
DNF David Coar                                                                      
DNF Jeffrey Harnish (Crossmax)                                                      
DNF Ed McCalley (bike zoo)                                                          
DNF Martin Ruhl (Rotten Robbies Cyclesports)                                        
DNF Bill Gheres (Countryside Cycling)                                               
DNF Steve M                                                                         
 
100km

Men's open

1 Brian Schworm (Pedal Power)                                                5.20.00
2 Whitney Jones (Orrville Bike)                                                 9.14
3 Brad Wilhelm (Ray's MTB/ gary fisher)                                        17.07
4 Gunnar Shogren (Sobe-Cannondale)                                             25.07
5 Travis Saeler (Gary Fisher)                                                  28.12
6 Timothy Carson                                                               33.26
7 Robert Rodgers (Solon Bicycle)                                               46.19
8 Andrew Llewellyn (Calistoga Racing Team)                                     47.45
9 Clayton Omer                                                                 49.46
10 Jeff Aveustine                                                              50.36
11 Charley Miller (Bio-Wheels)                                                 55.06
12 Sam Morrison (Ag3R)                                                         56.02
13 Steven Gers (BioWheels Racing)                                              56.19
14 Jeff Pendlebury                                                             58.03
15 Martin Sanders                                                              59.53
16 Robert Goetz                                                              1.01.32
17 Justin Becker                                                             1.07.07
18 Nick Devore                                                               1.16.36
19 Erik Lesco (stark velo/ bike authotiry)                                   1.18.07
20 Jacob Grantham                                                            1.18.30
21 Blaine Heppner (Team Louisville)                                          1.24.55
22 Brett Sherwood                                                            1.30.52
23 Chad Irey (Bio-Wheels)                                                    1.32.00
24 Steve Burden (YNOT)                                                       1.35.17
25 Mitch Graham (BioWheels Racing)                                           1.39.40
26 Jon Clous                                                                 1.40.21
27 Mike Hufhand                                                              1.45.21
28 Rob Hillyard                                                              1.46.00
29 William Baldwin                                                           1.46.32
30 Bradley Smith                                                             1.48.02
31 Jeremy Larson (cyclist connection)                                        1.51.14
32 David Farnham                                                             1.53.21
33 Mark Milliken                                                             1.54.07
34 Jaron Thomas                                                              2.04.19
35 Adam Mallett (Sierra Nevada Brewing)                                      2.06.24
36 Mike Maher                                                                2.19.39
37 Brian Mutschler (SQL Solutions)                                           2.21.48
38 Joe Merry                                                                 2.24.05
39 Tom Burke                                                                 2.24.38
40 Michael Quinlan                                                           2.30.03
41 Rob Brawley                                                               2.31.18
42 Mark Reynolds                                                             2.45.34
43 Chris Mastramico                                                          2.51.03
44 Rick Plite (founders ale alger racing)                                    2.55.21
45 Fabrice Portes (Wolverine Sports Club)                                    3.01.47
46 Bob Turanchik                                                             3.02.00
47 Duane Walker                                                              3.03.12
48 Greg Davison (BikeSource Columbus)                                        3.09.57
49 Dean Briggs                                                               3.17.00
50 Scott Warren                                                              3.19.58
51 Erik Yoder                                                                3.21.30
52 Eric Bales (USA Pista Elite)                                              3.25.13
53 Joseph Bellante (BioWheels Racing)                                        3.25.42
54 Jason Leaman (Trek Ohio Valley Team)                                      3.26.59
55 Richard O'Meara                                                           3.27.35
56 Tim Bonifant (Orrville cycling)                                           3.46.47
57 Gregory Ratcliff                                                          3.53.27
58 Ross Silvas                                                               3.54.24
59 Dan Sahli                                                                 3.54.32
60 Bill Ostrowski                                                            3.55.41
61 Michael Treon                                                             3.56.15
62 Daniel Joyal                                                              4.01.10
63 Mark Hepp                                                                 4.01.12
64 Jordan Bates                                                              4.09.36
65 Jim Snyder                                                                4.11.18
66 Forest Hursey                                                             4.13.02
67 Kevan Millstein                                                           4.15.56
68 Chris Purcell (team BTB)                                                  4.21.02
69 Mike Purcell (Team btb)                                                   4.21.03
70 Tim Seitz                                                                 4.27.05
71 Jorge Riba                                                                4.31.24
72 Brian Lighthill                                                           4.36.42
73 Andrew Riess                                                              4.44.09
74 Larry Ayer (BIKENUTZ)                                                     4.52.06
75 Nick Tadic                                                                5.08.33
76 Lenny Baker                                                               5.21.45
77 Aaron Kramer (self-sponsored)                                             5.21.46
78 Christopher Bauer                                                         5.41.51
79 Nace Farwick                                                              5.55.50
80 Kurt Shoemaker (7-Hills Racing)                                           5.55.51
81 Wade Westfall                                                             6.01.07
82 Chris Averett (Kenda)                                                     6.47.16
DNF John Barney                                                                     
DNF Chris Boros                                                                     
DNF Paul Donatelli                                                                  
DNF Ed Finke                                                                        
DNF Matthew Fox                                                                     
DNF Heath Rigby                                                                     
DNF Loren Ringo                                                                     
DNF Eric Schumacher                                                                 
DNF Ryan Shipman                                                                    
DNF Jason Suppan (Suppan Foot and Ankle Clinic)                                     
DNF Michael Szymanski                                                               
DNF Chris Tumbusch                                                                  
DNF Todd Turner                                                                     
DNF Brian Urichich                                                                  
DNF Morris Wheeler                                                                  
DNF Doug Bernard (Team wife-n-kids)                                                 
DNF Matt Bruns                                                                      
DNF Tim Carley                                                                      
DNF Gregory Dean (Knox multisport)                                                  
DNF Brian Kenny (CAMBA)                                                             
DNF Jesse Thumser                                                                   
DNF Andrew Truemper (XXX-Athletico)                                                 
DNF BJ Willliams                                                                    
DNF Nate Zicarrdi (Team awesome)                                                    
DNF Adam Johnson                                                                    
DNF Adam Nolan                                                                      
DNF Tom Sharp                                                                       
DNS Robert Lydic                                                                    
DNS Curtis McKee                                                                    
DNS Brian Reed                                                                      
DNS Darrel Sides                                                                    
DNS Bill Williams                                                                   
DNS Ryan Callahan                                                                   
DNS Jacob Garner                                                                    
DNS Allen Loy                                                                       
DNS Scott Lyle                                                                      
DNS David McDaniel                                                                  
 
Singlespeed

1 John Lorson (Orrville Cycling Club)                                        6.25.54
2 Stan Skotnicki                                                               15.22
3 Jayson Blews (Hutton-Blews Insurance)                                        48.53
4 Bruce Steinworth                                                           1.12.56
5 Andrew Norris                                                              1.42.44
6 Brian Schultz                                                              3.59.04
7 Gary Lane (Kent Fire dept)                                                 4.29.40
8 Neal Poorman                                                               4.51.08
9 Cory Mortensen (EKHO Heart Rate Monitors)                                  4.54.36
DNF Chris Richardson (True North Cycles)                                            
DNF Tony Ball                                                                       
DNF Kurt Huebeck                                                                    
 
Women's open

1 Amanda McKay                                                               7.14.30
2 Christina Frentiu (Ray's indoor mtb)                                         14.44
3 Tiffany Kenny (SummaCare)                                                    17.22
4 Beth Roberts                                                                 34.32
5 Bridget Donnovan (Trek Store, Cincinnati)                                    45.51
6 Sherry Downing (Kenda Tire)                                                1.06.22
7 Heidi Shilling (Ellsworth)                                                 1.24.22
8 Paula Lamberson                                                            1.36.03
9 Michelle Johnson (Trek Pitt)                                               2.07.46
10 Joanna Massetti                                                           2.23.46
11 Kerry Combs (Independent Fabrication)                                     2.32.59
12 Lauren Mika                                                               2.57.35
13 Alison Montgomery                                                         3.05.19
14 Rose Petrick (CAMBA, Bike Authority)                                      4.08.35
DNF Anna Cain ( )                                                                   
DNS Elizabeth Allen (Saucon Valley Bikes)                                           
DNS Sherri Esempio (Kelly Benefits/LSV Amateur Racing)                              
 
Master men 50+

1 Rudy Sroka (Cannondale/Bike Authority)                                     6.04.40
2 Mark Virello (Team Dayton)                                                    3.22
3 Terry Campbell (Sierra Nevada Brewing)                                     1.21.50
4 Chris Baker                                                                1.24.19
5 Mark Jones (Orrville Bike)                                                 2.21.26
6 Joe Orlando                                                                2.33.04
7 Michael Dietlin                                                            2.42.18
8 Robert Grosse                                                              4.32.29
9 Peter Lira                                                                 5.52.11
DNF Darwyn Sewell                                                                   
DNF Ray Chester (Solon bikes)                                                       
DNF D Fleischer (Pale Ale)                                                          
DNS Jack Gilbert (Mountain Road Cycles)                                             
DNS James Matthews