MTB index page for all MTB content
Internazionali d'Italia Val d'Arda Bike - 1
Lugagnano, Italy, May 25, 2008
Zoli and Lechner win round three
Yader Zoli (Giant Italia)
Photo ©: Giant Italia Team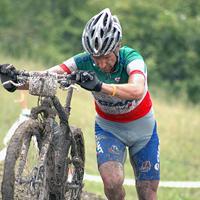 The third round of the cross country Internazionali d'Italia was held Sunday in Val d'Arda amid rainy and muddy conditions. Eva Lechner (Colnago Arreghini Filago) won the women's race and
The women went off first, and from the initial lap, Lechner led Blaza Klemencic (Giant Italia Team). U23 European cross country champion Natalie Schnitter and series leader Annabella Stropparo (Ideal Bikes Romania ) followed them. During the second lap, Klemencic found herself with two other Slovenian athletes, including non-elite competitor Tanija Zakelj and Nina Homovec (Slovenian National Team). Then it began raining and conditions worsened although they had little effect on the already sorted rider order.
The Italian Lechner finished the elite women's race in one hour, 36 minutes and 27 seconds, just 1'31" ahead of Slovenian Klemencic and 3'40" ahead of Homovec. Non-elite racer Tanija Zakelj finished ahead of Klemencic.
Blaza Klemencic (Giant Italia)
Photo ©: Giant Italia Team

"I marked my opponents well in the first half of the race," said Klemencic. "I felt well, and I recovered from the three World Cups after which I was very exhausted. I increased my rhythm during the third lap because I'd like to get a position on the podium. I was satisfied with the bronze and think I could be one of the protagonists at World Cup in Vallnord next Saturday."
The rain stopped before the men's race, but mud still covered the track and the UCI officials decided to reduce the race from seven to four laps. On lap three, Roel Paulissen (Cannondale-Vredestein ) and Fredrik Kessiakoff (Full Dynamix San Marino) withdrew from the race due to the conditions. Then Italian cross country champion Yader Zoli (Giant Italia Team) decided to step up his pace and he pulled away from the others.
Zoli went on for the win with a time of one hour, 30 minutes and 57 seconds. Johann Pallhuber (Team Silmax Amd Kona) finished second at 18 seconds and Italian Andrea Tiberi (Giant Italia Team) finished at 6'21" back, giving the Giant Italian team two of the top three places - or three of the top five when Ivan Alvarez Gutierrez's fifth place is added in.
Photography
For a thumbnail gallery of these images, click here
Images by Giant Italia Team
Results
Elite men

1 Yader Zoli (Ita) Giant Italia Team                          1.30.57
2 Johann Pallhuber (Ita) Team Silmax Amd Kona                    0.18
3 Andrea Tiberi (Ita) Giant Italia Team                          6.21
4 Hubert Pollinger (Ita) Sunshine Racers ASV Nals                6.55
5 Ivan Alvarez Gutierrez (Spa) Giant Italia Team                 9.12
6 Jakob Fuglsang (Den) Cannondale-Vredestein                     9.16
7 Marco Aurelio Fontana (Ita) Hard Rock FRW                     11.04
8 Mike Felderer (Ita) Sintesi Corse A.S.D.                      11.10
9 Massimo De Bertolis (Ita) Team Full-Dynamix                   11.39
10 Alessandro Fontana (Ita) Gruppo Sportivo Forestale           12.04
11 Jhon Jairo Botero Salazar (Col) Infotre-Lee Cougan           12.27
12 Emil Lindgren (Swe) Team Full Dynamix San Marino             12.38
13 Giuseppe Lamastra (Ita) Hard Rock FRW                        13.06
14 Alessandro Gambino (Ita) Centro Sportivo Esercito            13.47
15 Tony Longo (Ita) Team Full-Dynamix                           15.27
16 Niall Davis (Irl) Cycling Ireland                            18.55
17 Giovanni Dallera (Ita) Bmc Italian Team                      24.04
18 David Escolar Ballesterosa (Spa) Sunshine Racers ASV Nals    26.27

Behind one lap

19 Alberto Riva (Ita) Racing Team Dayco ASD                          
20 Pop Gabriel Sorin (Rom) Ideal Bikes International Team            
21 Luca Peveri (Ita) Lugagnano Off Road                              

Behind two laps

22 Marco Cellini (Ita) Team Eurobici Orvieto                         
DNF Rafael Visinelli (Ita) Gruppo Sportivo Forestale                 
DNF Federico Ciani (Ita) L'arcobaleno Carraro Team                   
DNF Daniel McConnel (Aus) Cycling Australia TIS                      
DNF Roel Paulissen (Bel) Cannondale-Vredestein                       
DNF Ivan Degasperi (Ita) Scott Racing Team                           
DNF Mirko Celestino (Ita) ASD Team Alba Orobia Bike                  
DNF Pierluigi Bettelli (Ita) Felt International Mtb Banelli          
DNF Federico Fuser (Ita) MC2 Racing                                  
DNF Matej Lovse (Slo) Slovenia National Team                         
DNF Stefano Boggia (Ita) GS Daccordi ASD                             
DNF Edmil Albertone (Ita) GS Daccordi ASD                            
DNF Julio Humberto Caro Silva (Col) Gewiss Bianchi                   
DNF Ramon Bianchi (Ita) Scott Racing Team                            
DNF Dario Acquaroli (Ita) Sintesi Corse A.S.D.                       
DNF Martino Fruet (Ita) L'arcobaleno Carraro Team                    
DNF Mirko Pirazzoli (Ita) Progress-Frm                               
DNF Mirko Farnisi (Ita) Team Open Race Hicker                        
DNF Marco Balberini (Ita) Scott Racing Team                          
DNF Franz Hofer (Ita) Nsr Torrevilla Mtb Team ASD                    
DNF Igor Baretto (Ita) Scott Racing Team                             
DNF Johnny Cattaneo (Ita) Diquigiovanni-Androni                      
DNF Paolo Montoya Cantillo (CRc) Infotre-Lee Cougan                  
DNF Fredrik Kessiakoff (Swe) Team Full Dynamix San Marino            
DNF Maurizio Varini (Ita) GS Daccordi ASD                            
DNF Paolo Mencacci (Ita) Team Full-Dynamix                           
DNF Marco Bui (Ita) Team Full-Dynamix                                
 
Elite women

1 Eva Lechner (Ita) Colnago Arreghini Filago                  1.36.27
2 Blaza Klemencic (Slo) Giant Italia Team                        1.31
3 Nina Homovec (Slo) Slovenia National Team                      3.40
4 Annabella Stropparo (Ita) Ideal Bikes Romania                  6.09
5 Elena Gaddoni (Ita) Progress-Frm                               7.13
6 Evelyn Staffler (Ita) Colnago Arreghini Filago                10.40
7 Barbara Oberdorfer (Ita) L'arcobaleno Carraro Team            11.41
8 Alexandra Hober (Ita) Profi Bike Team                         12.20
9 Zoe King (Aus) Cycling Australia TIS                          13.23
10 Francesca Leonardelli (Ita) L'arcobaleno Carraro Team        27.25
11 Claudia Andolina (Ita) Team Open Race Hicker                 30.43
DNF Anna Ferrari (Ita) Adv Corratec                                  
 
Junior men

1 Elia Silvestri (Ita) ASD - Alpin Bike Edilbi Team           1.25.34
2 Gerhard Kerschbaumer (Ita) A.S.V. St.Lorenzen Rad              0.16
3 Nicholas Pettina' (Ita) Adv Corratec                           1.57
4 Luca Braidot (Ita) L'arcobaleno Carraro Team                   2.11
5 Rosario D'agostino (Ita) A.S.D. Team Bikes Ragusa FRW          2.32
6 Blaz Znidarsic (Slo) Slovenia National Team                    2.39
7 Filippo Blanc (Ita) Cicli Lucchini.Com                         2.52
8 Roberto Giacobazzi (Ita) Team Mapei                            3.41
9 Michael Pesse (Ita) Cicli Lucchini.Com                         3.53
10 Daniel Pozzecco (Ita) L'arcobaleno Carraro Team               4.00
11 Daniele Braidot (Ita) L'arcobaleno Carraro Team               7.21
12 Joze Zagar (Slo) Slovenia National Team                       7.55
13 Samuele Agostinelli (Ita) Superbikeclub                       8.57
14 Alessandro Pierantoni (Ita) Superbikeclub                     9.22
15 Fabio Aru (Ita) Sardegna Sottozero Ozierese                   9.28
16 Paul O'reilly (Irl) Cycling Ireland                           9.31
17 Filippo Giuliani (Ita) Maffioletti                           10.00
18 Marco Metti (Ita) A.S.D.Postumia 73 Dino Liviero             11.05
19 Michael Cornaro (Ita) ASD Team Alba Orobia Bike              11.18
20 Filippo Righi (Ita) Cicli Lucchini.Com                       11.26
21 Martino Di Pierdomen (Ita) Hard Rock FRW                     12.10
22 David Guzzardi (Ita) Hard Rock FRW                           12.49
23 Maurizio Tasca (Ita) Maffioletti                             12.51
24 Alessio Mattiuzzo (Ita) Vc G. Bianchin-Marchiol-             12.58
25 Giacomo Comitti (Ita) Cbe Merida                             13.20
26 Patrick Marcher (Ita) Südtirol Rainer-Wurz Team              14.17
27 Giacomo Bevilacqua (Ita) Team Open Race Hicker               14.18
28 Mattia Rossi (Ita) L'arcobaleno Carraro Team                 14.47
29 Neil McGimpsey (Irl) Cycling Ireland                         14.57
30 Emilio Berti (Ita) A.S.D. Crazy Bike                         15.17
31 Valentin Von Klebelsber (Ita) Asc Tiroler Radler Bozen       16.02
32 Liam McGreevey (Irl) Cycling Ireland                         16.18
33 Manuel Vitangeli (Ita) Grotte Di Castro Scuola Mtb           16.52
34 Domenico Valerio (Ita) Adv Corratec                          17.04
35 Michele Angeletti (Ita) Superbikeclub                        20.56
36 Danel Kiebacher (Ita) A.S.V. St.Lorenzen Rad                 21.20
37 Luca Censi (Ita) Pedale Fidentino                            23.04
38 Giuseppe Arena (Ita) ASD Team Alba Orobia Bike               26.13
39 Giuseppe Scrofani (Ita) A.S.D. Team Bikes Ragusa FRW         27.05
40 Lorenzo Carlet (Ita) Caprivesi                               27.31
41 Samuele Volpe (Ita) Cerrano Outdoor                          28.47
42 Roberto Bordo (Ita) Grotte Di Castro Scuola Mtb              31.20

Behind one lap

43 Ekrem Tokmic (BiH) Hard Rock FRW                                  
44 Michele Milani (Ita) Team B.Cicli Galassia                        
45 Simon Verderame (Ita) Cerrano Outdoor                             
DNF Manuel Ebert (Ita) Asc Tiroler Radler Bozen                      
DNF Fabrizio Paziani (Ita) Grotte Di Castro Scuola Mtb               
DNF Andrea Tosi (Ita) Sellero Novelle 2000                           
DNF Tommaso Botti (Ita) Ovam Victoria Bike                           
DNF Vittorio Oliva (Ita) Infotre-Lee Cougan                          
DNF Francesco Pioli (Ita) Pedale Fidentino                           
DNF Evaldo Ceccarini (Ita) Grotte Di Castro Scuola Mtb               
DNF Giacomo Antonello (Ita) MC2 Racing                               
DNF Simon Werner (Ita) Asc Tiroler Radler Bozen                      
DNF Valentin Huber (Ita) Team Green Valley                           
DNF Stefano Dal Grande (Ita) GS Pressix Zanon Tosetto                
 
Junior women

1 Laura Abril Restrepo (Col) Infotre-Lee Cougan               1.20.44
2 Martina Giovanniello (Ita) Cbe Merida                          3.48
3 Cornelia Schuster (Ita) Ssv Pichl GSies Raiffeisen             5.16
4 Anna Oberparleiter (Ita) Asc Olang                             7.22
5 Michela Battaglia (Ita) A.S.D. Team Bikes Ragusa FRW          10.58
6 Jemeja Tratnic (Slo) Slovenia National Team                   12.51
7 Serena Calvetti (Ita) Team Gebi Sistemi                       16.44
8 Vittoria Casalegno (Ita) Giant Italia Team                    20.01
9 Marta Pastore (Ita) Team Gebi Sistemi                         28.23
10 Chiara Pastore (Ita) Team Gebi Sistemi                       31.08

Behind one lap

11 Alessandra Bergamin (Ita) L'arcobaleno Carraro Team               
 
Master 1

1 Emil Bardini (Ita) Paduano Martina Racing                   1.31.58
2 Marcello Castellini (Ita) Paduano Martina Racing               2.26
3 Cristiano Bacchini (Ita) Team Todesco                          4.07
4 Guglielmo Broglio (Ita) Team Locca                             7.20
5 Marco Pegoraro (Ita) Scavezzon Squadra Corse                   8.23
6 Michele Favaloro (Ita) Macostateam & Fm Bike                  12.48
7 Andrea Pizzi (Ita) Bicimania Lissone Mtb                      13.26
8 Lorenzo Redivo (Ita) Nuovi Orizzonti Pol. Inv. Sup.           14.36

Behind one lap

9 Andrea Vellano (Ita) Bmc Italian Team                              
10 Davide Boni (Ita) Novagli Team Bike                               
 
Master 2

1 Riccardo Milesi (Ita) Bicimania Lissone Mtb                 1.24.30
2 Moreno Trabucchi (Ita) Ideal Bikes International Team          5.57
3 Oscar Pompiglio (Ita) Valcavallina Superbike                   9.03
4 Isacco Silva (Ita) Bicimania Lissone Mtb                      14.46
5 Fabio Bonfanti (Ita) Pedale Fidentino                         15.30
6 Massimo Cantadore (Ita) Team Gebi Sistemi                     17.08

Behind one lap

7 Luca Davoli (Ita) Canossa Merida                                   
8 Massimo Crotti (Ita) Novagli Team Bike                             
9 Ottavio Cobelli (Ita) Cavrianese                                   
10 Giordano Varianti (Ita) Giangis' Team Free Bike Erbusco           
11 Domenico Zaglio (Ita) Novagli Team Bike                           
DNF Marco Schlang (Ita) Novagli Team Bike                            
DNF Mirko Zambon (Ita) Novagli Team Bike                             
DNF Stefano Comini (Ita) A. S. D. Bike Team Bruciati                 
DNF Daniele Ziglioli (Ita) Mtb G.S. Cignone                          
 
Master 3

1 Antonio Masini (Ita) Paduano Martina Racing                 1.25.49
2 Marco Gilberti (Ita) Racing Rosola Bike                        3.20
3 Andrea Pendini (Ita) Adv Corratec                             10.40
4 Giuseppe Baricchi (Ita) Canossa Merida                        11.03
5 Carlo Zuccolini (Ita) Team Todesco                            14.13
6 Giampiero Ferranti (Ita) Pro Bike Riding Team                 20.13
7 Domenico Crotti (Ita) Novagli Team Bike                       20.42

Behind one lap

8 Gianluca Marenghi (Ita) Lugagnano Off Road                         
9 Eugenio Canni Ferrari (Ita) Bicimania Lissone Mtb                  
10 Alessandro Arabia (Ita) Bike Club 2000 Show Running               
11 Eugenio Boschetti (Ita) Novagli Team Bike                         
DNF Lorenzo Vernazza (Ita) Pedale Fidentino                          
DNF Walter Lanznaster (Ita) A.B.C. Egna Neumarkt                     
DNF Paolo Baldan (Ita) MC2 Racing                                    
DNF Daniele Bruschi (Ita) Scott Racing Team                          
 
Masters 4

1 Mauro Braidot (Ita) Caprivesi                               1.40.04
2 Luigi Pierelli Sante (Ita) A.S.D. Bike Maniacs Ancona          0.54
3 Silvano Peracchi (Ita) Team Bike Gusssago                      1.24
4 Vanni Paolo (Ita) Team Gebi Sistemi                            2.08
5 Andrea Bianco (Ita) Infotre-Lee Cougan                             
6 Giorgio Fontana (Ita) Italia Nuova Red Line                        
7 Mauro Manini (Ita) Lugagnano Off Road                              
8 Giorgio Franchini (Ita) L'arcobaleno Carraro Team                  
DNF Pietro Laudano (Ita) Novagli Team Bike                           
DNF Patrizio Romeri (Ita) Team Gebi Sistemi                          
DNF Adriano Perotti (Ita) Mtb G.S. Cignone