MTB index page for all MTB content
Bundesliga XCO, Bike the Rock - HC
Heubach, Germany, May 25, 2008
Soukup wins men's race while Kraft surprises women
The start of the men's race
Photo ©: mtb-pressedienst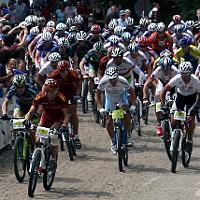 In second round of the Germany Bundesliga cross country, Austrian Christoph Soukup took the win ahead of German Moritz Milatz and Frenchman Julien Absalon. The women's race saw German Ivonne Kraft cross the finish line six seconds ahead of Frenchwoman Sabrina Enaux and compatriot Hanna Klein.
Specators flocked the eighth annual Bike the Rock in Heubach to cheer riders up the long, steep climbs and through the difficult downhills. In the men's race, Soukup and Milatz took an early race lead over Absalon. The four-time world champion, coming off a hard training week, was not able to follow them. "They were too strong for me today, but I enjoyed the race with all the spectators around," said Absalon after the race. He would finish third.
At the front Soukup left Milatz on lap five. "My legs worked really fine on the uphill, and for me it's a great pleasure to win Heubach because it is a wonderful event, hardly comparable to others," said Soukup.
After a few difficult weeks of illness, Milatz was glad to be competitive again. "Christoph was much stronger in the climb but I'm okay with my shape, looking forward to the world cup in Andorra."
Kraft faster on the downhills
In women's race Kraft used her technical skills to beat Enaux by six seconds. Whenever the pair reached the top of a climb, Enaux always was close to Kraft. But he 37 year-old German was much faster on the tricky, steep downhill. "I'm happy to feel my body again in this way," said Kraft after the race. Since Cape Epic, in which which she won the mixed category together with Nico Pfitzenmaier, she never regained her full health and suffered disappointing results in the first three World Cup rounds.
Enaux was not unhappy to get the second place and she is now now leading the Bundesliga overall. Third place went to U23 rider Hanna Klein, 5'41" minutes behind Kraft.
Norwegian Gunn-Rita Dahle Flesjaa did not start due to problems caused by crashes at Houffalize, and Elisabeth Osl of Austria also declined to start following a crash during training on Saturday.
Russian Irina Kalentieva started the race, but was suffering another cold after the European championships and was taking antibiotics. The world champion lives much of the year at nearby Aalen, only ten kilometers from Heubach, so she decided start, but withdrew after two laps."I like this race and there are a lot of fans. So I was anxious to to be here," she said.
Both Dahle Flesjaa and Kalentieva are at risk of missing the Andorra World Cup coming up this weekend.
Schatzing wins sprint
Saturday's sprint race victory went to former German national team member Marco Schatzing ahead of Heiko Gutmann and Sebastian Bergmann. Schatzing passed Gutmann in the last possible moment before the course went into a singletrack and then defended his lead until the finish. "I had a lot of luck and I didn't expect that," the surprised winner said.
Photography
For a thumbnail gallery of these images, click here
Images by mtb-pressedienst
Results
Elite men

1 Christoph Soukup (Aut) Team Fuji-Bikes Europe                     1.58.59
2 Moritz Milatz (Ger) Multivan Merida Biking Team                      1.39
3 Julien Absalon (Fra) Orbea                                           2.44
4 Fabian Giger (Swi) SKS M.I.G. Team                                   3.22
5 Wolfram Kurschat (Ger) Topeak Ergon Racing Team                      6.05
6 Marek Galinski (Pol) JBG2-APC Presmet                                7.05
7 Tim Böhme (Ger) Team ALB-Gold Mountainbike                           7.49
8 Karl Markt (Aut) Team SRM Stevens                                    8.26
9 Jochen Käß (Ger) Team ALB-Gold Mountainbike                          8.32
10 Robert Mennen (Ger) Team Fuji-Bikes Europe                          9.07
11 Steffen Thum (Ger) Team Mayer-Arbeitsbühnen/STE                     9.44
12 Olaf Rochow (Ger) Team Fuji-Bikes Europe                           10.05
13 Piotr Brzozka (Pol) JBG2-APC Presmet                               10.13
14 Klaus Nielsen (Den) Team ALB-Gold Mountainbike                     12.31
15 Robert Gehbauer (Aut) Multivan Merida Biking Team                  13.15
16 Markus Bauer (Ger) Haibike                                         15.50
17 Christopher Maletz (Ger) Zweirad Riese Racingteam                  15.52
18 Benjamin Rudiger (Ger) Rothaus-Cube MTB Team                       16.19
19 Florian Schön (Ger) RSV Bautzen                                    16.49
20 Evgeny Pechenin (Rus) Format-Udmurtiya Team                        1 lap
21 Sebastian Szraucner (Ger) Team Fuji-Bikes Europe
22 Wilko Rochow (Ger) Team Mayer-Arbeitsbühnen/STE
23 Sebastian Mordmüller (Ger) Cannondale Bad Salzdetfurth Ra
24 Vero Lüscher (Ger) Team Mayer-Arbeitsbühnen/STE
25 Max Friedrich (Ger) Best-Bike-Parts / Haibike
26 Heiko Gutmann (Ger) Rothaus-Cube MTB Team
27 Pascal Ketterer (Ger) Bergamont Renn-Team
28 Michael Stieglbauer (Ger) Sportivo St.Englmar/Team Stepp
29 David Hofmann (Ger) Lexware-Racing-Team
30 Florian Kremmaier (Aut) RC-Arbö-ANF Mazda Eder Walding             2 laps
31 Rumen Voigt (Ger) VSC Klingenthal/Sks M.I.G
32 Marco Schätzing (Ger) Zwillingscraft/SSV Mountyalten
33 Andy Römhild (Ger) SR Suntour Fuji Bikes/1.MTB-Cl
34 Markus Knott (Ger) Team XLC Haibike
35 Andi Weinhold (Ger) Team SRM Stevens
36 Boris Vasilyev (Rus) Format-Udmurtia                               3 laps
37 Severin Schweisguth (Ger) Ghost Racing Team
38 Sascha Knöpfle (Ger) Rothaus-Cube MTB Team
39 Jochen Coconcelli (Ger) Team Zwillingscraft
40 Vladimir Loginov (Rus) Format-Udmurtia-Team
41 Guido Thaler (Aut) Corratec World Team
42 Alexander Speisekorn (Ger) MTB-Teck/Team Nolte-Küchen
43 Johnni Nielsen (Den)
44 Markus Trost (Ger) Team Schneiderhan-Cube
45 Philipp Maximilian Daum (Ger) Best-Bike-Parts/Haibike
46 Timm Jander (Ger) Team Radsport Dressel - Scott                    4 laps
47 Christian Entmayr (Aut) RC-Arbö-ANF Mazda Eder Walding
48 Tom Ettlich (Ger) White Rock
49 Oliver Vonhausen (Ger) Team Speed-Max                              5 laps
50 Alexey Belokrylov (Rus) Format-Udmurtia-Team

Elite women

1 Ivonne Kraft (Ger) Joybike / MBC Bochum                           1.34.28
2 Sabrina Enaux (Fra) Team Lapierre International                      0.06
3 Hanna Klein (Ger) Rothaus-Cube MTB Team                              5.41
4 Julie Krasniak (Fra) Time Lapierre International                     7.07
5 Silke Schmidt (Ger) Fuji Bikes Europe                                7.25
6 Agnes Naumann (Ger) Rothaus-Cube MTB Team                            9.29
7 Nina Kunz (Ger) Merida Deutschland                                   9.43
8 Tatjana Dold (Ger) Fuji-Bikes Europe                                12.16
9 Silja Vetter (Ger) SC Hausach Neumayer Tekfor                       13.28
10 Stefanie Andris (Ger) Rothaus-Cube MTB Team                        14.19
11 Claudia Seidel (Ger) RSV Neustdt/ Orla; Team Focus                 14.57
12 Sandra Börner (Ger) SG Rheinfelden/ Sabine Spitz J                 16.18
13 Ines Thoma (Ger) SKS M.I.G. Team                                   17.23
14 Nicole Lechl (Ger) Team Xlc Haibike                                18.01
15 Katharina Haase (Ger) TSV Böhringen Team Bergamont                 20.41
16 Almut Grieb (Ger) www.team-woba.de                                 22.12
17 Nadine Rieder (Ger) FBI Racingteam.Youngstars                      1 lap
18 Cora Paulukat (Ger) SV Steele 11/biketeam2008.De

U23 women
 
1 Hanna Klein (Ger) Rothaus-Cube MTB Team                  1.40.09.7
2 Julie Krasniak (Fra) Time Lapierre International            1.26.2
3 Silke Schmidt (Ger) Fuji Bikes Europe                       1.43.8
4 Agnes Naumann (Ger) Rothaus-Cube MTB Team                   3.47.6
5 Silja Vetter (Ger) SC Hausach Neumayer Tekfor               7.46.6
6 Stefanie Andris (Ger) Rothaus-Cube MTB Team                 8.38.2
7 Sandra Börner (Ger) SG rheinfelden/ Sabine Spitz j         10.36.5
8 Ines Thoma (Ger) SKS M.I.G. Team                           11.42.0
9 Nicole Lechl (Ger) Team XLC Haibike                        12.19.9
10 Katharina Haase (Ger) TSV Böhringen Team Bergamont        15.00.0

One lap behind

11 Nadine Rieder (Ger) FBI racingteam.youngstars                    
12 Cora Paulukat (Ger) SV Steele 11/biketeam                        
 
Elite B and U23 men
 
1 Julian Schwendemann (Ger) Endorfin Solvis                1.28.22.2
2 Kilian Pfeffer (Ger) Team-Cmtb                              3.33.0
3 Timo Modosch (Ger) Ghost Racing Team                        4.05.1
4 Stefan Schairer (Ger) Gonso-Rawoflex/                       4.51.3
5 Johannes Közle (Ger) Team-Cmtb                              5.26.5
6 Yves Kellogg (Ger) Endorfin Solvis                          5.50.8
7 Christian Lau (Ger) NRW Landeskader                         6.34.6
8 Philipp Ziegler (Ger) FXSports                              6.55.6
9 Patrick Titus (Ger) SKS M.I.G. CO                           7.18.8
10 Benedict Bosler (Ger) rkv-racingteam/                      7.52.1
11 Torben Saßnick (Ger) Team Focus                            9.11.6
12 Tommy Galle (Ger) Zweirad riese Racingteam                 9.21.3
13 Svante Johanßon (Ger) RSC Lüneburg/                        9.43.7
14 Sascha Nething (Ger) MTB Teck Team                         9.57.5
15 Benjamin Oesterle (Ger) MHW Cube Racing                   11.16.3
16 Jens Ostwaldt (Ger) Cannondale - Bad                      11.27.3
17 Arne Rollert (Ger) Radsportverband                        12.24.3
18 Daniel Stolz (Ger) Haibike                                12.47.1
19 Hans-Joachim Kleine (Ger) Bergamont-Sport-Team            13.06.9
20 Barry Hayes (Ger) PRISMA-Ferring/Trenga DE Cycli          13.40.6
21 Nico Köpke (Ger) Gonso-Rawoflex/RSG Zollern-              13.45.4
22 Ronny Munz (Ger) Aktiv-Sport-Fichtenberg                  13.45.5
23 Lukas Schmitz (Ger) Bergamont                             13.47.9
24 Mario Waibel (Ger) Team-Cmtb                              15.26.6
25 Tom Fritsch (Ger) Gonso-Rawoflex/RSG Zollern-Alb          15.32.8
26 Markus Ziegler (Ger) SC Hausach/Neumayer Tekfor           15.39.6
27 Peter Hermann (Ger) RC Lübbecke 04                        15.44.6
28 Matthias Ulrich (Ger) MTB Team - Saar / RSF Niederli      18.17.1
29 Jonas Struff (Ger) team-wein.de                           18.19.2
30 Jörg Schmidt (Ger) FRM Racing Team                        18.39.8
31 Till Seime (Ger) Harz-Racing Becker-Carbon                20.39.9

One lap behind

32 Richard Gantner (Aut) Radclub Laßnitzhöhe                        
33 Christian Fehr (Ger) SV Steele 1911/SKS M.i.G.Team               
34 Jeffrey Andris (Ger) MHW Cube Racing Team                        
35 Konstantin Jung (Ger) RSG Würzburg                               
36 Florian Eitel (Ger) Rhein-Neckar-Racing                          
37 Tobias Schillig (Ger) Team Bikeservice - CORRATEC                
38 Dominic Dinger (Ger) HOT CHILI Racing Team                       
39 Markus Moeller (Ger) ATV Haltern am See           

Two laps behind

40 Olaf Miosga (Ger) MTB Team-Saar / RC Mistral                     
41 Patrick Müller (Ger) TV Rodenbach / Kuk's Racingtea              
42 Viktor Grzebyk (Ger) Team Watz Up Oberhausen                     
 
U23 men - #2
 
1 Fabian Giger (Swi) SKS M.I.G. Team                       2.02.21.8
2 Piotr Brzozka (Pol) JBG2-APC PRESMET                        6.51.2
3 Robert Gehbauer (Aut) Multivan Merida Biking Team           9.53.6
4 Markus Bauer (Ger) Haibike                                 12.28.3
5 Florian Schön (Ger) RSV Bautzen                            13.27.3

One lap behind

6 Sebastian Szraucner (Ger) Team Fuji-Bikes Europe                  
7 Sebastian Mordmüller (Ger) Cannondale Bad Salzdetfurth ra         
8 Vero Lüscher (Ger) Team Mayer-Arbeitsbühnen / STE                 
9 Heiko Gutmann (Ger) Rothaus-Cube MTB Team                         
10 Pascal Ketterer (Ger) Bergamont Renn-Team                        
11 David Hofmann (Ger) Lexware-Racing-Team                          

Two laps behind

12 Rumen Voigt (Ger) VSC Klingenthal/SKS M.i.G.                     
13 Andy Römhild (Ger) SR Suntour Fuji Bikes/1.MTB-Cl                
14 Markus Knott (Ger) Team XLC Haibike                              
15 Andi Weinhold (Ger) Team SRM Stevens 

Three laps behind

16 Severin Schweisguth (Ger) GHOST Racing Team                      
17 Sascha Knöpfle (Ger) Rothaus-Cube MTB Team                       
18 Vladimir Loginov (Rus) Format-Udmurtia-Team                      
19 Markus Trost (Ger) Team Schneiderhan-Cube                        
20 Philipp Maximilian Daum (Ger) Best-Bike-Parts/HAIBIKE            

Four laps behind

21 Timm Jander (Ger) Team Radsport Dressel - SCOTT                  
22 Tom Ettlich (Ger) White Rock                                     

Five laps behind
23 Oliver Vonhausen (Ger) Team Speed-Max                            
 
Junior men
 
1 Fabian Strecker (Ger) Lexware-Racing-Team                1.03.42.2
2 Markus Schulte-Lünzum (Ger) SKS M.I.G. Team                 0.19.9
3 Marcel Fleschhut (Ger) LEXWARE Racing Team SV Kirchza       0.21.8
4 Martin Gluth (Ger) Team Bulls                               2.22.1
5 Benjamin Dorn (Ger) cannondale bad salzdetturth ra          3.10.8
6 Matthias Hoi (Aut) Team Fuji Bikes Europe/ARBÖ RL           4.23.0
7 Valentin Fiderer (Ger) VAUDE-Simplon TEAM                   4.26.7
8 Manfred Reis (Ger) SKS - Made in Germany                    4.34.4
9 Simon Stiebjahn (Ger) Bergamont Renn-Team                   5.24.6
10 Marcus Nicolai (Ger) Team Bergamont                        6.08.5
11 David Simon (Ger) racingteam.youngstars                    6.30.7
12 Henrik Hoffmann (Ger) NRW Landeskader                      6.46.5
13 Lukas Schuon (Ger) VBC Waldshut-Tiengen                    7.03.4
14 Daniel Staub (Ger) Haibike                                 7.03.9
15 Ludwig Doehl (Ger) Bike Junior Team                        7.37.6
16 Timo Müller (Ger) Team Schneiderhahn CUBE                  7.38.7
17 Martin Kotschenreuther (Ger) RADioAKTIV-RACING             7.54.2
18 Thomas Weschta (Ger) BSB Bayreuth/AS Group-ergomo          7.55.5
19 Anselm Wüllner (Ger) NRW Landeskader                       8.11.3
20 Marcel Braun (Ger) Radon Racing Team                       8.27.1
21 Fabian Kring (Ger) PokerRoom/youngwilds.de                 8.28.9
22 Adrian Sauer (Ger) TuS Oppenau                             8.35.6
23 Jan-Niklas Droste (Ger) Cannondale-Bad-Salzdetfurth-ra     8.54.7
24 Martin Knöpfle (Ger) Lexware-Racing-Team                   9.02.0
25 Lysander Kiesel (Ger) Capic Team/SSV Wildpoldsried         9.21.4
26 Timo Häfner (Ger) Team Steinlach Wiesaz                    9.26.1
27 Ignacio Inderwies (Ger) Haibike                            9.43.1
28 Alexander Fischer (Ger) Sabine Spitz Junior Team          10.00.1
29 Stephan Meier (Ger) Sabine Spitz Junior Team              10.25.7
30 Ralf Maier (Ger) Team nolte-küchen                        11.34.5
31 Tomasz Starzyk (Pol) LKS Trasa Zielona Gora               12.05.0
32 Marius Christian (Ger) RSF Niederlinxweiler Team Endo     12.32.0
33 Maximilian Holz (Ger) Univega Pro Cycling Team            12.50.2
34 Hannes Wunsch (Ger) Sabine Spitz Junior Team              12.51.5
35 Tomasz Skrzypek (Pol) Team Spinning Wheelz                13.30.5
36 Raphael Sämann (Ger) Gonso-Rawoflex-Team                  13.46.5
37 Tobias Wisst (Ger) MTB Teck Team Lightweight ,B+M         13.56.0
38 Pascal Hempel (Ger) Team Steinlach-Wiesaz                 13.59.6
39 Philipp Richter (Ger) BSB Bayreuth                        14.28.8
40 Steven Page (Ger) MTB Team-Saar / RSF Niederlinx          14.36.4
41 Kevin Waibel (Ger) Team-Cmtb                              14.50.3
42 Jan Büchmnn (Ger) PRISMA-Ferring/Trenga DE Cycli          14.53.6
43 Alexander Dittgen (Ger) Bike Junior Team, MTB Kader Sa    15.42.3
44 Tim Kunze (Ger) MSC Gerstetten                            15.45.6
45 Simon Staufner (Ger) Team-Cmtb                            16.01.5
46 Johannes Wolf (Ger) Lexware-Racing-Team                   16.14.9
47 Paul Lang (Aut) SIMPLON Zweirad Janger                    16.26.1
48 Dominik Ziegler (Ger) SG Sparkasse Mainfranken Würzb      16.30.0
49 Lucas Stix (Ger) MTB-Teck/Team nolte-küchen               16.30.3
50 Marcel Pöter (Ger) ATV Haltern am See                     16.52.0
51 Tobias Schmidt (Ger) Landeskader Saar/Rsf Niederlin       17.04.8
52 Samuel Klamer (Ger) Radsport Rhein Neckar                 18.13.3

One lap behind

53 Lukas Holtkamp (Ger) ATV Haltern am See                          
54 Conrad Hüwe (Ger) White Rock                                     
55 Robin Oster (Ger) Landeskader Hessen                             
56 Lukas Bruder (Ger) TuS Oppenau                                   
57 Dominik Wieser (Aut) Hilljumpers Racing Team                     
58 Marius Reiber (Ger) MTB-Landeskader Hessen                       
59 Benjamin Merkel (Ger) RMSV Langenbrand                           
60 Alexander Köhler (Ger) Landeskader Hessen                        
61 Nicolas Gieringer (Ger) TuS Oppenau                              
 
Junior women
 
1 Mona Eiberweiser (Ger) SKS M.I.G.Team / Ski & Bike De      57.58.4
2 Gesa Brüchmann (Ger) Bad Salzdetfurth Racing Team           2.46.6
3 Vanessa Mosch (Ger) NRW Landeskader                         4.45.3
4 Julia Haase (Ger) TSV Böhringen Team Bergamont              6.31.0
5 Elisa Ries (Ger) Vaude Simplon Team                         6.37.3
6 Sarah Bosch (Ger) Ghost Junioren Team                       9.35.7
7 Melissa Horvat (Aut) ASVÖ Carithia Power Bike Team          9.54.0
8 Kim Gerlach (Ger) PokerRoom/YoungWild.de                   12.06.9
9 Sophia Habermehl (Ger) TuS Oppenau                         25.25.4