MTB index page for all MTB content
Australian 24 Hour Solo National Championships - CN
Mt. Majura, Canberra, Australia, March 22-23, 2008
2007 Results Results Past winners
English and Van Der Spiegel crowned national champions
By Dan McKay in Canberra
The winner Jason English (BMC)
Photo ©: Canberra Off-Road Cyclists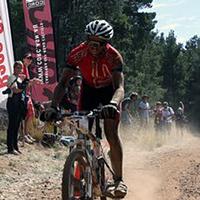 For the second consecutive year, the Australian Solo National 24 hour Championships were held in Canberra's Mt Majura Pine forest. The twisting, dusty trails provided a perfect venue for what was to be an intensely fought battle for the coveted green and gold jerseys - not to mention also a trip to the 24 hours of Adrenalin World Championships in Canada coming in July.
The women's field included experienced 24-hour racer and current 24 hour National Champion Katrin Van Der Spiegel (Clarence Street Cyclery, Trek) along with the winner of the recent Scott 24 hour Alexandra Kiendl (Kona, Mt Bulla, Shimano) and local hopeful Claire Graydon.
The men's field was missing current 24 hour National Champion Andrew Bell, who was busy celebrating a new arrival to his family, but was stacked with strong contenders. John Claxton (Giant, Geax, Skins, Nightlightnin) was back to better his second place in last year's nationals along with third placed Daniel Mackay (Giant, The Bike Shed) Also showing strong form was BMC rider Jason English, 24 hours of Adrenalin Champion (in 20-25 years-old category) Joel Donney, and fourth place finisher at the 2006 Scott 24 hour solo, Mark Fenner.
The race got underway under unusually cool conditions on a dry and dusty track. Within a few laps, the lead men had formed a high-speed train with Claxton and English driving an torrid pace. Donney, Fenner and Troy Bailey were all amongst the early action with Mackay sitting comfortable a few minutes off the lead.
Katrin Van Der Spiegel (Clarence Street Cyclery)
Photo ©: Canberra Off-Road Cyclists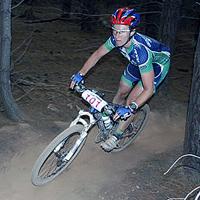 As the race progressed, the fast pace began to whittle down the lead bunch as first Donney then Bailey cracked. Fenner held a strong pace but gradually lost contact with the leaders. At the front, English and Claxton were treating their bodies with causal disregard as both attempted to take and hold an advantage. The lead swung back and forth throughout the night with the gap never more than a few minutes.
Behind them Mackay was maintaining steady pressure and gradually closing in on the fading Fenner. After the sun rose, an exhausted Claxton made an error which ended in a spectacular high speed crash. This opened the door for English to gain the upper hand as he gradually opened a lead. Both leaders had significant crashes - with English's crash on the first corner, conspicuously in front of the transition area, leading to a few rather sheepish jokes from the battling leader.
Behind the leaders, Mackay rolled Fenner and was steadily eating into Claxton's lead. English finished the race with a win, two laps ahead of Claxton with Mackay 19 minutes further back. English completed 47 laps or 428 Kilometres (266 miles) in his 24 hours of racing.
The women's race was a superb demonstration of fast, consistent and unrelenting riding. Katrin Van Der Spiegel gained the early advantage with a good start and was never seriously challenged. Throughout the race she continued to build her lead and she finished three laps ahead of Alexandra Kiendl. In fact, her 38 laps in a little over 24 hours would have put her in ninth overall - a spectacular performance (undoubtably helped by the number of bananas she ate!).
Behind Van Der Spiegel, the race for second and third was fought between the experienced Kiendl and local heroine Claire Graydon. Consistent performances by both riders placed Kiendl four laps ahead of Graydon who was a further two laps ahead of fourth placed Melinda Behrens.
Photography
For a thumbnail gallery of these images, click here
Images by CORC/www.corc.asn.au
Results
Overall 

Male open
 
1 Jason English                                     47 laps
2 John Claxton                                      45
3 Daniel Mackay                                     45
4 Mark Fenner                                       42
5 Scott Chancellor                                  39
6 Jason McAvoy                                      39
7 Garry James                                       38
8 Tristan Bennett                                   38
9 Anthony Manning                                   38
10 Sam Warmington                                   35
11 Phillip Haughton                                 35
12 John Evans                                       35
13 Shane Taylor                                     33
14 Steve Partridge                                  33
15 Neil Dall                                        32
16 David Power                                      31
17 Carl Maroney                                     30
18 David Butler                                     30
19 Scott Abercrombie                                30
20 Dave McGregor                                    30
21 Edward Hood                                      28
22 Nicholas Lee                                     27
23 Grantley Butterfield                             27
24 Stewart Kerr                                     26
25 Andrew Blair                                     26
26 Brad Mertens                                     26
27 Kevin Wells                                      25
28 Simon Tarp Jensen                                25
29 Paul Floro                                       25
30 Vaughan Caseley                                  24
31 Mark Tupalski                                    24
32 John Harvey                                      24
33 Matthew Cordery                                  23
34 Jacob Agger Troelsen                             23
35 Jack Spahr                                       22
36 Carl Norell                                      22
37 Glenn Apps                                       22
38 Brendan Johnston                                 21
39 Joel Donney                                      21
40 Clayton Locke                                    21
41 Lucas Lodi                                       21
42 Ashley Harvey                                    20
43 Joe Arrouk                                       20
44 Errol Schmidt                                    20
45 Nicholas Wilson                                  19
46 Andrew Tupalski                                  19
47 Geoffrey Clarke                                  19
48 Cameron Dalton                                   19
49 Shay Wahrlich                                    18
50 Chris Carson                                     18
51 David Thomas                                     17
52 Steven Baldwin                                   16
53 Brendan Cranney                                  16
54 Andrew Beddie                                    15
55 Peter Merrick                                    14
56 Mike Brennan                                     14
DNF Craig Armour                                      
DNF Nathan Versey                                     
DNF Troy Bailey                                       
DNF Craig Peacock                                     
DNF Ashley Hayat                                      
DNF Damien Wood                                       
DNF Jason Dreggs                                      
DNF Hieu Nguyen                                       
DNF Morgan Pilley                                     
DNF Karri Golding                                     
DNF Sasha Pesic                                       
 
Female open
 
1 Katrin Van Der Spiegel                            38 laps
2 Alexandra Kiendl                                  35
3 Claire Graydon                                    31
4 Melinda Behrens                                   29
5 Karen Foat                                        27
6 Rachel Edwards                                    26
7 Nicole Lancaster                                  24
8 Nicole Seale                                      24
9 Philippa Rostan                                   21
10 Rosemary Barnes                                  20
11 Kathryn Bicknell                                 20
12 Ria Johansen                                     18
13 Bethany Thompson                                 18
14 Amanda Tokley                                    16
15 Adair Ferguson                                   13
16 Rebecca Henderson                                12
17 Jenny Firman                                      6

By category

Men 18-24

1 Scott Chancellor                                  39 laps
2 Phillip Haughton                                  35
3 Edward Hood (ED)                                  28
4 Joel Donney                                       21
5 Lucas Lodi                                        21
DNF  Morgan Pilley                                    
 
Women 18-24

1 Bethany Thompson                                  18 laps
 
Men 25-29

1 Jason English                                     47 laps
2 Daniel Mackay                                     45
3 Tristan Bennett SS (Tristan)                      38
4 Shane Taylor                                      33
5 Nicholas Lee (nlee)                               27
6 Cameron Dalton                                    19
DNF  Craig Armour (SpoonBoy)                          
DNF  Nathan Versey                                    
DNF  Ashley Hayat                                     
DNF  Karri Golding                                    
 
Women 25-29

1 Claire Graydon (Claire)                           31 laps
2 Karen Foat (K Foat)                               27
3 Nicole Seale (Angel)                              24
4 Philippa Rostan                                   21
 
Men 30-34

1 John Claxton                                      46 laps
2 Sam Warmington SS (Kiwi Sam)                      35
3 Steve Partridge SS                                33
4 David Power SS                                    31
5 David Butler                                      30
6 Grantley Butterfield SS                           27
7 Brad Mertens SS (Sydney Single Speed Society)     26
8 Kevin Wells                                       25
9 Paul Floro (pfloro)                               25
10 Andrew Beddie                                    15
11 Mike Brennan                                     14
DNF  Hieu Nguyen                                      
 
Women 30-34

1 Alexandra Kiendl                                  35 laps
2 Melinda Behrens                                   29
3 Rachel Edwards                                    26
 
Men 35-39

1 Mark Fenner                                       42 laps
2 Jason McAvoy                                      39
3 Anthony Manning (antman)                          38
4 Scott Abercrombie                                 30
5 Stewart Kerr                                      26
6 Matthew Cordery                                   23
7 Glenn Apps                                        22
DNF  Troy Bailey (BMC                                 
DNF  Damien Wood (Woody)                              
DNF  Jason Dreggs                                     
DNF  Sasha Pesic (Sushi)                              
 
Women 35-39

1 Katrin Van Der Spiegel                            38 laps
 
Men 40-44

1 Carl Maroney                                      30 laps
2 Vaughan Caseley                                   24
3 Clayton Locke                                     21
 
Women 40-44

1 Nicole Lancaster                                  24 laps
 
Men 45-49

1 Garry James                                       38 laps
2 John Evans                                        35
3 John Harvey                                       24
DNF  Craig Peacock                                    
 
Women 45-49

1 Jenny Firman                                       6 laps
 
Men 50-59

1 Neil Dall (NPD)                                   32 laps
2 Dave McGregor                                     30
3 Jack Spahr SS                                     22
4 Errol Schmidt                                     20
 
Women 50-59

1 Adair Ferguson                                    13 laps
 
Male 6+6

1 Andrew Blair (Andy smells)                        26 laps
2 Simon Tarp Jensen                                 25
3 Jacob Agger Troelsen                              23
4 Carl Norell                                       22
5 Joe Arrouk                                        20
6 Andrew Tupalski                                   19
7 Geoffrey Clarke                                   19
8 Shay Wahrlich                                     18
9 Chris Carson                                      18
10 David Thomas                                     17
11 Steven Baldwin                                   16
12 Brendan Cranney                                  16
13 Peter Merrick                                    14
 
Open women 6+6

1 Rosemary Barnes                                   20 laps
2 Kathryn Bicknell                                  20
3 Ria Johansen                                      18
4 Amanda Tokley                                     16
 
Men U18 6+6

1 Mark Tupalski                                     24 laps
2 Brendan Johnston                                  21
3 Ashley Harvey (ash)                               20
4 Nicholas Wilson                                   19
 
Women U18 6+6

1 Rebecca Henderson (Bec)                           12 laps

Past winners
       Men                     Women
2007   Andrew Bell             Katrin Van Der Spiegel
2006   James Williamson        Kim McCormack
2005   Craig Gordon            Katrin Van Der Spiegel
2004   Josh Street             Tory Thomas