MTB index page for all MTB content
Drop Down - 3
Canazei, Val di Fassa (Trento), Italy, July 26-27, 2008
2007 Results Results
Siber and Rucknagel win round two in Canzei
Andreas Seiber
Photo ©: Thomas Dietze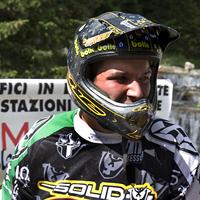 Germany's Andreas Sieber and Harriet Rucknagel won the iXS European Downhill Cup's second race. The European tour brought the gravity community to the Dolomites. In Italy's Canazei, riders from many different countries from all over Europe rolled to the start of the 3.2km long course.

None of the participants knew what to expect from Canazei's first showing as a race venue so getting accustomed to the conditions at hand was the first thing to do. The course was a high-speed track, which supported the race's motto "release the brakes and give it a go". As with this series' first stop, the weather conditions were unsettled.

Rain set in just in time for Saturday's lunch break. So many riders had to race their seeding run on a wet track without having had the chance to practice under the tricky conditions. Andreas Sieber (Solid A-Class Factory Team) handled the extremely slippery course best, winning the seeding run and thus securing himself the last starting spot on Sunday.

Conditions changed throughout Sunday as well. The literally soaked soil dried out some during the course of the day, but full attention and solid skills were necessary in the technical sections.

Swiss Marcel Beer (iXS Sports Division) was the first serious contender to occupy the Red Bull Hot Seat, but he had to give up soon to Italian Marco Bugnone (Ancillotti Team). The Italian's time was only to be bested by Sieber, who rode to his first victory of this season posting a time of 3'26.

In the women's race Scuol's third-place finisher Harriet Rücknagel (Team Zonenschein) stood up to her competitors, winning ahead of Swiss racers Silya Stadler (RMC Kerns) and Miriam Ruchti (Sport Promotion). After having won the seeding run, German Sandra Rübesam (Rad Art) had a crash in her final run, knocking her out of contention for the victory.

The junior race was attended by a strong international field. German Daniel Gottschall (DH Youngstars) won after managing to put more than five seconds on Belgian Dave Goris (Troy Lee Designs). The third place went to Italian Justyn Norek (Racing Team Dayco ASD). Having won the seeding run too, Gottschall's final time would have put him well within the top ten in the elite race.

In the master's category, German Jörg Heydt (Last) climbed to the top of the podium.
Photography
For a thumbnail gallery of these images, click here
Images by Thomas Dietze
Results
Elite Men

1 Andreas Sieber (Ger) Solid                                  3.26.889
2 Marco Bugnone (Ita) Ancillotti Team                         0.03.192
3 Marcel Beer (Swi) Ixs Sports Division Racing Tea            0.05.186
4 Marcus Klausmann (Ger) Ghost International                  0.05.871
5 Martin Frei (Swi) Solid Bikes Schweiz / VCl                 0.08.115
6 Tobias Sieber (Ger) Double Dragon - Cosmic Sports           0.08.739
7 Benny Strasser (Ger) Ixs Sports Division Racing Tea         0.08.850
8 Elias Somvi (Ita) Alutech Downhill Team                     0.09.191
9 Rick Balbierer (Ger) Bergamobt/Rsv Adler Arnstadt           0.09.364
10 Xavier Cerutti (Fra) Rfp Team                              0.09.996
11 Noah Grossman (Ger) Double Dragon/ Intense                 0.13.499
12 Aaron Bashford (Aus) Team Bashie, Onya Bike                0.14.832
13 Simon Finkel (Ger) Eaze-Bikes Sc Gerhausen                 0.15.405
14 Luca Pittino (Ita) Pro Bike Riding Team                    0.15.451
15 Adam Morgan (GBr) N-West                                   0.16.261
16 Patrick Meyer (Swi) Ixs Sports Division Racing Tea         0.16.392
17 Benjamin Morgan (GBr) N-West                               0.17.014
18 Seb Muller (Swi) Santa Cruz - Hot Point                    0.17.684
19 Billy Caroli (Swi) Rmteam                                  0.18.019
20 Jérôme Crottaz (Swi) Crans-Mountain                        0.19.425
21 Moritz Kruse (Ger) 3K - Factory - Team                     0.20.040
22 James Stock (GBr) N-West                                   0.20.591
23 Eugennaxi Dickerhoff (Ger)                                 0.20.712
24 Thomas Brunner (Swi) Rad Sport Buchs Kona                  0.21.650
25 James Mc Knight (GBr)                                      0.22.171
26 Randy Van Goubergen (Bel) The Barracuda                    0.22.542
27 Samuel Baumann (Swi) Campione Celeste                      0.23.805
28 Orlando Sarioglou (Ger) Giant / Axo Fsa Maxxis             0.24.776
29 Fabian Bieli (Swi) Solid Bikes Swiss                       0.25.426
30 Hynek Cizinsky (Cze) Mad                                   0.26.995
31 Daniel Rossmann (Ger) Fahrrad-Paul.De/Wsv-Oberhof          0.29.344
32 Rico Putzi (Swi) Radsport Buchs /Kona                      0.36.083
33 Metteo Bertelli (Ita) Asd Team Biciaio                     0.36.125
34 Filip Srail (Cze) DH Racing Team & Bishop                  0.38.662
35 Fabrice Tirefort (Swi) Verbier Bike Team / Scott           0.40.521
36 Massimo Rosson (Ita) Trentino Action                       0.43.582
37 Josef Rank (Ger) Extremecyclingfederation E.V.             0.43.698
38 Christian Daxner (Aut) Mtb Schladming                      0.47.210
39 David Lischka (Ger) Herobikes/Rcg Weißenburg               0.47.616
40 Tobias Doering (Ger) Bike'n'style / Barbarians             0.48.586
41 Johannes Leis (Aut) Rc Wolf Imst                           0.50.777
42 Mario Steiner (Ger) 77 Designz Factory Team                0.56.039
43 Bastiaan Jansink (Ned) Nox Cycles                          0.56.500
44 Nicolas Cherix (Swi) Ride Bulle                            1.02.265
45 Andrea Leita (Ita) Energy-Bike                             1.10.990
46 Alexander Klein (Ger) Wsv Oberhof                          1.11.248
47 Simon Charvat (Cze)                                        1.14.390
48 Daniel Schmider (Ger) Grossman Bikes/ Maxxis               1.19.232
49 James Bashford (Aus) Team Bashie, Onya Bike                5.13.767
DNS Marco Milivinti (Ita) Ancillotti Team                             
DNS Nils Correvon (Swi)                                               
DNS Joel Andrade (Por) Scew / Sc Gerhausen                            
DNS Falco Ruppert (Ger) Cannondale Germany/Hmc Singen                 
DNS André Wackenhut (Ger) Solid Bikes                                 
DNF Matthias Weiß (Ger) Rcg Weißenburg Herobikes                      
 
Elite women

1 Harriet Rücknagel (Ger) Zonenschein,Rederberch E.V.         4.08.407
2 Silya Stader (Swi) Rmc Kens                                 0.09.341
3 Miriam Ruchti (Swi) Sport Promotion                         0.09.479
4 Caroline Sax (Fra) Sport Promotion                          0.29.564
DNS Stephanie Teltscher (Ger)                                         
DNF Sandra Rübesam (Ger) Rad-Art / Wsv Oberhof                        
 
Junior men

1 Daniel Gottschall (Ger) DH Youngstars/Bikepark Todtnau      3.36.213
2 Dave Goris (Bel) Troy Lee Designs , Barracuda               0.05.647
3 Justyn Norek (Ita) Racing Team Dayco Asd                    0.07.298
4 Markus Planitzer (Aut) Bodenhaftung/Bikestore               0.10.563
5 Robin Hagen (Swi) Tomac Factory Racing                      0.13.180
6 Roman Roschi (Swi) Suspension Center                        0.15.041
7 Andrea Mocellin (Ita) Asd Team Biciaio                      0.17.082
8 David Scmmied (Ger)                                         0.17.253
9 Robin Van Goubergen (Bel) The Barracuda                     0.18.580
10 Andrej Novak (Cze) Fast DH Team                            0.18.748
11 Yanick Braun (Swi) Kona / Free-Mountain.Ch                 0.20.202
12 Michael Matt (Aut)                                         0.22.604
13 Lucas Meyer (Swi) Ixs Sports Division Racing Tea           0.25.149
14 Andreas Gasser (Aut) Union Verticalracing Villach          0.28.588
15 Elias Vonier (Aut) Arbö Rsp DH Racing Team                 0.29.203
16 Fabian Seiffert (Ger) Rsv Lünen                            0.32.432
17 Andreas Gufler (Ita) Alutech Downhill Team                 0.37.226
18 Vincent David (Fra) Sport Promotion                        0.46.169
19 David Hosang (Swi) Suspension Center                       0.48.602
20 Florian Leidinger (Aut) Grv Windischgarsten, Cicona DH     1.22.707
21 Mario Reinbacher (Aut) Giga Sport                          2.26.593
DNS Samuel Hille (Ger) Soulrider E.V.                                 
 
Masters

1 Jörg Heydt (Ger) Last / Tsv Rittershausen                   3.59.263
2 Federico Giubilato (Ita) Team 21                            0.00.616
3 Fabio Boniciolli (Ita) Trentino Action                      0.03.019
4 Carsten Portsch (Ger) Royal Bavarian Spirit                 0.06.727
5 Milan Cizinsky (Cze) Mad                                    0.06.844
6 Stefan Westerveld (Ger) Ellsworth / Wtb / Xxstore           0.07.339
7 Martin Stefani (Ita) Alutech Downhill Team                  0.08.702
8 Olivier Lagger (Swi) Fatwork                                0.10.648
9 Urs Sturzenegger (Swi)                                      0.15.693
10 Marco Martello (Ita)                                       0.15.916
11 Riccardo Perrone (Ita)                                     0.17.420
12 Roner Michele (Ita) Società Ciclistica Pergine             0.20.751
13 Daniele Tonezzer (Ita) Alutech Downhill Team               0.24.214
14 Porro Massimiliano (Ita) Trentino Action                   0.31.082
15 Orneo Contessotto (Ita) Alutech Downhill Team              0.40.382
16 Peter Boo (Swi) Fatwork                                    0.47.587
17 Drahomir Daika (Cze) Suzuki-Rb                             0.54.871
18 Elia Detomas (Ita)                                         1.16.735
DNS Andreas Mair (Ita) Alutech Downhill Team                          
DNS Christoph Schwienbacher (Ita) Alutech Downhill Team               
DNS Eros Soffiatti (Ita) Alutech Downhill Team                        
DNS Gabriele Bez (Ita) Energybike                                     
DNS Paolo Tanchis (Ita) Ar6 San Marco DH Team                         
DNS Matteo Caruso (Ita) 100-Onekona                                   
DNF Silvio Andermarcher (Ita) Alutech Downhill Team                   
 
Unlicensed men

1 Martin Schleising Bike´N Style Racing                       3.49.385
2 Christoph Eichinger Royal Bavarian Spirit                   0.03.908
3 Hannes Auer                                                 0.06.457
4 Markus Bihler Velo-Radsport-Leipheim.De                     0.07.234
5 Jan Sponseil Stylefish.Eu,Herobikes ,Aclass                 0.09.781
6 Henrik Meyer Watzup Duisburg/Royal Bavarian                 0.10.899
7 Dominik Trost Andys Bikes & Parts / Fusion                  0.11.422
8 Oli Decker Double Dragon/Paranoia/Dapone                    0.14.494
9 Sebastian Strehl Tretlager E.V.                             0.16.467
10 Thomas Grab                                                0.16.471
11 Tobias Gosch Maximum-Racing                                0.19.407
12 Bastian Rieder                                             0.22.287
13 Hendrik Schulze                                            0.34.214
14 Stephan Widmer Nicolai Ch                             
15 Jan-Phillip Strehl                                         0.42.259
16 Andreas Alber                                              1.16.231
17 Boris Beyer                                                1.42.747
DNS Robin Kopplin Soulbiker.Com                                       
DNS Dominik Betschart Fat-Work                                        
DNS Philipp Gerken Alutech/Bikeparkmap.Com                            
DNS Walfried Blumauer MS Intense Friends                              
DNS Stefan Richle MS Intense Friends                                  
 
Unlicensed women

1 Mike Rum Kemmer Sports Racing/Flyracing                     3.46.331
2 Roger Beutler Sport Promotion                               0.09.888
3 Stephan Eckardt Alutech/ Www.Quadrad.De                     0.15.476
4 Patrick Müller                                              0.18.976
5 Michael Stammbach Fatwork                                   0.21.951
6 Carsten Geck Rohloff Factory                                0.23.576
7 Sandro Stein Trek-Radscheune / Wsv Oberhof                  0.28.756
8 Dirk August Royal Bavarian Spirit                           0.28.897
9 Toni Galfano Jumpin Crazy Team /VC-Leibstad                 0.34.518
10 Damian Chromik Private Rocker                              0.36.325
11 Rene Mulderij Diatec Racing Team                           0.40.404
12 Stefano Rossi Voodoo Freestyle Company                     0.57.370
13 Christian Kunz                                             1.01.333
DNS John Mooij Diatec Racing Team                                        
DNS Peter Kaufmann MS Intense Factory Racing                             
DNS Sigmar Kahlen MS Intense Friends/Tele2                               
 
Unlicensed Juniors

1 Benjamin Oluoch Www.Quadrad.De                              3.46.030
2 Lutz Weber Free Mountain - Kona Team                        0.02.441
3 Hunziker Freddy Acefactory DH Team                          0.05.498
4 Jonas Haf                                                   0.06.856
5 Manuel Schneider                                            0.14.847
6 Bernhard Kammel                                             0.18.602
7 Max Kruse Ruffneck/Ddmc Solling                             0.38.386
8 Philipp Bünnemann                                           0.55.186
 
Unliscened women

1 Martina Brühlmann Fatwork                                   4.30.736
2 Nicole Beege Anbipa Rider                                   0.23.230
3 Nathalie Däppen Fatwerk                                     0.23.965
4 Sandra Von Allmen Fatwork                                   0.36.459
DNS Katrin Meistring Woodpacker / Herobikes                           
DNS Moni Woderschek                                                   
DNS Gabriele Köll MS Intense Friends