MTB index page for all MTB content
Cardiac Classic - NE
Burnaby Mountain, British Columbia, Canada, July 13, 2008
2007 Results Results
Harrington and Widmer win at inaugural Cardiac Classic
Racers had no shortage of climbing
Photo ©: Volodya Gusak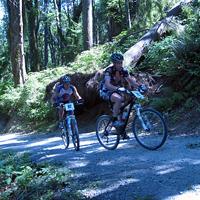 First-year event West Coast Racing's Cardiac Classic's cross country was held at Burnaby Mountain in British Columbia. Stefan Widmer (Rocky Mtn- K Capital Source) and Joanna Harrington won the elite men's and women's races.
Many of BC's fastest women came out to play with Dawn Berg of Oak Bay Bikes / Everti handily scooping up the first lap hill climb cash prime for pros, before bringing home a second place overall finish on the day behind Aussie Harrington.
"It was very hard," said Berg. "They were tough climbs on a very hot day. The downhill was also fantastic. It was nice and technical, which made you stay focused and it left you with some adrenaline if you took things too fast!"
The Island Racing Club's Joele Guynup, who wound up her day two positions back from Berg after an epic battle with Melanie Vaughan of Steed Cycles. Vaughan eventually claimed the final spot on the elite women's podium with a scant one second lead.
Stefan Widmer of Rocky Mountain - K Capital Source p/b Different Bikes brought home the biggest haul of the day in the elite men's race, first nailing down hill climb cash prime and then executing an intelligently managed effort to hold off a stern challenge from Colin Kerr of Different Bikes and collect the lion's share of the cash prize purse, too.
Kerr held tough throughout what became a two-an battle with Widmer, who recently concluded a breakthrough campaign that saw him finish third in the 2008 Canada Cup national mountain bike series. Widmer's team-mate Kevin Calhoun rounded out the podium.
"The race was really tough," said Widmer. "A ton of climbing and some challenging descending." His synopsis of the course was a common theme on this day, as the course designers had laid out a devastating challenge which put the pro men through 5,300 feet of cumulative elevation gain and loss over the relatively short distance of 31km, including the leg-breaking one time climb from the staging area to start the event which rose up in the form of a sheer wall over 1,000 feet high replete with soul-sucking gradients, finally cresting the top of Burnaby Mountain at the prime line.
"I went off the front at the start of the race to ensure that I would get the hill climb prime, but then Colin quickly got back on my wheel in the singletrack," said Widmer. "In fact, in the next two laps, Colin and I would climb together but he would continually ride the descents quicker then me putting a good 10-15 seconds into me each lap which I would have to make up at the start of the next climb. Knowing this, I pulled away on the last lap at the top of Cardiac Hill ensuring that I would get a gap on him and enter the singletrack first. After that, I kept it steady on the last climb and brought home my first ever BC Cup win."
Mike Hunter, BC Cup series leader for Master 30-39 men, was in the thick of the day's most closely contended race, locked in a seesaw battle with Graham Cocksedge, decided only on the course's final short paved uphill burst by a 1 second sprint finish margin in Hunter's favour. "On the technical sections I could usually get a little gap on him, and then I would take it easy on the climb and he would catch back up," said Hunter. "On the last lap, I had a little bigger gap through Dead Moped, and figured that I was home free, but Graham chased hard and caught me in the final singletrack before the finish line."
Sunshine Coast Cycling's junior program showed its merit with Katherine Short and Sebastian Sleep easily maintaining control over the top junior categories, pumping out crackling lap times that would have been competitive even in the senior pro races.
Citizen racers Ashleigh Gold and Dmitri Paulakos took the unique cash primes for the citizen hill climb for the women and men respectively.
"With a first time event you can never be sure what numbers to expect, and we've got a tough slot sandwiched in between some other big races around the country, but we set out with a goal to be creative in ways to make it a great day for everyone involved and then simply let the event grow itself year over year," said non-profit West Coast Racing's club president Michael Tunnah.
Next up for West Coast Racing is the Vanier Park 'Cross Classic on October 12near the Burrard Bridge in downtown Vancouver.
Photography
For a thumbnail gallery of these images, click here
Images by Volodya Gusak
Results
Elite women

1 Joanna Harrington                                             1.52.18
2 Dawn Berg (OBB/ Everti)                                          0.46
3 Melanie Vaughan (Steed Cycles)                                  13.30
4 Joele Guynup (Island Racing Club)                               13.31
5 Kj Sadler (Active Life Multisport Team)                         17.54
6 Linda Robichaud (Team Whistler)                                 21.49
DNF  Kristin Johnston                                                  
 
Elite men

1 Stefan Widmer (Rocky Mtn- K Capital Source)                   2.00.29
2 Colin Kerr (Different Bikes)                                     1.25
3 Kevin Calhoun (Rocky Mtn- K Capital Source)                      6.02
4 Drew MacKenzie (IRC p/b ROBERT CAMERON LAW CORP.)               11.30
5 Carsten Ivany (Natural Earth)                                   11.31
6 Thomas Skinner (Rocky Mtn- K Capital Source)                    15.24
7 Seth Wells                                                      16.55
8 Aaron Weiss (Full Boar)                                         24.33
9 Matt Law (Peninsula Cycles)                                     38.59
 
Junior women

1 Katherine Short (Sunshine Coast Cycling)                      1.38.24
2 Jessica Marquis (Sunshine Coast Cycling)                         7.48
DNF  Sarah Fedor (Sunshine Coast Cycling)                              
 
Junior men

1 Sebastian Sleep (Team BC/SCC/Rocky Mtn Diff. Bikes)           1.42.41
2 Dan Scott (Oak Bay Bikes)                                        9.37
3 Hank Jien (Peninsula Cycles/Rocky Mountain Bicycles)            25.20
4 Dillon Mennie (Sunshine Coast Cycling)                          28.10
DNS  Philip Cairns (Team Squamish)                                     
 
Master women 30-39
 
1 Annie Kvick (Natural Earth Racing)                            1.31.33
2 Karen Todd (Different Bikes)                                     2.41
3 Tara Walsh (West Coast Racing)                                   8.03
4 Heather King (Active Life Multisport Team)                      14.37
 
Master men 30-39 

1 Mike Hunter (Rocky Mountain - Different Bikes)                1.42.13
2 Graham Cocksedge                                                 0.01
3 Andrew Brown (Comox Vally Cycling Club)                          2.34
4 David Kvick (Natural Earth Racing)                               3.10
5 Ryan Newsome (Local Ride)                                        7.51
6 Nobuo Shoji                                                     10.47
7 Matt Drown (West Coast Racing)                                  11.35
8 Joshua Weiss (Peninsula Cycles- Rocky Mountain)                 11.47
9 Craig Fabische (Overtime Sports Coquitlam)                      12.11
10 Jon Taylor (Pork Bros Racing/CyclepathNW.com)                  20.22
11 Joe Purves-Smith (Evolve)                                      29.03
12 Tim Graversen (Steed Cycles)                                   37.58
DNF Alexandru Cojocaru                                                 
DNF Scott McGregor (Steed Cycles/SRAM)                                 
DNS Albert Nomura (Zimich Coaching)                                    
 
Master men 40-49

1 Brent Hladchuk (Evolve CC)                                    1.46.51
2 Richard English (Skookum Cycle)                                  2.28
3 Sheldon Orr (Team Peninsula Cycle/RMB)                           6.19
4 Mike Charuk (Team Whistler)                                      8.42
5 Dave Robertson                                                   9.19
6 Bryon Enns (Steed Cycles/SRAM)                                   9.36
7 Tyler Dumont (Team Alliance/Norco)                               9.52
8 Michael Dolling (Peninsula Cycles)                              14.26
9 Dean Irvine (Steed Cycles)                                      19.54
10 John Rozell (Steed Cycles)                                     21.29
11 Bruce Hale (Team Peninsula Cycling/Rocky Mountain Bicycles)    25.57
12 Kevin MacDonald                                                31.34
13 Charles Koehler                                                41.24
DNF  Ted Russo (Brodie)                                                
 
Master men 50+ 

1 Tim Daechsel (Bike Barn)                                      1.19.12
2 William Letham                                                   8.19
3 Urs Bleuler                                                      8.39
4 Frank Ammirati (Team Peninsula Cycles/RMB)                      10.39
5 Craig MacKenzie                                                 26.00
 
Senior women 19-29

1 Alena Radomsky (Steed Cycles)                                 1.36.22
 
Senior Men 19-29

1 Greg Day                                                      1.43.29
2 Norrie Henderson (Kelowna Cycle)                                 6.16
3 David Huntley (Experience Cycling)                              15.14
4 Eric Lalonde                                                    16.42
5 Jesse Horn (Sunshine Coast Cycling)                             21.13
6 Matt Bevis                                                      21.49
DNF  Aaron Quesnel                                                     
 
Under 15 women

1 Maia Kilby (Team Squamish)                                    1.22.57
 
Under 15 men

1 Louis Dillon (Sunshine Coast Cycling)                         1.09.08
2 Jonas Lomax (Sunshine Coast Cycling)                            10.05
 
Under 17 men

1 Nick Holatko (Norco-Blacks Cycle)                             1.17.06
2 Devan McClelland (Team Coastal/Trek)                             2.06
3 Jesse Melamed (Team Whistler/Natures Path)                       3.19
4 Tobias Nolan (Team Squamish)                                     6.09
5 Rob Leigh (Team Squamish)                                        8.01
6 Jereomy Pelletier                                               17.29
7 Aiden Davis (Team Squamish/ Corsa Cycles)                       22.29
 
Citizen women 30+

1 Ashleigh Gold                                                 1.00.14
2 Helena Juhasz                                                    5.04
3 Jennifer Shin                                                   19.17
4 Jennifer Gilchrist                                              23.35
5 Mona McLachlan (Hansen Industries)                              28.44
6 Michelle Preston                                                41.07
 
Citizen women U30

1 Jane Pattillo (West Coast Racing)                             1.43.30
 
Citizen men 20-29 

1 Matthew Juhasz                                                1.30.32
2 Lawrence Hoar                                                    4.25
3 Liam Kerney                                                      9.19
4 Bruce Pomeroy                                                        
 
Citizen Men

1 Graham Henderson                                              1.23.16
2 Hugh Thompson                                                    0.16
3 Gordon Michaux                                                   0.35
4 Dimitri Paulakos                                                 1.07
5 Colin Campbell (Escape Velocity)                                 6.47
6 Eric Gerrebos                                                    7.25
7 Robbie Roberts (Evolve Cycling)                                  8.38
8 Tim Cardinal (Team Coastal)                                      8.58
9 Sean Baker                                                      10.07
10 Dean Brandt (Reflex Nutrition-Amino Vital)                     11.32
11 Kevin Harrison (Hansen Industries)                             11.53
12 Bart Gould                                                     12.44
13 Rob Barrett (Team Alliance)                                    13.12
14 Martin Kang                                                    13.52
15 Neil Hourihane                                                 14.13
16 Dave Magnusson                                                 14.51
17 Geoff Huenemann                                                16.53
18 Brewer Paul (Evolve)                                           16.59
19 Russ Slater                                                    20.49
20 Andrei Zawadzki                                                21.03
21 Stuart Bestbier                                                21.25
22 Derek Gehl                                                     22.50
23 Bob McLaren (Phoenix Velo)                                     23.55
24 Herb Sallans                                                   28.15
25 Mike Meade (West Coast Racing)                                 39.19
26 Mark Rowe                                                      39.20
27 Christopher Baisley                                            40.48
28 Trevor Smith (Thomas Skinner and Son)                          46.30
29 Craig Hatt                                                     51.42

Behind one lap

30 Edwin Beange (West Coast Racing)                                    
DNS Mark Pace-Floridia (Hansen Industries)                             
DNS Winston Lui                                                        
 
Citizen Men

1 Jarrad Wilhelm                                                1.40.54
 
Kids' Youth Challenge (men)

1 Eric Dillon                                                          
2 Carsten Lapointe                                                     
3 Sam Johnston                                                         
4 Alex Gee                                                             
5 Alan Zheng                                                           
 
Kids' Youth Challenge (women)

1 Lauren Preissl                                                       
2 Grace Lam                                                            
3 Vivian Lam                                                           
4 Katherine Dawes                                                      
 
Kids' Youth Challenge (men, shorter course)

1 Keegan Freeland                                                      
2 Fay Carter                                                           
3 Zac Pollard                                                          
4 Logan Driedger                                                       
 
Kids' Micro Challenge

1 Megan                                                                
1 Kurtis                                                               
1 Kaz