MTB index page for all MTB content
British Cross Country National Championships - CN
Crow Hill, Great Britain, July 20, 2008
2007 Results Results
Killeen captures first senior title
By Luke Webber
Liam Killeen (Specialized) celebrates
Photo ©: Luke Webber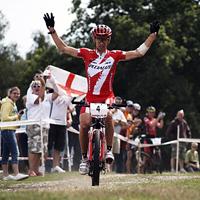 Liam Killeen (Specialized) won his first-ever elite national title while Jenny Copnall (Subaru Gary Fisher) retained her position as British National Champion after a day of cross country racing at Crow Hill.
Killeen's win came after a thrilling race against outgoing champ Oli Beckingsale (Giant) in the south of England. Even before the race start there was speculation about Killeen's participation as in previous years he has focussed on international duties, whereas multiple winner Beckingsale is a regular face at UK events despite a packed World Cup schedule. Indeed, the last time Britain's top duo raced on home soil was in 2006. Along with doubts that Killeen's sponsors would welcome a national jersey with its less advertising space, nobody was certain of the lineup until Saturday.
Thankfully spectators were rewarded with the presence of the two best cross country racers in the UK, both fresh from top ten finishes at the World Championships just a month previous and now fully into preparations for the Olympic Games following selection to the national team two weeks ago.
Oli Beckingsale (Giant)
Photo ©: Luke Webber

Five laps of a dusty, flat 8km loop mainly comprising of singletrack and a few sharp climbs meant there was little to separate the best on the initial circuit. By lap two though only Killeen, Beckingsale and Ian Wilkinson (SIS) remained. The latter dropped off on lap three.
The result was the scenario everyone expected - the best two riders battling for position. With nothing to separate them, a sprint finish or or unforced error would decide final positions. In the final stages of the penultimate lap, that's just what happened as Beckingsale punctured and had to change a wheel. He lost the best part of a minute.
On such a fast course, there was nowhere to make up time and it was the red jersey of Killeen that appeared first from the trees, one minute ahead of Beckingsale. Killeen will line up with the national champion's jersey at the Olympic Games in Beijing.
Jenny Copnall (Subaru Gary Fisher) retained the women's title, which she has now won five times. Her win came out of a controlled race which she led from the front. Copnall made no secret that this race was the big one for her in 2008, and she gave an emotional celebration as she crossed the line.
Photography
For a thumbnail gallery of these images, click here
Images by Luke Webber /www.lukewebber.com
Results
Senior - Men
 
1 Liam Killeen (Specialized Factory Racing)                           1.54.54
2 Oli Beckingsale (Giant)                                                1.09
3 Ian Wilkinson (Sis/Trek)                                               3.51
4 Adrian Lansley (Pedalon.Co.Uk)                                         4.37
5 Paul Oldham (Hope Factory Racing)                                      6.10
6 Duncan Jamieson (Felt Racing)                                          7.35
7 Gareth Montgomerie (Colnago/Ergon Rt)                                  8.00
8 William Bjergfelt (Felt Racing)                                        8.02
9 Christopher Minter (Pedalon.Co.Uk)                                     8.04
10 Stuart Bowers (Scott Uk)                                              9.48
11 Paul Robertson (Sportstest.Co.Uk)                                    11.04
12 Lee Williams                                                         13.16
13 Ross Adams (Red Kite Cycles/Torq)                                    14.41
14 Nigel Martin (Leisure Lakes)                                         14.52
15 Patrick Cobb (Johns Bikes Rt)                                        15.24
16 Nick Collins (Torq Bar/Kona)                                         16.05
17 Richard Mardle (Felt Racing)                                         16.55
18 Matthew Weston (Team Rivette)                                        18.22
19 Robert Friel (Tsw Cycles)                                            18.58
20 Josh Gosselin (Guernsey Velo Club)                                   20.12
21 Chris Andrews (Kinesis Uk)                                           21.12
22 Christian Aucote (Team Kenda/Haro/Goldtec)                                
23 Philip Coad (Torq/Kona)                                              22.27
24 Andrew Cockburn (Ticket2Ride)                                        23.50
25 George Budd (Salsa Factory Racing/Halo/Schwalbe)                     25.11
26 Mansour Youssef (Kinesis Uk)                                         25.21
27 Philip Morris (Xcracer.Com 29Ers)                                    27.17
28 Allan Clark (Sandy Wallace Cycles)                                   27.31
29 David Evans (Mtb Marathon.Co.Uk)                                     27.54
30 Jon Osborn (Guernsey Velo Club)                                      28.00
31 Warren Bates (Mountain Trax)                                         29.28
32 Andrew Howett (Swcc/Station Fitness)                                 29.46
33 Dave Collins (Sis/Trek)                                                   
34 Richard Setters (Guernsey Velo Club)                                      
35 Joe Richards (Wheelbase.Co.Uk)                                            
36 Ross Mallen (Raf Cc)                                                      
37 Pete Miller (Guernsey Velo Club)                                          
38 Jody Crawforth (Look Factory Rt)                                          
39 Jody Burnett (Radikal Bike La-Pierre)                                     
40 Luke Smith (Whyte Racing Uk)                                              
41 Simon Ernest (Awcycles.Co.Uk/Giant)                                       
42 Oliver Holmes (Mini Adventure)                                            
43 Philip Cooper (Blueskycycles.Com)                                         
44 Henry Turgoose (1St Gear Cycles)                                          
45 Chris Wilson (Liphook Cycles)                                             
 
Senior - Women
 
1 Jenny Copnall (Subaru/Gary Fisher)                                  1.52.38
2 Paula Moseley (Css/Sludge/Climb On Bikes/Endura/Giant Rt)              3.24
3 Suzanne Clarke (Science In Sport/Trek)                                 5.17
4 Nicola Duggan                                                          6.28
5 Maddie Horton (Certini/Xcracer.Com)                                    6.37
6 Nadine Spearing (Xcracer.Com/Trek)                                    11.33
7 Elizabeth Scalia (Mongibellow Mtb Team)                               14.38
8 Nicky Hughes (Activ Cycles Folkestone)                                15.33
9 Lydia Gould (Torq\Kona)                                               15.47
10 Rachel Fenton (Oth/Ben Haywards Cycles)                              19.38
11 Melanie Alexander (Element Racing)                                   20.13
12 Sally Gabriel (One Planet Adventure)                                 27.09
13 Ruth Owen-Evans (Salsa Factory Racing/Halo/Schwalbe)                      
14 Gemma Collins (Trek/Extreme Medics.Com)                                   
 
Espoir - Men
 
1 David Fletcher (Science In Sport)                                   1.34.00
2 Ian Field (Bikin Cyprus)                                               0.48
3 Billy Joe Whenman (Marin Uk)                                           6.08
4 Ross Creber (Science In Sport)                                         7.35
5 Anthony O'boyle (Mojo Suspension/Orange)                               8.51
6 Hamish Batchelor (Sandy Wallace Cycles)                                8.52
7 John Whittington (Bath Uni)                                            9.24
8 Martyn Brookes (Yeti Cycles)                                          10.40
9 Ben Thomas (Mountain Trax/Superstar Components)                       12.15
10 Jason Hucklesby (St Ives Cc)                                         14.00
11 Euan Adams (Red Kite/Torq Bar)                                       14.01
12 Sion O'boyle (Mojo Suspension/Orange)                                14.38
13 Chris Lane                                                           15.02
14 Jack Richards (Deeside Thistle Cc)                                   16.07
15 Scott Chappell (Pedalon.Co.Uk)                                       22.42
16 Broadie Garcias (Orange Monkey)                                      30.54
17 Matt Osborn (Guernsey Velo Club)                                          
18 Ian Bibby (Science In Sport)                                              
 
Espoir - Women
 
1 Amy Hunt (Colnago-Ergon)                                            1.27.31
2 Marie Stuart (Team Chance/Ducati)                                      5.35
3 Abi Greenaway (Charge Bikes)                                           6.49
4 Lily Matthews (Mtbmarathon.Co.Uk)                                      7.26
 
Youth - Men
 
1 Kenta Gallagher (Mtb/Kudu Bikes)                                      49.37
2 Max Sykes (Vc Deal/Hammonds/Activ)                                     0.01
3 Steven James (Mountain Trax/Berks On Bikes)                            0.25
4 Ben Roff (Team Keyne)                                                  0.57
5 Hugo Humphreys (Lee Valley Ycc)                                        2.46
6 Sam Harrison (Cwmcarn Paragon Rc)                                      4.24
7 Luke Grivell-Mellor (Mid Shropshire Wheelers)                          4.59
8 Mark Sinclair (Square Wheels)                                          5.11
9 Hamish Fletcher Cooney (Gill Cycles)                                   5.15
10 Scott Woodhead (West Pennine Rc/Ssc Cyclesport)                       5.18
11 Lewis Kirkwood (Glentress Riders/Kona/Nissan)                         6.07
12 Nat Jarvis (Orange Monkey)                                            7.15
13 Taylor Johnstone (De Ver Cycles)                                      8.04
14 Daniel Bryant                                                         8.58
15 Alec Briggs (Vcl)                                                     9.16
16 Peter Robinson                                                        9.19
17 Ryan Keynes (1St Gear Cycles/Felt Bikes)                             10.31
18 Andy Godden                                                          12.06
19 Nicholas Smith (Vc Jubilee)                                          13.12
20 Ben Hawker (Bob Mbc)                                                 13.56
21 Glen Hassell                                                         15.07
22 Dan Whelan (Liverpool Century)                                       21.46
23 Grant Ferguson (Dooleys Cycles Rt)                                        
24 Luke Newby (Koxx/Thetford Mtb Racing)                                     
25 Bruce Dalton (Matlock Cc)                                                 
26 Lee Fegredo (1St Gear Cycles)                                             
 
Juvenile - Men
 
1 Hugo Robinson (Ipswich Bc)                                            26.13
2 Alex Baker (Orange Monkey)                                             0.13
3 Ryan Fenwick (Stewartry Wheelers)                                      1.53
4 Edward Mcparland                                                       2.10
5 Martin Turton (Berks On Bikes)                                         2.14
6 John Lomas (Matlock Cycling Club)                                      3.19
7 Matt Godden                                                            3.28
8 Harvey Lowe (Ga Cycles)                                                3.46
9 Thomas Armstrong (Ribble Valley Juniors)                               4.16
10 Harry Franklin (Herne Hill Youth Cc)                                  4.54
11 Elliot Phillips (Herne Hill Youth Cc)                                 5.30
12 Jack Humphreys (Red Rose Olympic Cc)                                  6.00
13 Jack Llewellyn (M & D Cycles/Specialized)                             6.44
14 Sam Beckingsale (Abergavenny Road Club)                               6.45
15 Liam Keynes (1St Gear Cycles/Felt Bikes)                              6.48
16 Darren Pyke (Vc Deal/Activ)                                           7.20
17 Josh Parkin (Team Darenth)                                            8.47
18 William Budd                                                          9.39
19 Jonathan Marks (Leisure Lakes Rt)                                    12.09
20 Thomas Butler (Vc Deal/Hammonds/Activ)                               14.14
 
Youth - Women
 
1 Ruby Miller (Lifeforce)                                             1.00.36
2 Hannah Barnes (Palmer Park Velo/Use)                                   3.34
3 Samantha Bryant (Marin Uk)                                             8.00
4 Katy Winton (Glentress Riders)                                         8.04
5 Hannah Shenton (Team Chance)                                               
 
Juvenile - Women
 
1 Bethany Crumpton (Team Chance)                                        30.34
2 Amy Roberts (Lifeforce)                                                2.59
3 Alice Barnes (Palmer Park Velo/Use)                                    4.17
4 Hannah Ferguson (Nissan-Kona Glentress Riders)                         5.43
5 Emily Barnes (Palmer Park Velo/Use)                                    7.40
6 Evie Burton (Activ Folkestone/Trek)                                   18.41
 
Junior - Women
 
1 Annie Last (Felt Racing)                                            1.30.32
2 Annabel Simpson (Team Chance)                                          4.34
3 Carla Haines (Team Chance/Ducati Corse)                                7.53
4 Danielle Rider (A & R Smartcar/Probikekit.Com)                        41.45
 
Master - Women
 
1 Nina Davies (Ogmore Valley Wheelers)                                1.29.24
2 Ruth Mordaunt (Altura Patterson Training)                              2.00
3 Caroline Goward (Scott Uk)                                             2.40
4 Emma Bradley (Torq)                                                    3.20
5 Theresa Jackson (Cc Luton)                                             5.55
6 Verity Appleyard (Race Co Cycles)                                     15.19
7 Katie Collins (Nzl10)                                                 18.56
 
Veteran - Women
 
1 Debbie Burton (Activ Cycles Folkestone/Trek)                        1.05.40
2 Gaynor Lea (Climb On Bikes Rt)                                         2.52
3 Kate Wheeler (Climb On Bikes/Green Apple Sludge)                       3.15
4 Carol Tilley (Ridebike.Com)                                            6.01
5 Sarah Bayliss (Rhyl Cc)                                                8.14
6 Anne Pitman                                                            8.20
 
Junior - Men
 
1 Hamish Creber (Sandy Wallace Cycles)                                1.39.26
2 Sebastian Batchelor (Sany Wallace Cycles)                              2.26
3 Calum Chamberlain (Mountain Trax Rt)                                   3.40
4 Michael Butler (Activ Cycles Folkestone)                               7.20
5 Max Filleul (South Downs Bikes)                                        9.23
6 Ross Brinson (Mammoth Lifestyle & Fitness Rt)                         11.23
7 Ewan Clark (Drumlanrig.Com/Rik's Bikeshed)                            12.31
8 Joe Peake (Sherwood Cc)                                               14.38
9 Sam Barley (Bikinmotion Cc)                                           16.26
10 Matthew Taylor (Pedalon.Co.Uk)                                       16.53
11 Matthew Jones (Cwmcarn Paragon Rc)                                   17.28
12 Paul Young (Jd Cycles Ilkley)                                        21.02
13 Dave Lawton (Team Goldtec)                                           22.32
14 Rowan Marshall (Private Member)                                           
15 William Verney (Felt Racing)                                              
16 Ben Roach (Wyre Forest)                                                   
17 Andrew Williams (Cwmcarn Pargon)                                          
 
Veteran - Men
 
1 Mark Chadbourne (Ride Bike)                                         1.15.36
2 Darren Shepherd (Primera-Sport)                                        2.35
3 Roland Tilley (Ride Cycleworks)                                        3.39
4 Paul Robinson (Goldtec)                                                4.56
5 Gavin Rumbles (Cc Luton)                                               5.02
6 Paul Hudson (Sprockets.Uk.Com)                                         5.59
7 Geoffrey Giddings (Mi Racing)                                          6.12
8 Keith Sheridan                                                             
9 Keith Sperry (Welland Valley Cc)                                       6.41
10 Andrew Shaw (Mi Racing/Eas/Thule/Shimano)                             6.49
11 Mark Cracknell (Awcycles.Co.Uk)                                       6.55
12 Steve Jones (Awcycles.Co.Uk/Giant)                                    7.12
13 Andy Weaving (Climb On Bikes/Css/Green Apple/Sludge)                  8.03
14 Robin Smith (Gc02E)                                                   8.38
15 Steve Moors (Ride Bike)                                               8.40
16 Ross Porter (Mojo Orange)                                             8.49
17 David Hayward                                                         9.09
18 Antony Green (Ga Cycles/Gone Bikin Mad)                               9.39
19 Dean Frost (Vc Meudon)                                               10.17
20 Julian Lye (Spambiking)                                              11.33
21 Tim Moorhouse (Boneshakersbikes.Com/Freeridespain.Com)               11.59
22 Philip Roach (Rugby Velo Club)                                       12.03
23 Kevin Holloway (Www.V95R.Com)                                        12.04
24 Paul Gibbons (Climb On Bikes/Endura/Giant Rt)                        12.13
25 Duncan Stuart (Keswickbikes.Co.Uk)                                   12.54
26 Chris Walker                                                         13.04
27 Dean Morgan (Mountain Trax)                                          13.25
28 Duncan Walmsley (Vc Lincoln)                                         14.50
29 Chris Clark (Banjocycles.Com)                                        14.59
30 Ian Charlton (Beyond Mountain Bikes/Specialized/West Drayton Mbc)    15.46
31 Patrick Stokes                                                       16.01
32 Mark Hardwicke (Bournemouth Arrow/Hotel Collingwood)                 18.09
33 Dean Smith (Liverpool Century)                                       18.51
34 Francis Baker (Heales Cycles)                                        19.23
35 John Filleul                                                         20.46
36 Colin Addison (Vc Meudon)                                            21.13
37 Alex Pearson (My Mid-Life Crisis)                                    21.31
38 Anthony Cowling (Ac Cowling Repairs)                                 21.40
39 Mervyn Dudley (Polaris/Sherwood Pines Cycles)                        23.21
40 Paul Dalton (Matlock Cc)                                             27.57
41 Richard Mcvey (Private)                                              31.28
42 Anthony Dyment (Pedalon.Co.Uk)                                            
43 Brian Tear (Mi Racing)                                                    
44 Andrew Claridge (Pedalon.Co.Uk)                                           
45 Carlton Holmes (Non)                                                      
46 Garry Clark (Evans Cycles Rt)                                             
 
Grand Veteran - Men
 
1 Ian Wright                                                          1.20.43
2 Roy Hunt (Orbea)                                                       0.44
3 Kevin Townsend (Climb On Bikes Rt)                                     1.24
4 Ray Crosthwaite (Pedalon.Co.Uk)                                        4.40
5 Peter Harris (Pearce Cycles Rt)                                        6.32
6 John Galway (Keswickbikes.Co.Uk)                                       6.36
7 Tim Stowe (Mi Racing)                                                  6.54
8 Denys Jones (Gillingham Wheelers/Wheels Cycles)                        9.18
9 Billy Matthews (Square Wheels)                                         9.50
10 Paul Warner (Team Darenth)                                           10.03
11 Joseph Rowe (Wyre Forest Crc/Sa Financial)                           12.10
12 Greg Fitzpatrick (Scrumpy Racers)                                    12.49
13 Clive Ely (Mountain Trax/Gorrick/Bob)                                12.59
14 Kim Marks (Leisure Lakes Rt)                                         14.56
15 Garrett Hill (Zero Four Bikes/Votwo.Co.Uk)                           15.35
16 Lynn Lines (Gateway Cycles Rt)                                       16.58
17 Steve Whitehouse (Ghost Racing)                                      19.08
18 David Marshall (Private Member)                                      20.01
19 Francis Mcghee (Elizabeth Cc)                                        23.34
20 John Newport (Mountain Trax Rt)                                      24.10
21 Andy Grant (Vc Meudon)                                               28.34
22 Trevor Patey (Mountain High)                                         30.53
 
Super Veteran - Men
 
1 Victor Barnett (Welland Valley Cc)                                    57.38
2 Sandy Wallace (Sandy Wallace Cycles)                                   3.34
3 John Lloyd (Mtb-Marathon.Co.Uk)                                        4.09
4 Derek Witt (Gs Europa)                                                 4.21
5 Steve Collen (Bike Factory/Nwmba)                                     18.39
6 Stuart Hocknell (St Ives Cc/Richardson Cycles)                        27.06
 
Master - Men
 
1 Sam Gardner (Cannondale/Fatface)                                    1.38.37
2 Matt Barett (Lutterworth Cycles)                                       0.22
3 Luke Moseley (Ccs/Sludge/Climb On Bikes/Endura/Giant)                  1.49
4 Richard Wood (Team Milton Keynes)                                      3.01
5 Graham Warby (Spirit Racing)                                           4.30
6 Paul Lasenby (Whyte)                                                   5.28
7 Ben Dale (Climb On Bikes/Css/Green Apple)                              5.41
8 Christopher Rathbone (Websters.Co.Uk)                                  5.48
9 Scott Forbes (19Pedalon.Co.Uk)                                         6.26
10 Mark Hutt (Aw Cycles.Co.Uk/Giant)                                     6.56
11 Richard John                                                          7.23
12 Scott Rose (Wheelspin Cycles.Com/Scott)                               7.59
13 Robert Oakes (Websters.Co.Uk)                                         8.22
14 Mike Jackson (Cc Luton)                                               8.35
15 Andy Plewes (Rn/Rm Ca)                                                8.46
16 Andrew Baum (Gateway Rt)                                              9.02
17 Darren Alexander (Mini Adventure)                                     9.39
18 Lloyd Bettles (Www.Live2Ride.Co.Za)                                  10.04
19 Nick Onslow (Pedalon.Co.Uk)                                          10.17
20 Jamie Norfolk (Pedalon.Co.Uk)                                        10.56
21 Martin Kitchin (Horwich Cc)                                          11.15
22 Matthew Lewis (Xcracer.Com 29Ers)                                    11.22
23 Adrian Lawrence (Lancashire Rc)                                      11.26
24 Anthony Morris                                                       11.42
25 Robert Rowe (Torq/Forza Cycles/Styleline)                            13.08
26 Danny Shaw (Guernsey Velo Club)                                      13.14
27 Paul O'brien (Pedal Power Endura/Endura Rt)                          13.47
28 Matthew Spurgin (Evans Cycles Rt)                                    14.12
29 Simon Phillips                                                       15.18
30 Lee Gollop (Banjocycles.Com)                                         16.06
31 Hugo Hocknell (Vc Revolution)                                        16.27
32 Andy Jones (Clee-Cycles/Kcnc)                                        17.23
33 Andrew Parsons (Off Camber)                                          18.18
34 Crispin Doyle (Swindon Rc)                                           19.26
35 Stefano De Tomaso (Beyond Mountain Bikes/Specialized/Wdmbc)          19.45
36 Paul Londors (Team Milton Keynes)                                    24.13
37 Stuart Brazier                                                       24.23
38 Martin Wright (Army Cycling Union)                                   27.10
39 Stuart Mcghee (Evans Cycles Rt)                                      30.08
40 Roger Fowkes (Tony Fowkes Automobiles)                               39.42
0
0
0
0
45 Tom Smith (Aw Cycles.Co.Uk/Giant)                                         
46 Matt Steven (Orange Monkey.Co.Uk)                                         
47 Ian Newby (Diss & District Cc)                                            
48 Paul Hopkins (Mountain Trax.Com)                                          
49 Simon Young (Altura Patterson Training)                                   
50 Paul Bailey (Geoff Thomas Foundation)                                     
51 Mark Barfield (Birmingham Cc)                                             
 
Sport - Men
 
1 Giles Drake (Roy Davies Cycles)                                     1.20.25
2 Dave Henderson (Pedalpower.Org.Uk/Endura Rt)                           0.01
3 Chris Pedder (Oth/Ben Haywards Cycles)                                 1.58
4 Ben Turgoose (Faster Than Will)                                        2.28
5 Serge Hunt (Petracycles)                                               2.29
6 Paul Wilkinson (Beyond Mtb/Specialized/Wdmbc/)                         2.57
7 Philip Lenney                                                          2.58
8 Samuel Whittlesea (Shred Or Dead)                                      3.34
9 Peter Goode                                                            5.27
10 Stuart Harvey (191St Gear Cycles)                                     5.38
11 Jon Cruikshank (Team Larkfield Cycles)                                5.57
12 Mark Field (Senate Electrical)                                        6.17
13 Gareth Hayes (Skylinecycles/Avon Argeod)                              6.26
14 Alex Day (Offcamber)                                                  6.34
15 Karl Norfolk (Pedalon.Co.Uk)                                          6.37
16 Mark Baines (Bucksmtb.Co.Uk)                                          8.23
17 Suresh Dulal                                                          9.21
18 David Burrows (Dorset Rough Riders)                                  10.00
19 Adam Buckland (Banjocycles.Com)                                      10.13
20 Lee Mallen (Bikinmotion)                                             10.36
21 Mark Davies (Brooks Cycles)                                          11.50
22 Christopher White (Mountain Trax)                                    12.22
23 James Hampshire (Xcracer.Com/29Ers)                                  12.46
24 Simon White (Pearce Cycles Rt)                                       15.09
25 David Taylor                                                         15.16
26 Vince Aragones (Singlespeed)                                         17.17
27 Rob Hedges (Bicycle World)                                           28.10
28 John Burrows                                                         36.35
0
30 Leigh Andrews (Vc Lincoln)                                                
31 James Hodge (Brighton Mitre Cc)                                           
32 Michael Dean (New Force)                                                  
 
Open - Men
 
1 Ollie Taylor (Trainstation.Co.Uk)                                   1.22.32
2 Paul Howard (Mountain Trax/Bob/Gorrick)                                0.38
3 Jon Pierce (Beyond Mountain Bikes/Specialized/West Drayton Mbc)        1.44
4 Julian Grundy (Transtation-Gym.Co.Uk)                                  3.17
5 Tyrone Fletcher                                                        4.10
6 Drew Blatchford (Guernsey Velo)                                        5.09
7 Lewis King (Bee Line Bicycles)                                         5.31
8 Simon Lesser (Suppshop.Co.Uk)                                          5.44
9 Ken Farwell (Dorset Rough Riders)                                      6.38
10 Thomas Ward (Whitney Wheelers)                                        7.00
11 Steve Corbyn (Torq/Mifit)                                             7.54
12 Andy Davis                                                            8.19
13 Steve Groome (Bjw)                                                    8.34
14 Andy Roberts (Evans Cycles Rt)                                        9.12
15 Martin Lenney                                                        10.06
16 Lee King (Bee Line Bicycles)                                         11.20
17 Garry Houghton (Revel Outdoors.Co.Uk)                                12.16
18 Geoff Burke (1St Gear Cycles/Felt Cycles)                            13.25
19 Simon Smith (Dirt Devils)                                            13.28
20 Murray Thompson (1St Gear Cycles/Felt)                               14.33
21 Jon Moyse (Progressional Fitness)                                    15.11
22 Ben Underwood                                                        15.44
23 Kim Burrows (Pedalon.Co.Uk)                                          15.53
24 Denis Boltwood                                                       16.34
25 Robin Sillett                                                        16.36
26 Kenneth Mccormick                                                    17.13
27 Richard Bryant                                                       17.32
28 Mick Pinner (Owens Cycles)                                           18.24
29 Konrad Hughes (Bedgebury Forest Cc)                                  18.41
30 James Crask (Mountain High)                                          18.43
31 Doug Dale (Bikeworks)                                                19.04
32 Matt Wigley (1St Gear Cycles/Felt)                                   19.21
33 Stephen Burton (Activ/Trek)                                          20.01
34 Andrew Boulton                                                       20.15
35 Sam Coleman (Exeter University)                                      20.20
36 Paul Robinson (Ratz)                                                 20.46
37 Marc Dobson                                                          20.50
38 Stuart Dommersen                                                     21.00
39 Neil Watts (Primera Sport)                                           21.16
40 Adrian Davison                                                       21.18
41 Tim Handscomb                                                        24.13
42 Andrew Perry (Activ)                                                 24.35
43 Mark Baker (Limp Squid)                                              24.55
44 Mark Hillier                                                         26.30
45 Mark Ball                                                            27.19
46 John Brackston                                                       29.25
47 Jeremy Church                                                        30.07
48 Michael Turner (1St Gear Cycles/Felt Bikes)                          33.59
49 Simon Hall                                                           41.16
50 Chris Melhuish                                                       38.14
51 Gordon Skillen                                                            
52 Simon Beeching                                                            
 
Open - Women
 
1 Stephania Magri                                                     1.12.38
 
Fun - Men
 
1 Tim Jude                                                            1.03.40
2 Graham Parkin (Team Darenth)                                           2.39
3 Sam Cooper (New Force)                                                 3.06
4 Tim Arnold                                                             4.02
5 Neil Foss                                                              4.56
6 Dave Gibson                                                            5.59
7 Brian Macpherson (1St Gear Cycles)                                     6.51
8 Graham Budd (New Force)                                                7.46
9 Jamil Gaida (Ratmbc)                                                   8.09
10 Dom Stokes                                                           10.00
11 Paul Healy (Achilles Wheels)                                         10.35
12 Brian Harrison                                                       12.21
13 Nigel Clarke (L L Racing)                                            12.51
14 Martin Smith (Mercedes Benz Stars & Kings)                           12.58
15 Ian Moore                                                            13.16
16 Matt Ainsworth                                                       14.49
17 Gary Kite (1St Gear Cycles/Felt Bikes/Muddy Funsters)                15.51
18 Paul Borlase-Hendry                                                  17.19
19 Bob Seager                                                           24.12
 
Fun - Women
 
1 Laura Bayliss (Beacon Cc)                                             54.36