Recently on Cyclingnews.com
MTB index page for all MTB content
24 Hours of Vail Lake - NE
California, USA, April 26-27, 2008
2007 Results Results
Wheeler and O'Dea win 24-hour NPS opener
Chuck Wheeler
Photo ©: Paul Skilbeck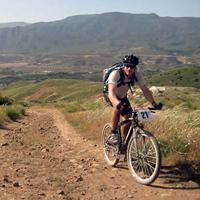 Chuck Wheeler and Namrita O'Dea emerged as the solo winners, and series leaders, at round one of the 2008 Suzuki 24 Hour National Point Series, the 24 Hours of Vail Lake, which was raced and won over a scorching weekend on April 26-27 at Vail Lake Mountain Resort in Temecula, California. This was the first win in a Suzuki 24 Hour National Point Series for both Wheeler and O'Dea.
Wheeler, a seasoned 24 hour racer, of Scottsdale, Arizona, overcame defending champion Rob Lichtenwalner, of Nazareth, Pennsylvania. to score his first victory on a scenic and hilly 10.22 mile course with 1,498 feet of climbing.
A heatwave drove temperatures well into the 90s [degrees Fahrenheit], and after pushing hard through the afternoon many riders welcomed the nightfall, but then began to feel how much extra they had put out in keeping cool during the heat of the day. Wheeler, who has a history of coming from behind, proved more consistent during the night than 2007 series champion Rob Lichtenwalner, who finished second. Wheeler completed 17 laps, compared to Lichtenwalner's 15. Eddie O'Dea finished third with 13 laps.
"I don't really have a strategy," said Wheeler, "I just go out and ride and try to stay constant. It works less frequently now that a lot of riders are getting so good."
Lichtenwalner was not making any excuses, but he said, "I'm not used to racing in those kinds of temperature." At 9:00 am on Sunday morning, Lichtenwalner made some calculations, realized that he wasn't going to catch Wheeler, and that third-placed Eddie O'Dea wasn't going to catch him, so he climbed off and went for an early sleep. "I'm happy with second place points. It gets my series title defense off to a good start," he said.
Namrita O'Dea led the women's solo field
Photo ©: Paul Skilbeck

Namrita O'Dea, Eddie's wife, won the women's solo race with 11 laps, ahead of Terri Wahlberg on Liz Baumgardt-Keys, who finished third with eight laps. 2006 Race Across America winner, Shanna Armstrong, was in contention with O'Dea for much of the first day, and looked to be the stronger climber, but after two painful falls on her left femur during the early night, Armstrong - who is using this race as training for her Badwater Ultramarathon attempt this July - decided to call herself done.
"It was very challenging with the heat. But I monitored my pace and my nutrition and hydration, and was able to remain constant through the night," said the women's winner. "Even though it was not a high mileage race, there was a lot of climbing, and with the heat it was very tough." Cyclingnews' diarist O'Dea is a nutrition student, who is planning to compete in four of the series races. "I think I have a chance for the series overall. I'm not sure who else is doing the series, but I think I have a chance," she said.
The Le Mans style start
Photo ©: Paul Skilbeck
The Duo Pro category was dominated by Colorado riders, Dean Miller, of Littleton, and Dax Massey, of Boulder, riding in the Shake and Bake team. These two led the race outright for most of the first 12 hours, but through the night the two single-speeders were overtaken by the men's expert team of Grizzly Outfitters/Continental Construction, from Big Sky, Montana. In the end Shake and Bake completed 24 laps to the Grizzly Outfitters's 25.
Also notable was the monumental struggle in the four-person men's sport category. After going hammer and tongs during the afternoon heat, The Simi Cycle Center bike shop team finally moved into the lead, ahead of the Manic Monkey Riders team as darkness fell. From there on they stretched it out all the way to the finish, and recorded a total of 24 laps. Manic Monkeys called it a race at 21 laps, and third place was claimed by the tenacious Naval Special Warfare Flyin' Frogs team, who ended the race with 20 laps.
Photography
For a thumbnail gallery of these images, click here
Images by Paul Skilbeck / www.o2sm.com
Results
Elite men solo

1 Chuck Wheeler                                   17 laps
2 Rob Lichtenwalner                               15
3 Eddie O'Dea                                     13

Elite women

1 Namrita O'Dea                                   11 laps
2 Terri Wahlberg                                  10
3 Liz Baumgardt-Keys                                8

Duo Pro

1 Dean Miller / Dax Massey                        24 laps

Men's expert 

1 Grizzly Outfitters/Continental Construction     25 laps

Men's sport

1 Simi Cycle Center                               24 laps
2 Manic Monkeys                                   21 
3 Naval Special Warfare Flyin' Frogs              20