MTB index page for all MTB content
US 24 Hour of 9 Mile - Solo National Championships - CN
Wausau, Wisconsin, July 28-29, 2007
2006 Results Results
Eatough defends title; Pua to wear stars and stripes
Pua Sawicki (Team Mata)
Photo ©: Mark Moore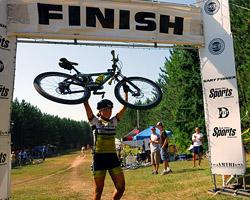 Chris Eatough (Trek / VW) defended his national 24 hour solo title this weekend in Wisconsin at the 24 hours of Nine Mile. Eatough defeated Nat Ross (Subaru / Gary Fisher) and Mark Hendershot. Endurance specialist Pua Sawicki (Team MATA) took victory in the women's race ahead of Rebecca Rusch and NUE Series Contender Danielle Musto.
Eatough held off 33 challengers in the growing 24 hour solo discipline. For half the event, he battled Nat Ross (Subaru/Gary Fisher) before pulling away. Ross actually led for the first four hours, by never more than 90 seconds. Eatough paced himself as reeled back in Ross and then gradually stretched his margin during the evening hours.
"I had a good competitor today in Nat Ross," said Eatough. "He pushed the pace and brought the race to me. At about eight hours, I started to pull away. The race was really never certain until the end. With the race close, one mechanical breakdown can cost you the lead."
Commenting on his strategy, Eatough said, "I try to ride smooth and safe, and pick good equipment."
Chris Eatough (Trek / VW)
Photo ©: Mark Moore

In the women's race, Sawicki made up for 2006, when she was forced out of the national championships after succumbing to injuries sustained in an earlier mountain bike accident.
Sawicki quickly built a three-minute advantage over second-place finisher Rebecca Rusch (Specialized/Red Bull) in the first lap. She never relinquished her lead.
"Pua knows this can be a brutal course, but she's very motivated," said Ron Sawicki, manager for Team MATA. The next stop for Sawicki and Team MATA is the World Championships in September.
The 24-9 hosted the USA Cycling 24-Hour Mountain Bike National Championships for the second consecutive year. More than 750 mountain bikers participated in the race in 36 categories for the 12 and 24 hour disciplines. Titles were awarded in six national championship categories.
Photography
For a thumbnail gallery of these images, click here
Images by Mark Moore
Results
Elite Men
 
20 laps
1 Chris Eatough                   24.13.52
 
19 laps
2 Nat Ross                        24.13.22
3 Mark Hendershot                 24.53.30
 
18 laps
4 Eddie O'Dea                     24.13.32
5 Daniel Brennan                  24.21.51
6 Todd Carpenter                  24.34.09
7 Brad Majors                             
8 Chris Strout                    24.43.09
 
17 laps
9 Chris Janiszewski               24.01.52
10 David Meyer                    24.42.11
 
16 laps
11 Greg Martin                    24.05.29
 
15 laps
12 Charlie Farrow                 24.00.13
13 Brian Culbert                  24.22.04
 
14 laps
14 Tim Wilkie                     23.23.05
15 Anthony Ippolito               23.56.54
16 William Livingston             24.00.14
 
13 laps
17 Steve Schwarz                  16.39.24
18 Turner Bikes/Twin Six / Cra    24.00.14
19 Scott Cole                             
20 Carlos Haeckel                 24.05.16
21 David Osterhouse               24.18.24
22 Lee Unwin                      24.42.02
 
12 laps
23 US Navy                        24.00.00
24 Spencer Fulkerson              24.48.00
 
11 laps
25 Stephen Balsley                24.01.52
26 Gerrerd Abrams                 24.05.30
 
9 laps
27 Ernesto Marenchin              10.49.39
28 Eric Schroeder                 21.48.35
29 Benjamin Fellenz               24.00.48
30 Andrew Carney                  24.02.41
 
8 laps
31 David Haase                    10.16.08
 
5 laps
32 Charles Tri                     6.19.56
 
3 laps
33 Dave Norton                     3.41.38
 
Elite Women
 
18 laps
1 Pua Sawicki                     24.03.19
 
17 laps
2 Rebecca Rusch                   24.05.28
 
16 laps
3 Danielle Musto                  24.33.39
 
15 laps
4 Sarah Kaufmann                  24.01.07
5 Mary Collier                    25.21.34
6 Karen Armstrong                 25.36.08
 
14 laps
7 Sally Marchand                  24.00.43
 
12 laps
8 Namrita O'Dea                   24.00.53
 
11 laps
9 Jessica Groshek                 24.58.19
 
10 laps
10 Chelsea McGowan                25.24.32
 
8 laps
11 Caitlin Trahan                 24.02.40
 
6 laps
12 Gina Kenny                     24.38.11
 
Junior Men
 
19 laps
1 Team B.A.M.F.                   24.24.57
 
18 laps
2 What Was That?                  24.07.56
 
11 laps
3 Tighty Whitey                   25.43.59
 
Masters 30+
 
22 laps
1 Muddy Cup One                   25.02.27
 
21 laps
2 Twin Six                        24.14.52
 
Men's Team
 
24 laps
1 Gary Fisher 29 / Trek VW        24.41.42
 
23 laps
2 Velo Rochester                  24.42.04
 
Women's Team
 
20 laps
1 Team Skirtz-N-Dirt              24.32.01
 
19 laps
2 Tough Girl / Contessa           25.06.08
 
18 laps
3 Midnight Cowgirls               24.53.52
 
16 laps
4 Mad FORCs                       24.22.30
 
Mixed Duo Team
 
18 laps
1 Sho-Air/Rock N Road Cycling     24.01.29
 
12 laps
2 Ya Mule Adventure Racing        24.00.36
3 Flanahaag's Fury                24.01.00
 
Female Duo Team
 
15 laps
1 Tough Girl / Contessa Duo       25.24.37
 
Male Duo Team 
 
20 laps
1 Wicki-San and Stringbean        24.00.18
 
19 laps
2 Two Yoopers One Gear            24.21.48
3 FARM TEAM!                      24.41.31
 
17 laps
4 Rollin' Kansas                  24.21.40
 
Freak Women
 
15 laps
1 Karla Kingsley                  24.17.07
 
14 laps
2 April Dombrowski                24.08.01
 
12 laps
3 Brickoven/ Crested Buttle B     24.00.20
 
10 laps
4 Team Klate                      24.00.50
 
Freak Men
 
17 laps
1 Chris Schotz                    24.00.30
 
15 laps
2 Mike Howard                     25.10.00
 
14 laps
3 Tim Trudeau                     24.01.00
4 Expo Racing                     24.57.37
 
13 laps
5 Richard Lytle                   25.35.05
 
12 laps
6 Randy Lockman                   24.13.42
7 Cyclopath Senior                24.50.51
 
11 laps
8 Jeff Weyrens                    22.56.41
9 Craig Kalscheur                 24.03.08
 
10 laps
10 Brian Draghicchio              24.39.20
 
9 laps
11 Mark Cheyne                    24.00.19
12 Peter Downey                   24.04.34
13 Kyle Franson                   24.19.19
14 Kharma's Bitch                 24.43.07
 
8 laps
15 Richard Palmer                 24.00.49
16 Geoff Donaldson                24.06.14
17 John Mory                      24.19.20
18 Cyclpath JR                    24.50.51
 
7 laps
19 Lance Fischer                  24.00.30
20 Wayne Guttry                           
21 Nate Woolever                  24.01.11
22 Brett Morley                   25.33.39
 
6 laps
23 Bent Chainrings                11.42.42
24 Dave Simmons                   11.46.18
25 Jimmy Parman                   24.00.15
 
5 laps
26 Brian Abraham                   9.33.27
27 Trent Litchy                   21.47.32
28 Rick Mangan                    24.03.52
 
4 laps
29 Christopher Prudhomme          23.20.34
30 Robert Ball                    24.01.05
 
3 laps
31 Adam Brooke                     8.45.22
 
2 laps
32 Adam Schmeizer                  5.29.56
33 Jose Munguia                    5.57.11
34 Matt Szmonda                    6.07.37
 
1 lap
35 Josh Szmanda                    5.29.54
 
Singlespeed
 
16 laps
1 Constantine Peters              24.57.37
 
14 laps
2 Travis Underwood                24.00.12
3 Joe Partridge                   24.00.54        
4 Dallas Sigurdur                 24.11.14
 
12 laps
5 Hal L                           24.08.53
 
11 laps
6 Erb- Racing                     24.09.55
 
10 laps
7 Jereme Nofke                    17.23.56
 
8 laps
8 Jerry Stoeckigt                 24.02.01
9 Michael Chambers                24.02.54        
10 Patrick Humenny                25.04.43
 
7 laps
11 Erich Ponath                   24.00.26
12 Earle Jacob Jr                 24.01.02
 
6 laps
13 Skip Cronin                    10.30.11
14 Cliff Henning                  24.00.26
15 Matt Kamphuis                  24.32.46 

Duo Open
 
18 laps
1 Speedy Engineers                24.00.27
2 Pharmphresh.com                 24.43.17
3 H&M Racing                      24.00.31
 
14 laps
4 After Bar Racing                24.07.57
 
13 laps
5 Broke Bike Buddies              24.50.30
 
11 laps
6 Chainsmokers                    24.01.07
 
10 laps
7 Semi Old                        24.00.23
 
7 laps
8 xXx Racing Duo Superstar        22.19.56
 
Older than Dirt
 
21 laps
1 Aviation Nightmare              24.50.55
 
20 laps
2 WORS Racing                     24.00.17
3 MAD D.O.R.C.S.                  24.53.12
4 Aging Disgracefully             25.01.54
 
19 laps
5 Thursday Knights                24.50.01
6 Farm Team                       24.52.21
 
17 laps
7 Team Twinkie                    24.03.30
 
16 laps
8 THREE OLD GUYS                  24.12.58
 
12 laps
9 Leinies Lowriders               21.44.52
 
Older Than the Hills
 
21 laps
1 Team Vesrah Brakes              24.49.18
 
20 laps
2 BFRF                            24.22.06
 
19 laps
3 Average Joes                    24.29.28
4 Stiff Kitty                             
5 NEW Rat Riders                  25.00.34
 
18 laps
6 Blood Sweat & Gears             23.52.01
7 Team Family Ties                24.37.41
8 Extreme Rejects                 24.49.42
9 Team 24                         24.50.52
 
17 laps
10 Mind Like Ours                 24.00.56
11 Unchained                      24.02.55
12 Team Snurge                    24.20.22
 
16 laps
13 Monkeywrench Gang              24.05.57
14 Gitter Done                    24.09.29
 
15 laps
15 Soggy Bottom Boys              24.00.41
16 Steve & the Eves               24.29.04
 
12 laps
17 Whirl & Hurl                   22.00.08
 
9 laps
18 Valuable Underbrush            16.44.47
 
8 laps
19 Lords of the Chainrings        12.00.21
 
Singlespeed
 
21 laps
1 Muddy Cup Point Brigade         24.23.53
 
19 laps
2 crass                           24.01.35
 
17 laps
3 single couples                  24.38.34
 
Coed Open
 
20 laps
1 Psycowpath Nebraska             24.18.30
 
Clydesdale
 
19 laps
1 SUCCESS VIDEO                   24.02.35
 
17 laps
2 Team Reckless                   24.04.13
3 Wild Cards                      24.54.44
 
16 laps
4 Heavy...Butt Slow               24.53.06
 
13 laps
5 Three Old Guys & Brad           24.00.21
 
Coed Sport
 
17 laps
1 Vandalay Industries             24.00.25
2 Just Pedal                      24.59.11
 
13 laps
3 BRR Rox 'n' the Boys            24.12.58
 
Women Sport
 
15 laps
1 The Sprockettes                 24.00.36
 
14 laps
2 Pinky Toe                       24.24.35
3 Mad FORCs                       24.39.30
  
5 Rider
 
21 laps
1 Freewheel                       24.12.48
2 The Hucklebucks                 24.33.06
 
19 laps
3 Thunder Clutch                  24.09.03
4 River Pigs                      24.14.34
 
17 laps
5 Astana                          22.26.35
6 Team Therma-Stor                24.02.26
7 Ass Over Over Tea Kettle        24.13.13
 
16 laps
8 The Fab Five                    24.01.25
9 Hall's Balls                            
10 Bikers for Beers               24.21.25
11 Fat Tire Guides                24.29.55
12 Night Shift                    24.35.17
 
15 laps
13 Sigma                          23.17.24
 
14 laps
14 Hidden Bay Flying Cobras       25.25.57
 
Men's Sport
 
21 laps
1 Zink's Hos                      24.43.32
2 The Hub Cycling League          25.04.42
 
20 laps
3 The Four Winded                 24.09.39
4 chug-a-lug                      24.38.09
5 Return of the Pom Pom Squad     25.03.07
 
19 laps
6 MacGyver Is My Hero             24.00.18
7 Weird Beard                     24.23.16
8 Will Ride for Beer              24.50.29
 
18 laps
9 Muddy Cup Too                   24.00.16
10 Team Dead Baby                 24.00.47        
11 Free JVOG Cycling              24.05.31
12 Team TBC                       24.43.56
 
17 laps
13 xXx Racing-Athletico Deux      24.02.47
14 The weekend warriors           24.24.19
15 Four Sticks                    24.43.49
 
16 laps
16 Shosie's                       23.18.17
17 Lunchmeataphobia               24.43.18
18 The Real Wolfchimp             24.54.19
 
15 laps
19 Wheel & Sprocket               24.02.37
20 XXX Racing-AthletiCo           24.07.56
 
14 laps
21 Rowdy Roosters                 20.57.28
 
Junior Women
 
18 laps
1 Teenage Girls Doing it All      25.08.00