MTB index page for all MTB content
Leadville 100 - NE
Leadville, Colorado, USA, August 11, 2007
Wiens wins Leadville
Landis surprises with second
Dave Weins rode comfortably the entire race,
Photo ©: Wesley & Garrett Geer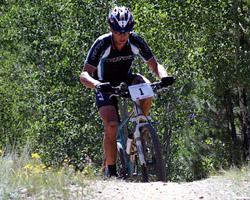 Dave Wiens (Ergon Grips) of Gunnison obliterated the course record in the 2007 running of the Leadville Trail 100 mile mountain bike race. Weins finished in 6:58:47. The old course record was set by Mike Volk in 1997 with a time of 7:05:45.
Weins came close to the record in 2004, but fell seven seconds short (7:05:51), so the old record stood for 10 years.
Embattled 2006 Tour winner Floyd Landis took second place in a Colorado marathon mountain bike race this weekend, clocking in just over seven hours to finish the Leadville 100, and coming home less than two minutes behind five-time event winner Dave Wiens.
The result showed that Landis is taking riding a bit more seriously these days. He rode considerably better than at the Teva Mountain Games in June, where he was passed by women's division winner Shonny Vanlandingham and finished 25 minutes down on the winner. He still awaits a verdict from his May arbitration hearing.
Women's winner Gretchen Reeves starts the crux climb at 70 miles.
Photo ©: Wesley & Garrett Geer

Landis, riding on a surgically repaired hip, finished the race in 7:00:30, one minute and 44 seconds behind long-time racer Wiens, who won in 6:58.47. Mike Kloser finished third, down 11'37".
In the women's event, Gretchen Reeves won in 8:05:29, with a 26 minute margin over Amanda Riley and 38 minutes ahead of Keri Nelson
Photography
For a thumbnail gallery of these images, click here
Images by Wesley & Garrett Geer
Results - (unofficial times)
Open Overall 

1 Dave Wiens                  6.58.46
2 Floyd Landis                   1.44
3 Mike Kloser                   11.37
4 Max Taam                      32.41
5 Jake Rubelt                   36.05
6 Thane Wright                  38.16
7 Mike Hogan                    38.56
8 Ryan Hamilton                 43.30
9 Thomas Dooley                 46.13
10 Adam Plummer                 46.40
11 Nat Ross                     48.51
12 Travis Macy                  54.49
13 Todd Carver                  56.26
14 Nate Whitman                 57.44
15 Dax Massey                   58.23
16 Jim Silverman                59.16
17 Daniel Murray                59.29
18 Kimo Seymour               1.00.00
19 James Kahkoska             1.00.51
20 Ward Baker                 1.03.13
21 Danny Buehler              1.03.17
22 Garth Prosser              1.04.00
23 David Weber                1.05.31
24 Jason Poole                1.06.08
25 Gretchen Reeves            1.06.43
26 Rob Burgard                1.07.23
27 Bill Macfarlane            1.08.21
28 Chris Latham               1.09.32
29 Chucky Gibson              1.10.48
30 Dan Dittmer                1.11.51
31 Daniel Mellish             1.12.21
32 Cannon Shockley            1.12.23
33 Brian Maslach              1.14.28
34 Kevin Perry                1.15.25
35 Mike Young                 1.16.37
36 Johnny Biggers             1.18.37
37 Theodore Fleming           1.20.21
38 Jeff Wardell               1.20.41
39 Blake Heren                1.21.17
40 Steve Marolt               1.22.21
41 J. Eric Denksen            1.22.40
42 Daniel Knight              1.22.54
43 Brian Wiens                1.24.20
44 Guy Stevenson              1.25.23
45 Christopher Bellona        1.25.50
46 Mike Danaher               1.26.24
47 Charlie Hayes              1.27.13
48 Eamonn Rooney              1.27.46
49 Terry Wickland             1.28.18
50 Mathew Davis               1.28.44
51 Scott Daub                 1.29.47
52 Steven Yore                1.30.35
53 Kent McNeill               1.30.50
54 Kenny Jones                1.31.38
55 Justin Mark                1.31.55
56 Joel Mischke               1.31.57
57 Steve Peterson             1.32.07
58 Stuart Gillespie           1.32.15
59 Kelly McGrew               1.32.35
60 Wooch Graff                1.32.49
61 Amanda Riley               1.32.56
62 Jeff Dick                  1.33.18
63 Ben Garrett                1.35.40
64 Shawn Candelaria           1.36.31
65 Drew Geer                  1.38.44
66 Derick Williamson          1.39.13
67 Jeff Rhodes                1.40.37
68 John Callahan              1.43.04
69 Todd Murray                1.43.25
70 Peter Thorsness            1.44.20
71 Mark Gouge                 1.44.52
72 Steven Riggle              1.45.08
73 Keri Nelson                1.45.26
74 Scott Patterson            1.45.38
75 Josh Colley                1.45.54
76 Sean Hassinger             1.45.55
77 Robert Wood                1.46.33
78 Brad Keyes                 1.46.55
79 Ronan Murray               1.47.15
80 Mark Merritt               1.47.29
81 Craig Zediker              1.47.38
82 Ty Hall                    1.47.43
83 Jim Rutberg                1.48.00
84 Andrew Yates               1.48.05
85 Ross Clark                 1.48.14
86 Jared Nelson               1.48.58
87 Daniel File                1.49.28
88 Michael Scott              1.49.29
89 Todd Henneman              1.49.44
90 Casey Puntenney            1.49.49
91 Jamie Kilcoyne             1.49.59
92 Larry DeWitt               1.50.35
93 Kevin Daum                 1.51.44
94 Jeff Carter                1.52.39
95 Michael Bordogna           1.52.58
96 Jim Gibson                 1.53.49
97 Kervin Quinones            1.54.04
98 Jim Smith                  1.54.35
99 Thomas McKeen              1.55.11
100 Frank Dumont              1.55.48
101 Lance Loehding            1.55.51
102 Morris Denton             1.56.10
103 Corey Godfrey             1.57.28
104 Phil Schweizer            1.58.21
105 Greg Brophy               1.58.57
106 Heath Weisbrod            1.59.22
107 Todd Krell                1.59.30
108 Kevin Abel                2.00.08
109 Bill Herwig               2.02.08
110 Mike Gillette             2.02.44
111 Kyle Boschen              2.03.01
112 Richard Digeronimo        2.03.30
113 Steven Pon                2.03.34
114 Mark Glasgow              2.04.21
115 Brett Lindstrom           2.05.32
116 Chris Carmichael          2.06.14
117 Stephen Hunter            2.07.06
118 Brad Cole                 2.08.10
119 Aaron Gulley              2.08.37
120 Nelson Snyder*            2.09.06
121 Chris Clark               2.09.14
122 Mike Maple                2.09.19
123 David Janowiec            2.10.20
124 R. Bryant Christensen     2.10.30
125 Anne Gonzales             2.10.55
126 Kim Taylor                2.11.17
127 Jeff Sumsion              2.11.27
128 David Hassinger           2.11.36
129 Muffy Ritz                2.11.54
130 Mike Marolt               2.12.56
131 Tim Crossen               2.13.35
132 Mike Lewis                2.13.39
133 Sterling Mudge            2.13.44
134 Greg Wheaton              2.15.24
135 Elden Nelson              2.15.27
136 Anthony Mannina           2.15.35
137 Robert Sack               2.16.20
138 Cole Chlouber             2.16.34
139 Dave Green                2.16.40
140 Adam Stepanovic           2.18.03
141 Mike Shomion              2.18.25
142 Todd Martens              2.18.52
143 Dan Busse*                2.19.30
144 Mark Johansen             2.19.51
145 Sean Kerrigan             2.20.07
146 Aron Yevuta               2.20.43
147 Michael Loperfido         2.21.23
148 Brad Cobb                 2.22.16
149 James Healy               2.22.25
150 David Grauer              2.22.29
151 Jon Gibans                2.22.31
152 Jeff Doerr                2.23.01
153 Greg Bachman*             2.23.45
154 Andy Caplan               2.24.15
155 Eric Davis                2.24.37
156 Lee Johnson               2.25.19
157 Jim Wilcox                2.25.22
158 Patrick Gonzalez          2.26.26
159 Lyn Simon                 2.27.36
160 Jason Alread              2.28.06
161 Michael Koppen            2.28.22
162 Tim Carrier               2.28.34
163 Todd Cassan               2.28.38
164 Mike Pritchard            2.28.41
165 Michael Iddings           2.28.52
166 Jarod Roberts             2.28.58
167 Mark Smith                2.29.08
168 Lee Gelman                2.29.29
169 Annie Fox                 2.29.41
170 Andy Fox                         
171 Ned Rule                  2.30.18
172 John P. Hutchens          2.31.09
173 Rick Sunderlage           2.31.35
174 Carol Quinn               2.31.42
175 Eleanor Needy             2.31.50
176 Todd Moyer                2.31.55
177 Riley Frazier             2.32.35
178 Todd Fox                  2.32.54
179 Jeffrey Williams          2.33.13
180 Mike McHargue*            2.33.29
181 Randy Guymer              2.34.22
182 Carl S. Cunningham        2.34.28
183 Mark Landeck              2.34.44
184 Jeff Jewell               2.34.54
185 Robert Lloyd              2.35.03
186 Christopher Madden        2.35.12
187 Ricky Garcia              2.35.21
188 Jay Lewandowski           2.36.02
189 Morgan Murri*             2.36.35
190 James Herrera             2.37.02
191 Paul Field                2.37.21
192 Bruce Kelly               2.38.57
193 Kevin Andrews             2.38.59
194 Trey Cassidy              2.39.00
195 Jilene Mecham             2.39.13
196 Michael Melley            2.39.25
197 Carl Yarbrough            2.39.53
198 Clark Sundahl             2.40.27
199 Rick McDonald             2.41.20
200 Dan Durland               2.41.30
201 Jeff Vierling             2.41.41
202 Joseph DiNapoli           2.43.07
203 Mike Herlinger            2.43.43
204 David Twinam              2.43.51
205 Michael Jacobs            2.44.47
206 Christopher Seymour       2.46.04
207 Arn Menconi               2.46.12
208 Elizabeth Vollmer         2.46.26
209 Gerald Oliver*            2.46.38
210 Yeulin Willett            2.46.57
211 Robert Corene             2.48.18
212 Ellen Guthrie             2.48.37
213 Dennis Kaiser             2.48.39
214 Stephen Clark             2.49.09
215 Robert Jensen             2.49.50
216 Jeff Wu                   2.49.58
217 Mark Horton               2.50.20
218 Keith Edney               2.50.33
219 Daniel Poulton            2.51.08
220 Connie Inks               2.51.20
221 Jon Alby                  2.51.26
222 Stuart Mann               2.52.12
223 Peter Althausen           2.52.25
224 Sheryl Miller             2.52.29
225 Eddie MacHolda            2.53.16
226 John Holder               2.53.27
227 Adam Pulford              2.53.31
228 Hap Purcell               2.53.32
229 Grant Clayton             2.54.03
230 Andrew Pemberton          2.54.30
231 Brenton Hamilton          2.55.16
232 Scott Chenue^             2.55.22
233 Jonathan Sandberg         2.55.39
234 Gary Richter              2.56.07
235 David Hinchman            2.56.11
236 Sam St.Pierre             2.56.13
237 Mark Barrett              2.56.30
238 Jay Scott                 2.56.51
239 David Baker               2.57.10
240 Dick Dodge Jr             2.57.19
241 Randy Ballheim            2.57.23
242 Jake Kirkpatrick          2.57.40
243 Mike Moraites             2.57.50
244 Mark Wallace              2.58.07
245 Gary Johnson              2.58.15
246 Eric Romaniszyn           2.58.20
247 J. Mark Baird             2.59.08
248 Mark Quist                2.59.35
249 Kevin Johansen            3.00.03
250 Ben Sewell                3.00.31
251 Tom Gagliardi             3.00.48
252 Tom Beckett               3.01.00
253 Kevin Marr                3.01.01
254 Bruce Nelson              3.01.04
255 Ernie Wintergerst         3.01.11
256 Juan Acosta               3.01.15
257 John Adamson              3.01.29
258 Brett Goett               3.01.42
259 Greg Johnson              3.01.49
260 Stephen Wilson            3.02.45
261 John Guillaume            3.03.20
262 Michael Blades            3.04.05
263 Brad Mullen               3.04.10
264 Larry Tucker              3.04.14
265 Steve Krasovich           3.04.18
266 Tim Bruce                 3.04.20
267 Beverly Smith             3.05.08
268 Karoline Droege           3.05.32
269 Geoff Shaffer             3.06.07
270 Bob Fay                   3.06.57
271 Leon Fetzer               3.07.23
272 Tom Brady                 3.08.57
273 Cliff Rigsbee^            3.09.08
274 Matthew Bullock           3.11.05
275 Tim Patten                3.12.10
276 Lee Blackwell             3.13.20
277 Art Fleming               3.13.22
278 Jeff Hales                3.15.42
279 Rick Sederberg            3.16.25
280 Linde Smith               3.16.28
281 Nick Abbott                      
282 Vince Brady               3.16.32
283 Rich Miller               3.16.35
284 Wade Newell               3.17.19
285 Rob Ganger                3.17.26
286 Ben Peery                 3.18.14
287 Shawn Gillis              3.18.25
288 Kent McGrew                      
289 Doug Mower                3.18.37
290 Jacqui Wood               3.18.56
291 Dixon Brockbank           3.18.58
292 Dean Cahow                3.19.07
293 Ken Hawkins               3.19.32
294 Rick Winberg              3.19.34
295 Douglas Hayne             3.20.10
296 Cristina Begy             3.20.19
297 Bob Inglish               3.21.06
298 Jeffrey Leenhouts         3.22.49
299 Barton Knaggs             3.23.06
300 Joseph Deighan            3.23.27
301 Bill Carey                3.23.29
302 Ronald Kennedy            3.23.44
303 Shad Hamilton             3.24.07
304 Mark Flanagan             3.24.30
305 James Bleakley            3.24.55
306 Philippe Courtois         3.25.05
307 Mark Bingham              3.25.31
308 Aron Mason                3.26.22
309 Cooper Mallozzi           3.26.26
310 Tom Purvis                3.26.49
311 Ed Sherline               3.27.09
312 Charles Schuster          3.27.27
313 Jerry Hency               3.28.10
314 Mike Johnson              3.28.32
315 Christopher Dondlinger    3.29.15
316 Ed Poremba                3.30.14
317 Michael Chavez            3.30.30
318 Joseph Jensen             3.30.44
319 Sonja Evers               3.31.14
320 Bob Estes                 3.31.27
321 Roxanne Hall              3.31.36
322 Daniel Valeperta          3.31.48
323 Michael Fratrick          3.31.51
324 Justin Derkash            3.32.04
325 Todd Scott^               3.32.19
326 Bob Scanlon               3.33.11
327 Tom Freeman               3.33.23
328 Matt Hayes                3.33.42
329 Michael Newman            3.33.48
330 Stacy Moller              3.34.14
331 Kevin Grafft              3.34.16
332 Jason Linder              3.34.18
333 Michael Parrish           3.34.54
334 Robert Jones              3.34.57
335 Elwyn Owen*               3.35.24
336 Steven Slaughter          3.35.47
337 Neal Rogers               3.36.04
338 Jody Anderson             3.36.05
339 Glade Weiser              3.36.08
340 Pete Devine               3.36.09
341 Jim Ellis                 3.36.13
342 Jenn Dice                 3.36.52
343 Keisuke Nishimoto         3.37.41
344 Clayton Arhelger          3.38.04
345 John (Jay) Nevins         3.38.36
346 Mark Fischer              3.38.54
347 Dennis R. Schueler        3.39.28
348 David McGaffin            3.39.36
349 Tristan Clum              3.39.44
350 Lisa Rollins              3.40.03
351 Michael Tressler          3.40.25
352 Nathan Means              3.40.26
353 Thomas Selke              3.40.31
354 Jack Edney                3.40.40
355 Tim Fishback              3.40.42
356 John Sagebiel             3.40.54
357 Kyle Pitman               3.41.14
358 John Bodhane              3.41.44
359 Bob Heinzen               3.42.03
360 Chris Sur                 3.42.10
361 Dee Mable                 3.42.17
362 Richard Murdock           3.42.31
363 Chris Castilian           3.42.44
364 Chris Cohan               3.43.59
365 Alex Koss                 3.44.37
366 Ronnie Allison            3.44.54
367 Greg Wheelwright                 
368 Scott Ellis               3.44.55
369 Frank Toney               3.45.06
370 Jess Peery                3.45.08
371 Chris Skillings           3.46.19
372 Jane Hilt                 3.47.19
373 Dham Khalsa               3.48.02
374 Steven Conine             3.48.12
375 Alex Conine               3.48.14
376 Stanley Larrabee          3.48.51
377 Craig Marotz              3.49.54
378 John Hill                 3.50.08
379 John Armstrong            3.50.13
380 Eric Pringle              3.50.35
381 Steve Boyd                3.51.09
382 Mark Godfrey              3.51.20
383 Michael Shafai            3.51.50
384 Don Bartow                3.52.27
385 Frank Matson              3.52.43
386 Mark Krasovich            3.52.46
387 Heidi Clayton             3.52.47
388 Voytek Bobak              3.52.59
389 John Camoriano            3.53.08
390 Kim Kreb*                 3.53.09
391 Tom Turney                3.53.10
392 Harold Field              3.53.43
393 Mike Moreland             3.53.45
394 Greg Hartman              3.54.21
395 Rick Sabata               3.54.25
396 Michelle Torres           3.54.34
397 Gale Bernhardt                   
398 Kevin Barry               3.54.52
399 Mark Macy                 3.55.14
400 Mateo Leyba               3.55.17
401 Bethany Elson             3.55.36
402 Mike Bennett^                    
403 Brian Long                3.55.40
404 Dale Branks               3.55.50
405 Bradley Boyer             3.56.16
406 Adrian Booth              3.56.19
407 Adam Baker                3.56.35
408 Clay Crymes               3.57.28
409 David Torres              3.57.30
410 Ralph Miller              3.57.33
411 Todd MacCagnan            3.57.34
412 Gary Morris               3.57.35
413 Brian Vaughan             3.59.01
414 Bill Boughton             3.59.54
415 Dale Young                4.00.18
416 Matt Wick                        
417 Jonathan Albers           4.00.44
418 Chris Cooper              4.01.01
419 Richard Dutton            4.01.05
420 Stephen Bryant            4.01.08
421 Kenneth Dunn              4.02.19
422 Brent Bell                4.02.23
423 Jeffery Saless            4.02.32
424 Larry Swanson*            4.02.58
425 Christopher Haga          4.03.04
426 Kerry Novak               4.04.03
427 Cynthia Novak                    
428 Charles Green             4.04.13
429 Kabby Hong                4.04.27
430 Dean Frease               4.04.29
431 Travis Peterson           4.05.14
432 Lee Cannon                4.06.14
433 Ed Von Bleichert          4.06.34
434 Chris Morris              4.06.57
435 Robert Singiser           4.07.14
436 Kara Durland              4.07.23
437 Robert Pogorelz           4.07.51
438 Scott Humpherys           4.07.57
439 Todd Neugent              4.08.43
440 Lance Edney               4.08.50
441 Roy Gatesman              4.09.19
442 Richard Van Gytenbeek     4.09.25
443 James Dirksen             4.10.11
444 Jo Campbell               4.10.16
445 Bill Marciniak            4.10.31
446 Kyle Arnold               4.10.48
447 Bryson Perry              4.12.08
448 Brandon Perry                    
449 Thomas Perry                     
450 Joanne Morrow             4.12.11
451 Steve Jones               4.12.12
452 Brent Goldstein           4.12.23
453 Derek Van Hoesen          4.13.23
454 Rachel Farrett            4.13.39
455 Jeremy Layer              4.13.56
456 Alan Ley                  4.15.14
457 Peter Frey                4.16.06
458 James Henderson           4.16.12
459 Charles Buki              4.16.30
460 Charlie Snyder            4.16.32
461 Bill Wenmark              4.17.30
462 Joe Zamudio               4.17.40
463 Paul Blatter              4.18.17
464 Dean Blatter                     
465 John Mazzola              4.18.57
466 Mark Pleis                4.19.33
467 Richard Zirk              4.20.26
468 Theresa Morningstar       4.20.53
469 Eric Andrews              4.21.01
470 Patrick Sullivan          4.21.05
471 Barbara Walker            4.21.20
472 Darren Hirst              4.21.29
473 Deb Ledington             4.21.31
474 Roland Nel                4.21.51
475 Kip Henthorn              4.22.49
476 Nancy Gray                4.22.55
477 Pete Emery                4.22.58
478 Thomas Economou           4.23.29
479 Elrie Iverson             4.23.49
480 Steve Lipsher             4.24.02
481 Kim Kennedy               4.24.03
482 Kevin Weber               4.24.07
483 Mike Bahel                4.24.31
484 Kim Bear                  4.24.40
485 Judy Rae Allen            4.24.54
486 John Sotir                4.25.14
487 David Newman              4.27.03
488 Dan Devlin                4.27.29
489 Jack Apple                4.27.44
490 Steve Oltmans             4.27.53
491 Robert Mingus             4.28.20
492 Gary Williams             4.28.34
493 Robert Bruce              4.28.38
494 James Rusk                4.29.08
495 David Edney               4.30.07
496 Charlie Brown             4.31.09
497 Shannon Goddard           4.31.20
498 Mike Fitzgerald           4.31.22
499 Kent Keller               4.31.23
500 Dave Jorgen                      
501 Jeff Kuehn                4.31.27
502 Brian Benson              4.31.36
503 David Mower               4.32.17
504 Tyler Watkins             4.32.46
505 Joe Farrell               4.32.58
506 Greg Williams             4.33.07
507 Brent Johnson             4.33.17
508 Marc Harvieux             4.33.29
509 Stephen Lebovitz          4.35.30
510 Alan Levovitz                    
511 Kevin McMahon             4.35.35
512 Timothy Bond              4.35.46
513 Daniel M. Ward            4.35.47
514 Johannes Faessler         4.36.48
515 Deb Werenko               4.38.06
516 Stephen Shepherd          4.38.08
517 Stuart Kroonenberg        4.38.10
518 Scott Sandberg            4.38.51
519 Gary Albert               4.39.16
520 Rick Johnson              4.39.44
521 Pete Pollard              4.39.46
522 Errett Cord               4.39.52
523 Jim Thompson              4.40.38
524 Mindi Hoffmaster          4.40.53
525 Karl Heidgen              4.41.39
526 William Derrick           4.42.08
527 Patrick Reilly            4.42.24
528 Jay Smith                 4.42.49
529 David Hersey*             4.43.05
530 Shelly Wilson             4.43.20
531 Frank Koch                4.43.22
532 Carl Gable                4.43.23
533 Kris Sonderup             4.43.28
534 Andrew Mesesan            4.43.59
535 John Lakoski              4.44.05
536 Mark Hagen                4.45.18
537 Scott McMillian           4.45.48
538 Collin Hatcher            4.45.49
539 Bryan Anderson            4.45.51
540 James Connolly            4.45.56
541 Kevin Eastwood                   
542 Ken Berryhill             4.46.06
543 Marnel King               4.46.22
544 Timothy Ackerman          4.46.40
545 Paul Karlsson             4.46.50
546 Brent Kauth               4.46.58
547 Janice Rubin              4.47.11
548 Ted Warm                  4.47.18
549 Greg Buzanis              4.47.20
550 Craig Pate                4.47.38
551 James Guthrie             4.47.50
552 Charles Bybee*            4.47.53
553 Ricci Newland             4.47.55
554 Michael Hersey            4.48.57
555 Dan Clinkinbeard          4.49.01
556 Richard Cummins           4.49.23
557 David Melton              4.49.24
558 Mark Nagel*               4.49.31
559 Jeff Dullard              4.49.51
560 Mark Summers              4.50.16
561 Steve Barnes              4.50.17
562 Brett Bagwell             4.50.30
563 Bob Cross                 4.51.13
564 Kathleen Jenkins          4.51.31
565 Mick Donoff               4.52.49
566 Robert Weber              4.53.40
567 Steve Miller              4.54.17
568 Joshua Weissman           4.54.54
569 Sarah Marcikonis          4.55.11
570 Michael Larson            4.55.36
571 Kelly Ramshur             4.56.06
572 Kari Beth Toney           4.56.25
573 Elizabeth Doxey           4.56.28
574 Hugh Bradley              4.56.42
575 Nicole Davis              4.57.17
576 Star Affolter             4.57.26
577 Chauncey Matthews         4.57.38
578 Steve Douglas             4.58.04
579 Amy Ward                  4.58.32
580 Jami Billman              4.58.33
581 Phillip Kriz              4.58.48
582 Thomas Cartwright         4.59.04
583 Jack Christian*           4.59.43
584 Joe Walker                4.59.44
585 Dustin Kilbourne          4.59.47
586 Glen Delman^              4.59.50
587 Keith Franchetti          4.59.51
588 Peggy Churchill           5.00.02
589 Thomas Hurley             5.00.15
590 Dennis Andersen           5.02.41
591 Laura Pritchard           5.02.42
592 Ken Baier                 5.02.57
593 Zella Brockbank           5.03.07
594 Mark Peretsman            5.03.29
595 Yolanda Walton            5.03.43
596 Terri Daugherty           5.04.25
597 Mark Kane                 5.05.17
598 Douglas Sullivan          5.05.31
599 Marc Bergman*             5.06.12
600 Eric Houck, Sr.*          5.06.28
601 Stephen Wassinger         5.06.48
602 Dean Gregory              5.08.35
603 Kelly Chamberlain         5.12.18
604 Kevin Neadeau*            5.12.45
605 Jon Drew                  5.13.01
606 Greg Novacek              5.13.37
607 Sharon Staples            5.13.44
608 Christopher Lloyd*        5.14.20
609 Rick Dockhorn             5.14.22
610 Ronald Lawton             5.14.36
611 David Huntley             5.15.04
612 Bill Burge                5.15.24
613 Scott Carlson             5.16.48
614 Russell Herring           5.17.46
615 Sue Covington             5.18.57
616 Tawnya Armstrong          5.19.56
617 Lisa Nicholson            5.20.00
618 Thad Hoffman              5.20.44
619 Kevin Kane                5.21.16
620 Christopher Rosol         5.23.18
621 Ronald Gillingham         5.23.57
622 Reid Delman               5.27.28
623 Chad Asarch               5.27.39
624 Junko Kasukawa            5.27.57
625 Bob Bringhurst            5.28.13
626 Paul Laur                 5.28.29
627 Bruce Murray              5.31.03
628 Barbara Dutton            5.32.51
629 Henry Wheeler             5.33.33
630 Bill Colgin               5.35.39
631 Clinton Dorwart           5.36.55
632 Chandler Harben           5.37.17
633 Amos Smith                5.37.28
634 Paul Werner               5.39.12
635 Ed Hughey                 5.39.16
636 P.J. McGovern             5.39.18
637 Michael Birch             5.39.26
638 Henry Clinton                    
639 Philip Ng                 5.39.29
640 Louis Eagan               5.41.34
641 James Coleman             5.41.54
642 Jason Amadori^            5.42.30
643 Andy Schuette             5.43.33
644 Roy Trice                 5.43.36
645 Tim Williams              5.43.42
646 Daren Brooks              5.45.51
647 Bill Purcell              5.46.29
648 Abe Berman                5.48.06
649 James Kirk                5.50.28
650 Jennifer Camoriano        5.50.29
651 John Wontrobski           5.52.14
652 George Broome             5.52.20
653 Brent Collins             5.52.29
654 Jason Teggatz             5.52.56
655 Kirsten McDaniel          5.53.38
656 William Brandt            5.54.11
657 Mary Davis                5.54.37
658 Jill Giese                5.56.07
659 Aimee Moffitt             5.58.18
660 Alison Watt               5.59.06
661 Earl Waker, Jr.           5.59.22
662 Thomas Flowers            5.59.23
663 Steve Beckett             5.59.44

Open Women Overall

1 Gretchen Reeves         8.05.29
2 Amanda Riley              26.13
3 Keri Nelson               38.43
4 Anne Gonzales           1.04.12
5 Kim Taylor              1.04.34
6 Muffy Ritz              1.05.11
7 Lyn Simon               1.20.53
8 Annie Fox               1.22.58
9 Carol Quinn             1.24.59
10 Eleanor Needy          1.25.07
11 Jilene Mecham          1.32.30
12 Elizabeth Vollmer      1.39.43
13 Ellen Guthrie          1.41.54
14 Connie Inks            1.44.37
15 Sheryl Miller          1.45.46
16 Beverly Smith          1.58.25
17 Karoline Droege        1.58.49
18 Jacqui Wood            2.12.13
19 Cristina Begy          2.13.36
20 Sonja Evers            2.24.31
21 Roxanne Hall           2.24.53
22 Stacy Moller           2.27.31
23 Jody Anderson          2.29.22
24 Jenn Dice              2.30.09
25 Lisa Rollins           2.33.20
26 Jane Hilt              2.40.36
27 Alex Conine            2.41.31
28 Heidi Clayton          2.46.04
29 Kim Kreb*              2.46.26
30 Michelle Torres        2.47.51
31 Gale Bernhardt                
32 Bethany Elson          2.48.53
33 Cynthia Novak          2.57.20
34 Jo Campbell            3.03.33
35 Joanne Morrow          3.05.28
36 Rachel Farrett         3.06.56
37 Theresa Morningstar    3.14.10
38 Barbara Walker         3.14.37
39 Deb Ledington          3.14.48
40 Nancy Gray             3.16.12
41 Kim Bear               3.17.57
42 Shannon Goddard        3.24.37
43 Deb Werenko            3.31.23
44 Mindi Hoffmaster       3.34.10
45 Shelly Wilson          3.36.37
46 Marnel King            3.39.39
47 Janice Rubin           3.40.28
48 Kathleen Jenkins       3.44.48
49 Sarah Marcikonis       3.48.28
50 Kari Beth Toney        3.49.42
51 Elizabeth Doxey        3.49.45
52 Nicole Davis           3.50.34
53 Star Affolter          3.50.43
54 Amy Ward               3.51.49
55 Peggy Churchill        3.53.19
56 Laura Pritchard        3.55.59
57 Yolanda Walton         3.57.00
58 Sharon Staples         4.07.01
59 Sue Covington          4.12.14
60 Tawnya Armstrong       4.13.13
61 Lisa Nicholson         4.13.17
62 Junko Kasukawa         4.21.14
63 Barbara Dutton         4.26.08
64 Jennifer Camoriano     4.43.46
65 Kirsten McDaniel       4.46.55
66 Mary Davis             4.47.54
67 Jill Giese             4.49.24
68 Aimee Moffitt          4.51.35
69 Alison Watt            4.52.23

Men Overall

1 Dave Wiens                  6.58.46
2 Floyd Landis                   1.44
3 Mike Kloser                   11.37
4 Max Taam                      32.41
5 Jake Rubelt                   36.05
6 Thane Wright                  38.16
7 Mike Hogan                    38.56
8 Ryan Hamilton                 43.30
9 Thomas Dooley                 46.13
10 Adam Plummer                 46.40
11 Nat Ross                     48.51
12 Travis Macy                  54.49
13 Todd Carver                  56.26
14 Nate Whitman                 57.44
15 Dax Massey                   58.23
16 Jim Silverman                59.16
17 Daniel Murray                59.29
18 Kimo Seymour               1.00.00
19 James Kahkoska             1.00.51
20 Ward Baker                 1.03.13
21 Danny Buehler              1.03.17
22 Garth Prosser              1.04.00
23 David Weber                1.05.31
24 Jason Poole                1.06.08
25 Rob Burgard                1.07.23
26 Bill Macfarlane            1.08.21
27 Chris Latham               1.09.32
28 Chucky Gibson              1.10.48
29 Dan Dittmer                1.11.51
30 Daniel Mellish             1.12.21
31 Cannon Shockley            1.12.23
32 Brian Maslach              1.14.28
33 Kevin Perry                1.15.25
34 Mike Young                 1.16.37
35 Johnny Biggers             1.18.37
36 Theodore Fleming           1.20.21
37 Jeff Wardell               1.20.41
38 Blake Heren                1.21.17
39 Steve Marolt               1.22.21
40 J. Eric Denksen            1.22.40
41 Daniel Knight              1.22.54
42 Brian Wiens                1.24.20
43 Guy Stevenson              1.25.23
44 Christopher Bellona        1.25.50
45 Mike Danaher               1.26.24
46 Charlie Hayes              1.27.13
47 Eamonn Rooney              1.27.46
48 Terry Wickland             1.28.18
49 Mathew Davis               1.28.44
50 Scott Daub                 1.29.47
51 Steven Yore                1.30.35
52 Kent McNeill               1.30.50
53 Kenny Jones                1.31.38
54 Justin Mark                1.31.55
55 Joel Mischke               1.31.57
56 Steve Peterson             1.32.07
57 Stuart Gillespie           1.32.15
58 Kelly McGrew               1.32.35
59 Wooch Graff                1.32.49
60 Jeff Dick                  1.33.18
61 Ben Garrett                1.35.40
62 Shawn Candelaria           1.36.31
63 Drew Geer                  1.38.44
64 Derick Williamson          1.39.13
65 Jeff Rhodes                1.40.37
66 John Callahan              1.43.04
67 Todd Murray                1.43.25
68 Peter Thorsness            1.44.20
69 Mark Gouge                 1.44.52
70 Steven Riggle              1.45.08
71 Scott Patterson            1.45.38
72 Josh Colley                1.45.54
73 Sean Hassinger             1.45.55
74 Robert Wood                1.46.33
75 Brad Keyes                 1.46.55
76 Ronan Murray               1.47.15
77 Mark Merritt               1.47.29
78 Craig Zediker              1.47.38
79 Ty Hall                    1.47.43
80 Jim Rutberg                1.48.00
81 Andrew Yates               1.48.05
82 Ross Clark                 1.48.14
83 Jared Nelson               1.48.58
84 Daniel File                1.49.28
85 Michael Scott              1.49.29
86 Todd Henneman              1.49.44
87 Casey Puntenney            1.49.49
88 Jamie Kilcoyne             1.49.59
89 Larry DeWitt               1.50.35
90 Kevin Daum                 1.51.44
91 Jeff Carter                1.52.39
92 Michael Bordogna           1.52.58
93 Jim Gibson                 1.53.49
94 Kervin Quinones            1.54.04
95 Jim Smith                  1.54.35
96 Thomas McKeen              1.55.11
97 Frank Dumont               1.55.48
98 Lance Loehding             1.55.51
99 Morris Denton              1.56.10
100 Corey Godfrey             1.57.28
101 Phil Schweizer            1.58.21
102 Greg Brophy               1.58.57
103 Heath Weisbrod            1.59.22
104 Todd Krell                1.59.30
105 Kevin Abel                2.00.08
106 Bill Herwig               2.02.08
107 Mike Gillette             2.02.44
108 Kyle Boschen              2.03.01
109 Richard Digeronimo        2.03.30
110 Steven Pon                2.03.34
111 Mark Glasgow              2.04.21
112 Brett Lindstrom           2.05.32
113 Chris Carmichael          2.06.14
114 Stephen Hunter            2.07.06
115 Brad Cole                 2.08.10
116 Aaron Gulley              2.08.37
117 Nelson Snyder*            2.09.06
118 Chris Clark               2.09.14
119 Mike Maple                2.09.19
120 David Janowiec            2.10.20
121 R. Bryant Christensen     2.10.30
122 Jeff Sumsion              2.11.27
123 David Hassinger           2.11.36
124 Mike Marolt               2.12.56
125 Tim Crossen               2.13.35
126 Mike Lewis                2.13.39
127 Sterling Mudge            2.13.44
128 Greg Wheaton              2.15.24
129 Elden Nelson              2.15.27
130 Anthony Mannina           2.15.35
131 Robert Sack               2.16.20
132 Cole Chlouber             2.16.34
133 Dave Green                2.16.40
134 Adam Stepanovic           2.18.03
135 Mike Shomion              2.18.25
136 Todd Martens              2.18.52
137 Dan Busse*                2.19.30
138 Mark Johansen             2.19.51
139 Sean Kerrigan             2.20.07
140 Aron Yevuta               2.20.43
141 Michael Loperfido         2.21.23
142 Brad Cobb                 2.22.16
143 James Healy               2.22.25
144 David Grauer              2.22.29
145 Jon Gibans                2.22.31
146 Jeff Doerr                2.23.01
147 Greg Bachman*             2.23.45
148 Andy Caplan               2.24.15
149 Eric Davis                2.24.37
150 Lee Johnson               2.25.19
151 Jim Wilcox                2.25.22
152 Patrick Gonzalez          2.26.26
153 Jason Alread              2.28.06
154 Michael Koppen            2.28.22
155 Tim Carrier               2.28.34
156 Todd Cassan               2.28.38
157 Mike Pritchard            2.28.41
158 Michael Iddings           2.28.52
159 Jarod Roberts             2.28.58
160 Mark Smith                2.29.08
161 Lee Gelman                2.29.29
162 Andy Fox                  2.29.41
163 Ned Rule                  2.30.18
164 John P. Hutchens          2.31.09
165 Rick Sunderlage           2.31.35
166 Todd Moyer                2.31.55
167 Riley Frazier             2.32.35
168 Todd Fox                  2.32.54
169 Jeffrey Williams          2.33.13
170 Mike McHargue*            2.33.29
171 Randy Guymer              2.34.22
172 Carl S. Cunningham        2.34.28
173 Mark Landeck              2.34.44
174 Jeff Jewell               2.34.54
175 Robert Lloyd              2.35.03
176 Christopher Madden        2.35.12
177 Ricky Garcia              2.35.21
178 Jay Lewandowski           2.36.02
179 Morgan Murri*             2.36.35
180 James Herrera             2.37.02
181 Paul Field                2.37.21
182 Bruce Kelly               2.38.57
183 Kevin Andrews             2.38.59
184 Trey Cassidy              2.39.00
185 Michael Melley            2.39.25
186 Carl Yarbrough            2.39.53
187 Clark Sundahl             2.40.27
188 Rick McDonald             2.41.20
189 Dan Durland               2.41.30
190 Jeff Vierling             2.41.41
191 Joseph DiNapoli           2.43.07
192 Mike Herlinger            2.43.43
193 David Twinam              2.43.51
194 Michael Jacobs            2.44.47
195 Christopher Seymour       2.46.04
196 Arn Menconi               2.46.12
197 Gerald Oliver*            2.46.38
198 Yeulin Willett            2.46.57
199 Robert Corene             2.48.18
200 Dennis Kaiser             2.48.39
201 Stephen Clark             2.49.09
202 Robert Jensen             2.49.50
203 Jeff Wu                   2.49.58
204 Mark Horton               2.50.20
205 Keith Edney               2.50.33
206 Daniel Poulton            2.51.08
207 Jon Alby                  2.51.26
208 Stuart Mann               2.52.12
209 Peter Althausen           2.52.25
210 Eddie MacHolda            2.53.16
211 John Holder               2.53.27
212 Adam Pulford              2.53.31
213 Hap Purcell               2.53.32
214 Grant Clayton             2.54.03
215 Andrew Pemberton          2.54.30
216 Brenton Hamilton          2.55.16
217 Scott Chenue^             2.55.22
218 Jonathan Sandberg         2.55.39
219 Gary Richter              2.56.07
220 David Hinchman            2.56.11
221 Sam St.Pierre             2.56.13
222 Mark Barrett              2.56.30
223 Jay Scott                 2.56.51
224 David Baker               2.57.10
225 Dick Dodge Jr             2.57.19
226 Randy Ballheim            2.57.23
227 Jake Kirkpatrick          2.57.40
228 Mike Moraites             2.57.50
229 Mark Wallace              2.58.07
230 Gary Johnson              2.58.15
231 Eric Romaniszyn           2.58.20
232 J. Mark Baird             2.59.08
233 Mark Quist                2.59.35
234 Kevin Johansen            3.00.03
235 Ben Sewell                3.00.31
236 Tom Gagliardi             3.00.48
237 Tom Beckett               3.01.00
238 Kevin Marr                3.01.01
239 Bruce Nelson              3.01.04
240 Ernie Wintergerst         3.01.11
241 Juan Acosta               3.01.15
242 John Adamson              3.01.29
243 Brett Goett               3.01.42
244 Greg Johnson              3.01.49
245 Stephen Wilson            3.02.45
246 John Guillaume            3.03.20
247 Michael Blades            3.04.05
248 Brad Mullen               3.04.10
249 Larry Tucker              3.04.14
250 Steve Krasovich           3.04.18
251 Tim Bruce                 3.04.20
252 Geoff Shaffer             3.06.07
253 Bob Fay                   3.06.57
254 Leon Fetzer               3.07.23
255 Tom Brady                 3.08.57
256 Cliff Rigsbee^            3.09.08
257 Matthew Bullock           3.11.05
258 Tim Patten                3.12.10
259 Lee Blackwell             3.13.20
260 Art Fleming               3.13.22
261 Jeff Hales                3.15.42
262 Rick Sederberg            3.16.25
263 Linde Smith               3.16.28
264 Nick Abbott                      
265 Vince Brady               3.16.32
266 Rich Miller               3.16.35
267 Wade Newell               3.17.19
268 Rob Ganger                3.17.26
269 Ben Peery                 3.18.14
270 Shawn Gillis              3.18.25
271 Kent McGrew                      
272 Doug Mower                3.18.37
273 Dixon Brockbank           3.18.58
274 Dean Cahow                3.19.07
275 Ken Hawkins               3.19.32
276 Rick Winberg              3.19.34
277 Douglas Hayne             3.20.10
278 Bob Inglish               3.21.06
279 Jeffrey Leenhouts         3.22.49
280 Barton Knaggs             3.23.06
281 Joseph Deighan            3.23.27
282 Bill Carey                3.23.29
283 Ronald Kennedy            3.23.44
284 Shad Hamilton             3.24.07
285 Mark Flanagan             3.24.30
286 James Bleakley            3.24.55
287 Philippe Courtois         3.25.05
288 Mark Bingham              3.25.31
289 Aron Mason                3.26.22
290 Cooper Mallozzi           3.26.26
291 Tom Purvis                3.26.49
292 Ed Sherline               3.27.09
293 Charles Schuster          3.27.27
294 Jerry Hency               3.28.10
295 Mike Johnson              3.28.32
296 Christopher Dondlinger    3.29.15
297 Ed Poremba                3.30.14
298 Michael Chavez            3.30.30
299 Joseph Jensen             3.30.44
300 Bob Estes                 3.31.27
301 Daniel Valeperta          3.31.48
302 Michael Fratrick          3.31.51
303 Justin Derkash            3.32.04
304 Todd Scott^               3.32.19
305 Bob Scanlon               3.33.11
306 Tom Freeman               3.33.23
307 Matt Hayes                3.33.42
308 Michael Newman            3.33.48
309 Kevin Grafft              3.34.16
310 Jason Linder              3.34.18
311 Michael Parrish           3.34.54
312 Robert Jones              3.34.57
313 Elwyn Owen*               3.35.24
314 Steven Slaughter          3.35.47
315 Neal Rogers               3.36.04
316 Glade Weiser              3.36.08
317 Pete Devine               3.36.09
318 Jim Ellis                 3.36.13
319 Keisuke Nishimoto         3.37.41
320 Clayton Arhelger          3.38.04
321 John (Jay) Nevins         3.38.36
322 Mark Fischer              3.38.54
323 Dennis R. Schueler        3.39.28
324 David McGaffin            3.39.36
325 Tristan Clum              3.39.44
326 Michael Tressler          3.40.25
327 Nathan Means              3.40.26
328 Thomas Selke              3.40.31
329 Jack Edney                3.40.40
330 Tim Fishback              3.40.42
331 John Sagebiel             3.40.54
332 Kyle Pitman               3.41.14
333 John Bodhane              3.41.44
334 Bob Heinzen               3.42.03
335 Chris Sur                 3.42.10
336 Dee Mable                 3.42.17
337 Richard Murdock           3.42.31
338 Chris Castilian           3.42.44
339 Chris Cohan               3.43.59
340 Alex Koss                 3.44.37
341 Ronnie Allison            3.44.54
342 Greg Wheelwright                 
343 Scott Ellis               3.44.55
344 Frank Toney               3.45.06
345 Jess Peery                3.45.08
346 Chris Skillings           3.46.19
347 Dham Khalsa               3.48.02
348 Steven Conine             3.48.12
349 Stanley Larrabee          3.48.51
350 Craig Marotz              3.49.54
351 John Hill                 3.50.08
352 John Armstrong            3.50.13
353 Eric Pringle              3.50.35
354 Steve Boyd                3.51.09
355 Mark Godfrey              3.51.20
356 Michael Shafai            3.51.50
357 Don Bartow                3.52.27
358 Frank Matson              3.52.43
359 Mark Krasovich            3.52.46
360 Voytek Bobak              3.52.59
361 John Camoriano            3.53.08
362 Tom Turney                3.53.10
363 Harold Field              3.53.43
364 Mike Moreland             3.53.45
365 Greg Hartman              3.54.21
366 Rick Sabata               3.54.25
367 Kevin Barry               3.54.52
368 Mark Macy                 3.55.14
369 Mateo Leyba               3.55.17
370 Mike Bennett^             3.55.36
371 Brian Long                3.55.40
372 Dale Branks               3.55.50
373 Bradley Boyer             3.56.16
374 Adrian Booth              3.56.19
375 Adam Baker                3.56.35
376 Clay Crymes               3.57.28
377 David Torres              3.57.30
378 Ralph Miller              3.57.33
379 Todd MacCagnan            3.57.34
380 Gary Morris               3.57.35
381 Brian Vaughan             3.59.01
382 Bill Boughton             3.59.54
383 Dale Young                4.00.18
384 Matt Wick                        
385 Jonathan Albers           4.00.44
386 Chris Cooper              4.01.01
387 Richard Dutton            4.01.05
388 Stephen Bryant            4.01.08
389 Kenneth Dunn              4.02.19
390 Brent Bell                4.02.23
391 Jeffery Saless            4.02.32
392 Larry Swanson*            4.02.58
393 Christopher Haga          4.03.04
394 Kerry Novak               4.04.03
395 Charles Green             4.04.13
396 Kabby Hong                4.04.27
397 Dean Frease               4.04.29
398 Travis Peterson           4.05.14
399 Lee Cannon                4.06.14
400 Ed Von Bleichert          4.06.34
401 Chris Morris              4.06.57
402 Robert Singiser           4.07.14
403 Kara Durland              4.07.23
404 Robert Pogorelz           4.07.51
405 Scott Humpherys           4.07.57
406 Todd Neugent              4.08.43
407 Lance Edney               4.08.50
408 Roy Gatesman              4.09.19
409 Richard Van Gytenbeek     4.09.25
410 James Dirksen             4.10.11
411 Bill Marciniak            4.10.31
412 Kyle Arnold               4.10.48
413 Bryson Perry              4.12.08
414 Brandon Perry                    
415 Thomas Perry                     
416 Steve Jones               4.12.12
417 Brent Goldstein           4.12.23
418 Derek Van Hoesen          4.13.23
419 Jeremy Layer              4.13.56
420 Alan Ley                  4.15.14
421 Peter Frey                4.16.06
422 James Henderson           4.16.12
423 Charles Buki              4.16.30
424 Charlie Snyder            4.16.32
425 Bill Wenmark              4.17.30
426 Joe Zamudio               4.17.40
427 Paul Blatter              4.18.17
428 Dean Blatter                     
429 John Mazzola              4.18.57
430 Mark Pleis                4.19.33
431 Richard Zirk              4.20.26
432 Eric Andrews              4.21.01
433 Patrick Sullivan          4.21.05
434 Darren Hirst              4.21.29
435 Roland Nel                4.21.51
436 Kip Henthorn              4.22.49
437 Pete Emery                4.22.58
438 Thomas Economou           4.23.29
439 Elrie Iverson             4.23.49
440 Steve Lipsher             4.24.02
441 Kim Kennedy               4.24.03
442 Kevin Weber               4.24.07
443 Mike Bahel                4.24.31
444 Judy Rae Allen            4.24.54
445 John Sotir                4.25.14
446 David Newman              4.27.03
447 Dan Devlin                4.27.29
448 Jack Apple                4.27.44
449 Steve Oltmans             4.27.53
450 Robert Mingus             4.28.20
451 Gary Williams             4.28.34
452 Robert Bruce              4.28.38
453 James Rusk                4.29.08
454 David Edney               4.30.07
455 Charlie Brown             4.31.09
456 Mike Fitzgerald           4.31.22
457 Kent Keller               4.31.23
458 Dave Jorgen                      
459 Jeff Kuehn                4.31.27
460 Brian Benson              4.31.36
461 David Mower               4.32.17
462 Tyler Watkins             4.32.46
463 Joe Farrell               4.32.58
464 Greg Williams             4.33.07
465 Brent Johnson             4.33.17
466 Marc Harvieux             4.33.29
467 Alan Levovitz             4.35.30
468 Stephen Lebovitz                 
469 Kevin McMahon             4.35.35
470 Timothy Bond              4.35.46
471 Daniel M. Ward            4.35.47
472 Johannes Faessler         4.36.48
473 Stephen Shepherd          4.38.08
474 Stuart Kroonenberg        4.38.10
475 Scott Sandberg            4.38.51
476 Gary Albert               4.39.16
477 Rick Johnson              4.39.44
478 Pete Pollard              4.39.46
479 Errett Cord               4.39.52
480 Jim Thompson              4.40.38
481 Karl Heidgen              4.41.39
482 William Derrick           4.42.08
483 Patrick Reilly            4.42.24
484 Jay Smith                 4.42.49
485 David Hersey*             4.43.05
486 Frank Koch                4.43.22
487 Carl Gable                4.43.23
488 Kris Sonderup             4.43.28
489 Andrew Mesesan            4.43.59
490 John Lakoski              4.44.05
491 Mark Hagen                4.45.18
492 Scott McMillian           4.45.48
493 Collin Hatcher            4.45.49
494 Bryan Anderson            4.45.51
495 James Connolly            4.45.56
496 Kevin Eastwood                   
497 Ken Berryhill             4.46.06
498 Timothy Ackerman          4.46.40
499 Paul Karlsson             4.46.50
500 Brent Kauth               4.46.58
501 Ted Warm                  4.47.18
502 Greg Buzanis              4.47.20
503 Craig Pate                4.47.38
504 James Guthrie             4.47.50
505 Charles Bybee*            4.47.53
506 Ricci Newland             4.47.55
507 Michael Hersey            4.48.57
508 Dan Clinkinbeard          4.49.01
509 Richard Cummins           4.49.23
510 David Melton              4.49.24
511 Mark Nagel*               4.49.31
512 Jeff Dullard              4.49.51
513 Mark Summers              4.50.16
514 Steve Barnes              4.50.17
515 Brett Bagwell             4.50.30
516 Bob Cross                 4.51.13
517 Mick Donoff               4.52.49
518 Robert Weber              4.53.40
519 Steve Miller              4.54.17
520 Joshua Weissman           4.54.54
521 Michael Larson            4.55.36
522 Kelly Ramshur             4.56.06
523 Hugh Bradley              4.56.42
524 Chauncey Matthews         4.57.38
525 Steve Douglas             4.58.04
526 Jami Billman              4.58.33
527 Phillip Kriz              4.58.48
528 Thomas Cartwright         4.59.04
529 Jack Christian*           4.59.43
530 Joe Walker                4.59.44
531 Dustin Kilbourne          4.59.47
532 Glen Delman^              4.59.50
533 Keith Franchetti          4.59.51
534 Thomas Hurley             5.00.15
535 Dennis Andersen           5.02.41
536 Ken Baier                 5.02.57
537 Zella Brockbank           5.03.07
538 Mark Peretsman            5.03.29
539 Terri Daugherty           5.04.25
540 Mark Kane                 5.05.17
541 Douglas Sullivan          5.05.31
542 Marc Bergman*             5.06.12
543 Eric Houck, Sr.*          5.06.28
544 Stephen Wassinger         5.06.48
545 Dean Gregory              5.08.35
546 Kelly Chamberlain         5.12.18
547 Kevin Neadeau*            5.12.45
548 Jon Drew                  5.13.01
549 Greg Novacek              5.13.37
550 Christopher Lloyd*        5.14.20
551 Rick Dockhorn             5.14.22
552 Ronald Lawton             5.14.36
553 David Huntley             5.15.04
554 Bill Burge                5.15.24
555 Scott Carlson             5.16.48
556 Russell Herring           5.17.46
557 Thad Hoffman              5.20.44
558 Kevin Kane                5.21.16
559 Christopher Rosol         5.23.18
560 Ronald Gillingham         5.23.57
561 Reid Delman               5.27.28
562 Chad Asarch               5.27.39
563 Bob Bringhurst            5.28.13
564 Paul Laur                 5.28.29
565 Bruce Murray              5.31.03
566 Henry Wheeler             5.33.33
567 Bill Colgin               5.35.39
568 Clinton Dorwart           5.36.55
569 Chandler Harben           5.37.17
570 Amos Smith                5.37.28
571 Paul Werner               5.39.12
572 Ed Hughey                 5.39.16
573 P.J. McGovern             5.39.18
574 Michael Birch             5.39.26
575 Henry Clinton                    
576 Philip Ng                 5.39.29
577 Louis Eagan               5.41.34
578 James Coleman             5.41.54
579 Jason Amadori^            5.42.30
580 Andy Schuette             5.43.33
581 Roy Trice                 5.43.36
582 Tim Williams              5.43.42
583 Daren Brooks              5.45.51
584 Bill Purcell              5.46.29
585 Abe Berman                5.48.06
586 James Kirk                5.50.28
587 John Wontrobski           5.52.14
588 George Broome             5.52.20
589 Brent Collins             5.52.29
590 Jason Teggatz             5.52.56
591 William Brandt            5.54.11
592 Earl Waker, Jr.           5.59.22
593 Thomas Flowers            5.59.23
594 Steve Beckett             5.59.44