MTB index page for all MTB content
Founder's Lumberjack 100
Wellston, Michigan, USA, June 17, 2006
24-hour World Champ wins Lumberjack 100
Chris Eatough won the Lumberjack100
Photo ©: Jack Kunnen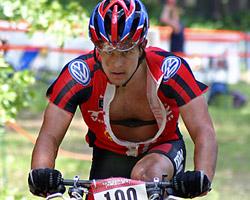 By Steve Medcroft
Six-time 24 Hours of Adrenalin Solo World Champion Chris Eatough (Trek/VW) won the second round of the National MTB Ultra Endurance Series at the Lumberjack 100 in Wellston, Michigan on Saturday.
His 7.09.06 finish isn't going to affect the overall series standings though as his preparation for Worlds and other commitments as part of the elite Trek/VW pro mountain-bike squad will prevent him from making the requisite four series races so Harlan Price (Independent Fabrication), who finished second to Eatough at the Lumberjack but won the series opener at the Mohican 100, will extend his overall competition lead.
Singlespeed category competitor Dan Jansen (Founders Ales/Alger Racing) and master's category racer John Majors (Giffin Interior & Fixture, Masters) both won their second straight Ultra wins to extended their series leads. And in the women's race, series leader Tricia Stevenson came second to her partner from the 2005 Trans-Rockies (a race they won together), Karen Masson but retains her series lead on points.
A third of his normal distance
Although he could have attended the Mount Snow NORBA with the rest of the Trek/VW mountain-bike team, Eatough says he had been looking forward to the Lumberjack since he saw it pop up on the Ultra Endurance Series calendar. "I like to search out new races," he said on Monday. "I like races that offer a challenge and the Lumberjack promised 100 miles of singletrack. It's not often anyone can mountain bike 100 miles of singletrack in a day."
Eatough says the course delivered on it's promise. "It was all fast, rolling, singletrack, the type of riding that seems fairly easy for an hour or two, but offers no rest, so it becomes very tough as the race goes on."
The pain train
Photo ©: Jack Kunnen

"The course was deceptively hard," said Ultra Series leader Harlan Price. "Because it was all singletrack, there was very little chance to relax."
Eatough took the lead from the start but knew there were some tough 100-mile racers in the group. "I race against Harlan quite a bit and he is riding well this year (he won the Mohican 100 a few weeks ago). Mountain biking is very popular in Michigan, so I figured there would be some strong local riders too."
"My start was very smooth," Eatough said. "I led into the singletrack and set a steady pace. A group formed after about the first six miles and we stayed in a tight line for another ten miles or so."
"The start was pretty hairy," Price said. "I entered the singletrack in about fourth place with Eatough leading the train. He keeped the pace high but not blistering for about three miles then Russ Tiles (T&Z Blueberry Farm/Slingshot) went out front and hammered."
At that point, Eatough says he wanted to test the riders behind and see if he could separate himself. "I stepped up the pace for a few miles," he said. "The elastic stretched a couple of times and then snapped. From there, it was every man for himself, and I was able to concentrate 100% on riding, eating and drinking."
Price held on for second behind Eatough. Tiles finished third, ten minutes behind Price.
Will race for beer
Aussie Karen Masson took the women's category win
Photo ©: Jack Kunnen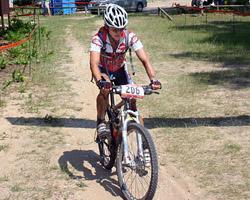 Women's Lumberjack winner Karen Masson posted an impressive 8.34.27 after a swift beginning to the Lumberjack. "I had a great start," Masson, who lives in Asheville, North Carolina but hails from Coffs Harbour in New South Wales, Australia said by email on Monday. "I felt really good and had a good pace."
With the race's unique singletrack format, Masson says she was able to sit in a draft much of the first lap and find a comfortable rhythm. Then, "I was in front after the first lap and then got a flat about four miles into the second lap. Trish (Stevenson, winner of the Mohican 100) passed me and I played catch up the rest of the day."
Masson says the key to the rest of the race was hydration and pacing. "I caught Trish just before the neutral aid station (about halfway through the last lap)," Masson said. "It was unbelievably hot and humid out there but I hydrated well - taking a small camel back and water bottle each lap."
38 year old Masson says that she's using the 100-mile series as preparation for a 24-hour solo campaign that includes US Nationals at the end of July and 24-Hours of Adrenalin Worlds in October. "I mainly do 24 hour races (plan to race Nationals and World's)," she said. "So the Ultra Series seemed like a great fit; a great way to have a relaxed, friendly races... and free beer after (I am an Aussie after all)."
The former NORBA pro says she'll be looking for three more rounds of free beers in her hunt for the Ultra Series overall (she says she'll race the Breckenridge 100, the E100 in Park City, Utah and the Shenandoah 100 series finale) competing against former Trans-Rockies teammate and current series leader Tricia Stevenson.
Stevenson finished second in the women's category, less than seven minutes behind Masson. Danielle Musto (Slingshot) finished third.
The National MTB Ultra Endurance Series heads next to Colorado for the high-altitude Breckenridge 100.
Photography
For a thumbnail gallery of these images, click here
Images by Jack Kunnen
Results

1 Karen Mason (Litespeed)                                8.34.27
2 Trish Stevenson (Land Rover/Cannondale)                   6.48
3 Danielle Musto (Slingshot)                               35.53
4 Fiona Lockhart                                         1.41.33
5 Shirlee Finch (Kona Midwest)                           2.40.58
 
One lap behind                                             
 
6 Sally Vernon                                       
7 Hillary Harrison (Kenda Giant)                                
8 Paula Figura (Founders Ales/Alger Racing)                     
9 Linda Moran (Flying Rhinos)                                   
10 Jen Conine (Treefort Bikes/Hellriders)                       
11 Kerry Block (Dark Horse Racing)                              
12 Valerie Dosland                                              
13 Janet Fender (Tree Fort Bikes)                               
14 Amanda Koch                                                  
15 Jessica Thayer (Trails Edge Cyclery)                         
DNF Diane DeAngelis                                             
 
Men
 
1 Chris Eatough (Trek/Volkswagen)                        7.09.06
2 Harlin Price (Independent Fabrication)                   32.56
3 Russ Tiles (T&Z Blueberry Farm/Slingshot)                43.17
4 John Meyers (Bells Brewery/Quiring Cycles)               44.31
5 Ross Clark (Solon Bicycle, Rudy Project)                 49.13
6 Robert Herriman (American Cylce & Fitness/WSC)           54.29
7 Dan Jansen (Founders Ales/Alger Racing)                1.02.51
8 Harvey Minton (Independent Fabrication)                1.05.32
9 Jason Lummis (Bells Brewery/Quiring Cycles)            1.07.14
10 Garth Prosser (Cannondale MTB Team)                   1.19.49
11 Eric Tompkin                                          1.21.19
12 Brent Steinberg (REI)                                 1.23.04
13 Chris Goddard (American Cycle/ W.S.C.)                1.23.49
14 Steve Schwarz (Titus Cycles/Hammer Gel)               1.25.02
15 Ernesto Marenchin Jr. (Asylum Cycles)                 1.38.45
16 Matthew Ferrari (Mt. Nittany Wheelworks)              1.44.29
17 Brian Carrigan (Team Chew)                            1.50.48
18 Rich Straub (Mt. Nittany Wheelworks)                  1.53.01
19 Tim Ek (Ski Hut)                                      1.55.20
20 Chris Westra                                          2.02.19
21 Jeff Wittbrodt (Waterfront Bicycles)                  2.03.48
22 Gene Faes (Tree Fort Bikes)                           2.04.47
23 Dennis Lessard (Pedal and Tour Cycling)               2.16.06
24 John Majors (Giffin Interior & Fixture Inc.)          2.17.06
25 Bob Rodgers (Solon Bicycle)                           2.17.51
26 Tim Curtis (River City Velo Club)                     2.19.26
27 Chris Maltby (Terryls Cycle $ Sports)                 2.19.46
28 John Kline (Singletrack Outfitters)                   2.20.06
29 Gunther Wagner (AFD)                                  2.25.11
30 Scot Magnuson (Tree Fort Bikes)                       2.25.52
31 Steve Kinley                                          2.33.50
32 Stephen Cain                                          2.37.13
33 Steven Tiles (T&Z Blueberry Farms)                    2.41.24
34 Bill Mayer (MMBA)                                     2.47.53
35 Sam Hayward                                           2.48.58
36 James Gomez (Mojo's Java Lounge/Rock'N Road Cycle)    2.55.24
37 Chad Schut (Subaru/Gary Fisher)                       2.56.32
38 Patrick McNeil                                        2.56.42
39 John Roe                                              3.02.46
40 Matt Goble (Crash Test Dummies)                       3:02:48
41 Michael McNally                                       3.14.09
42 Nathan Kearns (Treefort Bikes/Hellriders)             3.27.41
43 Matt Hotts (Macomb Bike & Fitness)                    3.31.50
44 Patrick Olson                                         3.45.29
45 Dale Carley (River City Velo Club)                    3.47.04
46 Charles Barnes (Generous Wife)                        3.51.03
47 Michael Seaman                                        3.56.34
48 Randy Vernon                                          4.06.37
49 Jason Mead (Founders Ales/Alger Racing)               4.07.51
50 Ralph Oppermann (AFD)                                 4.11.41
51 Eric Cook                                             4.13.26
52 Jon Banas (SpokeDrunkies)                             4.17.03
53 Russ Skinner                                          4.19.23
54 Todd Kent                                             4.26.36
55 Tyler Erickson (Uni-Boob Great Lakes Chapter)         5.21.04
56 Donald Whitacre (Team Riddler)                               
57 Aaron Smith (Fixed) (If It Aint Fixed Its Broken)     5.21.14
58 Nate Phelps (Sun Dress Queens)                        5.24.11
 
One lap behind                                             
 
59 Anthony Slowinski (A Team)                                   
60 Robert Cotton (SSE)                                          
61 Paul T Brown (Structural Systems Eng.)                       
62 Steve Lietz (Structural Systems Eng.)                        
63 Larry Swanson (Kegels)                                       
64 Blake Jenssen (Plea for Peace.org)                           
65 Peter Chrapkowski                                            
66 Andy Schuette (Columbia Bicycle Club )                       
67 John Ohotto (Loon State Cyclists)                            
68 Bill Schultz (Freewheeler Bike Shop)                         
69 Jeff Brooks (Freewheeler Bike Shop)                          
70 Robin Scurr (Cannondale Midwest Racing)                      
71 Mike Connolly (Team Tree Farm)                               
72 Jim Jordan (CFX Prod)                                        
73 Mike Clark (Hup United/ Velo City)                           
74 Brian Czarnecki                                              
75 Mike Neeley (Crash Test Dummies)                             
76 Patrick Russell                                              
77 Timothy Norejko                                              
78 Dominic Couturier                                            
79 Carey Marsh                                                  
80 Matt Thourot (Saturn of Toledo/Shell)                        
81 Harvey Santana (Trails Edge Cyclery)                         
82 Gary Williams                                                
83 Michael Napieralski                                          
84 Eric Maki                                                    
85 Bill Potapa (Zippy Ditch Riders Inc.)                        
86 Frank Bean                                                   
87 Robert Simons (Sun Dress Queens)                             
 
Two laps behind                                            
 
88 Michael Simonson (Bells Brewery/Quiring Cycles)              
89 Nate Vesluis (Founders Ales/Alger Racing)                    
90 Shane Kullman (Loon State Cyclists)                          
91 Joe Partridge (Founders Ales/Alger Racing)                   
92 Alex Dolpp (American Cycle/ W.S.C.)                          
93 Rich Dillen (Team Dicky)                                     
94 Matt Henkel                                                  
95 Scott Templar (Slingshot)                                    
96 Nathan Means (Columbia Bicycle Club )                        
97 Andy Klumb                                                   
98 Eric Boxrud (Structural Systems Eng.)                        
99 Al Northouse (Zippy Ditch Riders Inc.)                       
100 Rich O'Neil (Giant/Mt. Nittany Wheelworks)                  
101 Thomas Glover (SSE/Aberdeen)                                
102 James Leikert                                               
103 Joe Gore (Mt. Nittany Wheelworks)                           
104 Jon Heft (Trails Edge Cyclery)                              
105 Kevin LaRoe (Dean in the Dirt)                              
106 Wayne Cook (WCS/Terrys Cycle)                               
107 Martin Igman (Trails-Edge Cyclery)                          
108 Kevin Paquette (Fixed)                                      
109 Bruce Wilcox                                                
110 James Taylor (Extended Warranty)                            
111 Frank Krol (Erics Cycle)                                    
113 Rob Lundquist                                               
112 Evan David (Macomb Bike & Fitness)                          
114 Rob Gray (Macomb Bike & Fitness)                            
115 Jeffery Cooper                                              
116 Mark Buddy (Founders Ales/Alger Racing)                     
117 Scott Callens (Team Tree Farm)                              
118 Bob Bingham                                                 
119 Dennis Murphy (Founders Ales/Alger Racing)                  
120 Scott Mulder (Tree Fort Bikes)                              
121 John Swanberg (Anna River Pedlers)                          
122 Ryan Kline (Main Street Bicycles)                           
123 James Kimball (Team Novara)                                 
124 Ryan Benson (Squadra Corsa)                                 
125 Bruce Wilcox                                                
126 Mike Doezema (Hup United/ Velo City)                        
127 Chris Faille (Cheese Rat Cycling)                           
128 Stephen Sevok (Rei/Novara)                                  
129 Kevin Brandon                                               
 
Three laps behind                                          
 
130 Dustin Cheney (Cycletherapy)                                
131 Dan Jelens (Founders Ales/Alger Racing)                     
132 Scott Chapin (Hup United/ MCC)                              
133 Randy Moffett                                               
134 Ryan Wondergem (PC 10 Cycling)                              
135 Nick Shue (Trails-Edge Cyclery)                             
136 Edward Thomas (H.R. Perspectives)                           
DNF Hugh Smallwood                                              
DNF Jeffery Carek                                               
DNF Kip Biese (Cannondale/Old Town Bike)                        
DNF Mark Moran (Flying Rhinos)                                  
DNF Mike Apgar                                                  
DNF Scott Chambers (Founders Ales/Alger Racing)                 
DNF Thomas Hayward                                              
DNF Adam Mallett                                                
DNF Jeremy Fitzpatrick                                          
DNF Raymond Crew (Mt. Mittany Wheelworks)