Recently on Cyclingnews.com
MTB index page for all MTB content
Breckenridge 100
Breckenridge, Colorado, USA, July 15, 2006
Tostada takes the win; Price solidifies series lead
By Scott Miles of Warriors Cycling
Winner Josh Tostada
Photo ©: Liam Doren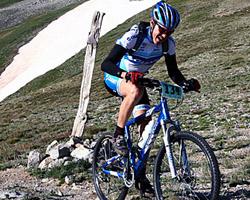 Colorado Native Josh Tostada (Giant) won the second annual Breckenridge 100 on Saturday finishing a full thirty-five minutes ahead of National Ultra MTB Series leader Harlan Price (Independent Fabrication).
Being the first western stop on the inaugural National Ultra Series and the third stop on the Rocky Mountain Ultra Series, the field of about 100 racers was comprised of every caliber of athlete - from elite pro's to aspiring novice endurance riders; including more non-Coloradoans than expected.
Altitude (such as the high point of the course at 13,426') seemed to take it's toll on a few but surprisingly the riders from outside of the state did very well; in fact the top finishers in almost every category were non Coloradoans.
Winner of the inaugural 2005 Breckenridge 100, Tostado once again put his name all over this event by beating the course record he set last year by eight minutes (Saturday's time was 9:03:08). Price pursued relentlessly but finished thirty-five minutes back at 9:38:15. Behind Price came Summit County local Tim Graczyk turning in just a trail crunching time of 9:56:24 on a singlespeed.
As for the women altitude was not a factor for the Asheville N.C. girls (friends and training partners who are both gunning for the series lead). Karen Masson finished first at 10:27:16 for first and Trish Stevenson came second in 11:01:23. Coming in third local racing legend Cat Morrison with the time of 12:25:37.
Photography
For a thumbnail gallery of these images, click here
Images by Ryan Cruze
Images by Liam Doren
Results

Solo Men
 
1 Josh Tostado, Giant Bikes                                 9.03.08
2 Harlan Price, Independent Fabrication                       35.07
3 Kip Biese, Cannondale/Old Town Bike Shop                  1.06.58
4 Jay Petervery, Fitzgeralds Bicycles                       1.09.06
5 Steve Reiter                                              1.42.17
6 Brad Cole, Badger Cycles/Team X Cycling                   1.46.25
7 Jeffrey Rank, Fej Pinball World                           1.49.22
8 Laurent McLaughlin                                        1.51.34
9 Patrick Giberson, KL&A                                    2.17.00
10 Garth Prosser, Bear Naked / Cannondale                   2.22.52
11 Daniel Teodoru, Great Adventure Sports                   2.23.00
12 Steve Holmes                                             2.27.22
13 Mike Madigan, Blue Sky Velo                              2.36.22
14 Matt Turgeon, FooMTB                                     2.56.10
15 Nicholas Broskovich, Stamford Cycle Center               3.06.19
16 Leon Fetzer                                              3.16.45
17 Skip Brown, Team Seven Cycles                            3.18.52
18 Tomas Dawson, My Wife                                    3.31.54
19 John Majors, Giffin Interior and Fixture, Inc.           3.57.01
DNF Brian Baker                                                    
DNF Sean Brennan, UPS                                              
DNF Matt Brown, High Gear Emporia KS                               
DNF Paul Clark, Jan's                                              
DNF Scott Claymon                                                  
DNF Jeremy Collins, Scott Racing                                   
DNF John Haley, Fullt Tilt Cyclery                                 
DNF Brett Hawkins                                                  
DNF Daniel LaDuke                                                  
DNF Ian Leitch, Independent Fabrication                            
DNF Brad Licht                                                     
DNF Thor Loechell, Bang Salon/HART                                 
DNF Dan McDonald, Rocky Mountain Cycling Club                      
DNF Vernon Miller, Trailmed Wilderness Medicine                    
DNF Justin Pokrivka, Speedgoat,Ritchey,GU,Jet Messenger            
DNF Steve Schwarz, Titus Cycles, Hammer Gel                        
DNF Larry Swanson, KEGELS                                          
DNF David Taylor                                                   
DNF Colin Trueman, My Momma                                        
DNF Marko Ross-Bryant, Wheels Biek Shop                            
DNF Lucas Chandler                                                 
DNF Theodore Fleming, Team Beaver Creek                            
DNF Rob Writz                                                      
DNF Ernesto Marenchin, Asylum Cycles                               
DNF Harvey Minton, Independent Fabrication                         
DNF John Kline, Singletrack Outfitters                             
DNF Tom Nasky, TNR Boulder                                         
DNF Bruce Nelson, DBF                                              
DNF Bill Kerr, Team Hedgehog                                       
DNF Philip Briere                                                  
DNF David Gollob                                                   
DNF John Howerter                                                  
DNF Trent Cooper, Team ATP                                         
DNF Jeff Johnston, Ciao                                            
DNF Jim Easton, Ciao Baby                                          
DNF Steve Bussey                                                   
DNF Ryan O'Dell, National Ultra endurance Series                   
DNF Paul Karlsson, Just Here for the Beer                          
DNF Matthew Thomas                                                 
DNF Doug Milliken, Stamford Bikes / CT                             
DNF Brian Scharp, Team Hedgehog                                    
DNF Chris Smith, Outdoors Inc.                                     
DNF Steve Gray, Team Hedgehog                                      
DNF Patrick Culligan, Hospitality Consulting Group                 
 
Solo Men 100k
 
1 Ryan Sodderberg, Marzocchi / Maxxis / Avalanche Sports    6.52.36
2 Andrew Berget                                               11.14
3 Todd Henneman, Jan's                                        17.25
4 Marcus Leibrecht                                            32.03
5 Kevin Holliday, Jan's                                     1.02.38
6 Dennis Kaiser, A Racer's Edge                             1.09.54
7 Chip Chilson, Aspen Cycling Club                          1.44.02
8 Chris Lepore                                              2.14.31
 
Solo Singlespeed
 
1 Tim Graczyk, Wily Cycles / BPN                            9.56.24
2 Dan Jansen, Founders Ale / Alger Racing                   1.26.18
3 Mark Thompson, Spike Professional Race Team               1.50.06
4 Geoff Warner, Team Evergreen Racing                       2.17.46
DNF Tim Dougherty, BareNaked/Cannondale                            
DNF Sean Sullivan , Independent Fabrication                        
DNF Timothy Norejko                                                
 
Solo Women
 
1 Karen Masson, Litespeed                                  10.27.16
2 Trish Stevenson, Landrover / Cannondale                     34.07
3 Cat Morrison                                              1.58.21
4 Erin Johnson, BPN                                         2.16.47
5 Bethany Elson, Jan's                                      2.40.15
DNF Elizabeth Cline                                                
DNF Holly Harvin                                                   
DNF Hillary Harrison, Giant / Kenda                                
DNF Tiffany Mann, Independent Fabrication                          
DNF Kendra Jeronimus                                               
DNF Erika Van Meter, Ute City Cycles                               
DNF Wendy Skean, E-Caps                                            
DNF Ruth Cunningham, Jet Messenger                                 
DNF Danielle Harshman                                              
 
Solo Women 100
 
1 Ronie Graczyk, Wily Cycles / BPN                          8.30.00
2 Cristina Begy, Spot Go Fast Maverick                        19.02
 
Three-person Women
 
1 Walker, Ihnken & Thompson                                10.15.13
 
Three-person Co-ed
 
1 Cutter, Eggerbrecht & Eggerbrecht                         8.49.50