MTB index page for all MTB content
Wilderness 101 - NE
Pennsylvania, USA, July 29, 2006
Wilderness 101
By Chris Scott, Steve Thorne, and Matt Ferrari
Harlan Price
Photo ©: Cathy DeSanto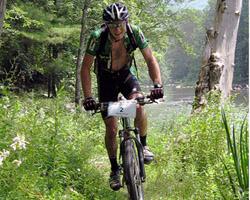 Harlan Price (Independent Fabrications) has won his second National Ultra MTB Series race this weekend at the Wilderness 101. The win, combined with his high placings in two other series races, means the Pensylvannia native has all but assured his series win. All he needs to do is finish the finale at the Shenandoah Mountain 100 September 3rd.
Starting and finishing in Coburn Pennsylvania, the Wilderness 101 was the first east coast ultra endurance backcountry mountain bike race. Running through the hardwood forests of the Appalachian Mountains, the course follows a single 101 mile loop along fire roads, jeep track, and elegant sections of challenging single track. Also included are extended single track climbs, technical rock-strewn descents, creek crossings over narrow foot bridges, and passage through two long, very dark abandon train tunnels. Riders enjoy over 12,000 feet of elevation gain, concentrated into multiple episodes of more than 1,000 feet of sustained climbing. The Wilderness 101, the fourth event in the inaugural year of the National Ultra MTB Series is considered the most technical course of the series.
For this 2006 race, the weather was beautifully clear but for most riders, too hot and humid (high temperature for the day was reported to be 91 degrees). Many complained of insistent cramping and the ratio of DNFs was an all time high (roughly 1/3 of the 280 + starters).
Rolling out
The start from Coburn began with a neutral roll out. With course record holder Chris Eatough (Trek/Volkswagen) otherwise occupied with his successful attempt to reclaim the 24 hour National Championships in Wisconsin, the race was wide open. The pace on the first climb was hot but without any major attacks through the seventeen-mile mark at aid station one. Brad Cole, eventual third place in the men's division, attacked at the start Thickhead Mtn., an extended doubletrack climb. Riders began grouping up and bracing themselves for the six to seven hours of hard riding to come.
Aid Station 2
Photo ©: Bob Popovich

Into aid station two at Whipple Dam Recreation area, Cole took a risky flyer through the station without grabbing supplies. Price and Brandon Draugelis (Bear Naked/Cannondale) took their time to put together a proper reload of fuel taking advantage of the ability to travel light utilitizing the events amazing support on course. Justin Pokrivka (Speedgoat/Ritchey G4) was the next rider through station two having a great show of speed and power while sitting in the unfortunate position of riding large fireroad sections without anyone to share the workload with. The 2nd group to roll through contained the top local Eric Roman (Gary Fisher), Jens Nielsen (Bike Doctor Waldorf), Stuart Staton (Plum Grove Cyclery), Ross Clark (Solon Bicycle) and Singlespeeder Gunnar Shogren (Swashbuckler Brewing).
The race blew apart between mile 40 and 60 as the course tackles the largest two climbs of the race. At the top of the first huge climb, Price dropped into the singletrack of Croyle Run Trail aiming to gain time before the largest climb up Seeger Rd. Unfortunately for one of the top bike handlers in the event, he punctured on the rocky descent. Price, who almost didn't start the race having come off a bad race the week before feeling a bit burned out from a heavy race travel load, kept his composure and pushed on. Cole and Draugelis kept a steady tempo up Seeger Rd. and Price was able to bridge back up catching and riding right past the duo.
Price came into the next aid station three minutes clear of Draugelis with Cole losing another two minutes as the result of a flat tire. Pokrivka was still dangling in no man's land with Staton, Nielsen, and Roman closing in quickly. Shogren, with his one gear, came blazing in with Kip Biese; a National Series contender who had been having trouble with a tire and had dropped off the leading pace.
Price didn't look back from Station three and increased his lead to over 16 minutes by the finish.
In the single speed race, Shogren, age 45 and a perennial force in the vibrant Pennsylvania cyclocross scene, was the first single speeder and fifth overall into the first aid station. Shogren was then overtaken by eventual category winner Greg "the leg" Montello (Independent Fabrication) on the steep climbs in the middle of the course. Of note is that Montello had chased back after managing to repair three punctures and a broken pedal over the starting miles of the race. Shogren ended up in third place, behind a great comeback ride from Mark Elsasser (Bare Knuckle Brigade) who finsihed second.
The girls get their chance
Betsy Shogren
Photo ©: Bob Popovich

In the womens's race, Independent Fabrication rider Tiffany Mann, a three time winner on this course, had an uncharacteristic off-day riding her rigid singlespeed. Fortunately, her teammate Jen Santoro (Independent Fabrications) was quick to gain the lead and held it for most of the first 40 miles of the course. Betsy Shogren (Bare Naked/Cannondale) and Michelle Schneider (VisitPA.com) came to the front on a steep and technical descent at approximately mile 45. Schneider suffered a number of mechanicals, including three punctures and a lost brake pad. Santoro faded, while Betsy Shogren capitalized on Schneider's difficulties, increasing her gap and pushed it home for the win.
Bad days and good; rider quotes:
Brad Cole, third place open, Badger Cycles/Maxxis, from Kansas City. Speaking to the technical aspect of the course, Cole commented -- "Tough course. Fun though. We don't have rocks like this in Kansas City."
Tiffany Mann, fifth place female, rigid single speed (!), riding for Independent Fabrication. Mann has won this event three times, twice on a single speed. This year however, she had trouble maintaining her energy levels. "Early in the race, I had to concede any hope of a win, so this race became a different kind of challenge."
Dr. John Meredith, seventh place single speed, riding for Telly Savalas Players Club. Dr. John traveled from Glasgow, Scotland, for the event. "The organization was amazing, with unbelievably good help at the aid stations. The single track was the best I've ever ridden. Some of the technical riding was mind blowing. I'm going to have a big footprint on me tomorrow."
Garth Prosser, 15th place in men's open, riding for Bear Naked/Cannondale . "I felt good for the first 2 and a half hours. I rode in the top 10 or so, then the hazard bells starting going off and I had no energy at all. Tough day, and very hot."
Eric Roman, 6th place men's overall and first local finisher, riding for Gary Fisher/Bontrager, "Today I rode within my means, watched my heart rate, and worked hard to be the first local finisher." Roman also reported that he and another rider, Jens Nielson, were given a fright when they almost ran over a rattlesnake two-thirds of the way through the course.
Brian Lariviere, 9th place men's overall, riding for Bulldog/Campmore. "This is great course but really hot and humid. I rode on a full suspension Titus Racer-X and for the first time in the four year's I've raced this course and I broke into the top ten. The suspension definitely helped on the technical sections of the course."
Rich Straub, 45th place men's open, Mt Nittany Wheelworks. Straub, a usually high placed local finisher, reported an unexpectedly bad day. "The pace was really hot on the first climb. Basically, I had nothing today and am not sure why. I had trouble eating this morning and had no energy at all."
Sue George, 4th place female. "Going through the single track, the ferns are so green. It's so beautiful that it really distracts you from the pain."
Photography
For a thumbnail gallery of these images, click here
Images by Cathy DeSanto
Harlan Price (Independent Fabrication)
Joe Gore - Is that a banana in Joe Gore's (Mt. Nittany Wheelworks) pants or is he just happy to be past the half-way point
Images by Bob Popovich
Images by Chris Scott
Eric Roman (Gary Fisher) celebrates the thought of his Otto's Brewery (State College, PA) Pub Pass prize
Gunnar Shogren (Swashbuckler Brewing) hits the ceremonial finish gong
Lichtenwalners - Top East Coast endurance racer (and last year's 2nd place finisher) Rob Lichtenwalner (Bare Naked / Cannondale) would take a different approach to this year's race and invite his wife, Sarah, to come along
Results
Men
 
1 Harlan Price (Independent Fabrications)                 7.33.09
2 Brandon Draugelis (Bear Naked/Cannondale)                 16.53
3 Brad Cole (Badger Cycles/Team X Cycling)                  24.26
4 Jens Nielsen (Bike Doctor Waldorf)                        34.58
5 Ross Clark (Solon Bicycle)                                37.22
6 Eric Roman (Gary Fisher)                                  39.57
7 Justin Pokrivka (Speedgoat/ Ritchey/ G4)                  44.27
8 Skip Brown (Seven Cycles)                                 44.38
9 Brian Lariviere (Team Bulldog/Campmor)                    47.53
10 Kip Biese (Cannondale/Old Town Bike Shop)              1.03.29
11 Joey Riddle (Vicious Cycles)                           1.04.20
12 Stewart Staton (Plum Grove Cyclery)                    1.08.01
13 Johnny Martin (Sketchy Fast/Custom Contracting)        1.16.15
14 Christopher Maglieri (benidorm bikes)                  1.17.58
15 Garth Prosser (Bare Naked / Cannondale )               1.21.38
16 Christopher Henderson (Bean's Bikes)                   1.27.45
17 Ramunas Katkus (High Gear)                             1.33.17
18 Chip Kogelmann (Mt. Nittany Wheelworks)                1.33.19
19 Brian Bennett (Titus Cycles)                           1.37.04
20 Harvey Minton (Independent Fabrication)                1.40.41
21 Brett Davis (Snakebite Racing)                         1.44.37
22 Dave Murphy (Red Jersey Cyclery)                       1.49.46
23 Fred Handel (New Age)                                  1.52.14
24 James Kelly (Oswald Cycle Works)                       1.53.58
25 Mark Senkowski (Bike Doctor)                           1.54.47
26 Aron Yevuta (Body Progressions/Custom Contracting)     1.57.04
27 Kent Baake (City Bikes)                                2.00.13
28 Mike Cerenzia (Mt. Nittany Wheelworks)                 2.12.30
29 Kris Weber (Team Bulldog)                              2.15.50
30 Frank Maguire (Mt. Nittany Wheelworks)                 2.17.55
31 Bob Radzwich (The Bicycle Shop)                        2.19.35
32 Tom Brockman (Clarksville Schwinn)                     2.19.37
33 Joseph Wychock (Team Gidiyup)                          2.19.39
34 Chad Irey (Bio-Wheels Cincyfied)                       2.19.41
35 Adam Mallett (HWB Products/Sierra Nevada)              2.28.11
36 Nicholas Broskovich (Stamford Cycle Center)            2.32.47
37 Mike Maher (Indiana Cycling)                           2.32.48
38 Jonathan Santoro                                       2.33.16
39 Kyle Becker (Mt. Nittany Wheelworks)                   2.35.09
40 Brian Vitulli (Cannondale )                            2.35.48
41 Kurt Heil (Flannel)                                    2.35.58
42 David Olsen (NO)                                       2.38.29
43 Scott Miller (Olean Cycling Club)                      2.38.31
44 Rich Straub (Mt. Nittany Wheelworks)                   2.39.42
45 Doug Milliken (Stamford)                               2.39.43
46 Michael Kulakowski (main line cycling)                 2.39.48
47 Rob Brawley (Mojo Action Photo)                        2.40.16
48 Aloysius Yoon (Lattice Group)                          2.40.24
49 Dan Williams (Sughrue)                                 2.41.58
50 Steve Smith (Ritchey/Jetmessanger)                     2.42.14
51 Kevin Chichlowski (bikebarnracing.com)                 2.49.54
52 Joseph Gabor (D.I.Y.)                                  2.51.45
53 David Altare (Dr. Wu/ The Anchor)                      2.52.58
54 Roberts Moore (Cannondale)                             2.53.54
55 Joseph Azze (Team Campmor)                             2.53.56
56 John Kline (Singletrack Outfitters)                    2.54.45
57 Joe Gore (Mt. Nittany Wheelworks)                      2.57.00
58 Mark Rucker (Bio-Wheels Cincyfied)                     2.57.37
59 Dan Sluzas (Eastern Mountain Sports)                   2.58.01
60 Benji Klimas (Specialized/Custom Contracting)          2.58.33
61 Robert Lamb (Beans Bikes)                              3.05.43
62 Nick Pedatella (Mt. Nittany Wheelworks)                3.10.48
63 James Gardner (Team Bulldog)                           3.11.22
64 Robert Matteson (Dirty Di Racing)                      3.18.04
65 Heath Boedeker (Sierra Nevada Brewing Co.)             3.22.04
66 Christian Baks (Pawling Cycle)                         3.23.20
67 Paul Wojciak (Pawling Cycle & Sport)                          
68 Ken Overk (Peddler's Shop)                             3.29.19
69 Neil Popovich (Team Yo Momma)                          3.30.04
70 Jesse Epstein (Marty's Reliable Cycle)                 3.30.14
71 Ronald Flagg (OrganicAthlete)                          3.30.51
72 Todd Smith (Downingtown Bike Shop)                     3.31.12
73 Blake Walker (JMU Cycling)                             3.31.53
74 Kyle Lawrence (JMU Cycling)                                   
75 Chris Perkins (family bike shop)                       3.35.11
76 Pat Wallace (Man Thong Racing)                         3.35.34
77 David Aitkenhead                                       3.36.21
78 Kevin Pickett (Bikebarn Racing)                        3.36.27
79 Jamie Raithel (Lateral Stress Velo)                    3.37.55
80 Charles Buki (HPC)                                     3.38.35
81 Nate Arnold (? - green riddler - ?)                    3.39.23
82 Harry Sherrill (Mt. Nittany Wheelworks)                3.41.05
83 Blair Hill (None)                                      3.41.08
84 Dan Grear                                              3.41.59
85 Maxwell Kellogg (Trek of Pittsburgh)                   3.42.52
86 Paul Guttridge (1412 Velo Club)                        3.43.40
87 David Wotton (Lucky Green)                             3.43.48
88 Kevin Murray (Huevos del Toro RMC, Inc.)               3.44.17
89 Matt Carson (Summit Freewheelers)                      3.45.29
90 Nick Hodge (no)                                        3.49.17
91 Paul Plowright (Cycle Works)                           3.50.28
92 Joshua Cohen (Nimmo Chiropractic Technique)            3.51.36
93 Dave Hill (Mt. Nittany Wheelworks)                     4.00.43
94 Glenn Graham (Lateral Stress Velo Joes Bike Shop)             
95 Adam Shrigley (Freeze Thaw Cycles)                     4.01.50
96 Andy Falk                                              4.02.26
97 David Virgili (watchung wheelmen)                      4.07.14
98 Hamid Hariri (Self)                                    4.07.18
99 Daniel Orzell (N/A)                                    4.07.25
100 Bryan Racine (Huevos del Toro RMC, Inc.)              4.08.13
101 Christian Jende (Team High Time)                      4.16.56
102 Bob Gilpin                                            4.18.01
103 Sam Hayward (Velocipede Peddler)                      4.24.25
104 Thomas Hayward (Velocipede Peddler)                   4.25.17
105 Bill Braum (CAMBA)                                    4.28.06
106 Reinout Schoolderman (Marty's Reliable Cycle)         4.30.28
107 Scott Daal (Toy Slodiers)                                    
108 Mike Miller (My Lovely Wife)                          4.38.38
109 Carl Boyd (Quadzilla!)                                4.39.38
110 Bill Bradley (azurbyzhan)                             4.39.39
111 John Friel (Newtown Bike and Fitness)                 4.45.55
112 Darin Evans (Yeti/Timet)                              4.47.52
113 Stewart Gross (none)                                  4.49.01
114 Eric Reid (Bike Sport)                                4.52.18
115 Todd Heckler (Tiwsted Spokes)                         4.56.38
116 Scott Perschke (IC3)                                  4.57.09
117 Tony Pinsonault (Marty's Reliable Cycle)              5.01.05
118 Merle Whitehead (none)                                5.02.25
119 Claude Laberge (TBD)                                  5.02.27
120 Scott Trimble (Wendy)                                 5.04.35
121 Matthew Jones (codeblueohio.com)                      5.05.23
122 Rick Joki (TRM Cycles)                                5.09.45
123 Chris Honnes (Mid Life Crissis)                       5.10.59
124 Steve Weber (MLC)                                            
125 Karl Rosengarth (Hoss Technical Gear)                 5.20.48
126 Michael Ryba (CAMBA Race)                             5.21.07
127 Geoffrey Lenat (Team Marty's)                         5.28.20
128 Phillip Chadeayne (Kingsley)                          5.28.41
129 Stephen Schofer (Bike Line/Lehigh Wheelmen)           5.36.40
130 Kevin Williams                                        5.37.48
131 Wade Sitler (Gung Ho Bikes)                           5.39.45
132 Mark Mullert (IC3)                                    5.46.42
133 Daniel Bare (Gung Ho Bikes)                           5.47.29
134 Nicholas Erhardt (Wishful Thinking)                   5.49.16
135 Sean Delaney (The Bicycle Shop)                       5.49.17
136 Aaron Dietrich (5.10.69.1.22.04)                      5.53.43
137 Jim Malta (Mt. Nittany Wheelworks)                    6.08.26
138 James Williams                                        6.09.30
139 Gregory Morrison (Chain Gang)                         6.19.50
140 Jim DeWolfe (None)                                           
141 Chris DeSanctis (Team Gaijin)                         7.07.47
142 Jeffrey Mergler (self)                                       
143 Dan Gingerich (Team Wannabees)                        7.18.40
144 Michael Talbert (none)                                7.19.09
145 Jeffrey Gagliardo (fermionichadrons)                  7.34.07
146 Dan Gemperline (Team Wannabees)                       8.12.22
DNF Aaron Hofelt (Nittany MBA)                                   
DNF Aaron Snyder                                                 
DNF Andrew Brautigam (TEAM T-BONE)                               
DNF Anthony DeBoef                                               
DNF Artie Ayres (Artie Ayres)                                    
DNF Bart Czajkowski (Bike Stop - Culpeper)                       
DNF Bert Lange                                                   
DNF Bob Beal (Bike Barn Racing)                                  
DNF Bob McClennan (unattached)                                   
DNF Bradley Patches (Competitive Edge)                           
DNF Brian Carey (DJJ Racing)                                     
DNF Carlo Alfano (none)                                          
DNF Dave Matlin (Mt. Nittany Wheelworks)                         
DNF David George (MightySchmoePong Racing)                       
DNF Edward Hall (Bikeworks)                                      
DNF Erdley Todd (Mt Nittany WheelWorks)                          
DNF Erik Baker (Hollyloft/Kwik Fill)                             
DNF Frank Wilkes (Ringwood Cretins)                              
DNF Gary Williams (TedFM)                                        
DNF Greg Poruban (none)                                          
DNF Greg Spickard                                                
DNF Gregory Bridges (Independant)                                
DNF James Bennetch (Team Jimmy Legs)                             
DNF Jason Meyers (Bikeworks)                                     
DNF Jim Glover (Mt. Nittany Wheelworks)                          
DNF John Hoehn (Family Bikes in Crofton Maryland)                
DNF John MacKay (Marty's Reliable)                               
DNF Karl Outerbridge (Team Bermuda)                              
DNF Keith Border (Team Jo Jo)                                    
DNF Kenneth Roth                                                 
DNF Kenny Hanna (COLAVITO)                                       
DNF Manuel Dinis (Marty's Reliable Cycle)                        
DNF Marc Calderone (Golds Gym - Glen Burnie, MD)                 
DNF Matt Kretchmar (My very tolerant spouse)                     
DNF Michael Rucker (Bio-wheels Racing)                           
DNF Mike Feaster (Team Jo Jo)                                    
DNF Mike Malone (Race Pace Bicycles)                             
DNF Peter Rajcani (Triangle Cyclopaths)                          
DNF Richie O'Neil (Giant Wanker)                                 
DNF Rick Spangler (My Wife Let Me)                               
DNF Rob Sadler (Mt. Nittany Wheelworks)                          
DNF Robert Mularuski                                             
DNF Steven Schneider (Morgan Stanley/24 Hour Fitness)            
DNF Stuart Hess (Genesis 2:7 Racing)                             
DNF Taylor McClain (Visit PA.com)                                
DNF Tim Weaver (Team Cycle Works)                                
DNS Dave Flemming (WVMBA Lacky)                                  
DNS David Metz (Rothrock Outfitters)                             
DNS James Matthews (MBR Medical Billing)                         
DNS Martin Phillips (International Christian Cycling Club)       
DNS Matthew McPartland                                           
DNS Michael Emory (Bikeworks)                                    
DNS Michael Theesfeld (None)                                     
DNS Mike Lawler (Team Dayton)                                    
DNS Nicholas White (Marty's)                                     
DNS Nick Phelps                                                  
DNS Paul Zimmerman (Self)                                        
DNS Ray Crew (Mt. Nittany Wheelworks)                            
DNS Ray Egolf                                                    
DNS Rowan Sampson (none)                                         
DNS Scott Miller                                                 
DNS Steve Thorne (Mt. Nittany Wheelworks)                        
DNS Thomas Hughes (JMG)                                          
DNS Todd Richman (1412 Velo Club)                                
 
Women
 
1 Betsy Shogren (Bare Naked Cannondale)                   9.28.06
2 Michelle Schneider (Visit PA.com)                         32.31
3 Jen Santoro (Independent Fabrications)                    38.20
4 Sue George (Team Lucky Green)                             45.26
5 Tiffany Mann (Independent Fabrications)                 1.05.58
6 Mandi Riddle (Vicious Cycles)                           1.30.39
7 Tara Walhart (Team Bulldog/Campmor)                     1.57.59
8 Rae Gandolf (Sierra Nevada Brewing Co.)                 2.05.50
9 Laura Henninger (TRM Cycles)                            2.45.12
10 Ruth Cunningham (Jet Messenger)                        2.52.07
11 Reenie Greene (dontneednosteenkinsponsor)              2.57.14
12 Carol Clemens (myself)                                 3.25.54
13 Nancy Gray (Dowingtown Bike Shop)                      3.30.20
14 Melanie Nystrom (Charm City Cycling)                   3.34.12
15 Marie Parker (Yeti/Timet)                              3.41.20
16 Kerry Combs (Independent Fabrications)                 4.08.52
17 Jessica McGinn                                         5.33.13
DNF Marcia Ransom                                                
DNS Deborah Sheets                                               
DNS Jennifer Kegel (Self)                                        
DNS Trish Stevenson (Landrover Cannondale)                       
 
Singlespeed
 
1 Greg Montello (Independent Fabrication)                 8.23.25
2 Gunnar Shogren (Swashbuckler Brewing)                     16.36
3 Mark Elsasser (Bare Knuckle Brigade)                      21.47
4 Thom Parsons (Independent Fabrication)                    22.35
5 Matt Ferrari (Mt. Nittany Wheelworks)                     26.45
6 Mike Ramponi (Fun IF)                                     51.34
7 Jonathan Meredith (telly savalas players' club)           55.33
8 Pete Buck (Mt. Nittany Wheelworks)                        58.45
9 Topher (South Mtn. Cycles)                              1.12.01
10 Lloyd Graves (Independent Fabrications)                1.12.40
11 Shawn Withers                                          1.23.29
12 Chris Larkin (Joe's Bike Shop)                         1.25.27
13 Dan Jansen (Founders Ale/ Alger Racing)                1.29.19
14 Rich Dillen (Team Dicky)                               1.29.41
15 Andrew Neal (WPLJ)                                     1.41.32
16 Jamie Bock (South Mountain Cycles)                     1.49.45
17 Robert Elam (Bean's Bikes)                             2.04.10
18 Michael Browne (Dirt Rag Mag.com)                      2.08.32
19 Douglas Jenne (Vicious Cycles)                         2.13.35
20 Jonathan Wheaton (MORE)                                2.20.39
21 Marc Gravatt (Bike Depot)                              2.26.40
22 Swampy (Independent Fabrications)                      2.29.40
23 David Kelnberger (N/A)                                 2.37.06
24 James Gomez (Rock n' Road Cycle/MoJo's Java Lounge)    2.43.12
25 Chris Wurster (Credit Suisse Foundation)               2.49.52
26 Blake Jenssen (Plea for Peace.Org)                     2.51.09
27 Josh Kaffer (Freeze Thaw Cycles)                       3.11.35
28 Thomas Greene (www.ragemtb.com/Harpoon Brewery)        3.13.55
29 Erik Makeegan (me)                                     3.18.07
30 Jeff Ziemski (Dowingtown Bike Shop)                    3.27.45
31 Martin Ekberg (Downingtown Bike Shop)                         
32 Matthew Olmsted (Downingtown Bike Shop)                       
33 Erik Lenzing (nittanymba.org)                          3.50.55
34 Tommi McMillar (Team Sticky G Fixy)                    3.56.29
35 Todd Peterson (Team Bulldog/Campmor)                   4.17.01
36 Trevor Miller (Family Bike Shop,)                      4.23.04
37 Daniel Ness (gung-ho)                                  4.36.36
38 Scott Woods (Climbing Conservancy of Central PA)       6.11.08
39 Clint Allen (MOM)                                      6.17.31
DNF Brent Heitzenroder (self)                                    
DNF Greg Muniz (Sanity or Maddness)                              
DNF Jordyn Drayton (Freeze Thaw Cycles)                          
DNF Peter Anderson (Bun Factory)                                 
DNF Tim Dougherty (Bare Naked/Cannondale)                        
DNS Geoff Calderone (My wife & kids.)                            
DNS Jonathan Seibold (Family Bike Shop)                          
 
Masters
 
1 John Majors (Giffin Interior and Fixture, Inc.)         9.49.52
2 Terry Campbell (Sierra Nevada Brewing Co.)              1.05.20
3 Bradley Poster                                          1.45.14
4 Eric Franck (Oswald Cycle Works)                        3.08.25
5 Bill Kennedy (Clarksville Cyclery)                      5.02.00
DNF Brian Foltz                                                  
DNF Charlie Hoover (Team Chullaggie)                             
DNF Randy Harriman (None)                                        
DNF Steve Mabry (Team Jimmy Legs)                                
DNF Vick Dyer (Bike Zoo / Vick Dyer, Realor)                     
DNF Frank Booth (Whiskey Hotel/BikeWorks)                        
 
Clydesdale
 
1 James Heverly (Oswald Cycle Works)                     10.32.03
2 Thomas Scott (Hackettstown)                               19.06
3 Thomas Hall (West Chester Cycling/Iron Hill)            1.27.27
4 David Reynolds (Rothrock Outfitters)                    1.42.22
5 Timothy Parham (Family Bikes)                           2.01.23
6 Scott A. Miller (Team Jimmy Legs)                       4.18.54
7 John Pacharis (JP's Lawn Care)                          4.29.17
DNF Gerard Arantowicz (Jewel Cartoons.com)                       
DNF Jeff Adamcik (Bicycle HQ)                                    
DNS T Anthony Howell (LE JACQ CYCLING)                           
 
Tandem
 
1 Sarah/ Rob Lichtenwalner (Bare Naked Cannondale)       11.29.57
2 Vicki / Mark Schow (Bikebarn Racing)                    3.37.15