MTB index page for all MTB content
XC World Cup #1 - CDM
Madrid, Spain, May 19, 2002
Return of the Jedi - former champs Fullana and Brentjens show the Force is still with them
Women - Fullana on a mission
Fullana solos across the line in first place
Photo: © Orbea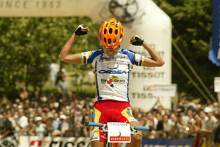 Marga Fullana (Orbea) was propelled to the first World Cup victory of 2002 by a jubilant home country crowd, taking out the win ahead of hard-charging world champion Alison Dunlap (Luna Chix).
Unlike Bart Brentjens later in the day, however, Fullana didn't have things all her own way. She built up a decent 46 second margin by the end of lap two , ahead of a chasing group of Alison Sydor (Trek-VW), Dunlap, Caroline Alexander (GBR National Team), Sabine Spitz and Irina Kalentieva (both Merida) and extended it again in lap three.
In lap four, however, the tables turned as Dunlap decided that hanging around with the chasing group to squabble for the remaining podium places wasn't good enough and went on the attack.
Dunlap's plan was at the very least to secure second place and with it important World Cup points, but as the fifth and final lap progressed she realised she was closing on the race leader as she opened a gap on the chasers.
The women's podium
Photo: © Orbea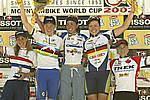 It wasn't quite to be as Dunlap lopped 30 seconds off Fullana's lead, and took a solid grip on second, but couldn't quite close the gap to the Spaniard, despite getting the margin down to just 26 seconds with half a lap to go. Fullana was alerted to the danger and redoubled her efforts, pulling away from Dunlap to win by 39 seconds.
Fullana, who battled illness last season and was on the receiving end of some criticism for taking a US team's sponsorship (Specialized) then not riding any US races, said, "I dedicate this win today to all those people who didn't believe I could still do it. I was feeling good before the race, but also a bit nervous. The crowd was great, and was with me. It's always special racing in Spain. Today I didn't have any problems, but was worried about riding alone on the whole course. It was most important that I feel sure, and then confident. I didn't have a plan or strategy, just to show everyone I am still here."
Fullana celebrates
Photo: © Orbea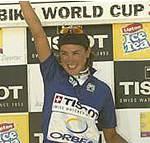 Dunlap was also pleased with her ride: "At first I attacked to open a gap on the chasers, but when I saw that I was getting closer to Fullana, I went for it harder, she said. "I'm really happy with this result. One of my top goals is the overall World Cup, so these points were important."
"I had to work hard to make [my attack] stick. I then heard the gap was 30 seconds, and was surprised. We [chasers] were all together and I noticed that the first two people up the steep climb were getting a good gap. So I attacked going into the singletrack and got the gap. I just kept a good cadence, riding in the little ring. But once she heard I was chasing she went hard."
Men - The Bartman is back
On a warm, sunny day in Madrid, former champions Marga Fullana and Sir Bart Brentjens demonstrated that they're back to top form by taking the victories in the first round of the 2002 World Cup series.
It's been a long time between drinks for Brentjens and the World Cup podium top spot - the last time Sir Bart won a World Cup was 1996, the year he also bagged an Olympic gold and a knighthood from his country.
Brentjens is clearly back to his 1996 form as he showed by riding away from a strong field in front of 25-30,000 spectators in the Casa de Campo park on the outskirts of Madrid.
Leading almost from the outset, Brentjens increased the gap with each 8.1km lap. Ten seconds after lap one stretched to 40 after lap two till the margin by race's end was 2.10.
Leading the early pursuit was Miguel Martinez (Full Dynamix), but by the end of lap three the main chasers were Roland Green (Trek-VW), Roel Paulissen (Rainer-Wurz), and Jose Antonio Hermida (Motorex-Bianchi) as Martinez withdrew after suffering the double misfortune of a lost spare tube and a flat tyre.
But even working together this powerhouse trio was no match for the Bartman and the gap continued to increase. Realising Brentjens could not be caught, Green and Paulisson settled down to duke it out for second place, while Hermida succumbed to cramps and dropped off the pace.
Brentjens was delighted with his win. " It's unbelievable what I did today," he said. The course was good for me - like Holland with not so much climbing - but the public was good on the steep climb, like in Houffalize. I wasn't able to ride the hill in training, but they helped me in the race. In the final two laps I knew I had a chance to win, and was having a slight problem with my chain - so I rode safe. I just felt great today."
Roland Green acknowledged Brentjen's on-the-day superiority: "Roel and I were with Hermida - we weren't really chasing. We knew what the gap was, and I can't speak for Roel, but I was riding at my maximum. I saw how comfortable Bart was when he went away. He was racing for the win at that point, so we were fighting for the podium. Once we saw the time gaps to Bart, it wasn't possible to go with him because it would have put me over my comfort zone."
Results
Elite Men

1 Bart Brentjens (Ned) Giant Global                   2.02.37
2 Roland Green (Can) Trek/Volkswagen                     2.10
3 Roel Paulissen (Bel) Lanabau-Rw                        2.23
4 Jose Antonio Hermida (Spa) Motorex-Bianchi             3.01
5 Lado Fumic (Ger) Team-T-Mobile                         3.50
6 Filip Meirhaeghe (Bel) Specialized                     4.14
7 Christoph Sauser (Swi) Volvo-Cannondal                 4.30
8 Dario Acquaroli (Ita)                                  4.38
9 Marco Bui (Ita) Lanabau-Rw                             4.47
10 Julien Absalon (Fra) Motorex-Bianchi                  4.53
11 Martino Fruet (Ita)                                   4.59
12 Jerome Chevallier (Fra)                               5.11
13 Seamus Mcgrath (Can) Haroleedungaree                  5.26
14 Ludovic Dubau (Fra) Orbea                             5.37
15 Kashi Leuchs (NZl) Volvo-Cannondal                    5.52
16 Mariusz Kowal (Pol) Lotto-Pzu                         6.07
17 Peter Pouly (Fra)                                     6.15
18 Philip Tavell (Swe) Merida Inter.                     6.23
19 Marek Galinski (Pol) Ccc-Polsat Road                  6.35
20 Ziranda Madrigal (Mex)                                6.42
21 Carsten Bresser (Ger) Team-T-Mobile                   7.10
22 Alejandro Diaz De La Pena (Spa)                       7.13
23 Nicolas Filippi (Fra) Motorex-Bianchi                 7.19
24 Thomas Hochstrasser (Swi) Giant Global                7.31
25 Manuel Fumic (Ger) Team-T-Mobile                      7.38
26 Salvador Barriga (Mex)                                7.48
27 Todd Wells (USA) Mongoosehyundai                      7.56
28 Chris Sheppard (Can) Haroleedungaree                  7.58
29 Ryder Hesjedal (Can) Subaru-Garyfish                  8.16
30 Liam Killeen (GBr) Subaru-Garyfish                    8.22
31 Antonio Ortiz (Spa)                                   8.33
32 Sid Taberlay (Aus)                                    8.48
33 Bas Peters (Ned)                                      8.56
34 Peter Riis Andersen (Den) Team-T-Mobile               8.58
35 Inaki Lejarreta Errasti (Spa) Orbea                   8.59
36 Sigrid Bauer (Aut)                                    9.00
37 Silvio Bundi (Swi)                                    9.13
38 Jochen Kass (Ger) Team-T-Mobile                       9.39
39 Rune Hoydahl (Nor) Giant Global                       9.47
40 Davy Coenen (Bel)                                     9.59
41 Robert Kircher (Aut) Lanabau-Rw                      10.08
42 Thomas Frischknecht (Swi)                            10.31
43 Stefan Sahm (Ger) Team-T-Mobile                      10.42
44 Hakon Austad (Nor) Merida Inter.                     11.12
45 Marcin Karczynski (Pol) Lotto-Pzu                    11.30
46 Barrie Clarke (GBr)                                  11.34
47 Karl Platt (Ger)                                     11.48
48 Julian Adrada Rodriguez (Spa)                        11.56
49 Torsten Marx (Ger)                                   12.10
50 Tim Bohme (Ger)                                      12.16
51 Josh Fleming (Aus)                                   12.18
52 Ralph Naf (Swi)                                      12.26
53 Eloj Gispert Labarta (Spa)                           12.29
54 Marc Hanisch (Ger)                                   12.41
55 Gregory Bombardo (Fra)                               12.42
56 Szilard Burucki (Hun)                                12.58
57 Thys Al (Ned)                                        13.06
58 Armando Zacarias (Mex)                               13.21
59 Christian Poulsen (Den)                              13.29
60 Christof Bischof (Swi)                               13.51
61 Fredrik Kessiakoff (Swe) Team Crescent               13.55
62 Jose Ignacio Arevalo (Spa)                           13.56
63 Jimmy Tielens (Bel)                                  13.58
64 Johann Pallhuber (Ita) Lanabau-Rw                    14.00
65 Balz Weber (Swi) Arrow                               14.07
66 Daniel Soler (Swi)                                   14.10
67 Julien Girard (Swi)                                  14.13
68 Roman Rametsteiner (Aut)                             14.21
69 Magnus Palmberg (Swe)                                14.24
70 Thomas Nesset Sundal (Nor)                           14.24
71 Johannes Sickmueller (Ger)                           14.25
72 Jorg Scheiderbauer (Aut) Be One Xc                   14.28
73 Martin Kraler (Aut)                                  14.30
74 Juan Carlos Garro (Spa)                              15.04
75 Lars Petter Stormo (Nor)                             15.43
76 Andreas Dilger (Ger)                                 15.57
77 Ronny Poelvoorde (Bel)                               15.58
78 Jody Crawforth (GBr)                                 16.06
79 Stefan Losch (Ger)                                   16.07
80 Santiago Garcia (Spa)                                16.09
81 Phil Dixon (GBr)                                     16.51
82 Frode Michaelsen (Nor)                               16.51
83 Michael Weiss (Aut)                                  16.58
84 Erwin Bakker (Ned)                                   17.07
85 Ludwig Binder (Ger)                                  18.19
86 Mario Arjona Arjona (Spa)                            18.43
87 Atze Dijkhuis (Ned)                                  18.46
88 Jorn Espen Bolstad (Nor)                             19.20
89 Zak Toogood (GBr)                                    19.30
90 Tommy Nielsen (Den)                                  19.42
91 Sigvard Kukk (Est) Kayaba-Yema                       19.44
92 Li Fuyu (Chn)                                        20.03
93 Trent Lowe (Aus)                                     21.48
94 Francisco Javier Notario (Spa)                       22.06
95 Nelio Simao (Por)                            2 laps behind
96 Aiden Leifmann (Aus)
97 Markus Weber (Aut)
98 Hannes Genze (Ger)
99 Santiago Armero (Spa)
100 Abel Medina Requena (Spa)
101 Zhu Yongbia (Chn)
102 Maarten Tjallingii (Ned)
103 Philip Cooper (GBr)
104 Aslak Johansen (Nor)
105 Antonio Faisco (Por)
106 Ricardo Figueiredo (Por)
107 Mark Leis (Aus)
108 Juan Trujillo (Spa)
109 Walker Ferguson (USA) Subaru-Garyfish
110 Adrian Lansley (GBr)
111 Ludovic Fahrni (Swi)
112 Francisco Xavier Carnicer Roig (Spa)
113 Jody Burnett (GBr)
114 Ben Melt Swanepoel (Rsa)                    4 laps behind
115 Steve De Schoesitter (Bel)
116 Tim Dunford (GBr)
117 Jai Crawford (Aus)
118 Sam Gardner (GBr)
119 Emmanouil Kotoulas (Gre)
120 Alfonso Sanchis (Spa)
121 Kostas Simelidis (Gre)
122 Konstantinos Kaskanis (Gre)
DNF Miguel Martinez (Fra) Mapei - Quick Step
DNF Marti Gispert Labarta (Spa) Giant Global
DNF Craig Gordon (Aus)
DNF Christophe Dupouey (Fra) Giant Global
DNF Thomas Bonne (Den)
DNF Cedric Ravanel (Fra) Orbea
DNF Andreas Hestler (Can)
DNF Marc Golz (Ger) Team-T-Mobile
DNF Thomas Dietsch (Fra) Motorex-Bianchi
DNF Peter Presslauer (Aut)
DNF Carlos Coloma (Spa) Orbea
DNF Thomas Kalberer (Swi) Arrow
DNF Oliver Beckingsale (GBr)
DNF José Marquez (Spa)
DNF Robin Seymour (Irl)
DNF Nick Craig (GBr)
DNF Marcel Heller (Swi) Arrow
DNF Florian Eschenbach (Ger)
DNF Valentin Girard (Swi)
DNF Wolfram Kurschat (Ger)
DNF Dave Collins (GBr)
DNF Frederik Stormo (Nor)
DNF Jostein Hole (Nor)
DNF Petter Jorgensen (Nor)
DNF Tim Morley (GBr)
DNF Lukas Mueller (Swi)
DNF Yader Zoli (Ita)
DNF Oriol Morata Abril (Spa)
DNF Simon Dona (Ned)
DNF Klaus Nielsen (Den)
DNF Javier Bosc Pariente (Spa)
DNF Calle Friberg (Swe)
DNF Adam Palomares (Spa)
DNF Marti Bentanachs (Spa)
DNF Ismael Esteban Aguero (Spa) Orbea
DNF Ruben Ruzafa Cueto (Spa)

Teams

1 Trek-Volkswagen                                       59 pts
2 Merida Inter.                                         57
3 Lanabau-Rw                                            52
4 Orbea                                                 49
5 Motorex-Bianchi                                       47
6 Giant Global                                          40
7 Luna Womens Mtb                                       36
8 Volvo-Cannondal                                       30
9 Team-T-Mobile                                         27
10 Specialized                                          25
11 Haroleedungaree                                      11
12 Subaru-Garyfish                                       5
13 Lotto-Pzu                                             5
14 Arrow                                                 2
15 Ccc-Polsat Road                                       2

Elite Women

1 Marga Fullana (Spa) Orbea                          2.00.31
2 Alison Dunlap (USA) Luna                              0.39
3 Sabine Spitz (Ger) Merida                             0.47
4 Caroline Alexander (GBr)                              1.15
5 Alison Sydor (Can) Trek/Volkswagen                    1.42
6 Regina Marunde (Ger)                                  2.37
7 Irina Kalentieva (Rus) Merida                         2.40
8 Gunn-Rita Dahle (Nor) Merida                          3.44
9 Mary Grigson (Aus) Subaru-Gary Fisher                 4.19
10 Maroussia Rusca (Swi) Arrow                          4.28
11 Laurence Leboucher (Fra)                             5.03
12 Petra Henzi (Swi) Fischer-K                          5.20
13 Alla Epifanova (Rus) Cycloteam                       6.03
14 Barbel Jungmeier (Aut)                               6.35
15 Sandra Klose (Ger)                                   6.42
16 Sonja Traxel (Swi)                                   6.47
17 Anna Szafraniec (Pol) Lotto-Pzu                      7.22
18 Susan Haywood (USA)                                  8.24
19 Chrissy Redden (Can) Subaru-Garyfish                 8.29
20 Elena Giacomuzzi (Ita)                               8.52
21 Ivonne Kraft (Ger)                                   9.38
22 Hiroko Nambu (Jpn) Trek/Volkswagen                   9.45
23 Corine Dorland (Ned)                                10.40
24 Marion Thevenet (Fra)                               10.45
25 Petra Schorkmayer (Aut)                             11.09
26 Katrin Schwing (Ger)                                11.15
27 Hannele Steyen-Kotze (Rsa)                          11.26
28 Helene Marcouyre (Fra) Trek/Volkswagen              11.34
29 Marie-Helene Premont (Can)                          11.54
30 Dellys Franke (Aus)                                 12.04
31 Daniela Porta (Ita)                                 12.14
32 Janet Puiggros Miranda (Spa) Orbea                  12.44
33 Jacqueline Mourao (Bra)                             13.15
34 Mette Andersen (Den)                                13.19
35 Hilde Van Deun (Bel)                                13.24
36 Jaci Low (Aus)                                      13.42
37 Ragnhild Kostol (Nor)                               13.56
38 Gina Hall (USA) Luna Womens Mtb                     14.15
39 Kiara Bisaro (Can)                                  14.22
40 Jenny Copnall (GBr) Motorex-Bianchi                 14.56
41 Valentina Pazitova (Rus)                            15.29
42 Yanping Ma (Chn)                                    15.59
43 Bernadine Boog Rauwerda (Ned)                       16.20
44 Sue Thomas (GBr)                                    16.29
45 Trish Sinclair (Can)                                18.25
46 Carolin Rahner (Ger)                                18.48
47 Laurie Copans (Isr)                                 19.03
48 Sandrine Guirronnet (Fra)                           19.23
49 Aida Nuno Palacio (Spa)                             20.44
50 Na Zhang (Chn)                                      21.03
51 Wendy Walker (Aus)                                  21.55
52 Li Jing (Chn)                                       22.19
53 Anna Baylis (Aus)                                   23.09
54 Rosa Morcillo Del Brio (Spa)                        23.33
55 Tarja Owens (Irl)                                   23.35
56 Christina Mascarreras Sabria (Spa)           1 lap behind
57 Victoria Wilkinson (GBr)
58 Helena Eriksson (Swe)
59 Alba Aznar Collado (Spa)
60 Birgit Braumann (Aut)
61 Carmen Gonzalez Simarro (Spa)
62 Daniela Luckinger (Aut) Be One Xc
63 Silvia Mascarreras Sabria (Spa)              2 laps behind
64 Carmen Hernan (Spa)
DNF Annabella Stropparo (Ita) Be One Xc
DNF Silvia Rovira Planas (Spa)
DNF Camilla Bertossi (Ita)
DNF Nadine Bruhn (Den)