Sea Otter Classic Mountain Bike Races - 1
Monterey, California, USA, April 16-19, 2009
Main Page Results Overall standings Previous Stage Next Race
Race 8 - April 18: Short Track - Elite men, Elite women & Category 1 men
Specialized goes one-two with Wells and Stander
By Sue George in Monterey, California
Todd Wells (Specialized) celebrates
Photo ©: Dave McElwaine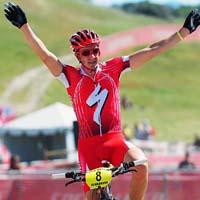 Specialized was the team to beat in the elite men's short track, with Todd Wells winning the race ahead of teammate Burry Stander. A charging Carl Decker rode his way on to the podium with a third place.

Wells won the start, but soon after, World Cross Country Champion Christoph Sauser sprinted off the front appearing to easily drop his competition. Clad in rainbow stripes, Sauser was joined by Stander in the intial few laps.

Sauser said he was surprised to find himself and Stander off the front and he explained why. "Americans are good short track riders. However, there was a good climb in this one at the end of each lap, which was good for us cross country riders."

Behind, Wells was in a group waiting to see if other favorites Jeremy Horgan Kobelski or Ryan Trebon would take up the chase. Carl Decker and Jeremiah Bishop tried to hang on, but seemed to be in no shape to do the work required spearhead an effort to catch Sauser and Stander.

Several laps onward, Wells was tired of waiting. "I wasn't going to chase my teammates," said Wells. "But the others weren't able to go, so I jumped away from them and bridged up."

"We were a strong team," said Stander. "All three of us were on the front, and Susi put the hammer down from the start and broke the group up. Then it was my turn."

The Specialized trio rode together for several laps until a rear flat took Sauser out of the race. That left Stander and Wells together comfortably off the front for the duration.

"I just landed on my wheel at one point sideways, and the tire burped air and you can't change wheels in the short track. It's a pity," said Sauser, who will get another chance in the cross country on Sunday.

The race behind them was for third. At first it was Trebon and Decker with a slight advantage over Horgan Kobelski, Sam Schultz and Bishop. Seamus McGrath chased further back on his own.

Both Trebon and Horgan Kobelski rode with pained looks on their faces, clearly working hard to maintain their paces while Decker seemed to get stronger as each lap passed. With three laps to go, Decker passed Trebon and left him behind. Trebon rode alone in front of Schultz and Bishop while Horgan Kobelski dropped back.

"This is the first time I've gone hard like this all year," said Trebon. "I'm taking a slow start to the season after the cyclo-cross season and will ramp up for nationals in July."

With two to go, Schultz and Bishop made contact with Trebon, then left him behind.

On the final lap, Wells appeared to ride away from his teammate Stander, who rode steadily into second.

"All I had to do was sit on while those guys did all the work," said Wells, who won on Specialized's new 29er bike. "Whenever you have the reigning World Champion on your team and the Under 23 World Cup overall champion, it's just awesome. I was pumped to be up there and be able to help out."

"He was really motivated and it's been a tough couple of weeks for me, so in the end I think he was the strongest rider anyway," said Stander.

About a half lap behind, Bishop and Schultz chased Decker. Schultz did most of the work with Bishop sitting on. The pair just about caught Decker as they sprinted to the line, but Decker had a second or two advantage in the final sprint - enough time to pop a wheelie across the line for third.

"I call it the power wheelie," joked Decker after the uphill sprint finish. "I don't have too much balance, so I can't float downhill with a wheelie like [teammate] Adam [Craig]."

"I just rode the same pace and others came back," said Decker. "There's enough wind that it's nice to be with someone, but I can also corner faster on a dual suspension so it was ok to be alone.
Batty beats the favorites
Emily Batty (Trek Bicycle Store) wins her first national level short track race
Photo ©: Dave McElwaine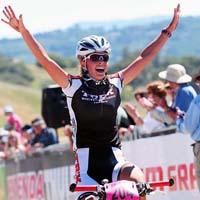 Canada's Emily Batty launched a final-lap attack and then held off four other women to take a career-best short track win ahead of several regular World Cup contenders. Heather Irmiger, Catherine Pendrel, Lene Byberg and Georgia Gould were with Batty at the front for a majority of the race.

Gould led for many of the early laps. Irmiger also pushed the pace and collected the third lap prime as she worked to force the separation between the eventual lead group and the chasers.

After the prime, Gould countered, but before long, Byberg assumed the lead and tried to further splinter the race.

"I tried to keep the pace up so the group wouldn't be too big," said Byberg, "so I went hard on the climb. It was perfect with our group."

At the halfway point, the five-woman lead group of Batty, Byberg, Irmiger, Pendrel and Gould was firmly established with Willow Koerber and Katerina Nash chasing on their own, but not gaining any ground.

Gould started to fade as Pendrel and Byberg seemed to be the strongest. No one was paying too much attention to the young Batty, who has far less experience than the World Cup stars.

With one lap to go, Pendrel attacked and got a slight gap while Irmiger led the chase and Batty followed her closely.

"My coach was out there watching the other girls and told me they looked like they were in trouble and to attack," said Pendrel, "but sometimes you find out on the last lap that some of them were holding back."

A well-timed final attack brought the young Batty a victory she had time to celebrate by raising her arms as she crossed the line.

"I knew I had to be at the top at the climb on the final lap, so I went for it," said Batty, who finished sixth at the Under 23 women's World Championships last summer and won the Pan American Games under 23 cross country a few weeks ago.

"I didn't know I could do that until the last few laps and then I thought I'd just try."

Batty's father, who attends a majority of her races, stood proudly by the finish watching his daughter savor the moment of upsetting the favorites and taking her first big win.

"We knew she was different when she was four years old. When we first put her on snowshoes, no one could keep up and it's been like that ever since, no matter what sport!" Batty's father said.

Byberg finished a strong second despite just one prior short track experience. "My first and only other short track ever was here in 2007, when it was really muddy. I don't remember it much as it was so muddy I couldn't see the course," said accomplished Norwegian cross country rider.

Byberg is known for her slow starts, but consistent pace over the duration of cross country events. "Normally I'm not a sprinter and I'm quite slow at the start in the World Cups. It was so hard."

Pendrel finished third. "It's a good day for Canada. We got one and three, and I'm happy for Emily."

Gould rounded out the top five. "That was an exciting race. It was a good opener for tomorrow's cross country."
Photography
For a thumbnail gallery of these images, click here
Images by Dave McElwaine/www.trailwatch.net
Results
Elite men
1 Todd Wells (USA) Specialized Factory                 
2 Burry Stander (RSA) Specialized Factory              
3 Carl Decker (USA) Team Giant                         
4 Jeremiah Bishop (USA) Monavie-Cannondale             
5 Sam Schultz (USA) Subaru Gary Fisher                 
6 Ryan Trebon (USA) Kona                               
7 Jeremy Horgan-Kobelski (USA) Subaru Gary Fisher           
8 Robert Marion (USA) Kenda KMC Hayes                  
9 Seamus Mcgrath (Can) Jamis                           
10 Colin Cares (USA) Kenda Tomac Hayes                 
11 Ken Onodera (Jpn) Subaru Gary Fisher                
12 Troy Wells (USA)                                    
13 Benjamin Sonntag (Ger) Monavie-Cannondale           
14 Andy Schultz (USA) Kenda Tomac Hayes                
15 Tad Elliott (USA) US National MTB Development       
16 Conrad Stoltz (RSA)                                 
17 Ethan Gilmore (USA) US National MTB Development     
18 Rob Squire (USA) US National MTB Development        
19 Eric Batty (Can) Trek Store                         
20 Cody Peterson (USA) Dedicated Athlete               
21 Adam Morka (Can) Trek Store                         
22 Drew Edsall (USA)                                   
23 Matthew Hadley (Can) Xprezo                         
24 Dana Weber (USA) Trek World Bicycle Relief          
25 Macky Franklin (USA) Transparent Racing             
26 Daniel Sessford (Can) Blue Competition Cycles       
27 Erik Tonkin (USA)                                   
28 Nate Byrom (USA)                                    
29 Mitchell Hoke (USA) Tokyo Joes                      
30 Brandon Stewart (RSA)                               
31 Stefan Widmer (Can) Rocky Mountain Factory          
32 Bryan Alders (USA) Monavie Cannondale               
33 Simon Happy (Can) RST Velo Sport                    
34 Craig Richey (Can) Blue Competition Cycles          
35 Charlie Pendry (USA) Inland Construction            
36 Max Knox (RSA)                                      
37 Scott Frederick (USA) Inland Construction           
38 Kalan Beisel (USA) Procycling CTS                   
39 Stephen Ettinger (USA) Arlberg                      
40 Trevor Downing (USA)                                
41 Travis Livermon (USA) Champion System Cannondale    
42 Jason Sager (USA) Jamis                             
43 Thomas Skinner (Can) Specialized Oak Bay            
44 Chris Peariso (USA) Adventure 212 Specialized       
45 Marty Lazarski (Can)                                
46 Brian Asfell                                        
47 Ryan Iddings (USA)                                  
48 Brady Kappius (USA)                                 
49 Alex Ryan (USA) Champion System Cannondale          
50 Wiley Mosley (USA) Specialized Riders Club          
51 Blake Harlan (USA) Jamis                            
52 Timothy Carson (USA)                                
53 Gian Dalle Angelini (USA)                           
54 Steve Carwile (USA)                                 
55 Aaron Elwell (USA)                                  
56 Roger Bartels (USA) Norcal Bike Sport               
57 Matthew Rotroff (USA) Inland Construction           
58 Lucas Livermon (USA) Inland Construction            
59 Jay Richards (USA)                                  
60 Jason Lowetz (USA) Bearclaw                         
61 Adam Parke (USA) Orange Peel Cyclery                
62 Matthew Beaton (USA) Tokyo Joes                     
63 Matt Freeman (USA)                                  
64 Christopher Everis (Can) 3 Rox Racing               
65 Kevin Smallman (USA)                                
66 Yuki Saito (USA) Topeak-Ergon                       
67 Peter Glassford (Can) Trek Store Racing             
68 Matt Connors (USA)                                  
69 Kim Tofaute (Ger)                                   
70 Carl Hesselein (USA)                                
71 Noah Holcomb (USA)                                  
72 Kyle Stock (USA) Golden Chain Cyclists              
73 Katriel Statman (USA) Transparent Racing            
74 Paul Trinkkeller (USA)                              

Most aggressive: Burry Stander

Elite women

1 Emily Batty (Can) Trek Store                         
2 Lene Byberg (Nor) Specialized Factory Racing         
3 Catharine Pendrel (USA) The Luna Chix                
4 Heather Irmiger (USA) Subaru Gary Fisher             
5 Georgia Gould (USA) The Luna Chix                    
6 Kelli Emmett (USA) Giant                             
7 Willow Koerber (USA) Subaru Gary Fisher              
8 Katerina Nash (USA) The Luna Chix                    
9 Melanie Mcquaid (Can) Sho-Air                        
10 Jenna Rinehart (USA) Specialized                    
11 Pua Sawicki (USA) Topeak-Ergon                      
12 Mical Dyck (Can) Trektorontostore/Tenascape         
13 Catherine Vipond (Can) Norco Factory                
14 Chloe Forsman (USA) The Luna Chix                   
15 Kathy Sherwin (USA) Kenda Tomac Hayes               
16 Jean Ann Mckirdy (Can) Local Ride Racing            
17 Judy Freeman (USA) Tough Girl                       
18 Anina Aaron (USA) Kenda Kmc Hayes                   
19 Amanda Carey (USA) Kenda Tomac Hayes                
20 Sue Butler (USA) Monavie-Cannondale                 
21 Erin Huck (USA) Tokyo Joes                          
22 Maureen Kunz (USA) Lost Coast Brewery               
23 Sonya Looney (USA) Topeak-Ergon                     
24 Lindsey Bishop (USA) Mafia Racing                   
25 Heather Holmes (USA) Kenda Tomac Hayes              
26 Sandra Walter (Can)                                 
27 Caitlyn Tuel (USA) Tough Girl                       
28 Joy Duerksen (USA)                                  
29 Essence Barton (USA)                                
30 Philicia Marion (USA) Kenda KMC Hayes               
31 Emma Worldpeace (USA) Lost Coast Brewery   

Most aggressive: Heather Irmiger          

Category 1 men 15-18

1 Rouke Crouser                                        
2 Adriaan Louw                                         
3 Russell Finsterwald                                  
4 Chase Dickens                                        
5 William Curtis                                       
6 Riley Howard                                         
7 Bjorn Fox                                            
8 Jake Richards                                        
9 Casey Williams                                       
10 Jesse Roger                                         
11 Bryce Munro